This week in design, an interior disaster of epic proportions took place at a five-star hotel in Berlin when a 50-foot-high aquarium spontaneously burst open. Stay in the know with our weekly roundup of headlines, launches, events, recommended reading and more.
Business News
A report released by Airbnb last week found that Black guests on the home-sharing service still face racism when booking and staying in vacation rentals despite new anti-discrimination policies issued in recent years, The New York Times reports. According to the new research, Airbnb guests who are perceived to be white are able to secure the rental they want 94.1 percent of the time—whereas those perceived to be Black can do so 91.4 percent of the time. The company is now pledging to double down on its initial efforts to help close the gap.
Apartment Therapy released the results of its third annual State of Home Design report, which surveyed 78 designers across the U.S. for their predictions on home trends of 2023. Some of the report's findings remained consistent with last year, with designers expecting the same aesthetics to prevail (namely warm minimalism, maximalism, midcentury modern and Scandinavian) along with an overall focus on elevating comfort at home—though designers do predict the rise of a new crop of materials and accents, specifically cerused wood, red and pink marble, and onyx.
A new study from the University of California, Berkeley mapped out consumption-based emissions for households across the U.S., revealing disparities in how different neighborhoods contribute to climate change. As The New York Times reports, the research found that households in dense neighborhoods closer to city centers tend to have far lower emissions on average than the rest of the country, due to the availability of public transit and the presence of smaller homes and apartments, which require less energy to heat and cool. More distant suburbs and exurbs, however, produce average household emissions that are two to three times as high. As the report's authors point out, the majority of new builds have been concentrated in the suburbs for several decades, making it easier and more affordable to purchase a home in a high-emissions area than a lower-emissions one.
Starting in January, all new buildings constructed in Los Angeles must be fully electric—without gas-powered stoves, heaters or gas hookups—following an ordinance passed last week by city council members. As the LAist reports, gas appliances are linked to health issues like asthma and cancer, and in Los Angeles alone account for more than 40 percent of the city's total carbon emissions. With the new ordinance, Los Angeles joins nearly 70 other cities and counties in California that have already adopted similar rules.
In the wake of rising interest rates, a declining market and general economic uncertainty, venture capital investments this year are on track for the steepest drop in more than two decades. As Bloomberg reports, the value of new venture capital deals globally is down 42 percent this year so far compared to last year—a sharper fall than the 34 percent collapse following the 2008 financial crisis, according to the research firm Preqin. Anecdotally, that trend is visible in the home industry—what was once a flood of venture money in the space has seemingly slowed to a trickle in the second half of 2022, though former Peloton CEO John Foley was able to raise $25 million for a DTC rug startup, Ernesta.
In related news, the market for initial public offerings also took a steep dive this year compared to last year's highs, CNBC reports. While U.S.-listed companies raised more than $155 billion through IPOs in 2021, they only netted $4.8 billion in the first half of this year, according to data from consulting firm EY and financial markets platform Dealogic. The slump is partly to do with the fact that many companies that went public in 2021 have not performed well in the wake of the market downturn, which has made investors far more risk averse. That spells tough sledding for companies like Houzz—rumored to be on the verge of an IPO for years—and Serena & Lily, which reportedly began working on a proposed listing in March.
Michigan-based floorcovering company Scott Group Studio acquired RedRock, a Georgia-based manufacturer of machine-made carpets and rugs. As a major supplier to the aviation market segment, Scott Group Studio has partnered with RedRock to allow both companies to provide quick-turn refurbishment services through the 144 patterns in RedRock's portfolio. Following the purchase, RedRock president Bob VanOrder will continue on in his current role while also joining Scott Group's leadership team.
Launches & Collaborations
New York–based interior design firm Float Studio partnered with home fashion brand Modern Matter for the debut of its first assortment of luxury hardware. The first of the new collections, Marcelle, draws inspiration from vintage Parisian hardware, Japanese tansu and mixed metal—the other collection, Otto, instead opts for a tactile, functional selection of hardware with a sturdy silhouette.
Showroom Representation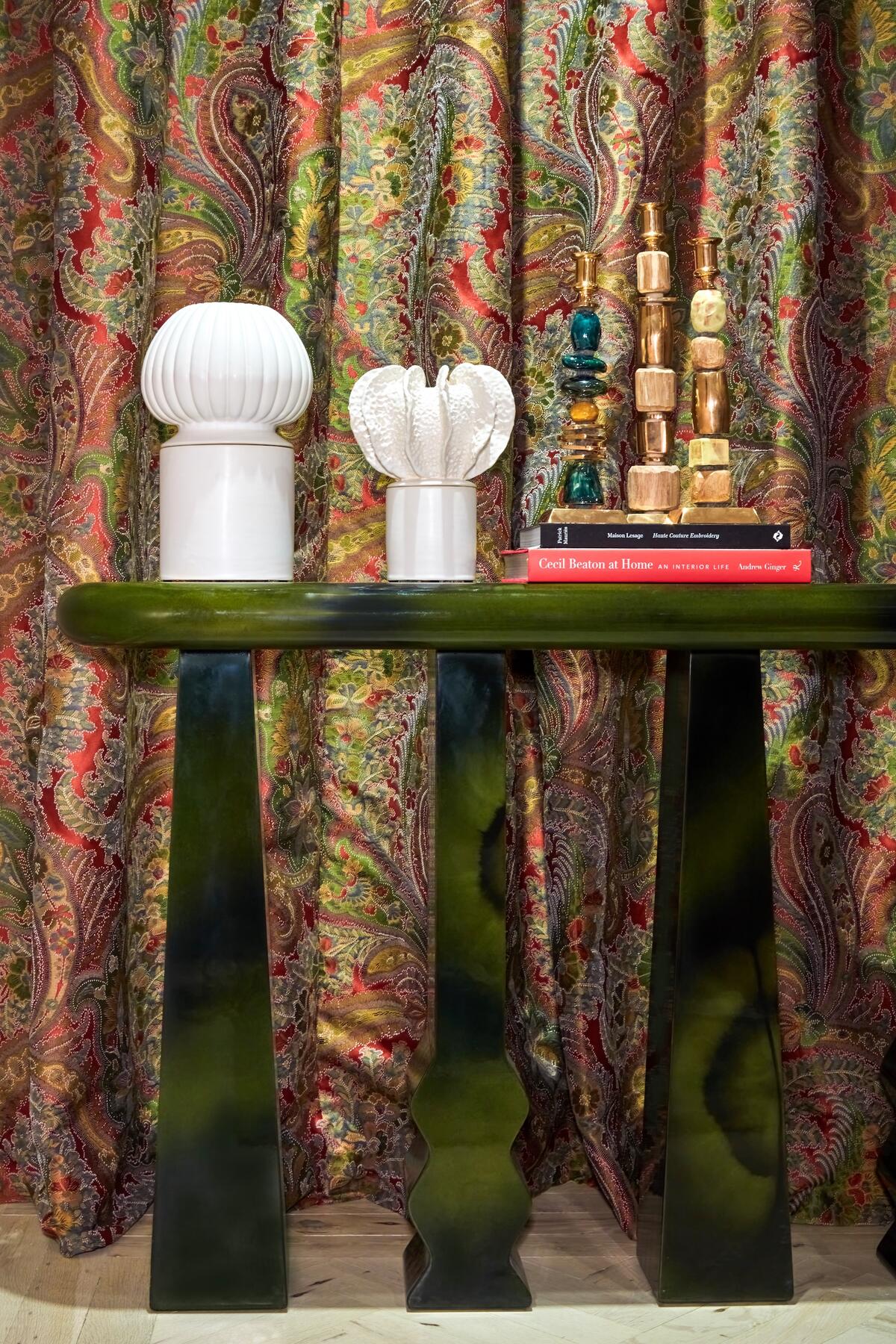 Courtesy of The Invisible Collection
French designer Laura Gonzalez has made her debut in New York with a showcase on the main floor of The Townhouse by Invisible Collection. The exhibit features a curated selection of Gonzalez's furniture—including the Mawu chairs, the Casa sofa, the Tortoise table and an assortment of pieces created in collaboration with Goossens, Lesage Intérieurs and Studio MTX—fashioned into an environment reminiscent of the sophistication of New York in the 1980s.
Recommended Reading
In 1959, just three years after the Barbie hit the market, Mattel debuted the first iteration of the doll's ever-evolving residence—an accessory that has also served as a marker of design trends throughout the years, as the new limited-edition art book Barbie Dreamhouse: An Architectural Survey points out. For The New York Times, Julie Lasky takes a look at six Dreamhouses from the past six decades, each one drawing influence from leading architects, designers and trends of the time, with examples including a late '70s-style A-frame reminiscent of houses built by progessive architect Charles Moore and a '90s-era McMansion modeled after the Doric column–bedecked homes cropping up in American suburbs at the time.
Since children's toy and furniture brands like Fisher-Price and Graco took off in the 1950s, generations of parents with growing families have seen their homes transform, newly dominated by an array of plastic objects decked out in images of cartoon characters and saturated colors. As Elizabeth Segran writes for Fast Company, millennial parents may be marking a departure from that trend, as the rise of a new group of design-forward DTC brands like Lalo, Nestig, Babyletto and more are welcoming in a new, aesthetically pleasing era for the modern family home.
In the fall of 2020, several photos of private household scenes captured from low angles—including one shot of a woman sitting on the toilet—ended up on an online forum for gig workers. Even more unsettling was the source of the pictures: iRobot's Roomba j7 series robot vacuum. For MIT Technology Review, Eileen Guo unravels the complicated global supply chain that collects real-life user data (such as the kind generated from internet-connected household items) and uses it to hone a device's pattern-seeking algorithm through the help of third-party contractors—a process that may introduce privacy risks to unsuspecting users.
Call for Entries
The American Society of Interior Designers has opened submissions for the annual Student Portfolio Competition. The contest recognizes outstanding achievement in student design among undergraduate and graduate students across the United States and Canada. Finalists and winners will receive admission to ASID's Scale Student Summit at the Gather 2023 conference in Los Angeles, along with a scholarship to further their interior design studies. To enter before February 15, click here.