In our series, What I Love, we're asking designers to build us a mood board of what's inspiring them right now.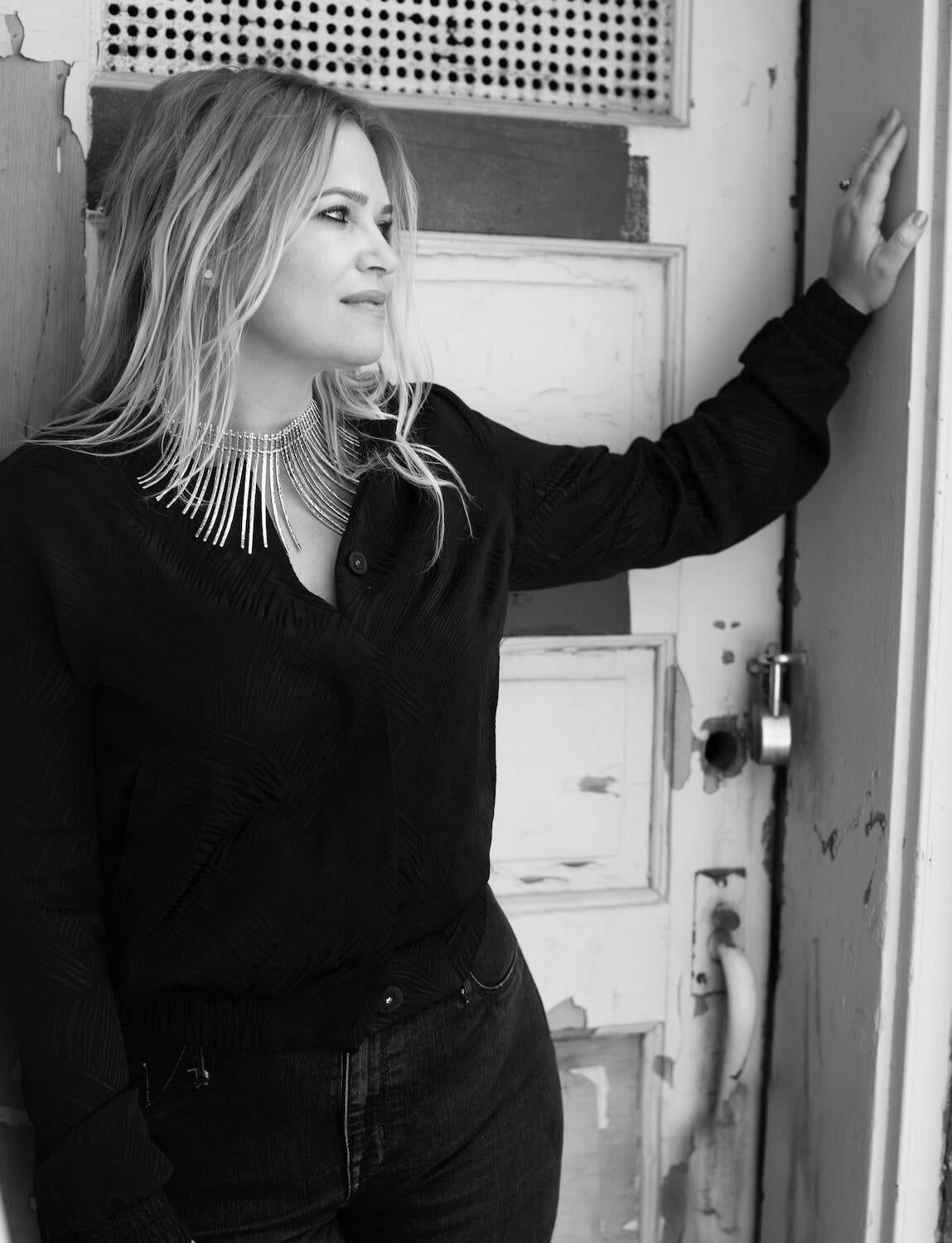 Aimee Wertepny finds inspiration in the unexpected. The founder of Chicago-based Project Interiors gravitates toward storied pieces that infuse spaces with character and soul. "We favor hand-touched elements that support local artists," she tells Business of Home.
Drawing inspiration from her own three-story loft in the Windy City, as well as projects in Jackson Hole, Wyoming, and Nashville, Wertepny's current mood board teems with delectably tactile, hand-made designs ranging from illustrated wallpapers to floor tiles fashioned from vintage leather belts. "This flat lay is a tribute to the amazing artisans we work with—many of whom we are fortunate to call friends, and the majority of whom are women-owned businesses," she says.
The final scheme features a bold mix of untamed textures and statement prints balanced out by a bundle of raw materials in rich earthy hues. "Every rock, every colorway and every natural fiber is meant to evoke the feelings of warmth and comfort," she says. "Layers make a home feel like an embrace."
Here, she breaks down the details—from sisal floor coverings to studded upholstery borders.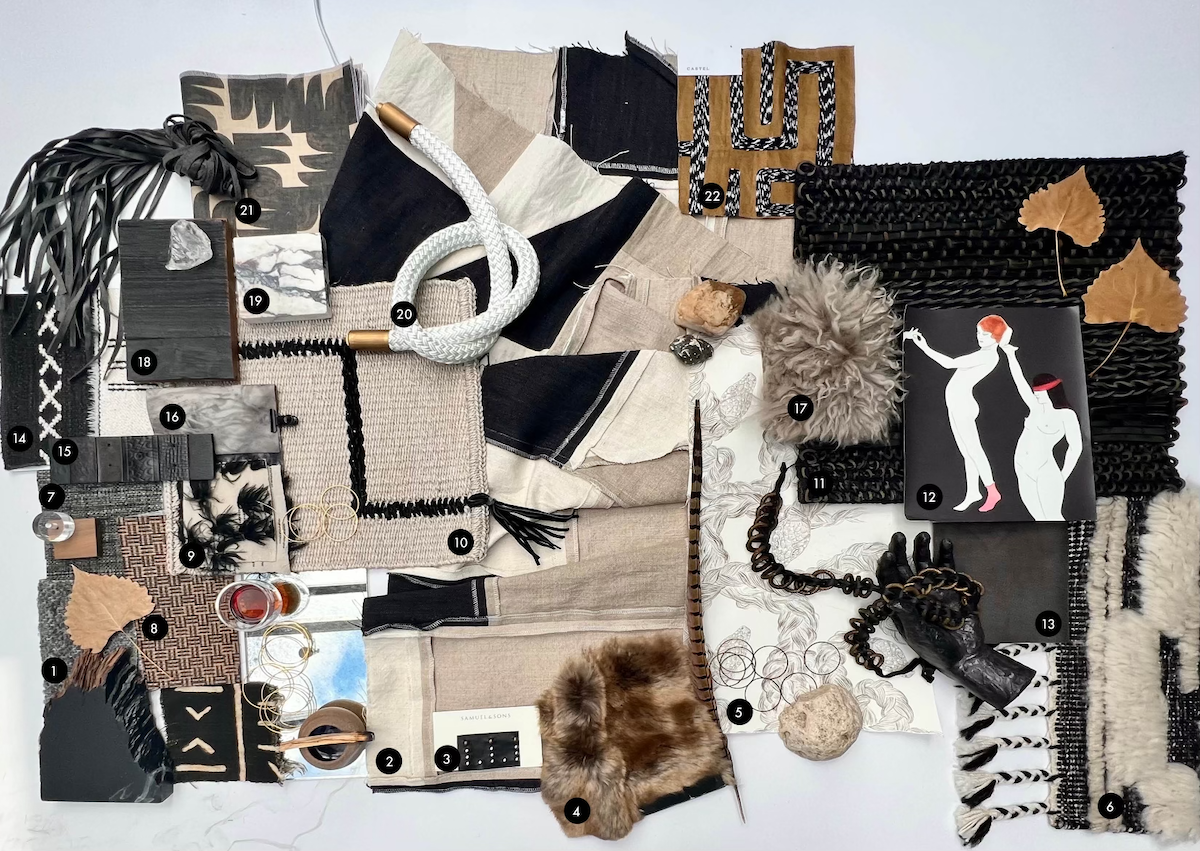 Courtesy of Project Interiors
1. PLUSH FABRIC IN ASH BY PINDLER
"This greige upholstery fabric is a workhorse that I find myself coming back to for sofas and sectionals because it's both cozy and durable. The texture reminds me of a soft, nubby sweater. And because it can take a beating, it's great for families with kids or pets—all the things."
2. UTILITY FABRIC IN RECLAIM REVERSIBLE MONOCHROME BY KIRKBY DESIGN
"This luxe linen fabric flaunts three earthy colors that are stitched together like a modern version of a patchwork quilt. I love the exposed, raw hem that normally would be considered the back side of a stitched fabric, but it's actually the front side."
3. ARDENNAIS STUDDED BORDER IN BLACK BY SAMUEL & SONS
"I love incorporating moments of leather into our projects. This is a really cool black leathered trim that's punctuated with a mix of metal."
4. SHADOW MOUNTAIN FUR SAMPLE IN COUGAR BY ZINC TEXTILE
"This sample from Zinc Textile's Shadow Mountain collection is a rich, chocolate brown. I would use it to bring softness to a space in the form of an oversized pillow or as a throw blanket for cuddling up by the fire."
5. FRIDA WALLPAPER IN NEUTRAL BY RELATIVITY TEXTILES
"This muted wallcovering is inspired by Frida Kahlo and features braided snakes, a recurring theme in her art."
6. KHALID KF-02 RUG IN NATURAL/BLACK BY LOLOI
"This wool rug has a really active pattern and braided fringe. I've used it to upholster headboards and to cover a platform in a bedroom nook."
7. ISLAND RAFFIA WALLCOVERING IN BLACK BY PHILLIP JEFFRIES
"I mean, who doesn't like a dark, moody space? When you get up close and personal with this wallcovering, it has this beautiful, woven organic texture."
8. GARFIELD FABRIC IN BLACK BY PINDLER
"I love this fabric because of its tight weave. It resembles a basket, which gives off a traveled, gathered vibe. It can also be used as a wallcovering, or as upholstery for dining chairs or a dining banquette."
9. DYNAMO FABRIC IN ONYX BY PINDLER
"Fastened on to a linen background, the tufts add irregular moments of visual play and texture. Currently, we are using this fabric to upholster the seat and back of a chair to give it some levity, movement and measured playfulness."
10. TOURO RUG IN BLACK PEARL BY MERIDA STUDIO
"This sisal floor covering by Merida Studio has suede woven through it in an angular pattern that terminates in these fun tassels hanging off the edge."
11. WOVEN LEATHER RUG BY SURYA
"I used this [discontinued rug] by Surya as upholstery for a banquet in my dining room and just 'pierced' it along one side with the gold rings also featured in this flat lay."
12. COVEN WALLPAPER IN MAHOGANY BY MAISON C. AT SOLID + PATTERN
"Lissa at Solid + Pattern turned me onto this sexy wallpaper by Maison C. that features these strong, curvy ladies dancing naked, blindfolded with one sock on. So much of this palette is an homage to female makers making badass things."
13. LEATHER EVOLUTION FAUX SUEDE FABRIC IN GREY BY OPUZEN
"What I love about this fabric is that the back side is felted, and because its sections are stitched together, you can flip it over to expose the raw edges. The faux suede side is cool, too, because it looks almost tarnished."
14. ESCALE FABRIC IN BEAUTÉ NOIRE BY ÉLITIS
"This bespoke woven fabric from Élitis is perfect for upholstering walls. It looks like a rug and has an unfinished edge that makes for a textural repeat when you layer it in sections."
15. LEATHER BELT TILE SAMPLE BY TING LONDON
"Ting London takes vintage leather belts and turns them into panels and tiles that you can use on floors or walls. Bonus: You can custom-order the panels to size."
16. CUSTOM HIDE BY GINA DOROUGH SURFACE STUDIO
"Gina was the creative director at Maya Romanoff for years, and the woman behind the house's hand-made, tie-dye wallcoverings. She's on her own now, doing these shibori, leather hides that are absolutely stunning. We've used them as rugs, pillows and upholstery."
17. GLAM SHEEPSKIN IN PORTOBELLO BY GARRETT LEATHER
"These are smaller-sized tufts that we like to drape over pillows, dining chairs or the back side of lounge chairs. I love the longer, shaggy recklessness of it. It looks like a shaggy rock star haircut—untailored and untamed."
18. ESPRESSO RECLAIMED WOOD FLOOR SAMPLE BY INDOTEAK
"Indoteak sources its planks from buildings that are slated for demolition in and around Southeast Asia. We have used this wood for wall paneling and floors. I like the charred, charcoal aesthetic of this sample. The texture is rough-hewn yet smooth to the touch. It feels very primitive."
19. CALACATTA VIOLA HONED MARBLE IN 1949 BY CALIA STONE BOUTIQUE
"This luxe cut from Calia Stone is a statement for sure, and one of the palette's more glam moments. As I like to say, marble is jewelry from the earth."
20. TRACER LOOP LED LIGHTING BY LUKE LAMP CO.
"This lighting looks like a rope, and you can bend and manipulate it into whatever knots and drapes you like."
21. ROOFTOPS FABRIC IN EARTH BY OAT STUDIO AT SOLID + PATTERN
"Oat Studio artist Sarah Annand's work is inspired by the architecture in New Zealand, and she references her photos and paintings to create patterns using the shapes and forms of buildings. I love this particular linen fabric for dramatic drapery. It's a print, but it has a hand-painted effect."
22. BAKUBA FABRIC IN SAFARI BY CASTEL
"This fabric is very mud-cloth-like. The pattern is actually woven into the linen so it has texture."
Homepage photo: A flat lay by Aimee Wertepny | Courtesy of Project Interiors