This week in the home world, lifestyle icon Martha Stewart is bringing her famed farmhouse in Bedford, New York, to the bright lights of the Las Vegas strip with the debut of her first-ever restaurant. Whatever happens next, stay in the know with our weekly roundup of headlines, launches and events, recommended reading and more.
Business News
The January 2021 edition of Architectural Digest featured the home of a billionaire's daughter, lawyer and author Sloan Lindemann Barnett, and her husband Roger Barnett—a lavishly decorated $42 million San Francisco residence that was photographed for the issue. Recently reporters from The Washington Post discovered on the website of the building's architect, Peter Marino, an unedited version of those photos that revealed ancient Khmer sculptures had been digitally removed from the shot. According to the Cambodian government, those stone relics appear to match pieces looted from one of the nation's sacred sites in the late 1990s and may tie into a larger investigation into the private collection of Khmer relics owned by the homeowner's parents, Frayda Lindemann and the late George Lindemann. When contacted by The Washington Post, a spokesperson for AD said that the magazine published the image without the relics due to "unresolved publication rights around select artworks" but declined to say who altered the photo, which is credited to renowned photographer Douglas Friedman.
Bed Bath & Beyond shares have surged 510 percent during a now three-week-long winning streak—a run apparently powered by coordinated hype from Reddit's Wall Street Bets group, where the retailer's ticker has been trending, Yahoo Finance reports. Despite a majority of industry analysts raising the alarm to investors last week, calling the recent rise a "meme stock frenzy" and suggesting they sell due to falling revenue and liquidity concerns within the company, the buying spree continues. Today, the stock rose another 75 percent and triggered multiple volatility trading halts when more than 160 million shares changed hands, making Bed Bath & Beyond the most actively traded stock on brokerage Fidelity's platform at the moment. Still, the news comes amid a rocky few months for Bed Bath & Beyond: The retailer just ousted CEO Mark Tritton after less than three years with the company and ended the most recent quarter with cash and cash equivalents of $107.5 million compared to $1.097 billion in the same period last year.
President Biden signed the Inflation Reduction Act into legislation on Tuesday—a sweeping tax, health and climate bill that will allocate a record $369 billion in spending on climate and energy policies. As NPR reports, the bill will incentivize Americans to curb their own climate-warming emissions by allowing homeowners who purchase energy-efficient home improvements (ranging from new doors and windows to eco-friendly appliances) to claim up to $1,200 a year, or 30 percent of the total cost, at tax time. The act will also bolster existing tax credits for residential solar panels and offer credits for home energy storage systems, which alleviate pressure on the electric grid during times of peak usage such as heat waves. Looking ahead, the bill will also set aside more than $8 billion for rebate programs aimed at lower- and middle-income households to incentivize replacing old appliances—including heat pump water heaters; electric cooking systems; insulation, air sealing, and ventilation systems— with energy-efficient models.
Controversial WeWork founder Adam Neumann's next act—a new company called Flow, which aims to transform the residential rental real estate market—has received a $350 million investment from prominent Silicon Valley venture capital firm Andreessen Horowitz, an early investor in tech titans like Facebook and Airbnb. As The New York Times reports, the investment is the largest amount Andreessen Horowitz has ever made in a single round of funding to a company and puts Flow's valuation at more than $1 billion before it even debuts. The company's launch is now set for 2023, with Marc Andreessen to join Flow's board. Though exact details of the startup's business plans have not been released, Neumann has purchased more than 3,000 apartment units in Miami, Fort Lauderdale, Atlanta and Nashville, with the goal of transforming the properties into a branded housing product.
Bedding manufacturer Purple Innovation has filed a complaint with the U.S. International Trade Commission, Home News Now reports, requesting that the agency investigate the trade practices of a broad group of Chinese manufacturers of pillows and seat cushions, and ultimately issue a limited exclusion order and cease and desist on certain products. Though specific details of the complaint were not publicly available, the company alleged violations of Section 337 of the Tariff Act of 1930, which usually involves investigations into unfair imports derived from issues around intellectual property rights such as patent and trademark infringement, as well as other forms of unfair competition including misappropriation of trade secrets, antitrust violations and false advertising.
More than 7.1 million people have been internally displaced within Ukraine since the Russian invasion began, making it incredibly difficult for professionals of all kinds to earn a livelihood amid the tumult. As Metropolis reports, two new programs—Support by Design and Hire Ukrainian Designers—have come together to provide remote jobs for designers in Ukraine. The former, launched by SWA Group managing principal Kinder Baumgardner, focuses primarily on hiring Ukrainian landscape designers as hourly consultants; the latter, launched by John Wagner, a principal at the Boston-based architecture firm Office of Collaborative Design, recruits Ukrainian architects and connects them with remote employment opportunities. The two groups have now joined together to combine their initiatives, which have so far assisted 12 design firms in the U.S. in hiring Ukrainian designers.
The American Society of Interior Designers has announced that CEO Gary Wheeler will be retiring on September 30. After serving as an ASID member for more than 30 years, Wheeler joined the organization as interim CEO in 2020 before permanently assuming the position in 2021. His tenure was marked by his efforts to form an expert committee on guiding the design professionals through the pandemic; an expansion of ASID's research offerings through the release of in-depth industry reports; and a partnership with IIDA, IDC and Metropolis that led to the Interior Design Pledge for Positive Impact. Following his retirement, Wheeler will remain an advisor to ASID throughout the 2022 calendar year and will assist with onboarding for the yet-to-be-announced incoming CEO.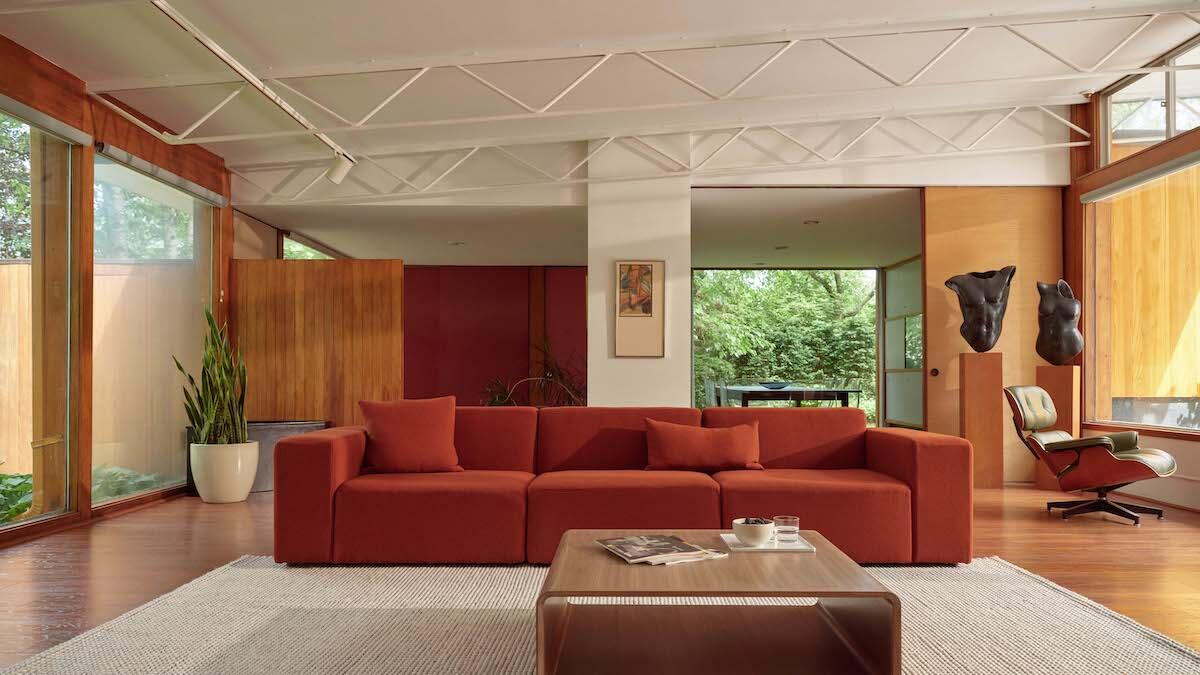 Launches & Collaborations
Floyd has teamed up with Kvadrat to introduce the furniture company's namesake sectional in two of the textile brand's iconic wools—Tonus, an elastic upholstery fabric designed by late textile artist Nina Koppel, and Sisu, a check pattern designed by Nanna Ditzel in the 1960s. Both eco-friendly natural wool designs will be available in various colorways, and the collaboration will be a permanent part of Floyd's assortment moving forward.
Wishing you had an assistant to send to the design center? Online sampling platform Mercato Place has announced the debut of a new free service allowing registered users to access extra assistance in the sample selection process. With the debut of Mercato Place Curator, users can be connected with a design expert to help source pieces, find inspiration, identify a bespoke option or pull together a full digital palette that can be ordered straight from the website.
Recommended Reading
In recent months, several creators on TikTok went viral after expressing a strange hunch—it seemed like neutral tones, particularly the color gray, were more ubiquitous than ever. Their source material was even more dramatic: The discourse stems from a data scientist's 2020 blog post claiming that color has been disappearing from the world—or, more specifically, from manufactured objects like household appliances, electronics and lighting—over the past two centuries. For Fast Company, Elissaveta M. Brandon explores how the rise of industrialization and mass production may have narrowed the product color scale, and why today's consumer focus on personalization might just bring it back.
When the pandemic pushed New York's restaurants into providing dining experiences outdoors, it gave rise to new forms of chic alfresco decor. One piece in particular, the Pina Pro cordless lamp from Italian design company Zafferano, has since earned a lasting place on the tables of some of the city's finest establishments. For The New York Times, Priya Krishna explores the lamp's mystique and misadventures—including the clientele who have swiped the piece after paying the check and those who have gotten into scuffles just to make sure their table is adorned with the Pina Pro.
Call for Entries
The 2023 Houzz Scholarship Program is now accepting applications from students studying interior design, construction, architecture, landscape architecture and architectural engineering or at skilled trade schools. Applicants must submit a brief essay on their design and architecture influences, and create a professional student profile on Houzz, where they can upload their portfolio for review. For more information or to apply by March 31, 2023, click here.
Cue the Applause
The Interior Design Society honored the winners of the 2022 Designer of the Year competition earlier this month at an event emceed by Jonathan Adler and held at the Blackstone Hotel in Chicago. The competition's highest honor, the Fellow Award, went to Kimberly Joi McDonald for her significant impacts to IDS and the interior design industry at large. Additional winners were honored for exemplary space designs, singular areas, business practices and impact. For the full list of winners, click here.
Homepage image: The Floyd Sectional in Kvadrat's Sisu pattern | Courtesy of Floyd