Environmental designer Edward Granger designed creative workspace A/D/O's latest exhibit, "Tetromino," which focuses on the interaction of light and space. The exhibit is free and open to the public through January.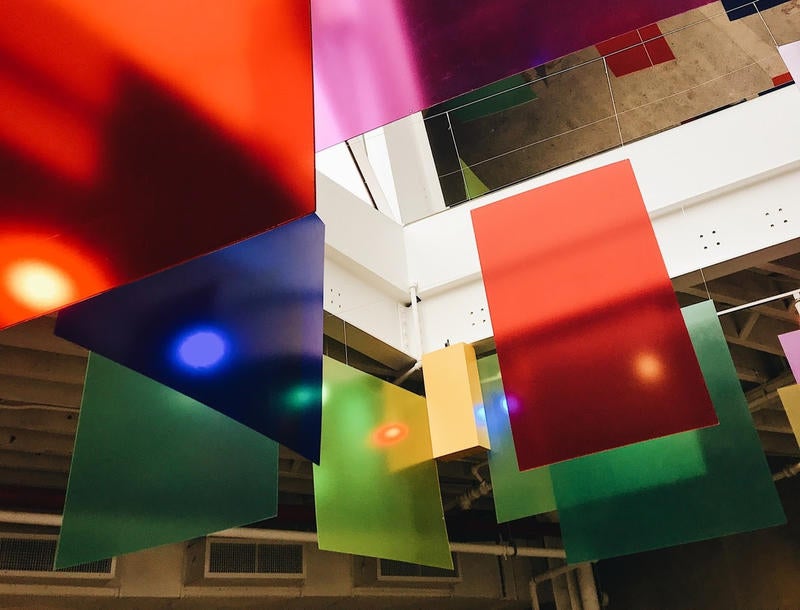 "There were three guiding forces of inspiration for the installation," says Granger. "That being video game graphics (like Tetris), my HSV (hue, saturation, value) paintings, and transparencies in gothic cathedrals."
From the time the installation was conceived, about three months of work went into the project, including drawings, renderings and multiple prototypes before everything was finalized. The installation is suspended from the ceiling in the public area of A/D/O, which allows the colors and light to interact, showing how the effects can alter physical and emotional space.
"My goal is simply to capture the viewer in an energetic, joyous, yet spiritual space. These sometimes joyous worlds that I live in and/or create are only a mere burst of light to bring encouragement to my life, when recently everything seems so dark and bleak. Hopefully that same message is relayed back to the viewer," says Granger.
This exhibit plays off of why A/D/O was founded: to establish a creative space that is relevant to people every day. The founders wanted to create a collaborative meeting place for designers where ideas could be exchanged. The entire 23,000-square-foot space includes the public exhibition area, a co-working space for A/D/O members, a retail space with design items, and Norman, a restaurant that serves breakfast, lunch and dinner with a focus on in-season products.
Next up for Granger is an installation at a residential building on the Lower East Side, designing mosaic tiling for the lobby of a hotel, and other private commissions.
A/D/O is located in Greenpoint, Brooklyn, at 29 Norman Avenue.