The proliferation of easy-to-access short-term rentals, made accessible via the tap of a button by Airbnb, has led a bevy of interior designers to the same question: Where are all the beautifully designed vacation rentals? It's a query that's prompted a (somewhat literal) cottage industry within the design community—short-term rentals designed and operated by designers themselves.
"For me, it started with scrolling endlessly on Airbnb, looking at all these terrible places," says Dallas-based Ginger Curtis of Urbanology Designs, who operates a rental property that she designed in Weatherford, Texas. "I was like, 'Why are they all so ugly? Don't people know that they're sitting on such an incredible opportunity? Why don't they make these places lovely?' I'm always overwhelmed and amazed by the struggle to find somewhere I'm excited to book. There have been times that I've literally just wanted to throw my hands up in the air and say, 'I'm just not going out of town—forget it,' because I can't find a really cool place to stay."
That frustration led Curtis to launch a new branch of her business, Urbanology Properties. She and her husband picked their first property, a three-bedroom cottage in a quaint town not far from Fort Worth, and made it over completely with a moody, modern aesthetic perfectly in step with Curtis's larger body of work. She picked the location because it's a place that she and her family like to go for weekend getaways. Now, instead of compromising, Curtis has ensured she always has a chic place to stay in one of her favorite places—in addition to a new revenue stream.
Curtis is part of a cadre of interior designers who are now creating and operating vacation rentals after recognizing the dearth of professionally designed, luxury properties as an opportunity for the taking. The field is gaining so much traction that High Point x Design and High Point Market Authority partnered together on a Vacation Rental Design Summit in April, catering to designers interested or already working in the niche. Curtis appeared as a speaker at the summit.
Courtesy of Urbanology Designs
Among the designers wading into the VRD waters is Summer Thornton, who has been working on a 6,000-square-foot property in Sayulita, Mexico, for three years and plans to open the five-bedroom home to guests in the fall. "A lot of it came from my personal experience staying at short-term rentals and being disappointed with the quality and the design, and wishing there had been better service," says Thornton, adding that her property, Casa Rosada, will be a turnkey experience complete with a household staff and butler. If the property is a success, Thornton plans to create more vacation rentals.
Thornton's fellow Chicago-based designer Kate Marker followed a model similar to Curtis's, buying a cottage in Union Pier, Michigan, where she and her family spent weekends. Dubbed the Leo Cottage, Marker bought the lakeside property in 2017 and renovated it, maximizing its small footprint to accommodate eight guests in three bedrooms. The space was such a hit that Marker has since bought an additional property in Rosemary Beach, Florida, and is currently at work on a series of small 600- to 700-square-foot cottages in New Buffalo, Michigan. "I fell in love with the process of designing something that was my own, without a client," says Marker. "My goal is to have a dozen of these in different locations across the country."
While the proposition may sound straightforward—identify a market, purchase a property, deck it out and list it—it's far from passive as a source of income. Houses, especially those that are consistently rented out for group travel, require constant upkeep and maintenance. In addition to having a cleaning service on retainer, designers dabbling in the vacation-rental industry often have to employ a local team to keep the property up and running.
Barclay Butera owns a sprawling vacation rental in Mexico, in addition to a property in Palm Springs, California. The California- and Utah-based designer says that finding a property manager he could lean on was crucial to making a luxury home work as a rental. "Having the right property manager is the reason I'm not scared to put beautiful things in these houses," says Butera, who plans to build a third rental next to his existing property in Cabo San Lucas. "That property manager is going to vet the guests. They're going to check them in and out, and they will inspect the property when they do so. Because of that policy, we're able to be very strict on damage that's caused by renters. The property manager knows that house well enough that they'll notice if a small vase was knocked over or there's a chip in a dish. Those are not inconsequential damages when your business model is renting out nice homes."
It's even more important to find a trustworthy property manager if your rental is far from home. "Especially at my place in Cabo, the manager overlooks the property, makes sure the gardener does their job, makes sure that the pool is clean—these people are very efficient," says Butera. "That's the absolute key to this whole situation."
Familiarizing yourself with the local laws and regulations around short-term rentals has become a major aspect to consider before wading into the sector. When Airbnb first launched in 2007, there was relatively scant legislation around home-sharing. Now, depending on location, there can be a lot of red tape. In some areas, you may need to register, get a permit or obtain a license before you can set up a listing—in Palm Springs, for instance, the city has capped the number of short-term rentals allowed in town and has a number of regulations that impact operating such a property, including a mandatory safety inspection and a vehicle parking limit. Those rules are not uncommon, and many cities have similar rules in place around permitting and parking. "It really is the same as setting up another business," says Thornton. "A lot of it comes down to proper planning and ensuring you have realistic expectations for what it takes to do it successfully, and that it doesn't negatively impact your primary business. The design is the easy part."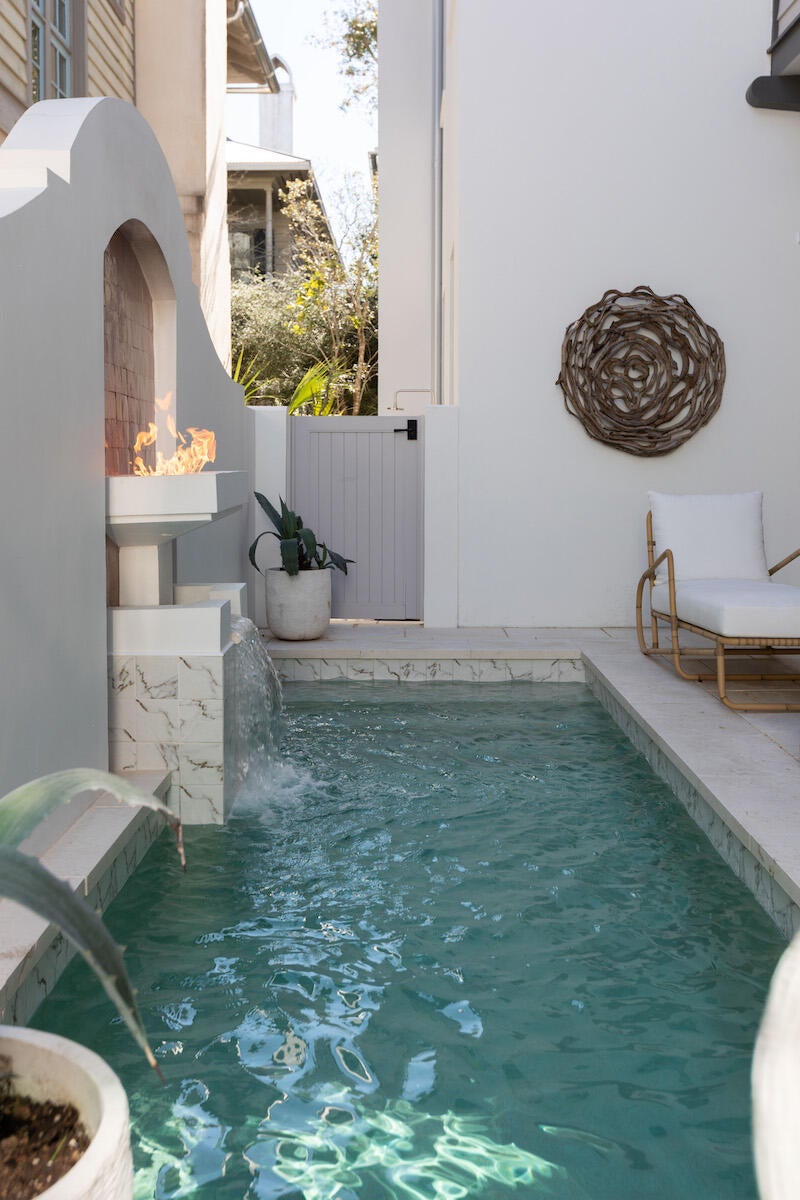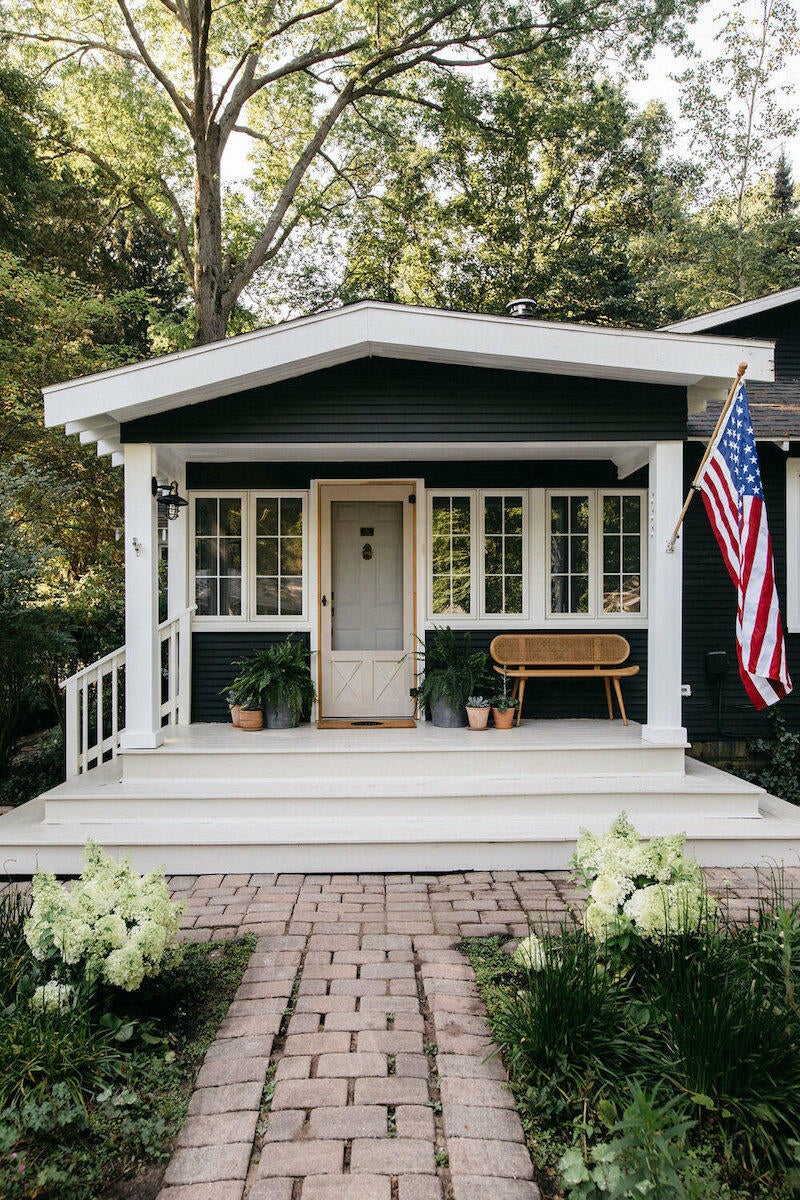 Local restrictions often reflect the challenges a municipality has faced with short-term rentals in the past decade. In Nashville, for example, there's a cap on the number of guests that can occupy a space. "Nashville has become a huge bachelorette party destination, so you get a lot of big groups coming through, but you have to make sure you're not breaking a law by having too many people booked to stay," says designer Rina Norwood, who is based in Charlotte, but operates several short-term rentals throughout the Southeast. "Airbnb doesn't have the tools to help hosts navigate this aspect of things, so you have to figure a lot of it out yourself." (Understanding the local and state taxes she was required to pay is another example that Norwood cites of things she had to determine on her own.)
For designers interested in running rentals outside the U.S., that process can be even more complicated. Ashley Ross, another Charlotte-based designer, has been renting the mother-in-law cottage behind her home since 2018. The space has been such a success that Ross and her husband started looking for a property in Tulum, Mexico, that they could alternately use as both a second rental and a vacation home. "Trying to get a loan in a foreign country and move through financing when you're not a citizen is a strange process," says Ross, adding that the influx of American buyers looking to scoop up coastal properties to rent has created a seller's market. "Sellers in Mexico see a lot of American buyers who come in, buy a [property], use it as a short-term rental and don't want to be very involved in running it. When we made our initial offer on a place, we had a lot of questions for the seller and told them we were planning to bring in our own property manager and stay pretty hands on. They pulled out of the deal and went with another buyer—someone with fewer questions, I guess." Ross is still hopeful the right property will come up and that she can expand the vacation-rental side of her business.
While some designers like Ross and Marker are the sole owners of their properties, others, like Butera and Thornton, have found investment partners to help them bring their vacation properties to fruition. Curtis intentionally bought a property that was already being used as a short-term rental so that, once she renovated it and marketed it well, she could show hard data about her return on investment should she want to bring in investors on future properties. "I can show them the numbers and have proof that is going to be very compelling," she said. "I could not have done that or had that kind of historical data if we hadn't purchased an existing Airbnb."
Another reason this business model is so appealing to designers is that it's a chance to build brand awareness and gives people a new method of engaging with a designer's work. "Not everyone can hire us to design their home, and we can only take on so many clients a year, but pretty much anyone can find one of our vacation properties and stay in it," says Marker. "This is a really unique experience where people who like my work can get a taste of the Kate Marker Interiors look and style by staying in one of our vacation rentals."
A firm's interior design clients may become its renters as well. People who hire you to design their home have already bought into your aesthetic and can vouch for the quality of your work, making it a likely bet that they might also be interested in vacationing in a property you designed. Since Curtis opened the Urbanology cottage, she's recommended it to clients who want to get away for a long weekend—or even to those looking to be out of town (but not too far away) during an installation. Marker has also hosted clients at Leo Cottage often—one client in particular has stayed there "probably a dozen times."
For some, the prevailing wisdom is that vacation rentals are furnished with replaceable, lesser-than products. But that brand extension and client crossover is part of the reason that Marker felt it was important to go all in on the furnishings, instead, keeping everything just as high-end as she would have in a regular residential project. "I think a lot of people who own Airbnb properties skimp on the furnishings and accessories because they assume it's all going to get destroyed, but I've always felt the opposite," says Marker. "Yes, renters are going to be hard on things, but we can keep replacing or reupholstering—whatever we need to do. People are choosing to stay here because they want a high-end experience. Maintenance is part of what you sign up for."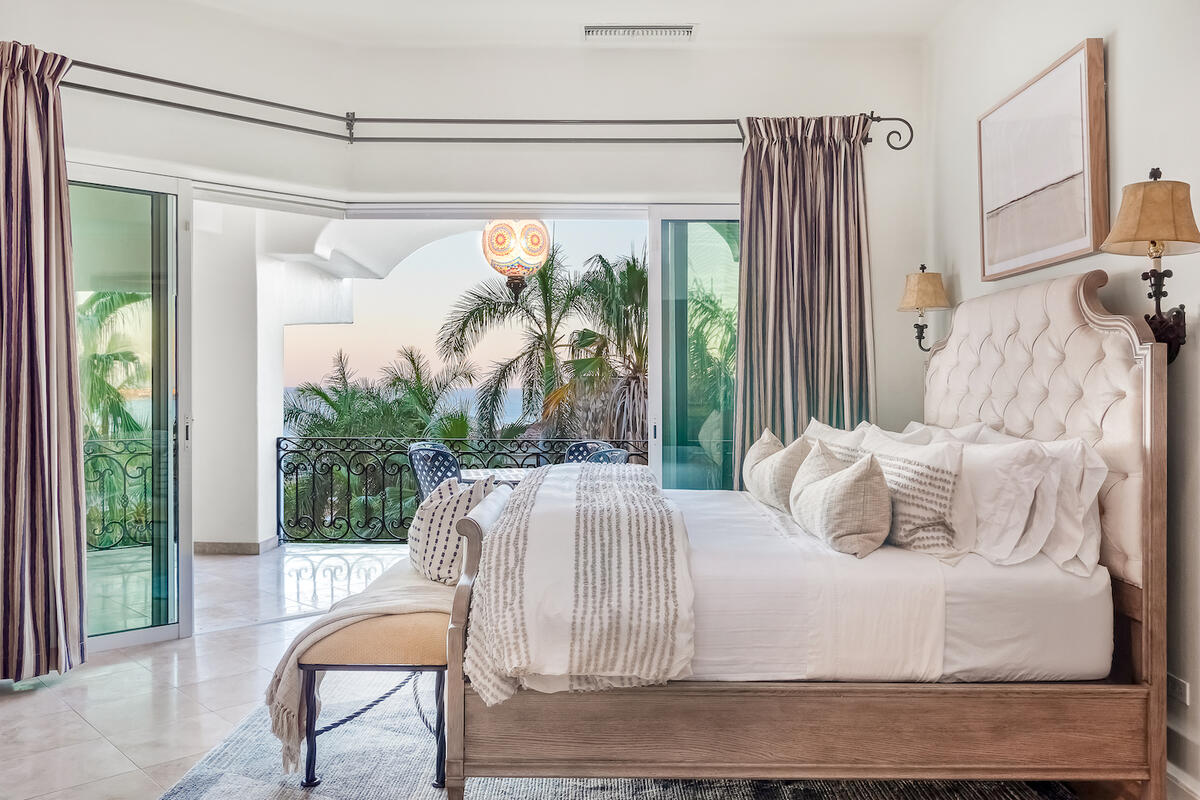 Courtesy of Barclay Butera
Going big on design details like accessories is paying off for Marker, who also has a home store where she stocks most of what can be found in the rental. Guests who stay at her rentals often call her store to order items they saw during their stay. Faced with similarly inquisitive guests, Curtis set up an e-commerce site where her renters can shop the look of each room in her rental via QR code. "We listed everything: the table, the chairs, the bedding, the dishes, the lighting—whatever it is that you fall in love with. That helps me to dip my toe into this other element of this model." Curtis says she's thinking of the cottage's shoppable aspect as a pilot program of sorts, with hopes of adding to the Urbanology Properties portfolio and amass more of an e-commerce platform with each rental. "This way, I'll have metrics and data to go to future partners and do something even bigger with a shoppable experience," she says.
Establishing a distinct aesthetic can take you far but outfitting a short-term rental isn't all flights of design fancy. While it may seem like a chance for a designer to indulge all their whims as they might in a showhouse, going too big might turn off certain guests. Ross ran into this recently when renovating the bathroom of her rental. She did the renovation slowly, between guests—swapping out a light fixture one week, a mirror the next. She planned to wait until she was completely finished to take and upload new photographs. While guests may not have minded small changes, some took umbrage when Ross had the light blue bathroom painted a moody black and made their opinions known in reviews.
"It matches the aesthetic of the rest of the house now, so I didn't think it would be that big of a deal, but people were losing their minds," jokes Ross. "We get a lot of outdoorsy guests who come to this part of Charlotte to be near hiking trails, and while we get a ton of people who love the look, I can see how walking into a black powder room might be unexpected. I know now that if I'm going to make any changes, I need to put a note on the listing or put process photos. People definitely want to know exactly what they're walking into."
For her part, Thornton is taking the opportunity of designing her Mexican beach house to right the wrongs of her past vacations. "There's no true primary bedroom in this house," says Thornton. "We designed it that way because we wanted to travel there with other couples, and we've experienced rental homes in the past where there's one 'best bedroom' and then there's this ensuing awkwardness of determining who gets that room and who gets the 'bad room.' Here, every bedroom has its own special feature, like an outdoor daybed or a cantilevered soaking tub, and there's one room intentionally designed to fit a bunch of kids."
Thornton adds that while the experience has been fulfilling, it's not without its difficulties. "It has taken a lot of time, and I've had to turn down client work in some instances, so there's been a financial trade-off," she says. "I hope it will pay off long-term, but short-term it has been expensive and I'm certainly taking a big risk." On the other hand, total artistic freedom is a unique and invigorating prospect for a designer: "It's probably the purest expression of my creativity," says Thornton. "I think Casa Rosada will probably be some of my best work ever."
Homepage image: Marker felt it was important to go all in on the furnishings because these properies are an extension and client crossover is part of the reason | Courtesy of Kate Marker Interiors