The 50 States Project is a yearlong series of candid conversations with interior designers across the country about how they've built their businesses. This week, Jackson Hole, Wyoming–based Kate Binger of boutique interior design firm Dwelling tells us why she encourages clients to go one room at a time, how she discovered that a smaller team is better for her business, and why she's acknowledging to clients that a couch can't solve COVID anxiety.
When did you first know you wanted to be a designer?
As a child, I used to move my own furniture around in my room nonstop—it was probably once every two weeks. My parents went to a post office closure auction with all of these antiques, so they gave my brother and I amazing postmaster desks that had the old flip-out extensions for a typewriter. This desk must have weighed 200 pounds, and I would jimmy myself in between the desk and the wall and push that thing around the room with my legs.
How did your parents feel about that?
I used to get in trouble because I was redesigning my room instead of doing my homework!
Did that design instinct follow you to college?
I went to Miami University, and my undergraduate degree was in art education, with art history and family studies as minors—those family studies classes have actually ended up being one of the most useful tools in my education as a designer. When I graduated, art teachers in Ohio were starting out at $65,000 per year, and if you went back to get your master's, you could make $95,000 or more. But when I moved to California, I found out that art teachers there make a pittance—the salaries for jobs I was looking at were closer to $12,000. I realized I couldn't live on that, and I didn't want to teach art during the day and then be a waitress or bartender at night.
I did what I could—I ended up being a nanny while teaching art. And I was constantly brainstorming, "What can I do in the art industry that will keep me inspired, that could be a viable life?" Interior design was on my list, and when I started investigating it, UCLA was right there.
Were you a full-time student again?
I would take night classes and early-morning classes, and then I was at my nanny job during the day. It took three years. But I was so inspired once I started taking classes that I just instantly said, "OK, this feels right."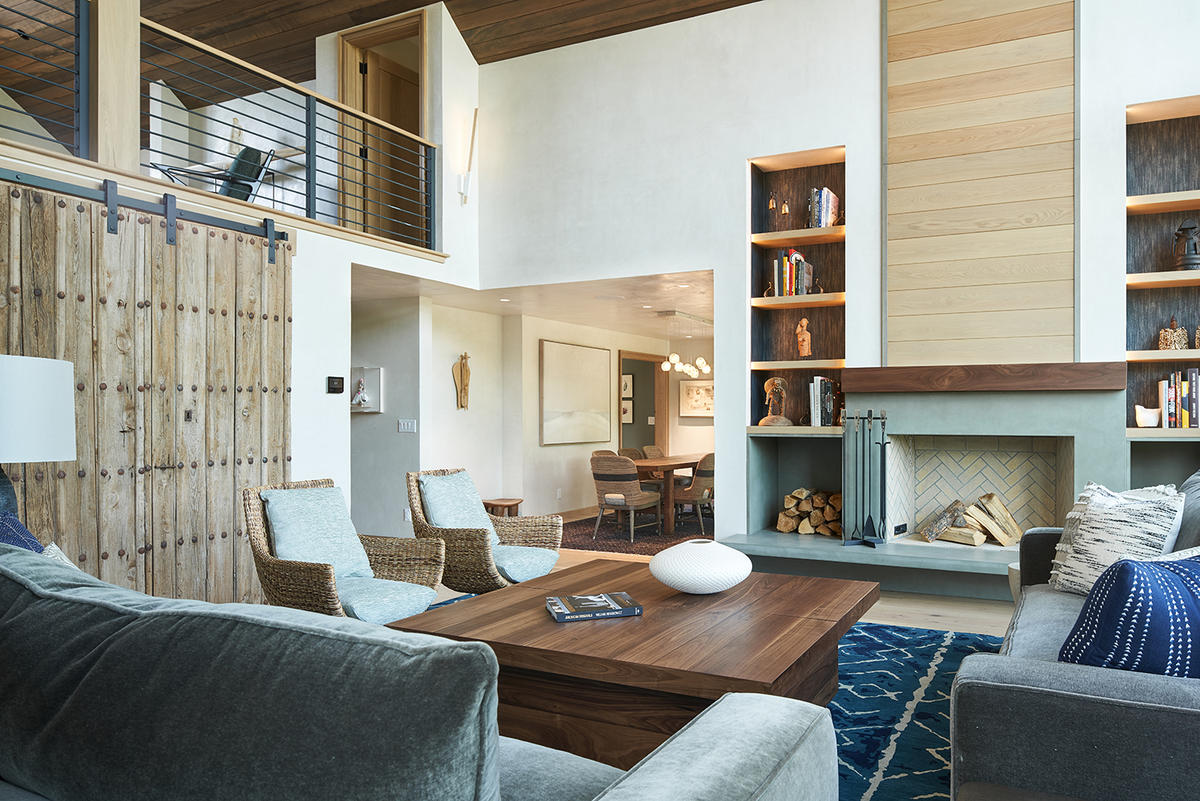 David Agnello Photography
What was the first design industry job you took?
It wasn't a good fit. It was an internship that turned into a part-time job, and I was there for eight months. I had grown up in the Midwest, where your work ethic and dedication to spend at least two years giving your all to an employer—that was the basis for my whole entire life. So I didn't want to leave them, because I felt like it would reflect poorly on me, but it was just awful.
My second internship, which turned into my first full-time job, was with Anita Fey in West L.A. She focused mainly on hospitality and commercial work, but had spent a portion of her career working on residential projects. She had this wonderful connection with a man who built spec homes, so we straddled working on residential for him and then the rest was mostly commercial work. She had been in the business for 35 years, and had a well-oiled system. She was an incredibly smart, thoughtful, pragmatic woman who had gone to architecture school, and was one of the first women to go to UCLA for design.
When I started with her, she hated computers. She made me draw everything by hand, which means I lost all of my CAD skills right away—today, I still never use them because I much prefer drawing by hand. The job with her was as valuable as UCLA. She was a mentor, and that's like winning the lottery. You are in such a great position if you have the ability to work for someone who is as intelligent as she is.
How long were you there?
I was there for two and a half years. I was the primary assistant to Anita, and then we had a woman who focused on just the 3D renderings who was part-time, and there was an assistant under me.
How did that experience shape where you are today and how you run your business?
First of all, she had a design library. For an office space that was probably close to 2,000 square feet, the design library took up at least 1,200 square feet of it. The resources that she forced me to manage and study created this catalog in my head that was always turning over. Because she had such an old-school, anti-computer approach, we were constantly going to the Pacific Design Center, or organizing and studying our library. It helped me realize how shallow online research is, and how important it is to stay inspired by having to feel and touch everything we do. That stayed with me when I moved to Jackson Hole, where our resources are incredibly limited. It forced me to be confident that traveling for work was going to be an essential portion of me staying knowledgeable for my business.
What brought you to Wyoming?
I had a childhood friend who asked Anita and I if we would be interested in designing some commercial spaces for a real estate office in Jackson Hole. Anita sent me because I was the contact, and I got off the plane and had three hours of meetings. The real estate office decided that they didn't want to move forward with anything because they didn't want to spend that kind of money. But I called Anita up after the meeting, reported how it went, and said, "I'll give you my six months' notice. I'll wrap up all my projects, and I'm moving here." I had no job when I moved here. It was just kismet.
I thought you were going to say that you took that project on your own!
No, I've lived here 15 years, and those offices are still in the poor shape that they were in then. Typical realtors, right? They didn't want to spend any money on their main offices except for a few new pieces of furniture, which was not the kind of project we were interested in.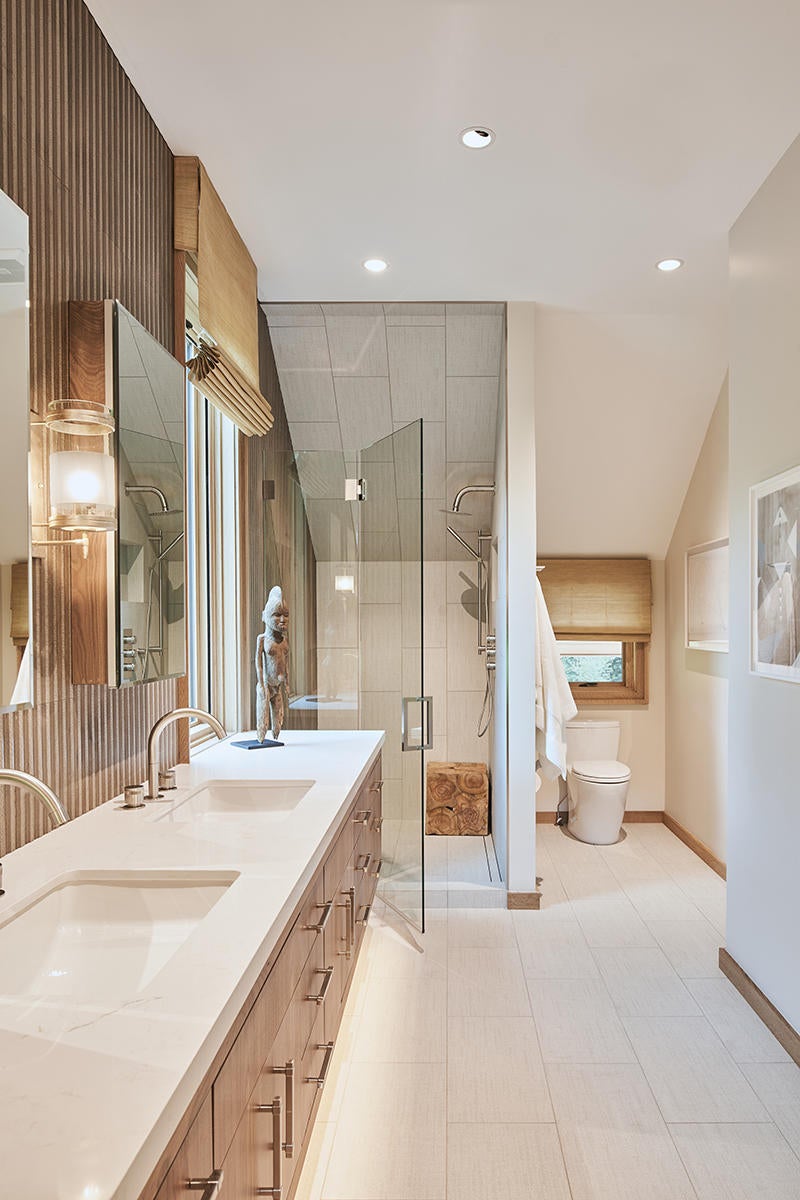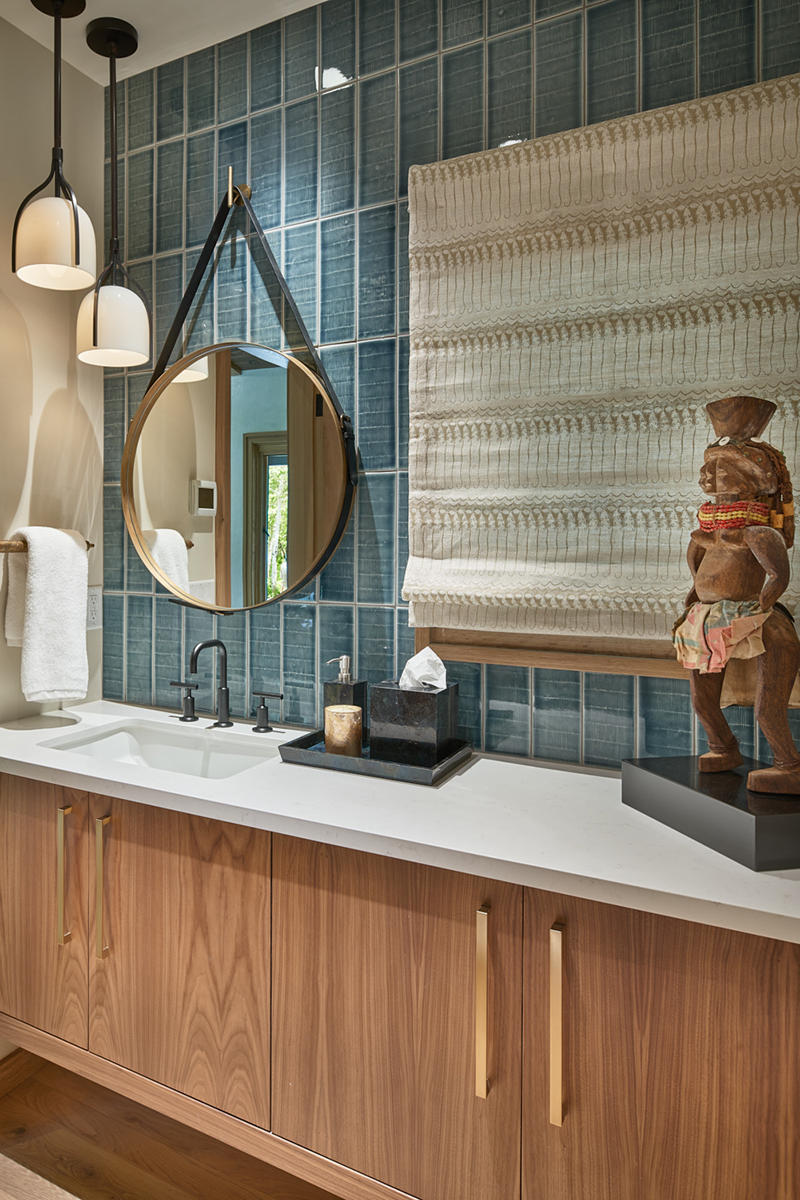 How did you establish yourself once you got to Wyoming?
I worked for a furniture store for six months here. I started to realize that my education—whether it was undergrad, UCLA or Anita Fey, or a combination of the three—had given me a leg up on the people I was working for, and I realized that I wanted to start my own thing.
Where did your first clients come from?
I made some connections at the furniture store. Two of those connections, which were just simple sales of chairs and sofas, inquired into my design services. When they found out I was going out on my own, they followed me. After that, it was all networking. I introduced myself to [real estate agents] and mortgage companies and friends of friends. I spent a ton of money buying people drinks and dinner and creating a network and selling myself. After the first few clients, the referrals became so strong—for the past 15 years, that's where at least 85 percent of my business has always come from.
What does your business look like today?
So it's myself, and Lane Littell is my right-hand woman, and she kicks ass. Then we have a handyman and "do it all" guy, and after 15 years of ups and downs with a struggling workforce in Jackson Hole, I have decided to stay with the three of us. We're in a 1,200-square-foot office and showroom, but the showroom portion is mini—it's boutique at its best, but it's bespoke, because I handpick one-of-a-kind items from all over the world. I traveled to Morocco pre-COVID and managed a huge buying trip there.
More for the showroom, or for a specific project?
For projects as well as the showroom. I enjoy that portion so much. In May, I drove through Pennsylvania and Ohio to Chicago, and collected antiques and textiles along the way, which is how I've adapted during COVID. I'm not flying places as much, but I'm taking more road trips to shop and research.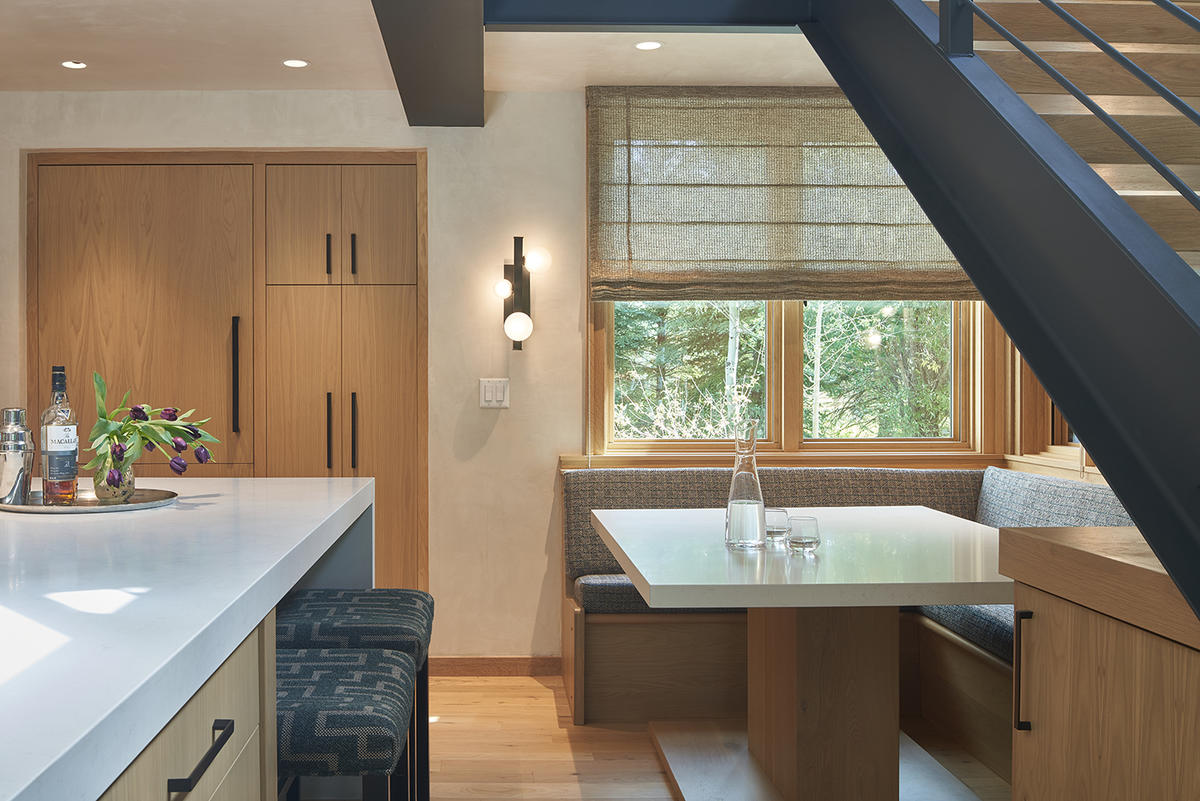 David Agnello Photography
Has your team always been small?
I had five employees at one point, and that was incredibly disenchanting to me because work ethic is really hard to find around here. I also became aware—and actually incredibly surprised by—the fact that the more I was growing, the less design work I was doing, and all of my time was being eaten up by management. I like being involved in every project that we have, and working intimately with the clients. I'm glad I had the learning experience of growing, and now have retreated back to a team that is smart and hardworking and thorough, but also allows me to be an integral part of every portion of the process.
How do you and Lane divide up the day-to-day work in the office?
She's a project manager. She is managing the expediting, purchase orders, invoicing, and processing on the regular. The design work is the majority of my focus—though I definitely open my fair share of boxes!
With the three of you, what does your project load look like at a given time?
Right now we have 13 projects.
Is that the right amount?
It's a little too much, and I've taken on this many because COVID delays have made it incredibly perplexing for how to get people off your books. There are three projects we're working on right now that were supposed to be finished four months ago.
They're all varying sizes, as well. We have clients who we've been working with for 15 years and will continue to do one room at a time, which I always enjoy, because I have a heartfelt desire to encourage people to keep evolving in their home. As much as this industry is the big shebang reveal of everything being wrapped up in a pretty picture, life is not a pretty picture right now for anyone. So as people have had increasing anxiety about the world, and then transfer that over to their living space, I am convinced that one of the best ways to help them as designers right now is [to encourage them to] actually take time to digest their houses. [We should be helping them] cherry-pick rooms that are really important, to cultivate into spaces that transform a portion of their brains and their hearts and ease their perspectives. That doesn't necessarily mean redoing the entire house.
That's really beautiful. Who are your clients, and what is the housing market like in Jackson? Are these primarily second homes?
It's obviously changing with COVID, but prior to COVID, I would say my clients were 60 percent locals and 40 percent second-home owners. Now, it's difficult to tell because so many second-home owners are moving here full time or are moving here 80 percent of the time.
As they become primary homeowners, does that change the process, or does that change what people are looking for in their home?
Not so much. Obviously, the focus of home offices and work-flex spaces have grown. Currently, we're working on a town home that will be a full-scale remodel, and one of the pieces of the puzzle is designing a dining banquette that looks out onto a creek and some old-growth trees. Normally, I don't think it would be a place where this client would sit and work for hours, but because of COVID, I believe now she'll work there for large chunks of time. The design of that entire space becomes more focused on comfort for her work than comfort for dining, primarily making sure that the seating is adequately comfortable and supportive for long hours.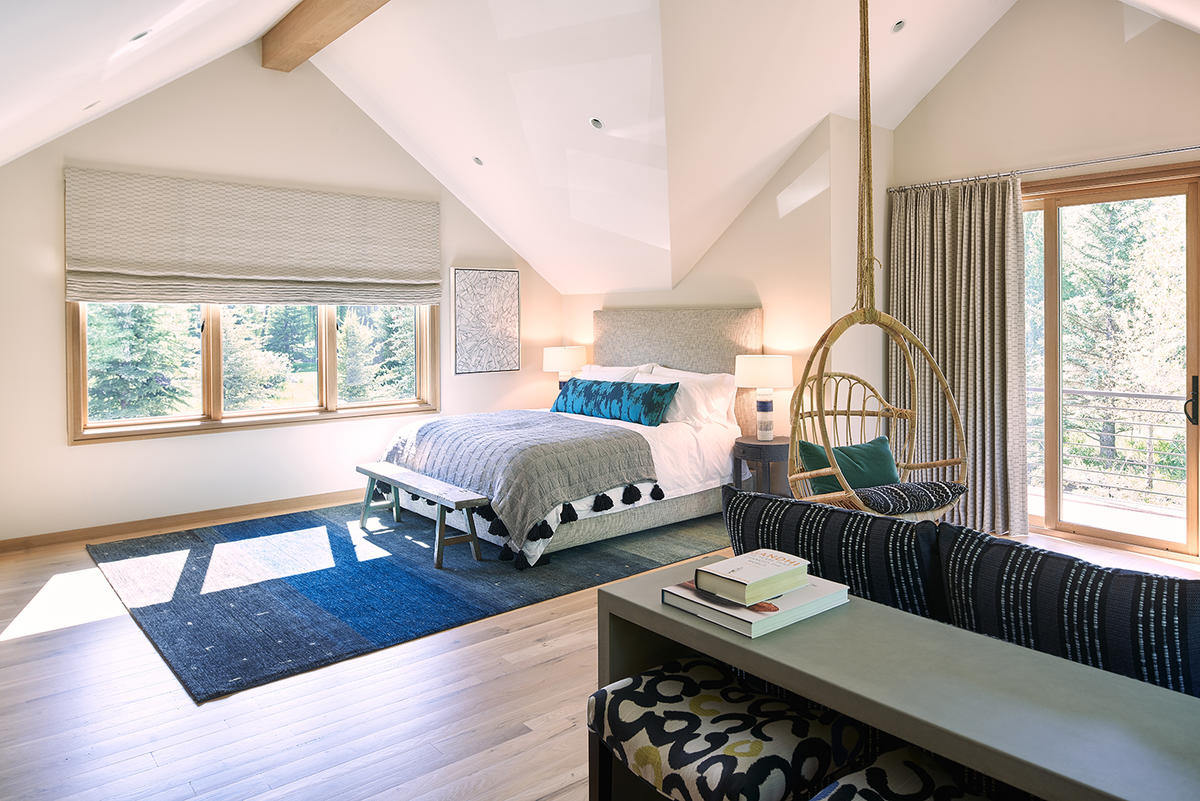 David Agnello Photography
How do you decide which projects you say yes to?
I like to interview the client just as much as they interview me, and number one is their overall energy being positive and playful.
Can you sense that pretty quickly?
Not always, but I've gotten a lot better at reading it. The fact that they enjoy color is crucial to me. I'm not impressed with the all-neutral trend. In Jackson Hole, we have very long winters, and neutrals become very tired if you don't have enough color to balance them. This is not California, where it's green all year long. From there, it's just a vibe, feeling like you share a common energy that is focused on community and caring and being patient in this world that has gotten so insane.
When COVID hit, Lane and I decided, "It's just the two of us, and then our respective partners—if we go to work, we really just have to figure out where the four of us are going to be." So we started coming to the office right away, and the phone did not stop ringing. It was the most explosive time for receiving interest in design that I've experienced in all of my years in this business. I quickly realized that people were desperately wanting to control their homes because they couldn't control anything else in the world. Thankfully, my psychology background has served me well. I could say to people, "I know you are feeling anxious about the world, but your sofa is not going to solve that problem."
How do people respond to that? Does that kind of snap them back into being realistic about things?
I've found that 90 percent of the time, people respond really well to it. They are relieved by someone willing to acknowledge the insanity. Then some people don't want to hear it, and I can't do anything about that.
On the finance side, how have you navigated billing for your work? Has that model changed over time?
I charge a markup on goods sold, and then hourly. The hours are billed at the end of the month after the hours are completed. For goods, I've always asked for a 50 to 70 percent deposit, depending on the scope of the job, with final payment due upon installation.
Where did that model come from?
Well, that's what Anita Fey always did, so I felt confident in following her method of bookkeeping. Everything I learned from her—in organization of paperwork, purchase orders, invoicing, tear sheets, binders, samples—I took directly and ran with it, and tried to learn and become better at it. I use Studio Designer, and that seems to be a solid program, and then all of our tear sheets and purchase orders are digitized. But we still have baskets for clients, and all of the memos and wood samples and concrete and slabs, wallpaper, everything goes in the basket. Sometimes we have two, three, or five baskets, depending on how large the samples are. For me, the hands-on portion of the work is still enjoyable because I'm a person that craves the tangible components of life. That's one aspect of this business that I have always loved—that it's not just computer work.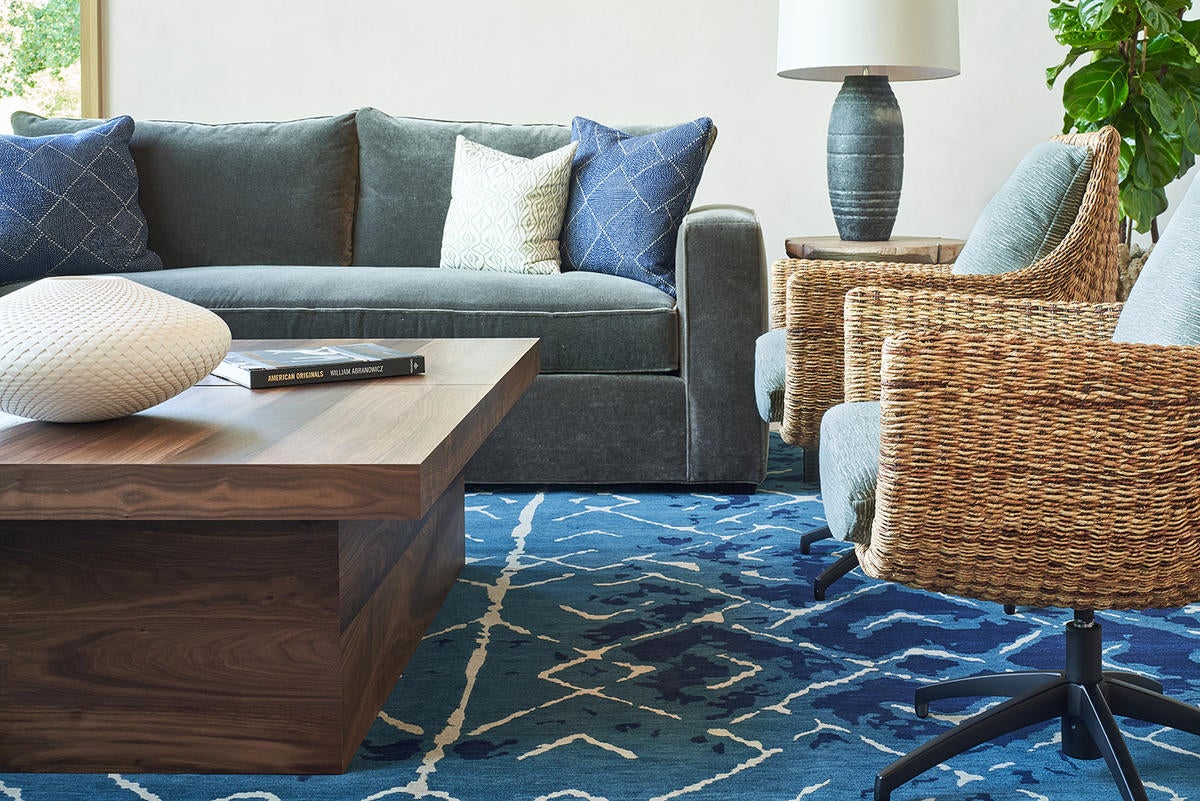 David Agnello Photography
How do you source in Wyoming, and what is your methodology for keeping the library up to date and staying inspired?
I usually travel five times a year to shows or cities that have showrooms, antiques, galleries or just small boutique artisans. I collect from there and then ship them back. I have two storage units that work as a combination of our overflow for the showroom and then also storage for clients.
Are you warehousing everything yourself, instead of working with a third party?
We have a third-party receiver warehouse, but I do a lot of storing—primarily for lighting, because we have to do so much inspection. I just don't trust most people with a $25,000 chandelier with 20 different parts. It's important that we feel confident that's being cared for.
What is the biggest thing you know now that you wish you had known when you launched your firm?
I tell everyone to get the American Express Business Platinum card from day one. I went through a fire at our storage unit, and their insurance program is absolutely incredible. And yes, the rewards are wonderful, but if you have good credit, their flexibility is one of the most helpful tools.
Also, if I knew how hard it was going to be to find good help—would it have persuaded me not to go into business for myself? Probably not. But I wish I would have been more prepared for the difficulties in finding solid people. I think I had this fairytale that if I started this business with a positive environment and paid people the best I can—which I've always been very upfront about—that they'd rise to the occasion. The team members I have now certainly have, but I've been pretty astonished at the amount of employees that have been one foot out the door because they don't really want a job, or the straight-up theft, or lying about their portfolio. I had a woman who put together a drafting and 3D rendering portfolio that was absolutely stunning—and when I asked her to sit down and do a drawing, she couldn't do it.
I just don't understand how you think you won't get caught?
I don't know. If you don't know how to use a straight edge and an angle, or if you don't even know how to set up the paper—it's not like you can bullshit your way through that.
I also wish someone would have encouraged me to take more technical business classes for management of the bookkeeping aspect. I wish I would have known what to look for in a bookkeeper from the very beginning. If I was going to tell someone two things about going into business for yourself in design—number one is, get some education on what the right kind of bookkeeper can do for you from the beginning. Number two is be prepared for the difficulties of finding the right help.
What does success look like for you? Where do you see opportunity ahead?
In 2017, I climbed Kilimanjaro. From one of the guides, I learned about Shanga, an art center that employed disabled people in the community. Shipping from Tanzania to Jackson Hole is obviously incredibly complicated, but I started working with them because they have these beautiful organic cotton blankets, which are expensive to ship but certainly can't break. Last year, I raised $7,000 for wheelchairs and food and a lot of feminine supplies that the women don't have access to. Once I was able to not only donate my own money to the organization, but also buy large quantities from them and integrate them into projects because they're beautiful pops of color—that was a level of success that I've always been searching for. To have enough money to really give back to someone.
For me, the definition of success has always been achieving a financially stable level, where work feels like it's in a strong-enough flow that I can create relationships with people who are in need, and to create work for other people.
To learn more about Kate Binger, visit her website or find her on Instagram.