The 50 States Project is a series of candid conversations with interior designers across the country about how they've built their businesses. This week, Detroit-based designer Rachel Nelson of Concetti tells us why she wanted to refine her systems before making a single hire, how an unconventional questionnaire helps her vet clients and why she wants her staff to be the best version of themselves, not just great designers.
What was your path into the design industry?
When I was little, I dreamed of being a veterinarian. Then my mom kindly reminded me that you don't always get to play with the animal—sometimes they're going to be sick. Then I had a meltdown.
My grandparents played a huge role in nurturing and supporting my creativity. They were artistic—I'd always draw with my grandpa, or I'd come over and my grandma would be painting and my grandpa would have just taken photos—they encouraged that in me. The last conversation I ever had with my grandpa, he said, "Promise me that you'll be an artist." I was in school for interior design at the time, and I said, "Oh, I will be, Grandpa. I promise." He was also a Detroit business owner, which makes me a third-generation Detroit business owner, and that means a lot to me.
How did you start your career after design school?
I graduated right after the 2008 recession, and it was really slim pickings. I went to Kendall College of Art and Design [of Ferris State University] in Grand Rapids, Michigan. It was the kind of program where students always graduated with design jobs—but my year, nobody graduated with a design job. One girl got to keep her internship, and it was like, Ooh. I'm certainly not one to give up, but I remember feeling defeated.
One year when I went to NeoCon as a student, an architect from Rockwell Group—which is one of my all-time favorite architecture firms—said, "No matter what job you're at, there's something to learn. Even if it's not your dream job, even if it's not where you thought you'd be, just understand that you're learning something of value every step of the way." So I told myself that I just had to get my feet wet and I found a job at a kitchen and bath center. While I was there, I got good at understanding cabinetry and managing client expectations. Then I went to a remodeling company, where I was the interior designer on staff; after that, I found myself at a showroom again, this time learning soft goods, wallcoverings and window treatments.
Did you learn something at every job?
What the architect said was true: Every step of the way, I was gaining an additional skill set. But the whole time, I was very aware of the shortcomings. When you're working at a cabinetry place, all you use to solve problems for your clients is cabinetry. When you go to a construction place, you can do more than just cabinetry, but it was all still built. And in the showroom, I was trying to solve with furniture all the time, but by then I had the knowledge to be like, "What they really need is a built-in." Out of all of that came this desire to have an independent firm where I could be of service to my clients no matter what they needed, built or designed, where we had all of the tools we needed to pull their vision out and bring it to fruition.
When did you start to think about founding your own firm?
Some clients of mine at the showroom were like, "You are really good at this. Why don't you have your own firm?" Then my co-workers began asking me to start a company—I didn't start a company with them, but the point is, I'm a big believer in signs, and it was one after another coming at me. In May of 2014, I decided, "OK, let's start doing this."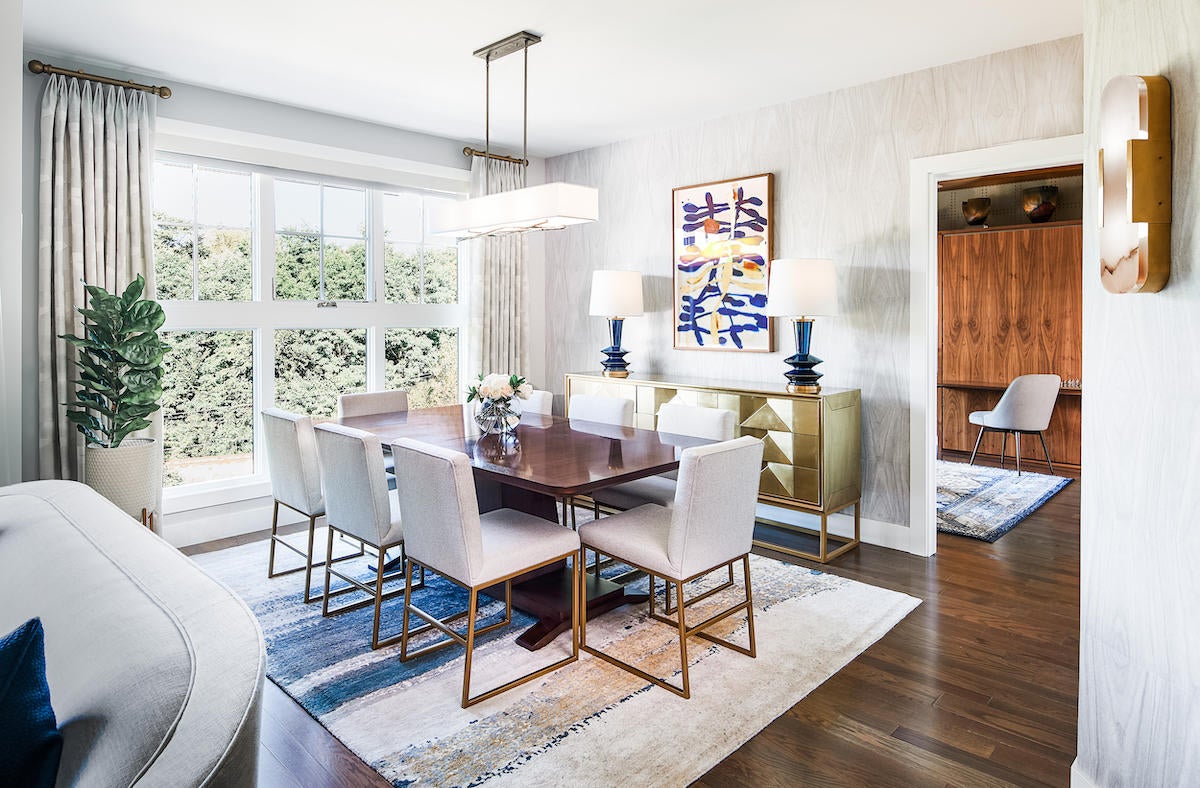 Where does the firm's name come from?
Concetti means concept in Italian. When I was in college, I was able to spend a semester abroad in Italy. It was a pivotal time for me. One of my professors was a powerhouse designer for Ferragamo and Gucci, and I remember we were doing a project and she said to me, "This is what makes you different. Your superpower is your ability to pull from a concept into a project." That is something that I pull through every project—it's conceptual, it's deep and the layers all tie together—and she helped me realize that was something special about how I worked.
On your website, it says front and center you are "an interior design strategy studio." I love that you include the word "strategy" in there. What does that mean to you, and why was it important to make that the first thing a client sees?
I wanted to position the firm as equally left- and right-brain thinking: I can dream big and our team can come up with incredible ideas, but we're also your partner in the service part of it where we'll advocate for you and we'll execute this together.
What were some of the early challenges of building the business?
I am very focused on operations and what it takes to standardize something, so I was hesitant to add anybody to the team until there was a clear expectation. The beauty of owning your own business is that it's like the wild west—it's uncharted territory. But that's also the hardest part. My goal was to make sure that no matter who a client interacts with, it's a similar experience. The first priority for me was coming up with something that was systemized enough that I felt like I could invite people into this to have a clear expectation of how they should be interacting with clients.
What were those systems?
We have a phased approach to design, which allows for quality control. There are three phases, and every phase has two steps. The first phase is what makes us the most different, and is where we really lean into that strategy piece. That's the data dump—learning who we're designing for, understanding their needs, holding space for them to explain their pain points, their wishes and their dreams. Then we say, "Well, how does your family's personality translate into the built environment?" I don't want to say, "You're midcentury, and you're French country"—I don't want to put people in buckets—so we lean into, "What is your authenticity and what is your unique style?" So phase one is setting those functional goals and then what we call their unique visual guideline.
The second part of phase one is building everything into 3D and going through prototypes. Now that we understand the constraints of the room—maybe we say, "This is how we could get eight people in the room and have a game table and a big TV here," or whatever their goals are for the space. It can manifest in a couple different versions, and we're reviewing the pros and cons for every version we show them. We call that participatory design. Instead of saying, "This is the right answer because I say it is," we say, "Here are some options. Let's review them together." So it is really an opportunity for them to participate in the design process, which I think is so important, especially in residential design. It's a large investment and it's going to disrupt their family, so they really need to have high confidence it was the right decision. At the end of phase one, you have a prototype of what we're trying to create.
What happens next?
Once we know what the prototype is, phase two is where we actually go and source everything. At the end of phase two, we have a full set of architectural drawings and a selection sheet. We call that part "personalize and translate"—personalizing by finding all of the selections and translating by putting them into construction drawings. We can take the big, beautiful prototype in 3D and translate it into technical drawings for trades to actually execute. So at the end of phase two, our ducks are in a row.
Phase three is where we are doing construction advocacy. We are overseeing the transformation, placing orders, and making sure items are received in good condition to the warehouse. We're at deliveries. We are staging everything, down to bookshelves and gallery walls. That's where we get them to the finish line together.
That is so clear. I noticed that every single phase ends with a deliverable. How do you bill for your work, and how does the way you charge line up with those phases?
A deliverable is everything. That's something that I learned very quickly—if clients get a bill and they don't have something that's tangible to show for it, it's really hard to cough up that money. So our phases also address that. You can be a great designer, but if you don't work in a way that makes clients feel comfortable or taken care of, then you're not going to be able to design.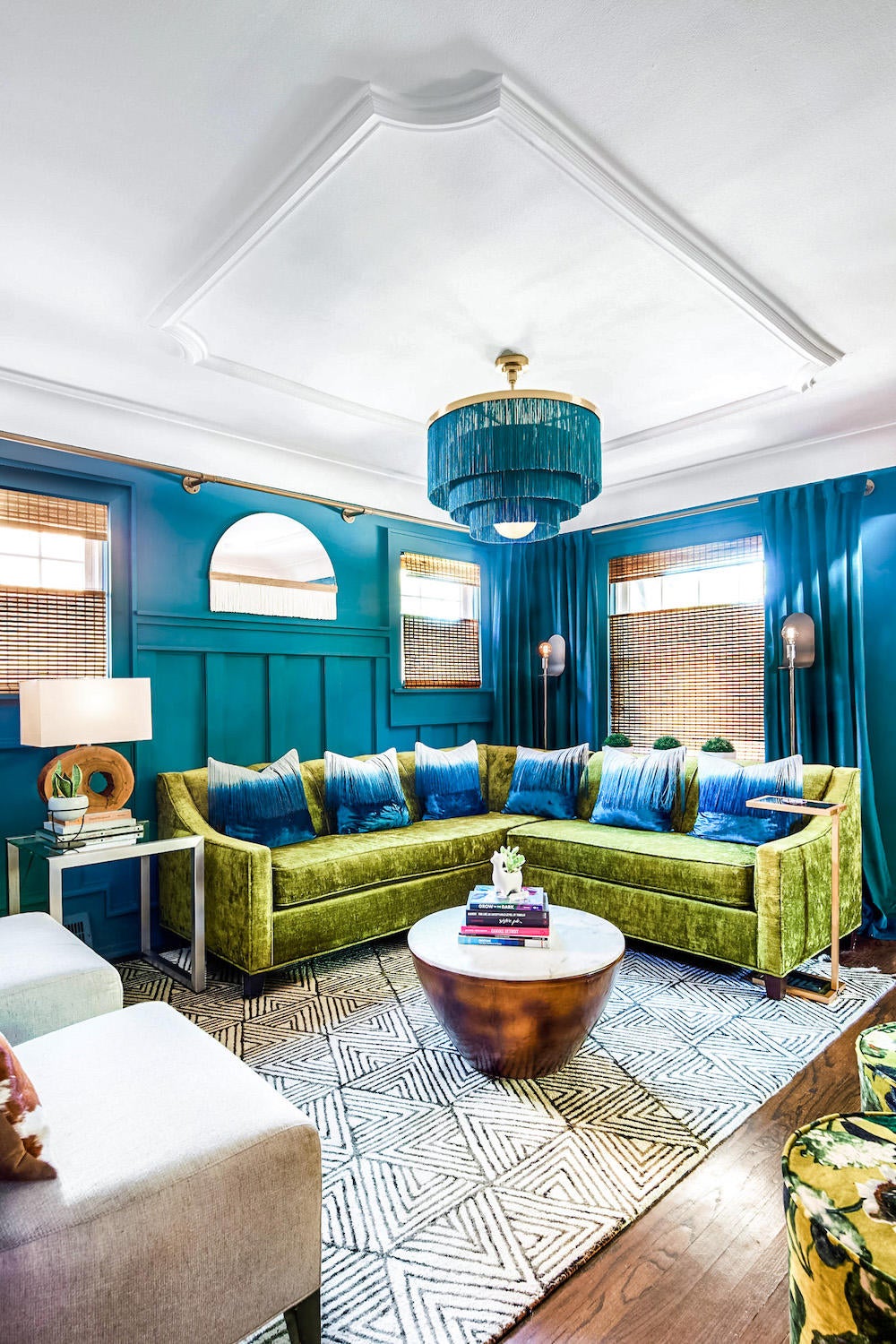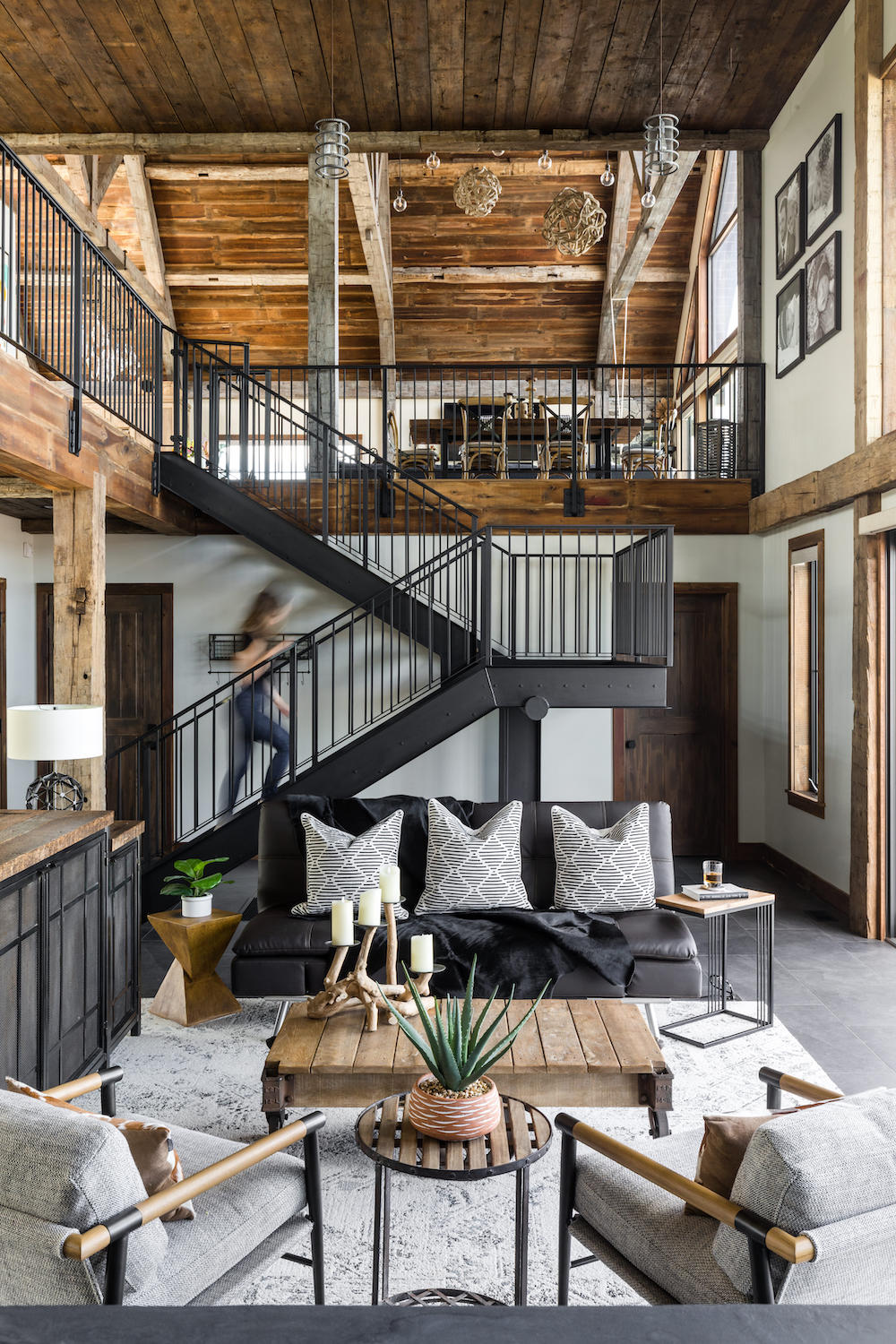 Earlier you mentioned managing client expectations at your first jobs. How do you do it in your own firm?
Phase one is where we identify a very clear scope of work. From there, I have eight years of data I can go to and say, "Other projects took us this much time. For phase one of your project, I think we can get through it in about 80 hours." We bill hourly, but we make sure that we don't go over those 80 hours—and if we do, we educate the client as to why. By having a set process, they know what they're signing on for and it makes it predictable. I can say, "In phase one, there are two rounds of edits. In the first meeting, we're going to pull it into 3D. In the next meeting, I want to hear your edits. In the third meeting, we finalize the design." And if they need more than that, we certainly can, but that would require additional hours.
In phase two, we move to an agreed-upon monthly amount. It could be 30 hours a month, or it could be up to 60 hours a month. For some projects, it could be as low as 20 hours a month. But basically, phase two is when we're bringing in a lot of third parties, so we're at the mercy of other peoples' schedules. I mean, the time it takes for people to turn around quotes since COVID has tripled. That's why we agree on a monthly allowance. I always tell clients, "If we work under, we work under. But if we need to go over, we get your permission first and you will understand why." It could be, "Oh, this contractor says the tile guy can come tomorrow, so we've got to stay up late and get these tile layouts done. We can do that, but it'll be an extra five hours this month. Is that OK?"
Phase three is really hard to predict, so we just say it's hourly. Period. End of discussion. There might be months where there's only two or three hours of work because construction is slow and we're waiting on orders. But we could also have four electrical walkthroughs because of something on a construction site that we never could have predicted. So we usually say that overall our involvement drops significantly, but we can't estimate hours for that phase.
Do clients have a clear understanding, then, from the beginning, of what their total spend will be?
Yes. And beyond that, this approach also allows us to meet people where they're at. We're very service-oriented, and time is money when it's billable—we can be there for you through everything, but your hours are going to be higher. Other people come to us and only want to invest in phase one, and that has been really cool too. Going back to the strategy question, that's one of the reasons we call ourselves interior design strategists. We have newlyweds come to us a lot, or people who are like, "I just graduated from medical school and I'm ready to invest in my home," but they may be at a point in their life where they just need somebody to help them solve for a specific room and then they go and source it. I really, truly believe everyone deserves good design. So if you want us to execute it, I would love to execute it. But if you're at a stage where you just need the vision and that you'll execute it, we also offer that. I can tell you, a majority of our clients go start to finish with us. But I get really clear with them that they don't have to commit to the whole enchilada.
What is most compelling to you in a client?
I want clients who value design—who want to get curious, explore the options and understand that design is an investment in themselves.
Is there a shortcut to finding that person?
I wish! But mostly, I've just gotten better at asking the right questions. Before the first call, we start with a client survey, and how seriously they take that is really telling. It's more than just the information they provide. We ask some quirky questions, and some people really open up and pour themselves out—they're like, "And my dog's name is Susie, and she loves rawhides on Sunday mornings." But some people will write, "I don't know why you need to know this. I just need furniture." And that's probably not the best fit for us.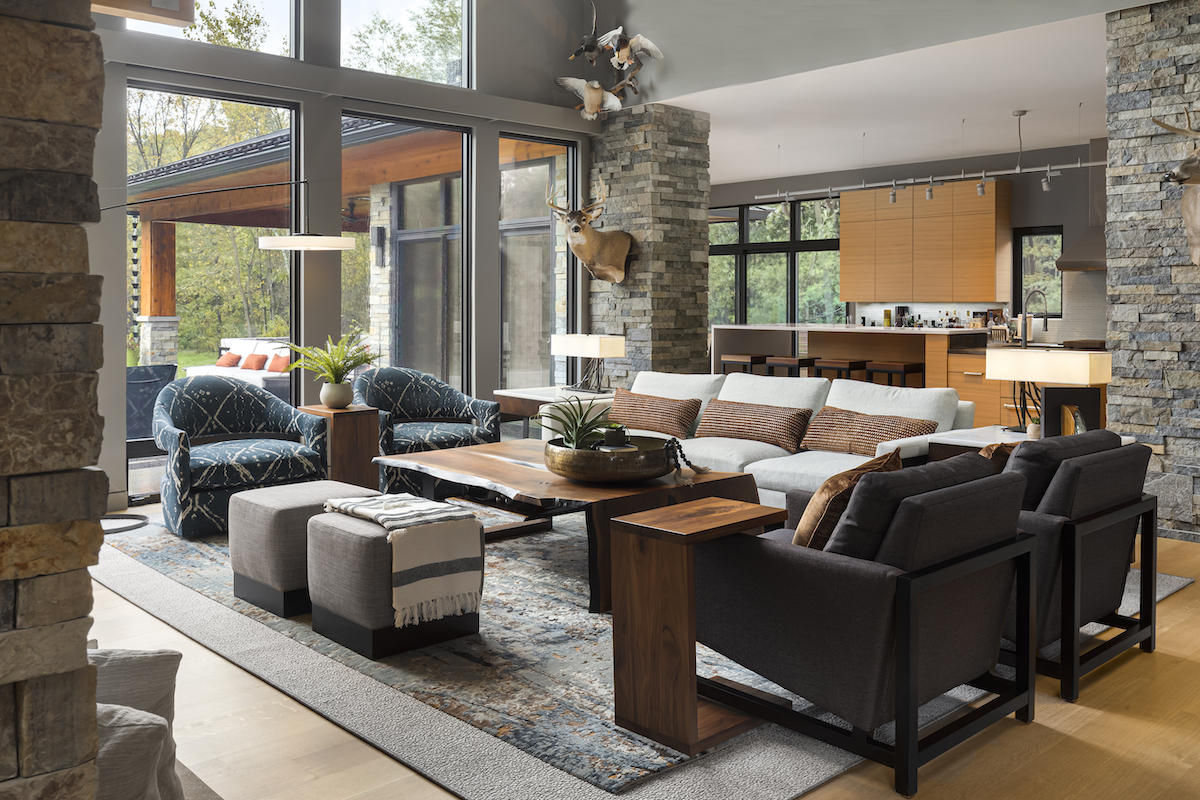 How have you grown the firm, and what does your team look like today?
I had a business partner that I bought out in 2019. It was just the two of us in the beginning, we got an intern for a minute, then slowly started adding on to our design team. Right now there are seven of us. I'm the CEO and principal designer. I then have a lead designer, an associate designer who started as a junior designer and just got promoted, and then two junior designers who have been with us about 90 days. We also have a procurement specialist who oversees all of the orders and schedules deliveries. And then our operations manager, who is the glue that holds a lot of things together.
As the principal designer, I am talking to all leads that are coming in, helping them identify a clear scope of work, and signing them on. Then depending on the project and workload, it'll be either myself and the associate designer or junior designer, or Taylor Wiedemann, who's our lead designer, and one of the junior designers. We work in pairs. Taylor has been here about four years, and is now executing a lot of projects on her own, though we meet on a weekly basis to review concepts and collaborate. For those projects, my role is creative director, in essence, to see what's going out and ensure the quality is there.
Was it challenging to have someone else take the lead on projects?
It was something I moved slowly with. Over the years, Taylor has taken on more and more and more responsibility. She started as an associate designer, then became a senior designer, and now she's the first lead designer at the firm. I am super grateful for her transparency, and I truly believe she fights for her clients—and what I mean by that is if something's not right on a construction site, for example, she sees it, says something, and insists it gets fixed. She really keeps track of her client's budget and says, "Hey, here are some tile options and this is what fits within budget." That may sound small, but I think that's what's really, really important—you have to be a great designer, but you also have to be thinking about how [your choices] impact your client every step of the way. Those are two different skill sets, and she's demonstrating both.
How are you thinking about building your team?
I really do hope that the other three designers on the team continue to make their way up, as well—that we can promote from within—because I really love the team that we have.
We have a coach we meet with quarterly, where we get to learn a little bit more about ourselves and set goals for the next quarter. I also think people burn out so quickly in this industry—it is a lot of pivoting, thinking on your feet and managing so many balls in the air. So this year, we instituted quarterly mental-health breaks that are paid in addition to PTO. I'm really excited about it, because I do see a lot of benefits from being able to slow down. We have one coming up in July: We're going to take a mandatory week off for the Fourth of July to recharge our batteries. But the day before we leave, we're going to have a whole day with our coach—I'll buy lunch, we're having a tarot card reader come in, and then we'll talk about our personal and professional goals for the next quarter.
It must feel incredible to create that kind of environment for a whole team.
It has been one of the hardest things, but it is so exciting. I was a coach for many years for high school and college students in color guard, and I just loved the camaraderie and the teamwork. I kept thinking, "Why can't this exist in your work culture?" And it can.
When we did our recent round of hires, we talked a lot in the beginning about things like, "How do you handle mistakes? And when you're stressed, how do you react?" You can train somebody to be a great designer, but the drive to really be the best version of themselves is what we aim to attract. That's when you're a really great teammate.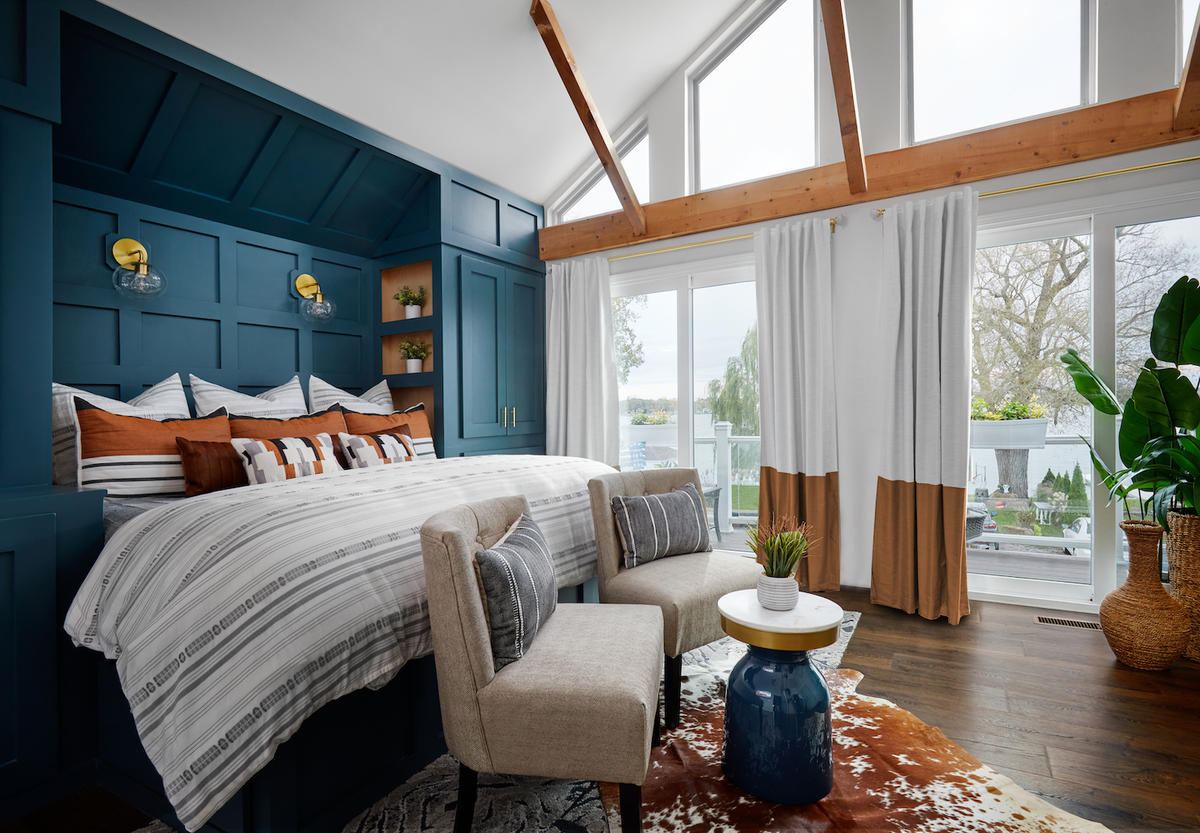 You mentioned being a third-generation Detroit business owner. Can you tell me a little bit about the local design scene?
Detroit is such a special city. There's so much grit and determination and vibrancy. When you go to other major cities, it can be a little bit more cutthroat, but here you just see people reaching out to lift you up. There's a lot of camaraderie because we have so much determination to make the city thrive. Part of that is that we have so much land, so many dilapidated buildings—and there are so many initiatives to revive and restore them. For example, our office is in an old automotive manufacturing plant that was designed by the architect Albert Kahn—he's like the father of Detroit because he designed so many spaces—and it's such an honor to be in this building that has now been repurposed into a hub for a lot of different creative businesses.
The housing market is really hot right now. There are a lot of incredible old neighborhoods, but there are beautiful modern lofts and stuff going up as well. I think the biggest thing is that there are so many pieces of real estate that were not able to be taken care of throughout the years, and there's now so much effort to revive them—if you're a landlord, you can get grant money to make improvements to your space and they'll match you with tenants.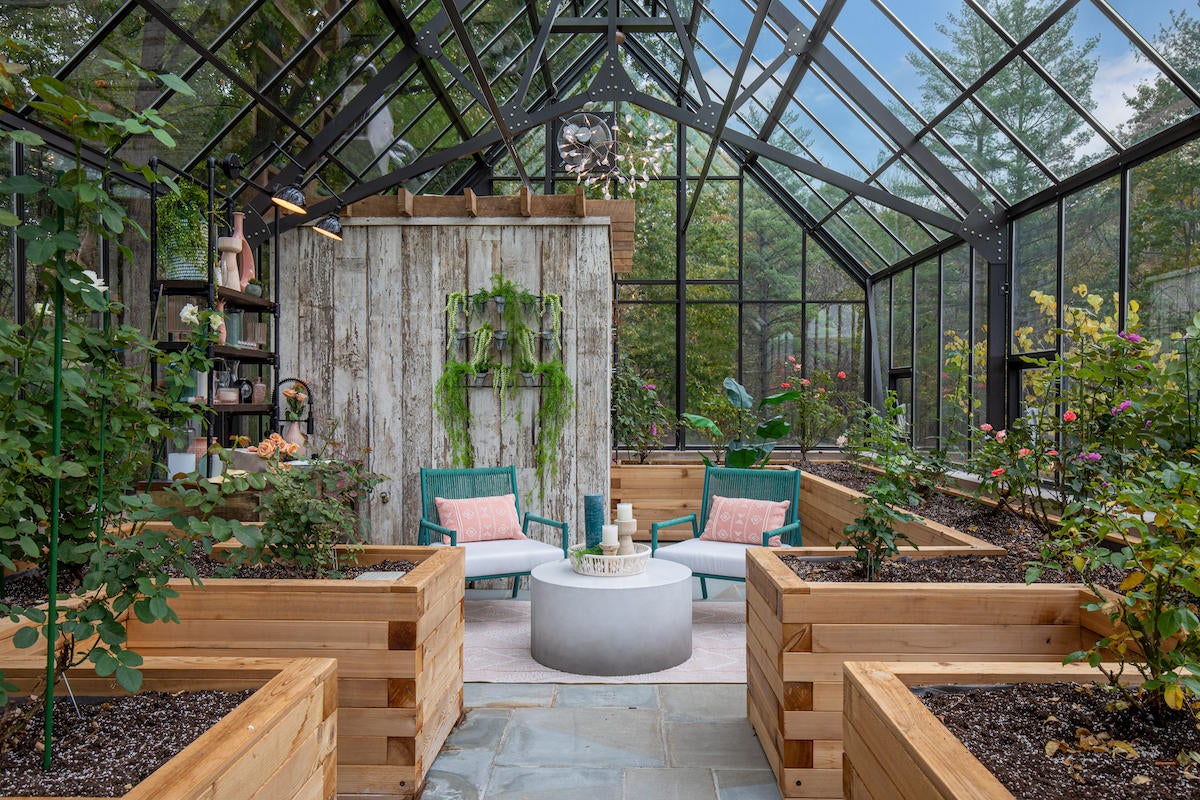 How does that impact the types of projects you're working on?
We've been able to work on some commercial projects in Washington, D.C., and comparing working there to working here was fascinating. For one, they just had a bigger budget than most of the small businesses we're working with here. But also, the money here often goes to making sure the roof doesn't fall in—that's how dilapidated these buildings are—and people can only invest in design if there's money left over. That's not to say that's true for everybody, but that was the biggest thing I noticed in D.C. It was like, "Well, these are already beautiful buildings, so you invest $80,000 into the beautiful fun stuff." Here you might be investing $80,000 into new windows and replacing the plumbing to make these buildings inhabitable again.
What is the biggest thing you know now that you wish you had known when you started your business?
The word that's coming to mind is authenticity. You don't have to be anything but yourself. I was in my late 20s when I started the firm, and I had so many experiences where people would say, "Oh, you're so young." I had a chip on my shoulder, and I felt like I had something to prove. So this is the third version of our website in eight years—because I do believe in investing in the brand—but on our first website, I was definitely trying to be way more professional and serious. But looking back, I didn't have to turn up the dial on what others think "professional" should look like to earn respect. I just needed to talk like me.
To learn more about Rachel Nelson, visit her website or find her on Instagram.