Of the thousands of considerations that go into designing a home, environmental impact is not often the biggest. But for design/build firm CarbonShack, sustainability is top of mind during the entire design process—and now, with the debut of a new product line and showroom space, the company is hoping to bring that message into other firms' projects as well.
Six years ago, Steve Pallrand founded CarbonShack to get serious about environmentally conscious design and construction. An entrepreneur and founder of Los Angeles–based design firm Home Front Build, which specializes in historic restoration, he had deep experience in the home-building arena. With the new entity, which shares overlapping services and team members, he was able to get even more specific and turn his focus to applying green design principles to projects from the ground up. Instead of returning old homes to their former glory, CarbonShack caters to clients with a more contemporary sensibility and an interest in addressing climate-related challenges in their own builds.
In practice, that meant addressing everything from embodied carbon—the emissions used during the manufacturing, transport, construction and end-of-life usage of construction materials, and how that relates to the wood used in a home's frame or the concrete in its foundation—to applying passive concepts to maximize efficiency in energy, waste and water systems, such as tankless water heaters and energy-efficient windows, and interior design choices that incorporate sustainably sourced, healthy materials as well as aesthetics drawn from the natural world.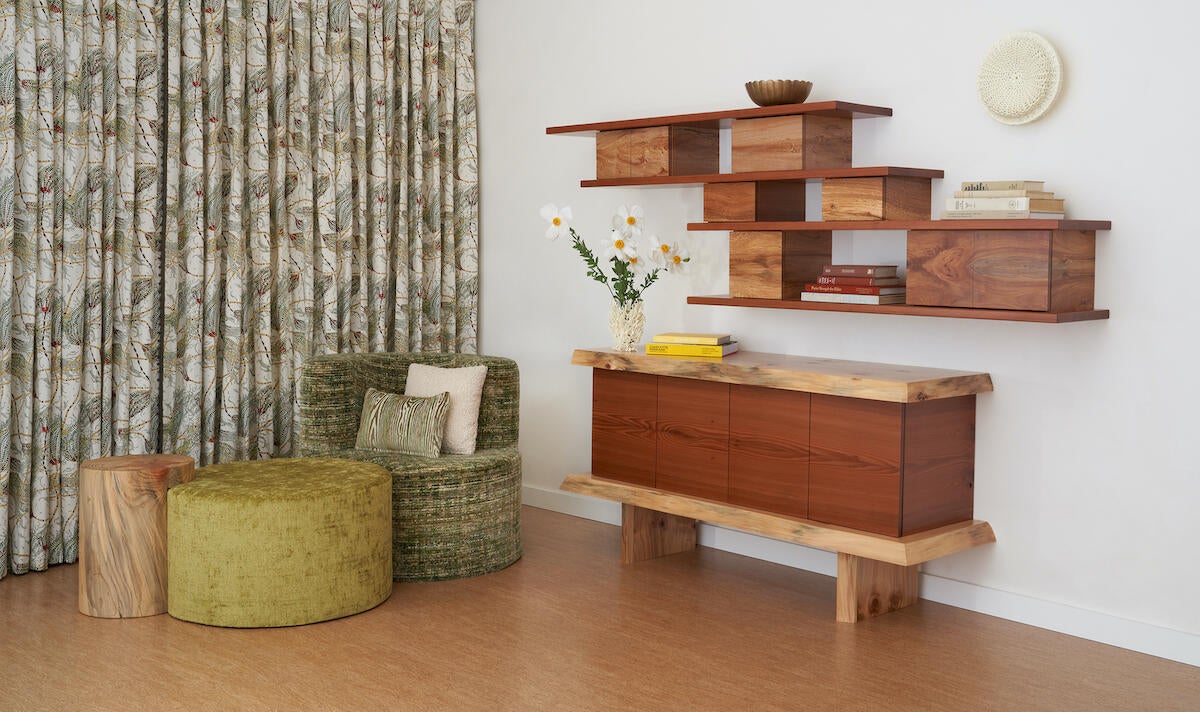 When finding sustainable and ethically made furnishings and decor proved challenging, CarbonShack came up with creative alternatives to typical procurement methods. Pallrand's team has spent years researching and stockpiling sustainable materials, which are turned into bespoke pieces fabricated and produced by either the CarbonShack team or local artisans. That includes salvaged lumber collected from trees grown in Los Angeles that had to be cut down to make room for development—or, in one particularly unique case, a redwood bridge built in Northern California's Marin County in the 1920s that was recently decommissioned, allowing the firm to swoop in and find new life for the otherwise dump-bound materials.
The pursuit of sustainable materials inherently requires trade-offs. In sourcing materials for its products, the firm has sometimes compromised on its goal of keeping operations local to the Los Angeles area in order to curb energy expended in transport. For textiles, CarbonShack is primarily using hemp or hemp blends, which require a very low amount of water in fabrication and production compared to other commercially available fibers. To apply eco-friendly printing processes, however, the group must outsource to a company based in San Francisco. Similarly, the firm sources red clay for decorative tiles from the Sacramento area; the material is then shipped to Los Angeles and fired in electric kilns in order to avoid employing gas and other nonrenewable resources in the production process.
On a practical level, the products are designed to be healthy in the home—including furniture made with non-VOC finishes and entirely biodegradable fabrics. Taking that ethos into the aesthetic realm, many of them also feature organic physical properties. CarbonShack's 3D-printed lighting fixtures, for example, draw inspiration from the natural world by mimicking the features and patterns of microscopic organisms and plant-based systems such as mycelium, the rootlike structure of fungus and mushrooms. As the firm's senior interior designer Greg Roth explains, the decision to bring nature-inspired elements into CarbonShack's home and product design is rooted in a desire to visually remind homeowners of their impact on the environment.
"Even if we live near or in nature, we don't always understand our relationship to it," says Roth. "As the climate warms and things get a little bit more fragile between people and the environment, we feel like underscoring that connection can help people keep in mind that we have a responsibility to be as green in the practice of constructing our homes as we can be."
Beyond product design, the firm is constantly grappling with how to best bring sustainable design to the forefront of clients' minds. CarbonShack made its first foray into expanding eco-consciousness in buildings and homes through the creation of open-source educational materials, including a free online carbon calculator for homeowners. Available on CarbonShack's offshoot site, SustainableBuild, the feature allows homeowners or professionals to input data to determine how many pounds of carbon a space produces each year. From there, users can also find out how much carbon they can conserve by switching to alternative energy systems or appliances.
Roth says he is beginning to see the tide turn when it comes to carbon-friendly home preferences in recent years. For example, many homeowners have shifted toward induction cooking and electric kitchens, while previously they tended to prefer (and romanticize, he says) the carbon-heavy process of cooking with gas. More than ever, homeowners and designers alike want to make greener choices, says Roth. The problem is that many just are not aware of which choices in the design and construction are the most sustainable.
If the firm's own exploration of that same issue can serve to lay groundwork for future sustainable design seekers, then the company is eager to guide others down the path it has forged so far. To that end, CarbonShack is making its materials available to fellow design professionals with a new showroom set to debut in Los Angeles on October 6. There, the offerings will include a variety of home products—including lighting, textiles, decorative tiles, cabinetry, furniture, accessories, woodwork and metalwork—all made locally or within an environmentally conscious distance of 400 miles through energy- and waste-efficient manufacturing processes.
"We are offering these products as an entry into becoming greener and more conscious of what we can do," says Roth. "If you buy a lamp from us, and it costs a hundred dollars or even several hundred dollars, that's not committing to changing all of your windows to high-efficiency windows, right? But it's one thing that you can do, putting in this beautiful LED fixture that reminds you of the environment, that sets you on a path that we're hoping can inspire people."
Homepage image: Mycelium fabric from CarbonShack | Nolasco Studios