While business methods have been quickly evolving, the office environments that house them have been a little late to the meeting. The workplace has been longing for a design disruption, and many retailers are positioning themselves to be at the forefront. West Elm Workspace, a partnership with office furniture manufacturer Inscape, originally launched in 2014 to blur residential and commercial designs. After debuting their newest collection at NeoCon, the brand is releasing the workplace research that influenced the latest designs.
The white paper, titled "Unoffice the Office: Emerging Opportunities to Advance the Human-Centered Workspace," was developed in collaboration with Melissa Marsh, founder and executive director of the organizational strategy firm PLASTARC. The report studied environmental psychology, cognitive science and socioeconomic trends and how they coexist with traditional office designs.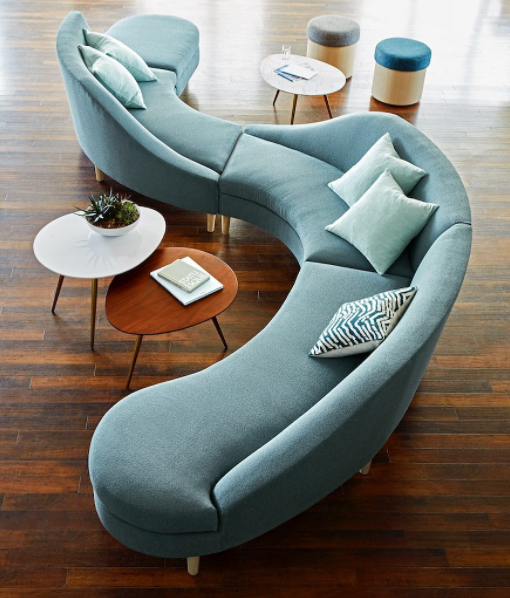 Noticeable areas for improvement, including designs that encourage choice, community and collaboration, helped West Elm Workspace construct its people-first strategy. In the report, the brand breaks down the emerging workplace problems and provides the following modern design solutions.
Likely a reaction the resourceful, start-up culture that even big corporations seem to aspire to, the study found that collaboration, organizational scale and a sense of community play key roles in the modern office environment.
Design's response, according to the white paper, will require transformable spaces that can adapt with day-to-day tasks, as well as spatial layouts that foster community. The report recommends a kitchen table for the latter, as it has been found to nurture relationships when members of a group sit around it.
But with collaboration comes a need for solitary retreat. The research notes residential inspiration is essential for warming traditional corporate structures and creating spaces for employees to concentrate on their own. In this effort to humanize the office, sensory elements that contrast digital surroundings, a natural wood beam or wrought iron railing for example, are central to providing this individualized comfort.
As workplaces become more mobile, design has to work harder than ever to keep employees' desire to centralize.
"As we shift away from having to design for heavy machinery and computers toward being able to design for people, we have the opportunity to enrich the human experience of the built environment greatly," reads the report. Using organic materials like cotton, marble and wood are tactile solutions provided to meet the sensory response. The study also encourages incorporating plants and natural light in the space to connect workers with nature.
As workplaces become more mobile, design has to work harder than ever to keep employees' desire to centralize. Every square foot of the space has to be considered, especially now, as the report finds that areas away from the desk—say, a hallway or lounge area—can provide a fresh perspective for creative ideas.
"By designing for its real advantages—a sense of community, access to people and information, a sanctuary for focused work—and creating a welcoming and hospitable environment, designers can ensure the office remains an attractive option for workers with more choices than ever," claims the report.