Prisma, a vibrant, art-inspired rug collection, is the latest debut from Amy Lau and Kyle Bunting. For Lau and Bunting, whose Prisma collection is their second line, collaboration is key. The pair walk EAL through their latest: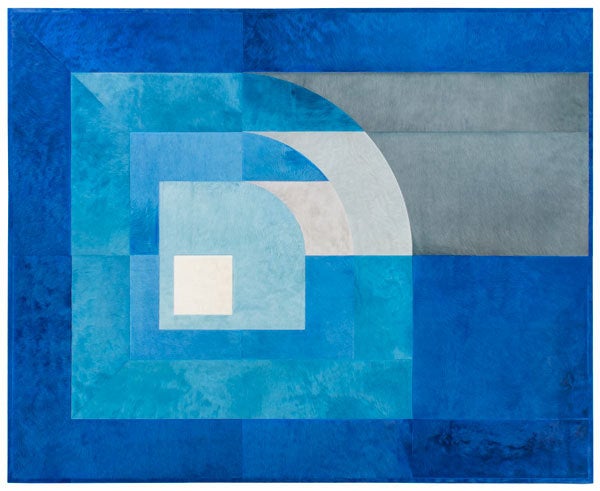 Lau and Bunting have been working together for over a decade. Often Lau would come to Bunting with custom projects, which is where the groundwork was laid for their latest collaborative effort. Bunting says one of their custom projects they worked on together stuck with him, and he went back to Lau, encouraging her to develop it more.
"What was so beautiful about it to me is that the designs supported so many different colorways so well," he tells EAL. "But its basic simplicity was that it was one pattern." Lau was also impressed with the array of color options—nearly 120— which she had to work with, as well as how vibrantly they are captured on the hide.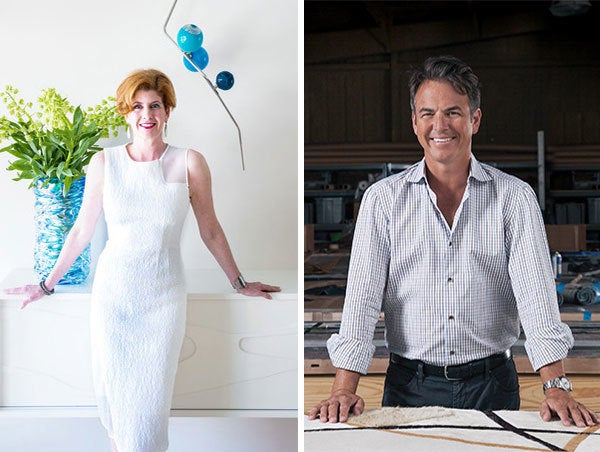 "I'm usually moved by art and color, and I wanted to create a color-based op art piece," she explains to EAL. "The last [collaboration] I did, I used a little bit of color, but they were more in neuturals. This one I wanted to use very, very bright colors to produce different effects on the eye."
When developing the designs for this collection, Lau looked to op, or optical, art—art with abstract patterns, often with stark contrast of color to confuse the eye—for inspiration. She specifically drew from some of her favorite artists—Josef Albers, Bridget Riley and Victor Vasarely—how they embrace color and create visual effects. She describes her designs as "taking solid panes of color and nestling them into one another," similar to what Albers does in his series of paintings titled, "Homage to the Square."
Lau initially tested the design out in her office before they went ahead with the line. "We just got such incredible feedback that when Kyle came over, he said, 'Let's make this into a line,'" she says.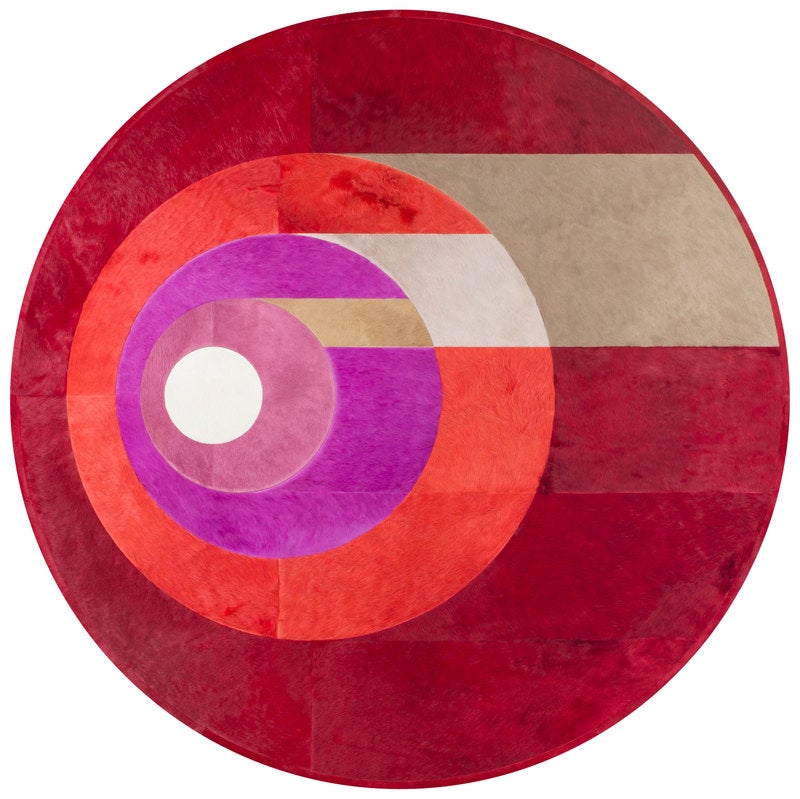 Bunting says the rugs can create a special moment in a space because of the unique pattern. "I really love these rugs for entrances because I think they create that 'wow,' and set the tone for the rest of the house or apartment," says Lau. "They're just a great shape for an entrance, either a round or a square."
The collection includes 12 introductory colorways, but clients and designers are already modifiying the options. Bunting says they are seeing a great response in New York, Los Angeles, Miami, San Francisco and London; he attributes the regional success to how well-connected these markets are to the art community. Additionally, the variety of colors, shape and movement of the pattern provide the opportunity for an infinite number of perspectives to be created.
The collection is available directly through Kyle Bunting and at Edelman Leather showrooms.