The 50 States Project is a series of candid conversations with interior designers across the country about how they've built their businesses. This week, Charlotte–based designer Charlotte Lucas tells us why she doesn't like too much hierarchy in her firm, how she balances running a full-service firm and a fabric and wallpaper brand, and how she handles client couples who aren't on the same page.
Did you always know you wanted to be a designer?
My mother was an interior designer when I was young—and still is—so it was a little bit in my blood. But she didn't work consistently when we were growing up because we moved around a lot for my father's career, so she was uprooting a family of five every three years and finding a house to turn into a home for three young girls. It was a difficult task. I did not appreciate any of that when I was growing up, but looking back now—I have children of my own, and I can only imagine how difficult that would be, not only raising three girls, but constantly having to change schools and friends, and creating the meaning of home for your family.
As we got a little bit older, she was very hands-on as far as helping to decide what we wanted our rooms to look like. So there was an opportunity in each home to paint the walls a new color or put up some wallpaper. It really helped me find some identity in a new space so that I did feel like it was home. I have very fond memories of us rag-rolling the walls in some amazing-slash-terrible mauve color in the early 1990s, which I just thought was the end-all, be-all at the time. From a young age, those experiences established that foundation of design and what that means to me. I've taken those fundamentals from my childhood, and they're the basis of what I'm doing today: I'm creating homes for my clients, not just designing houses.
How did you turn that passion into a career?
I went to the University of Georgia to play soccer. Once I was there, I realized that [playing the sport] was a full-time job that I wasn't interested in having in college, and I transitioned my focus to their interior design program. After graduation, I went to work in Washington, D.C., where I got a great opportunity with a designer. A few years later, I came back home to Charlotte and got a job with another designer, which led me to Barrie Benson.
I'll never forget seeing Barrie on the cover of Domino magazine when I was in college. She was one of my idols at the time and is a dear friend today, and I just thought it was the coolest thing that a woman designer from my hometown was on the cover of a magazine that I loved. I worked for Barrie for several years, and cherished our relationship and our time together. Then I got married and was about to have kids, and I left the firm because I felt this need to focus on being a mother.
After I had my daughter, she was a wonderful baby, and I found myself at home, and I was very lonely. I wasn't working, and I was craving something of my own. A good friend came to me and said that she wanted help with her house, and I said yes, and that's how I started my business, which was now 10 years ago.
That was the first client?
I set up a home office in the guest room of my house, and I would work at night or when my daughter was napping. One project led to the next, but that was the foundation of the business. From there, I hired one employee, got an office space, and we've continued to grow.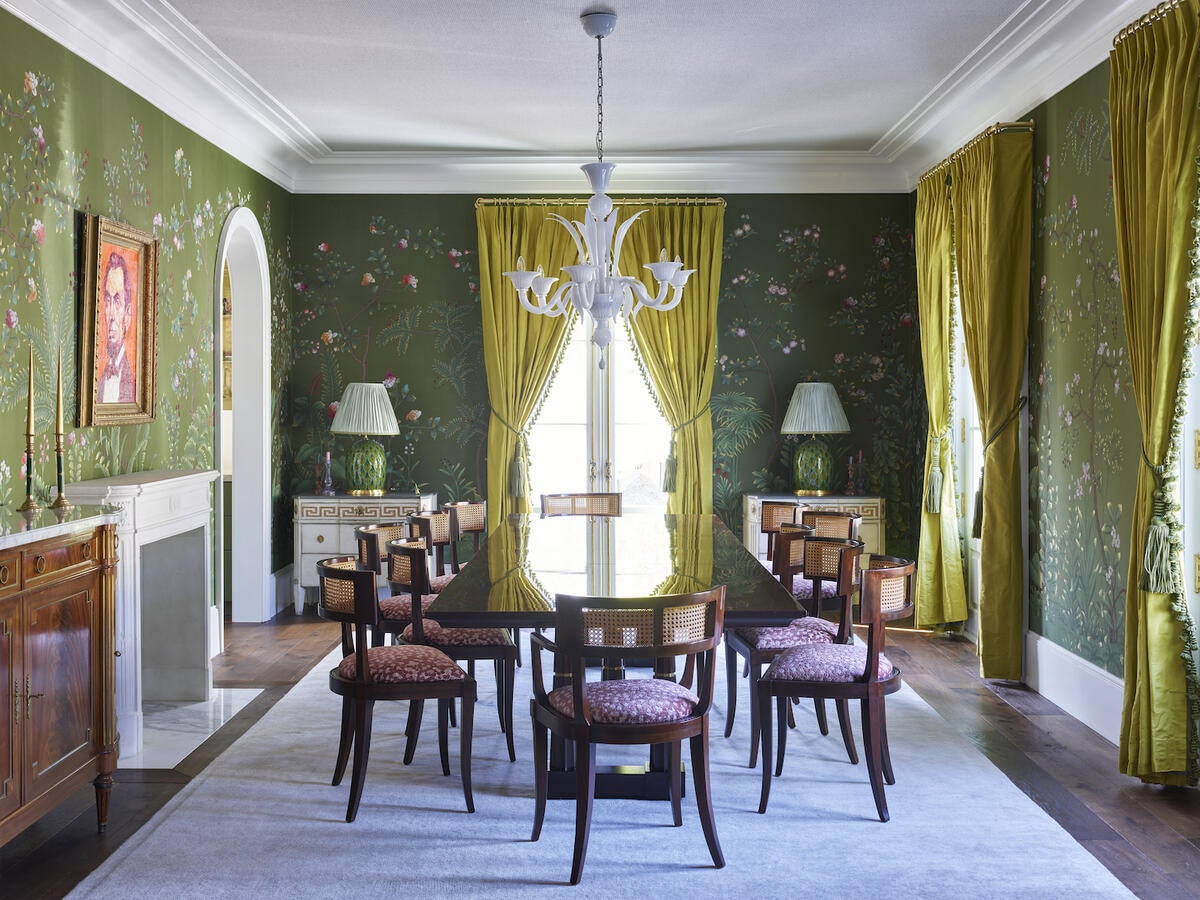 Did you always know that you wanted to do your own thing eventually? Was entrepreneurship part of the dream for you?
No, it really wasn't. I loved working with other people, and I love being a part of a team. It wasn't like I left Barrie's firm and was like, "I'm going to start this business"—I left and got pregnant, and then I was like, "Well, now I'm bored." I wasn't sure what to expect as a new mother. I thought I might just want to be a mom, or that I might not have the time and energy to work, or that maybe I'd want to dedicate that time to my children. I knew I wanted to have more than one child, so when I left the design world, it was more like, "Let's just see what happens."
It seems crazy looking back because I love having my own business—and have created another business since then, a fabric and wallpaper company, with my sister, and want to continue growing all of it. So it's interesting that that wasn't part of the initial plan. But I think ultimately a lot of designers end up having their own businesses for the very reason I did.
What does your team look like today?
I have seven people who work for me today. We restructured our office and our teams two or three years ago—we were getting to the point where we hired a couple more people, we were getting bigger projects, and it ended up feeling like there were too many cooks in the kitchen. I met with a good friend who has his own business—it's in finance and investment banking, so totally the opposite of what I do. But I felt like he could give me a lot of insight into how their boutique business is structured because the idea is the same.
They've got all of these people who are working on deals, and I was like, "I'm sure you aren't all working on the same project, so how does that work?" He explained that I needed to create teams and specialties so that everyone's not working on the same thing, and that you have people that are good at different things to balance out your overall business. That insight was just so valuable. When you say it out loud, you're like, "That makes so much sense." But when you're living and working and designing, and you're so caught up in the day-to-day minutiae, it's hard to take a step back to see what's best.
When did you start making those shifts?
During Covid. The pandemic gave me a second to pause and think about the best practices for my business moving forward, and to create some goals. I split my office into design teams—there are two designers on each team, and then we have some support roles as well. I also hired someone who specializes in hospitality and commercial projects, because by that time we had gotten a boutique hotel project and we needed some different skill sets on the team.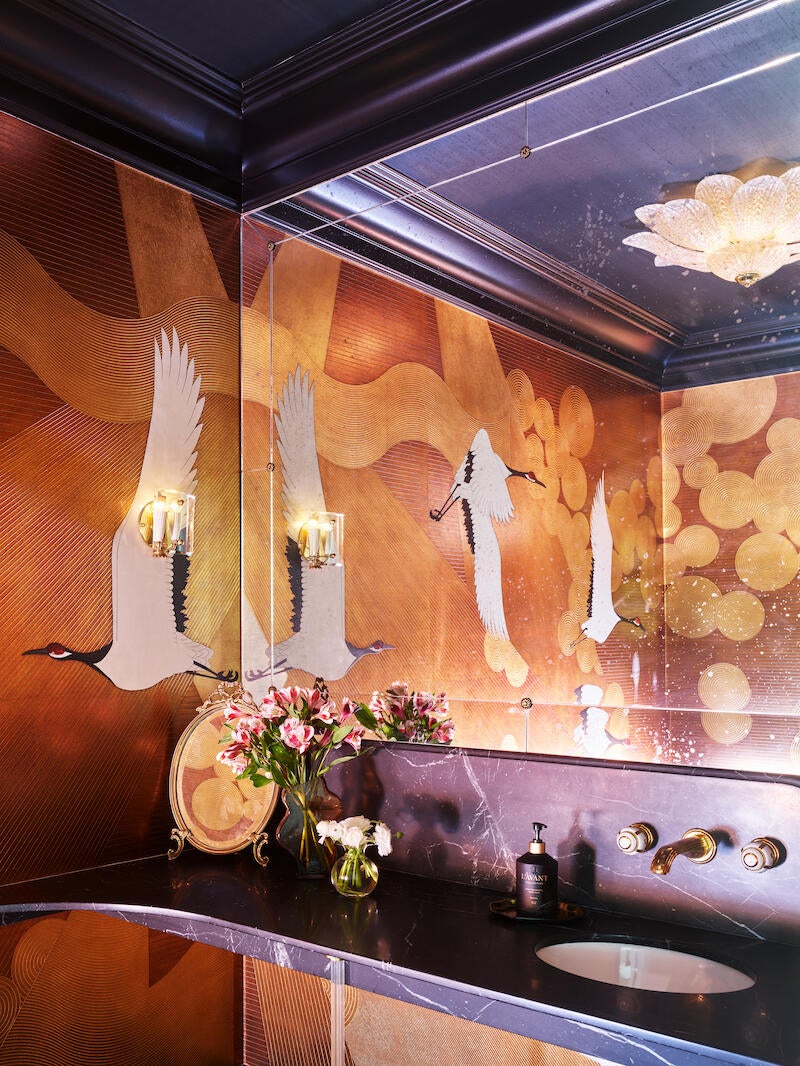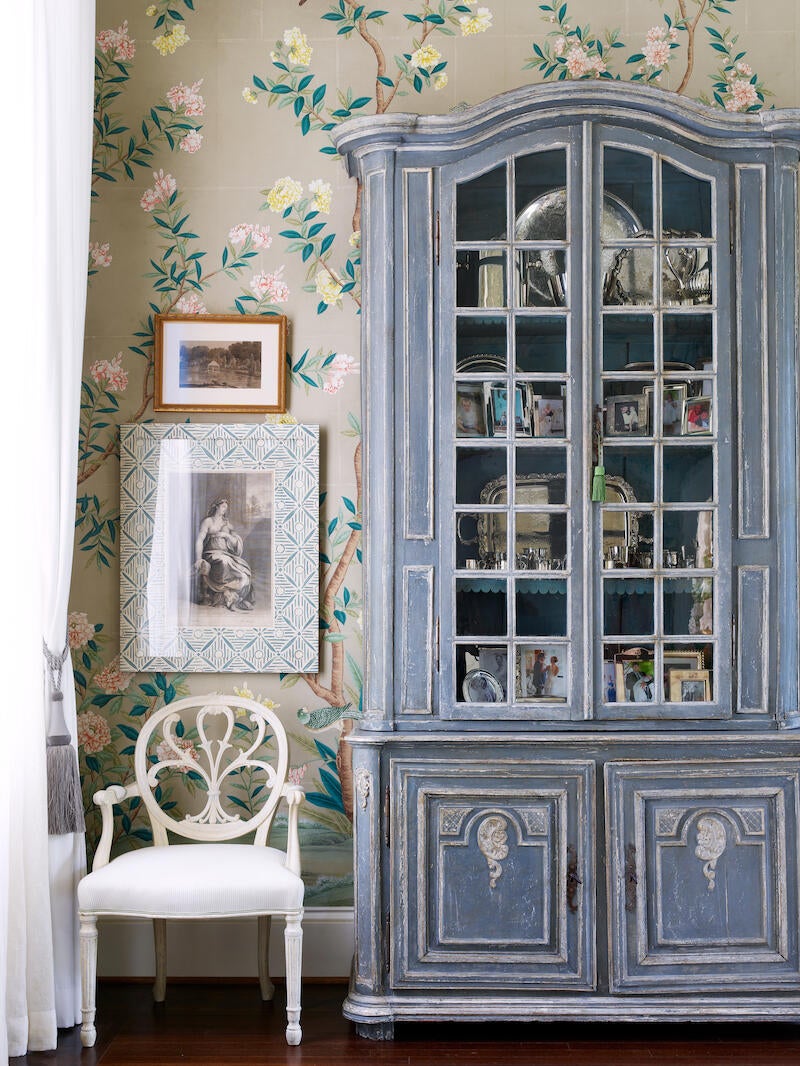 How does the two-person design team work?
The teams are different, and the experience of everyone in the office is different. On one team, it's two designers who are good at different things, so they are able to divide out responsibilities within each project themselves. On the other team, there is one designer who is a bit more senior and has more experience. But even then, it's not necessarily just senior and junior [designer], it's about different skill sets and experience. My whole mentality for the teams is that you have a partner, and you're equal partners. I think it's really important in an office environment, not having a [hierarchy of] who's better than the other. We also have an accountant and bookkeeper, and a person who does social media, marketing, PR and special events.
With those two design teams up and running, where are you hands-on in each project, and where do clients see you?
Most of the clients see me in the beginning and the end. In the beginning stages, I'm onboarding the clients and doing the high-level thinking on the overall design. Once those design presentations are approved by the client, the design teams are the executors. They're working as the liaison between our office and the builder [and contractors]. They're making it all happen. I'm there along the way when things come up, but everyone is so seasoned in my office now that they are able to run with these projects, which is amazing. And then we all come together at the end to do the installations and make sure everything becomes very turnkey in the way our clients are expecting and happy with.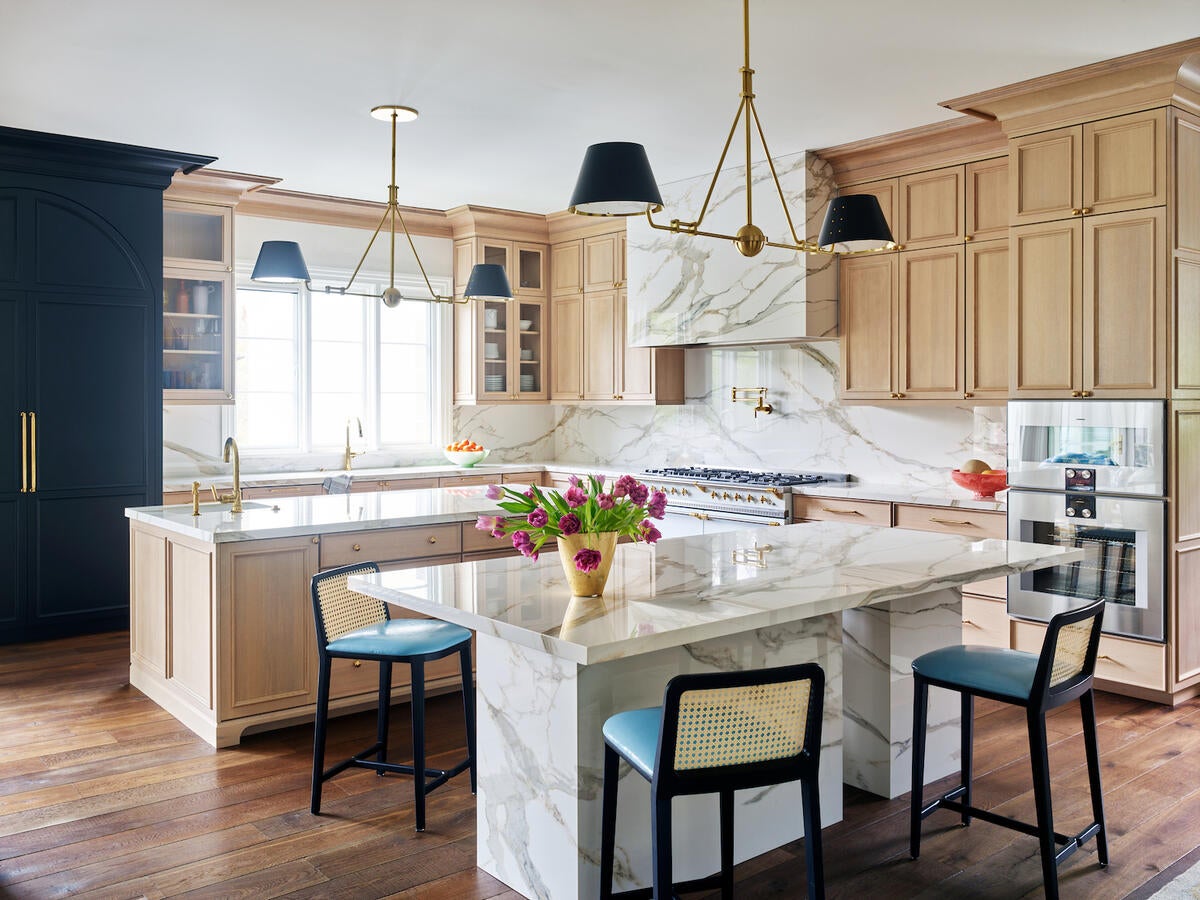 How many projects is a typical workload for the firm?
Each team probably has about six active projects each—there are maybe 12 to 15 projects going on in total, but they're in different phases.
How do you decide what you say yes to?
I'm really focused on bringing in projects that we feel aligned with. I feel very fortunate to be at a stage where we're taking something on not only because the project excites us, but also because we're excited about the people who are involved. If there are any red flags, I always say no, because those red flags never become green. In my experience, red flags just duplicate. Early on, when I needed to take every project that came my way, I'd see red flags but I was like, "Well, I've got to do this anyway," and then it was difficult. It was stressful for me and for my employees—no one's enjoying the project at that point. This is a luxury business and we are all fortunate to be doing what we're doing—I tell my employees that, but I tell my clients that, too.
How does that shift the relationship with a client?
I tell them that while we most certainly understand that we are working for you, we want to work together. We want this to be a team effort—we want to give you exactly what you're expecting from us, and to exceed your expectations—but we're not doctors saving lives, and there's no reason to be unkind or unfriendly or unreasonable. No one's going to die over a sofa, and in our industry, we can literally fix anything. I like having that attitude because we do need to perform to the highest ability, but at the end of the day, we also need to realize how fortunate we all are. I'm very careful about the people who come into our lives as clients, because we end up spending at least two years together in a very intimate way. We become almost like therapists for them, and also financial advisors and life partners in creating this home for their families. It becomes such a personal experience. I definitely value those relationships.
Can you tell me about the design community in Charlotte?
The design community here is wonderful, and all the designers are really supportive of each other. The city of Charlotte has grown so much that there's enough business for everybody, which also helps that supportive community feeling. The market is booming, and a lot of people, especially during Covid, moved here from Chicago, New York and San Francisco, and so there's a lot of growth and development happening in the city. So it's keeping all the designers very busy. I have a lot of projects in the neighborhood where I live, and my office is half a mile from my house—it's a very old neighborhood, so it's a blend of renovating, restoring and designing really beautiful homes. But there are also many old homes that are now being torn down, and they're building new homes. So we are kind of split half-and-half on new construction and renovations. That keeps things fresh and interesting.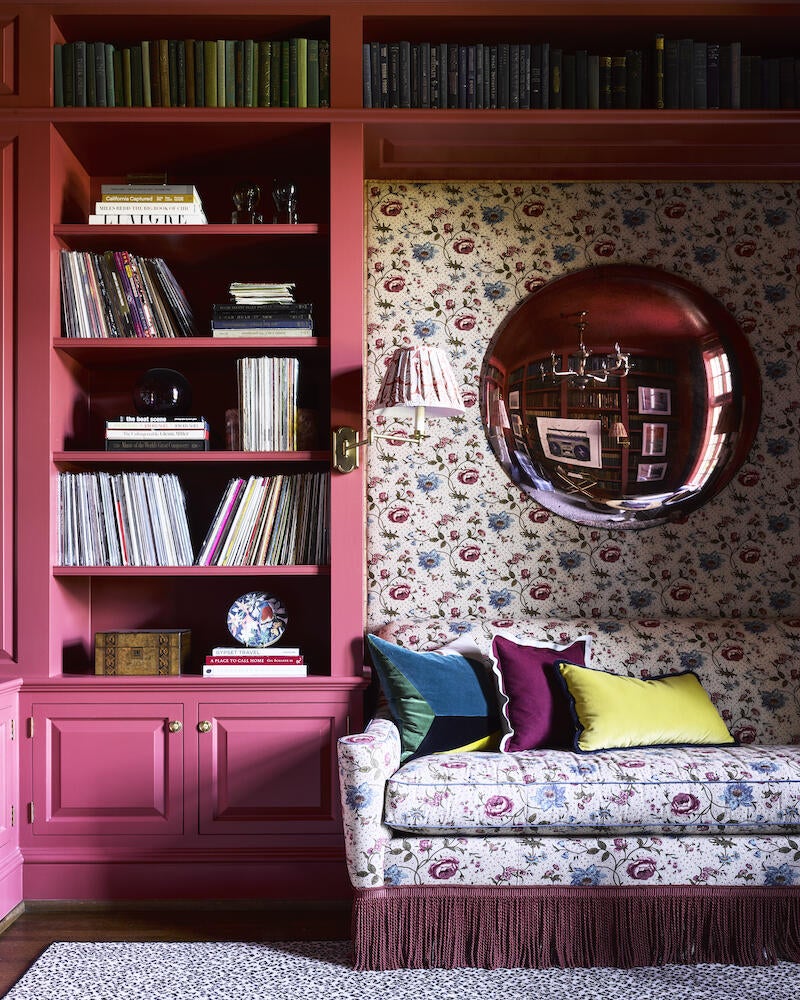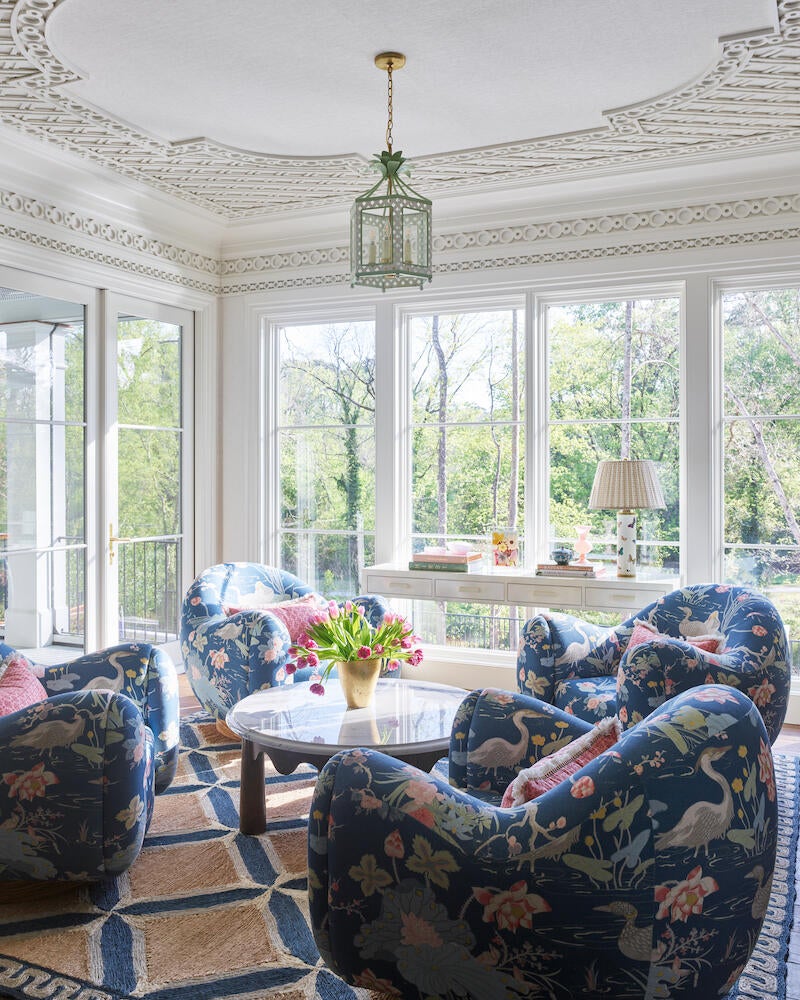 How have you approached talking to clients about money and billing for your work?
We have all of the conversations about money upfront, before we sign a contract, both about our design fee and their design budget. The design fee is what it costs for us to physically design and manage the entire project from conception to completion. But the other component when you have conversations with clients is what it's going to cost, excluding our fee, to furnish this home to completion at the level they're expecting. And we always include that amount in our contracts.
How specific do you get, and why is that important?
It can be approximate, but the goal is to have that target to say, "OK, this is where we started and this is our goal." That way, when the client says, "You know what? I really want to do that fancy wallpaper, and I want to add on this porch," we can respond by saying, "OK, that's great, and we're so happy to help you with that, but we want to make sure it's clear that now we're exceeding what we had set out to spend." It's a good reference point to have so that no one gets caught up in the project and loses track of the finances along the way, which is so easy to do. It's our job to manage that budget for the clients, so if they give us $100 for the entire house, we are in charge of deciding that we need $50 to go toward a big-impact item, but over here, we're just going to spend a couple dollars. We know how to manage that budget and value-engineer certain areas, and it helps us to do that well when we're looking at a project as a whole.
Do you only take whole-home projects these days?
We typically don't like to do any projects piecemeal—and if they are piecemeal, we break them out in phases so that there's a certain contract for each phase, and a separate budget for each phase as well. When you start to piece things together, you're not thinking through the overall design intent. But also, you're not able to value-engineer thoughtfully. Sometimes, you can get to a place where you think, "If we had known we were doing all of these things later, we probably wouldn't have done that wallpaper there, because we have this great art over here." If clients aren't ready to do a large piece of a project, I often suggest that they wait and do it all together because I think it'll be more successful in the end.
Is it challenging for people to hear?
Some people don't want to hear it. But that's a red flag for me. If you just want this instant gratification, we're not your people. Or if talking about the budget is a hard conversation for you to have, that's a red flag, too, because we're probably going to have harder conversations. That's why I think it's so important to have all these conversations upfront and be super transparent.
Another thing we've seen in the past is when a couple reaches out and is like, "Oh, we're so excited to work with you, here's our budget," but then the wife reaches out separately to say, "I really want that fancy wallpaper—let's sneak it in." Or "Just run that card and I'll tell him later." And I'm like, "No, no, no." We're not sneaking anything, we're not running other cards—we all need to be on the same page. Like, I'm working for you together. We're not side-hustling anything. It just puts us in an awkward position. Even if the husband never wants to set foot in this office again for design meetings, that's fine, but upfront, he needs to know that we're spending X number of dollars together, and the project is going to take X number of months. I need those expectations to be very clear. It goes the other way, too—some men are really involved. It's just a matter of a couple being on the same page and being super transparent so that there are no surprises.
I tell clients, "This should be a fun and enjoyable experience for you—that's why you hired us to do it. You shouldn't be doing any of this on your own. You should be involved in whatever way brings you joy. But we need to talk about all the hard things first, so that you can sit back and truly enjoy the experience." There are so many interesting dynamics with couples and who controls the money, and we really have seen them all. That's why we try to control the narrative as much as we can upfront, so it doesn't become an issue of how they operate at home. Like, it doesn't even matter what weird things y'all do at home with your finances—this is how we work, this is what it's going to cost, this is how you pay, and this is how we invoice. And that's it.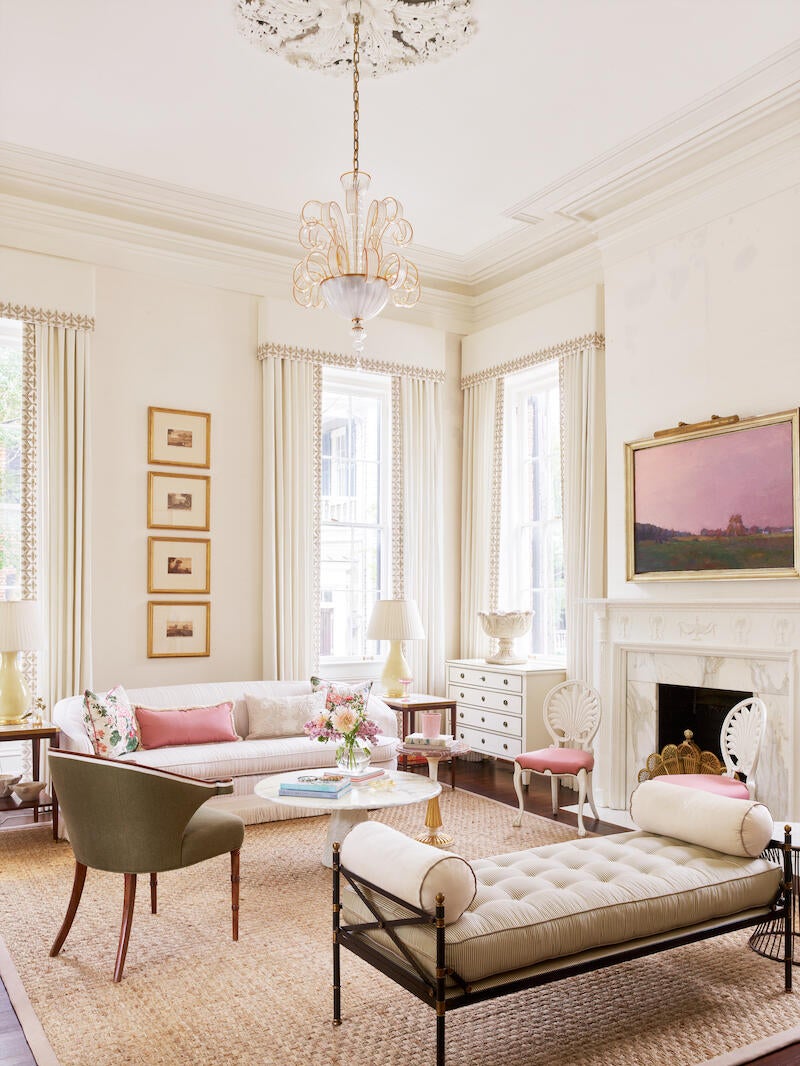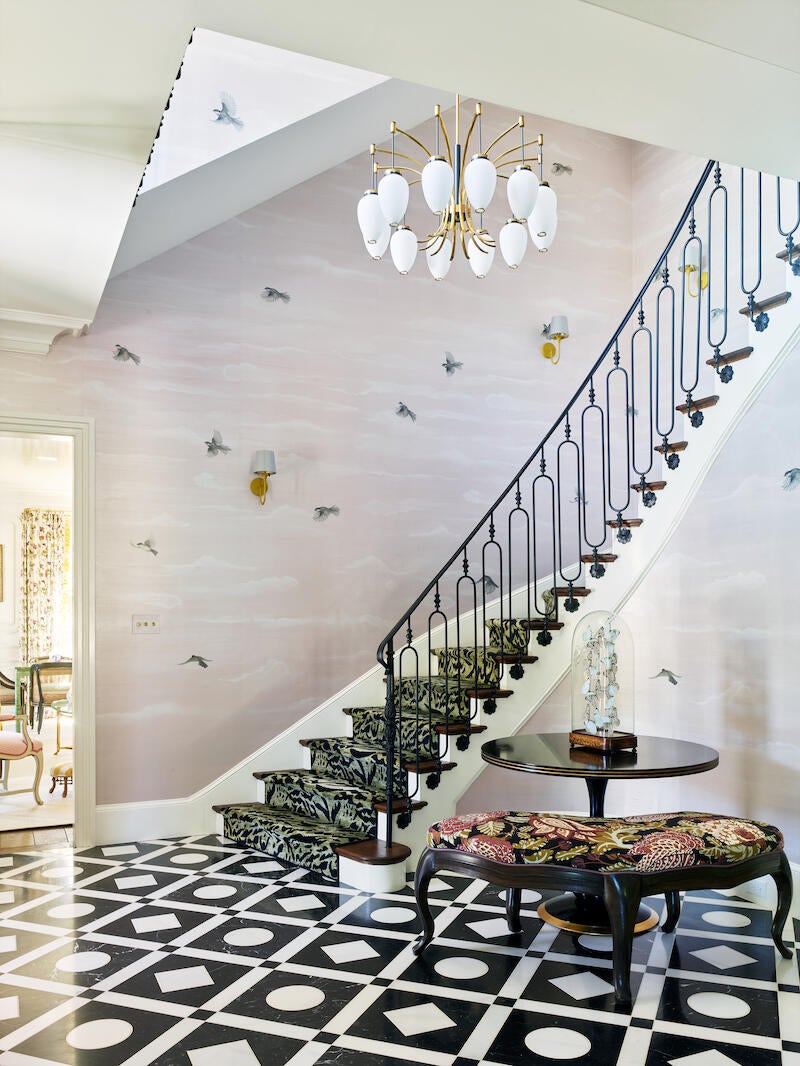 I wanted to ask you about the textile business. How did that come to be?
Prior to owning a business together, my sister and I worked very closely together in almost a consultant-like way. We're both interior designers, but she went to business school and I went to design school, so we were constantly consulting each other with questions, and we found that we really complemented each other with our specialties. Aside from that, we would always go to High Point Market and design events together, and it was fun to have a partner to do that with. As I mentioned before, I like having a team—the hardest part of owning a business is that I'm having to make decisions all the time by myself, which is really hard for me to do. It didn't make sense to merge our businesses—we're in different cities—but it did make sense for us to find a way to work together. So we just started brainstorming, and thought that a fabric and wallpaper company would be an organic branch of our business. We launched House of Harris five years ago.
We wanted to develop something that we would use: As designers, what do we want? What are we missing? So we designed House of Harris as a fabric and wallpaper business for designers. When we started, we had some criteria that we were really passionate about: We wanted it to be to the trade, made in the United States, with quick lead times and the ability to customize.
That's a challenging Venn diagram.
Oh, my God, it was. In particular, the "made in the United States" part and the price point we wanted did not go hand in hand. Like, it would have been so easy to send it to China, and we would have made more money if we did that because our cost of goods would have been so much lower. But it was just really important for us to keep it local to support industry here. It also makes the lead times and customization much more possible.
And we wanted it to hit a certain price point—that was really important for us so that we could sell our products to the trade, to designers who have their own markup. And we wanted it to be for designers only. A lot of vendors are not solely to the trade—a lot of clients will bypass the designer and find the same thing that we have access to online—and we know that's a really difficult place for a designer to be.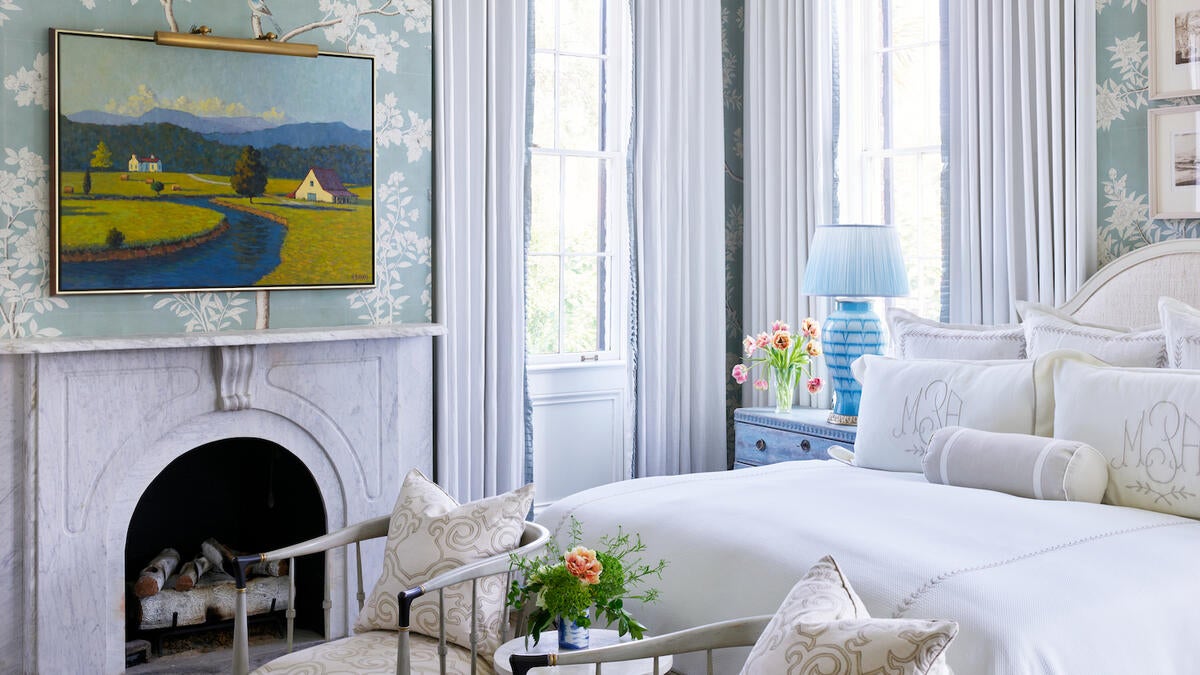 What does that require of you to balance the two?
As any business grows, it's more of a commitment and it requires more attention. I always joke that I had my first baby in 2012, and then my second child, which was the design business, was born later that year. But it was basically like I had twins, and they grew in parallel for a little bit, and then they tried to grow apart, and it was tearing me apart. I was like, "I can't be there equally for both of them. I have to have employees and I have to have a nanny to be able to do both of them to the best of my ability." When we launched House of Harris, it was easier to manage at first because Liz and I were partners, and it wasn't all just falling on me. But as it's grown, it's definitely required more of our attention and we've had to hire a couple people. It's exciting to see things start to flourish.
I used to call it "my side hustle," but now it's become another full-time job. But it's also a fun creative outlet, and it's taught us a lot. We thought we knew everything about textiles and wallpaper, but we didn't really know anything about designing and producing them—it's [offered] new lessons, which come with their own rewards.
We've done a collaboration with the fashion line Cara Cara—a mashup with a pattern of ours and a pattern of theirs, and then we had it printed on their clothing. We did some clothes and some tabletop products, and that was really exciting to see. It's also fun to see our design community support us—we get to see these products being installed in homes, and our designer friends are using them in really cool and creative ways that we wouldn't have done ourselves.
What does success look like for you?
I think success for me is finding joy in what I do every day—being able to come to work and love it.
To learn more about Charlotte Lucas, visit her website or find her on Instagram.