If art tells a story, then Tafui McLean's works offer an especially compelling anecdote. The Vancouver-based artist creates paintings, prints and fabrics that transcend disciplines and are teeming with symbols, motifs and palettes designed to provide a distinct narrative. "The power of storytelling inspires me," she tells Business of Home.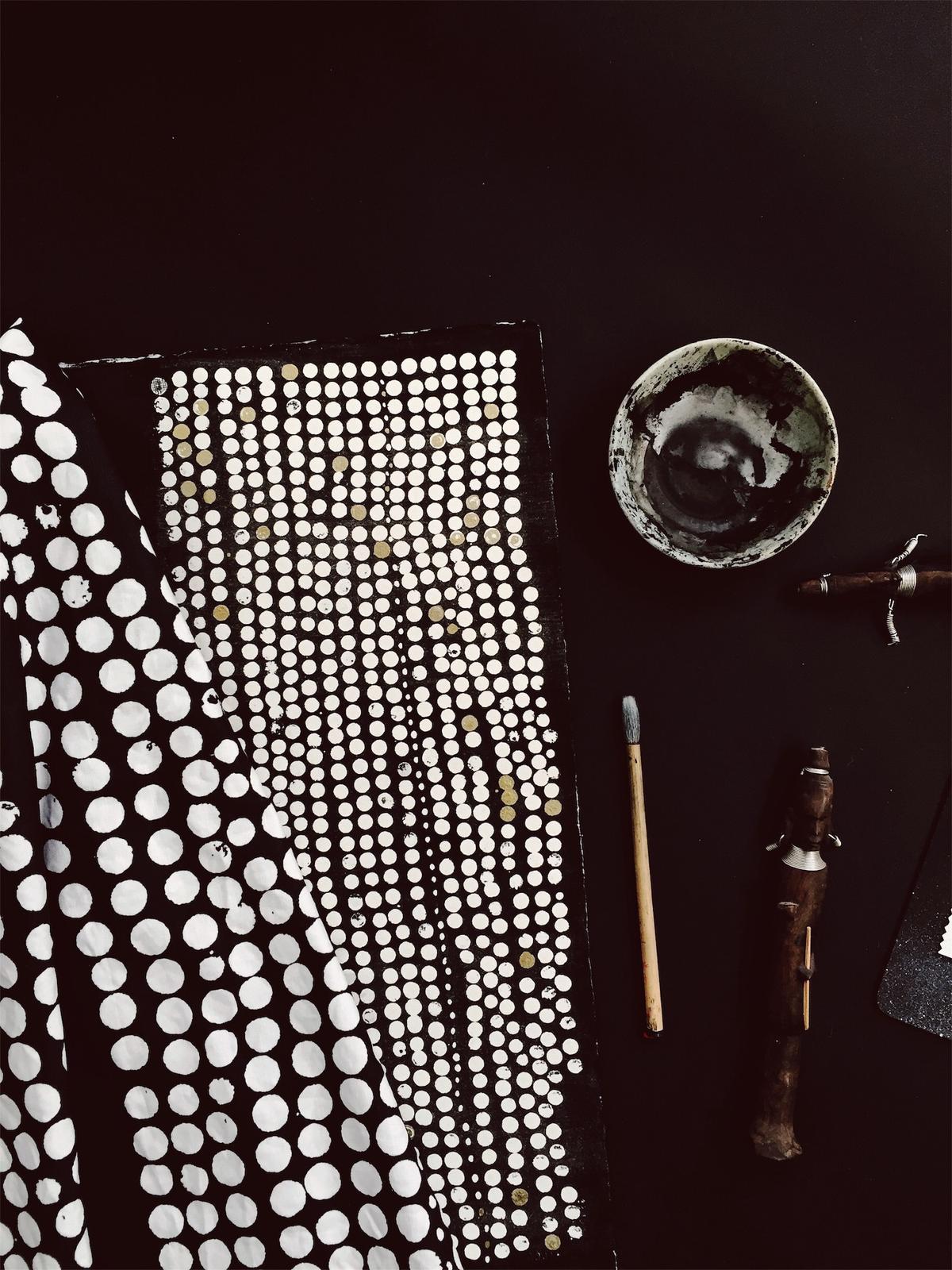 Born and raised in Kingston, Jamaica, Tafui—who prefers to be referred to by her first name—says she first fell in love with art at the tender age of 5. "I had just started a new school and was overwhelmed with separation anxiety," she explains. "My teacher gave me a sketch pad and watercolors and asked me to 'paint my feelings,' and ever since then, I've known I needed art in my life."
Tafui first began experimenting with block and screen printing techniques in high school, but says it wasn't until she majored in design art at Concordia University in Montreal that she fully immersed herself in the world of textiles. "I always wanted to be a painter, but after experimenting with different mediums, I realized that what's most important is being able to apply a certain narrative or language to a specific design," she says.
After earning a college degree, Tafui embarked on a successful career in advertising and graphic design (while exhibiting her paintings in galleries around town), and eventually published a trend analysis blog as a way to help clients with products. It was then that she found her true creative calling. "I was researching precolonial African textiles and started to identify patterns and symbols that were used to describe indigenous cultures throughout Africa and Asia," she says. "Essentially, textile motifs were used to document their lives and histories."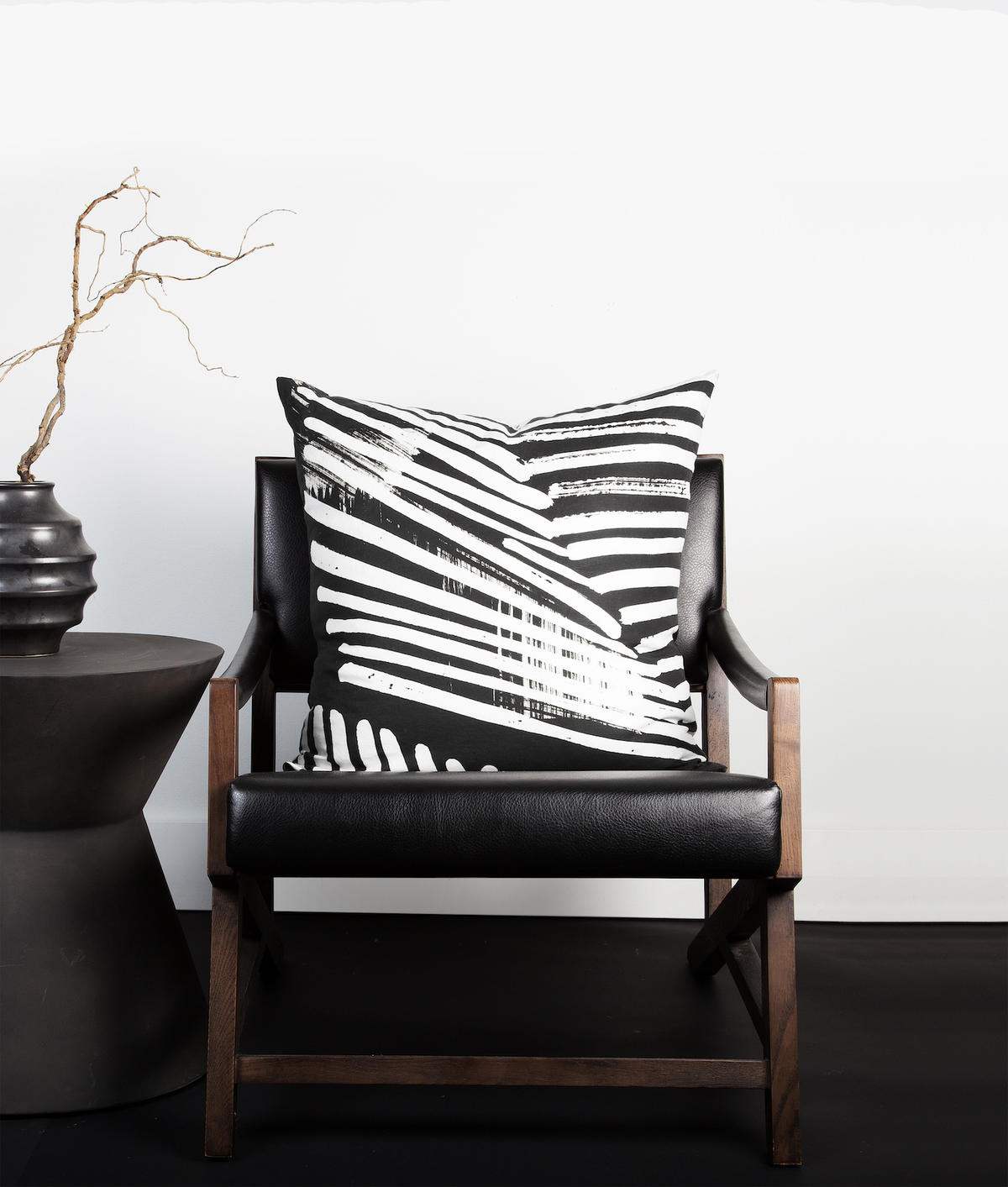 Inspired, she began translating some of her paintings into textile prints, and hasn't looked back since. "I started to incorporate symbolism into my work to tell a story, such as circles that represent people and how they're interacting," she explains. "My textiles depict experiences that I've lived, processed and put back into my work."
In 2014, Tafui launched her eponymous studio and began selling prints, postcards and eventually pillows upholstered in textiles based on her graphic paintings. "Art doesn't have to be precious to represent history," she says. "Textiles are meant to be interacted with—not just admired like a Michelangelo painting."
All of her pillows start out as paintings, which are then digitized and printed on organic Belgian linen. "Sustainability is fundamental in my designs," she says. "Organic Belgian linen requires less water and toxic chemicals for manufacture than other materials."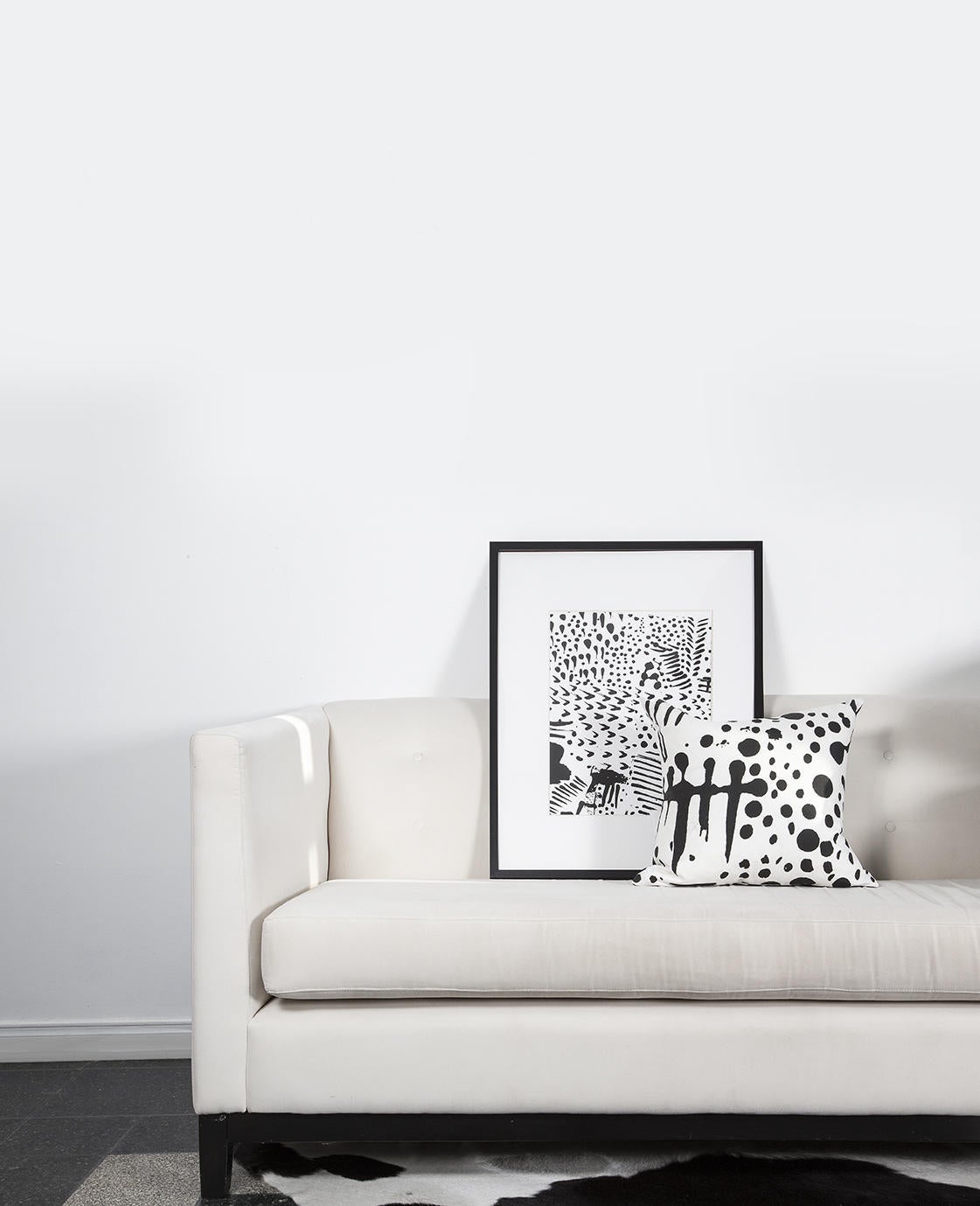 A deep appreciation for nature is present in more than just Tafui's choice of materials. Whether she's creating a custom-commissioned painting or a fresh line of textiles, she consistently employs a graphic black-and-white color palette that draws from the hues of the natural environment. "I lived in Ottawa for a while, and the landscape was often covered in snow and marked with trees that looked black from absorbing moisture," she explains.
Tafui says her signature black-and-white palette also makes her prints and fabrics more accessible. "I once worked with a client who was color-blind," she says. "When I realized that not everyone could actually see in color, I wanted to make my work more inclusive."
For her upcoming collection of prints and pillows, called Eau Noir (French for "black water"), Tafui drew design inspiration from large open bodies of water and, more specifically, the rhythmic, rippling waves within them. "Art can be anything," she says. "I create 'soft art'—art that you can touch and hold."
To learn more about Tafui, visit her website or follow her on Instagram.
Homepage image: Artist and textile designer Tafui at work inside her Vancouver studio| Courtesy of Tafui McLean