The 50 States Project is a series of candid conversations with interior designers across the country about how they've built their businesses. This week, Salisbury, Maryland–based designer Keyanna Bowen of East + Lane tells us about the double-edged sword of being a professional photographer and designer, the pros and cons of design TV and how she's working to challenge a whitewashed industry.
What are your earliest memories of being creative or being drawn to design?
I remember always wanting my mom to take me to open houses so I could see the inside of those homes—but at the time, I didn't think, "Oh, I want to be a designer." I wanted to be a veterinarian or a scientist. I don't think I really knew that design was a career choice. What did click was architecture, and for a while in high school, I was thinking I'd get into that field. Then I realized how much math was involved, and I'm terrible at math. So I crushed that dream for myself and ended up going to school for broadcast journalism at Howard University in Washington, D.C. I wanted to be the next Genevieve Gorder [host of Bravo's Best Room Wins] and do something on design television—I thought that could be my foot into the design industry.
I decided to come back home after college—I live in Salisbury, a really small town on the Eastern Shore of Maryland, a beautiful area on the small peninsula tip. We are about two hours from D.C. and two and a half hours from Philadelphia, so you are able to connect to some cities pretty quickly even though it's a rural area, but I will say, there are not a lot of creative opportunities here. Farming and agriculture are really big; there's something of a medical industry here—but interior design is not necessarily in demand. I was thinking through how to turn my passion for production, television and journalism—and also for design and decorating—into a job. You know, how do I get that out in this small town? That's when I decided to start my blog. The first blog was called The Blend. It was fashion-oriented and had some DIY stuff. In 2017, I changed the name to East + Lane and really centered more on home and design.
What did that pivot entail?
I taught myself how to use a camera so I could photograph homes and feature them on my blog, which turned into a career in interior photography. Local realtors and builders started seeing the photos and asked me if I did it professionally. I was like, "No, but I can," and that business really took off. I still do a lot of interiors photography—I was named one of Architectural Digest's top 50 interior photographers two years ago. It was one of those happy accidents—a hobby that turned into a passion, and that centered around my love for home and design. And during that time, I was still tackling projects in my own home and documenting them on my blog. I was doing design for friends and family, but not really professionally yet.
What do you consider the first "real" design job?
In 2019, I had my first real design client meeting—it was paid, and it wasn't a friend or relative of mine. Then the pandemic hit and I slowed things down. I still consider myself a newbie in the industry—I do photography and TV hosting, too, so I'm not a full-time designer, and I still feel very new in the field.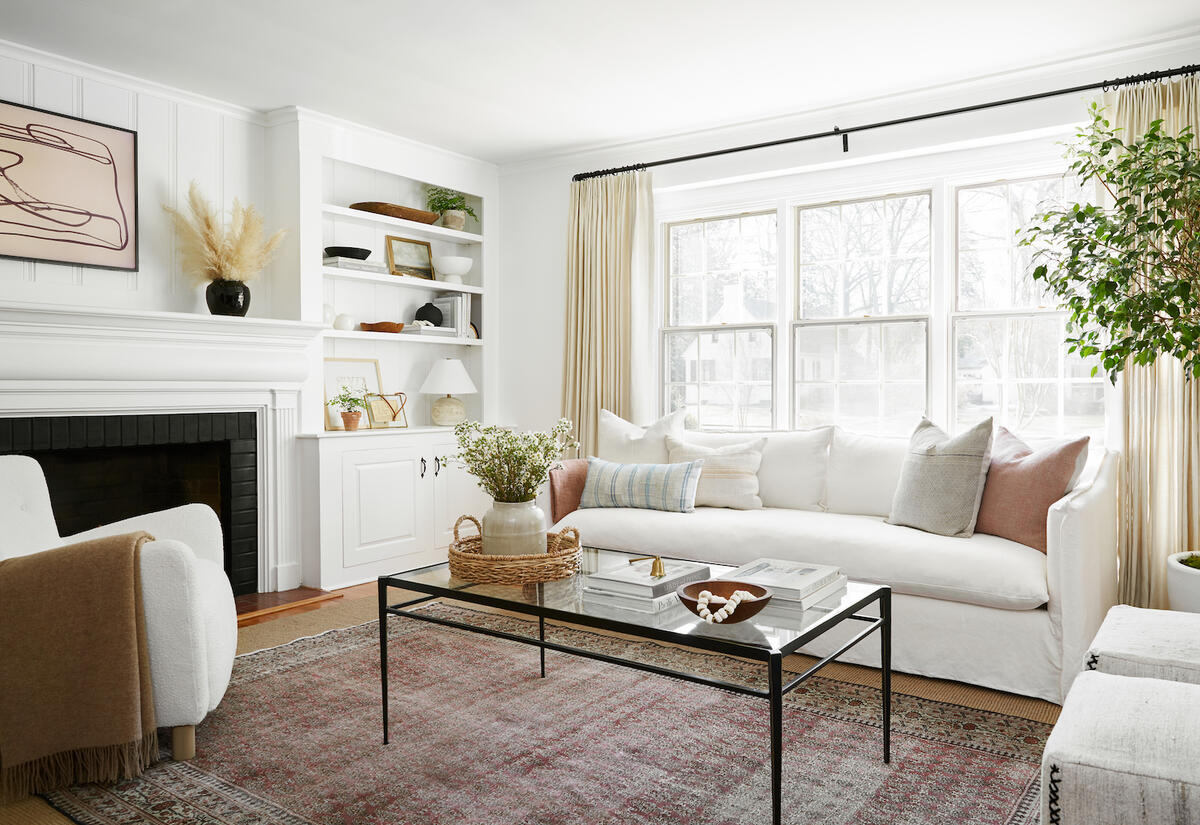 You pivoted to blogging at an interesting moment. What people wanted from design blogs was changing, and Instagram in the design community was just starting to blow up. How did that impact your approach?
There were some huge names in the industry—blogs like Emily Henderson and Chris Loves Julia—and the majority of those individuals doing home and design blogs were renovating and decorating their homes. They were purchasing homes, renovating them and flipping them, and showcasing the process. But I was a renter. I'm still a renter. So I would see all this content on social media, and even on television, of people buying and flipping homes, but I wasn't at the place in my life where I could afford to do that. I realized there was no content out there for renters. Is it even possible for a renter to have a home and a space that they love? I launched to try to create more content in the rental space for design.
At the time, my husband and I were in the market for a new rental with more space. So I went looking for something that was dated—just like these bloggers who were buying old homes and renovating them, I wanted to find an old rental and renovate it, and document it on my blog to show renters that, yes, we too can have beautiful spaces. I found the house we live in now: It's a cute 1950s Cape Cod–style home in a great neighborhood, but the inside was completely dated. I approached the landlord before signing the lease and told him I have a little bit of a background in design, and that I wanted to update some of these spaces. I said, "If I do the design and put forth the labor, can you give me a small budget to make some updates to these spaces?" And he agreed. My first project was the kitchen renovation, and I did a YouTube video series on it. A couple years later, that was actually the video that Magnolia Network saw that ended up getting me my show, Rental Redo.
When did you realize that design services had the potential to be a serious part of your business?
The blog has really been the starting ground. The second I focused East + Lane more on home, I started getting inquiries from people who were interested in my aesthetic. I would do consultations with a lot of them, or do some small pro bono projects. It wasn't until 2019 that I put my pricing together.
What did that look like in the beginning, and how has it evolved?
It's really hard living in a small town because you don't have a lot of resources. I was doing a lot of research online—listening to podcasts and reading books—but all of them were centered around the larger markets like New York, Chicago and Los Angeles. But what those designers were charging, and their processes, didn't apply to Salisbury, Maryland. There's no design center here, there's no receiver. Every step of the process is harder when you live in a rural area—it's a lot of traveling and a lot of shopping online. For me, it was a lot of trial and error. I would hear what so-and-so designer was charging in the D.C. area, and then I would say, "OK, let me cut that in half or in quarters and try to figure out a pricing structure." I also took Kimberley Seldon's Business of Design course, which taught me so much about getting my systems and pricing [right]. I'm the kind of person who will take risks, but I want to know as much as I can before I jump into something, so those courses were helpful. Now, I've gotten to where I want to be pricewise by having a better grasp on how long it takes to do something, a sense of my value and a little bit of name recognition.
Slowly taking on clients and not having design be my full-time gig has allowed me to grow more cautiously than somebody who is trying to run a business full-time solely on design services and has to take on more clientele. I'm sure there are a lot of lessons that come from that, but I'm lucky that I'm able to take on projects as I need to and as I have time for them, and learn that way. And overall, there are not a lot of people hiring designers here. The median income is very low, and as we know, design is definitely a luxury service.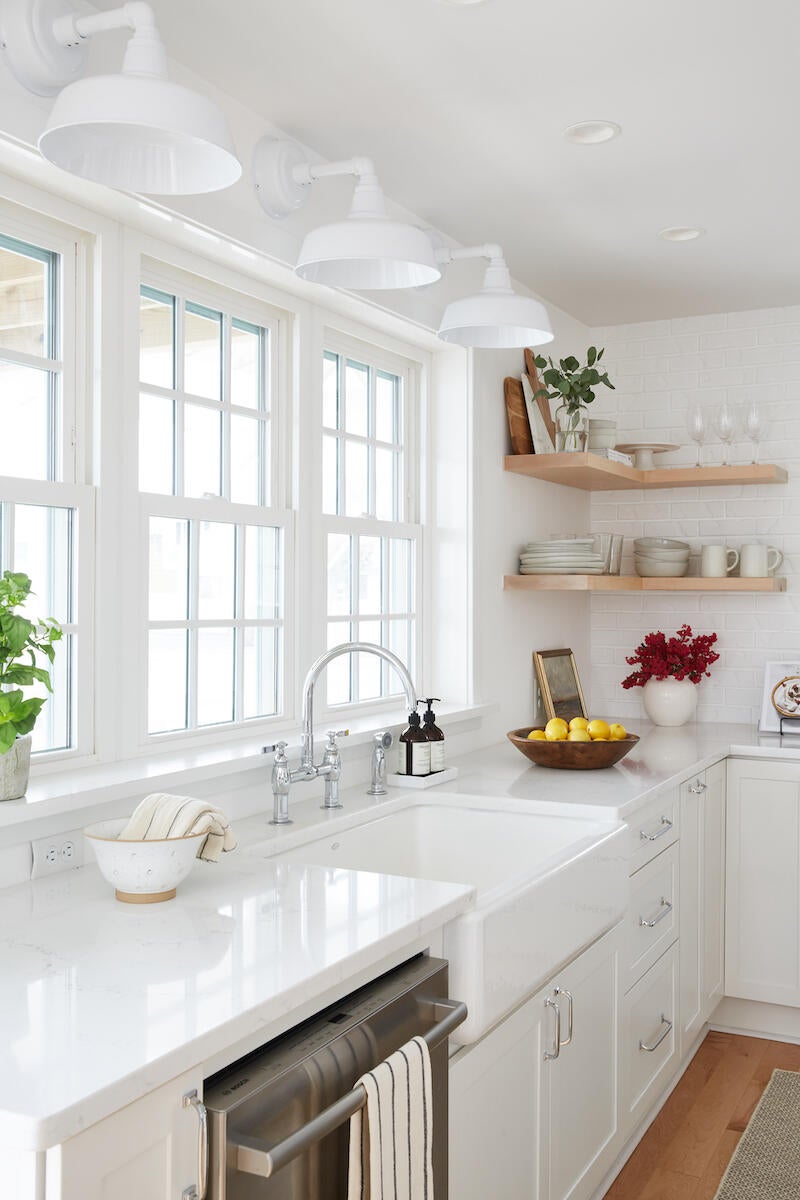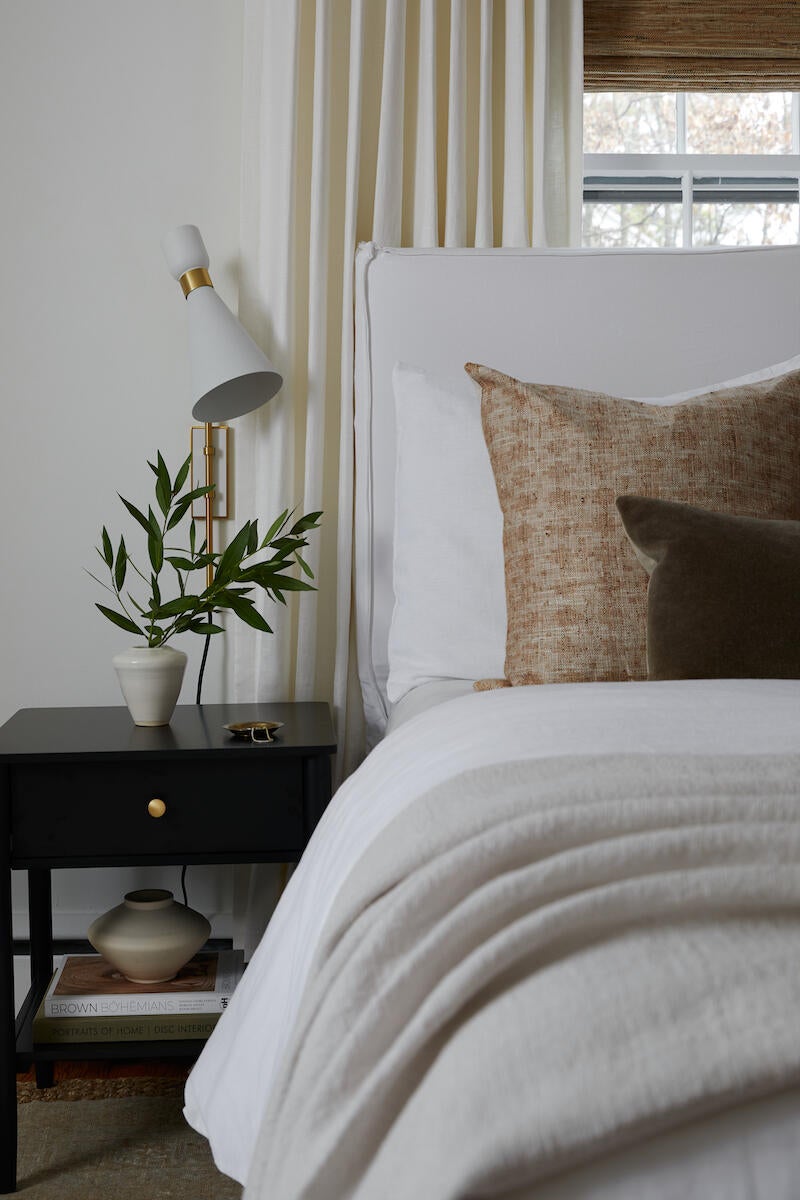 What do you say yes to these days?
Right now, I've actually been practicing saying no. For a long time, I took on more pro bono projects than I should have because I was of the mindset that I needed to learn. It was like, "You don't have a budget for it? OK. Can I use this as a testing ground?" Now that I have more knowledge and experience, I don't have to do that anymore, and I can be more particular about the projects that I take on. I've been saying no to a lot of projects that aren't in alignment with my aesthetic. At the end of the day, I might have gotten some skills on customer service and working with clients from those types of projects, but it wasn't something I could build my portfolio with—not that the client didn't love it, but it just wasn't something I wanted to show out in the world.

What you put out there is what you're going to get in the next job.
Exactly. So now I'm focused on saying yes to projects that are more in alignment with the direction I'm trying to take my business, which is a more elevated and higher-end clientele than originally planned.
In the beginning, I wanted to make design accessible. But I've come to realize that it's very hard to do—design is innately a luxury service. When you're trying to serve a clientele that doesn't necessarily have the budget, either you're going to suffer by not getting paid, or the design is not going to look exactly how you'd want it to. So now, one of my goals is to use my blog as a resource—to empower people to be able to tackle their own projects. And then I'm trying to shift my personal design services to clientele who have more resources for me to really be able to pull off the projects the way that I see them in my mind.
So many designers come into this industry with the idea that this rarefied service should be available to everyone, only to discover how hard it is to make that business model work. I love the way that you're trying to strike a balance.
I know other designers who market themselves as budget-friendly designers, but I haven't been bold enough to ask them, "How are you making a living doing that?" Because personally speaking, I don't know how you can. If someone comes to you and they only have $10,000, then half of that is going to be your design fee. That only leaves $5,000 for furnishings—and that's a sofa and maybe a chair, you know? Maybe it can be done if you're buying stuff from Ikea, and there's nothing wrong with that at all, but I'm still questioning how it's possible to provide design services, get an adequate design fee and also have money left over for furnishings.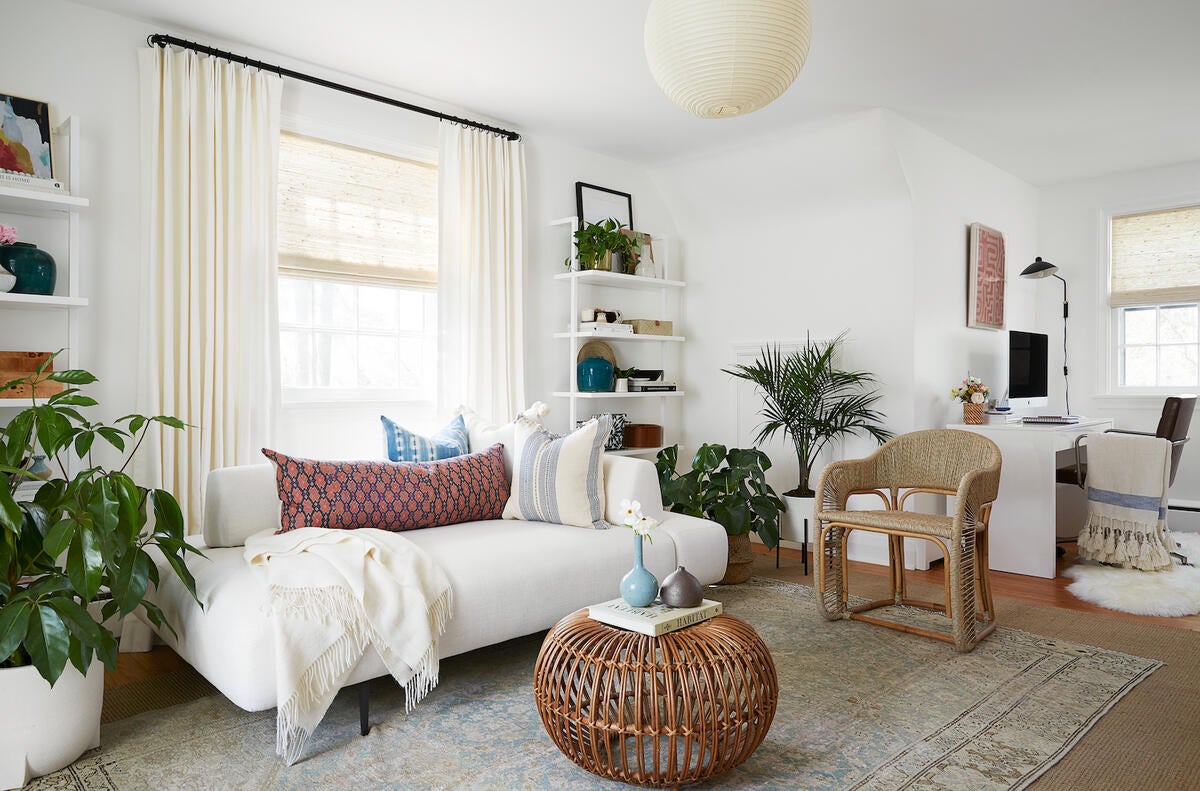 Are you doing this solo?
I'm doing it solo. And it's a lot of work. Because it's not the only thing I do—I am constantly splitting my brain and my time between all my creative pursuits, whether that's design or photography or television. When most designers finish the project, they're hiring a photographer to shoot it. But I'm also photographing my own projects. Some designers have a social media team; I have been blogging about my projects and putting them on social media. So I am definitely a one-man band in all senses of the word.
If your bread and butter is one thing, I think it's possible to be a solopreneur. But obviously having a team is how you're able to scale. That's one of the things I've been thinking about recently: Where do I want to take my business next? And is that something that is going to require a team? It seems like most people want to build this big empire, but that isn't something that resonates with me. I don't necessarily need to take over the world.
Coming from photography, do you see the project differently throughout the design process?
I think I see the space more compositionally than most people. And so as a designer, obviously, layout and flow is so important. But when you're looking at an image, you want to be able to feel the space. As a photographer, I think I style things a little bit differently when it comes time for the install—knowing that what I see visually might not be how the camera captures it, but how the camera captures it is how the world is going to see it.
One of the things about being an interior photographer and a designer is that I am photographing other designers' spaces, so I'm seeing what everyone else is doing before anyone else—photographers see the projects even before the shelter magazines. That can be a double-edged sword: It can be great for inspiration, but other times, it's like, "Oh, I've seen this multiple times. Now I don't want to use it in my personal projects because I've already photographed it so much in other people's projects." It can have me second-guessing my personal design decisions based on what I know is out there, or what I know is going to be out there in the world.
Can you tell me about your local design community?
The people who are hiring designers here are often bringing in professionals from other cities to do their project—I'm near Ocean City, Maryland, which is a coastal vacation town, so a lot of people have second homes here. They might live in the D.C. area, and maybe they're calling the designer who decorated their house there to also do their beach home.
A lot of the designers here work as stagers. There are also a lot of home flippers—people who are flipping old homes or turning them into Airbnbs or vacation rental properties. But as far as interior decorating, the pool is very small. We don't have a community in the sense of having workshops or activities that pull us together to see who's out here, which is definitely something that I want to foster in the future.
Where are you sourcing for your projects? What resources are you tapping most often? And how do you shop?
I mostly shop online because there are no big showrooms here. I make frequent trips to the Washington Design Center in D.C., but that's about two hours away. It can make it really hard when it comes to sourcing. That was another thing that I learned early on when it came to pricing—when you live in a small town, it takes more time to do things, and if you're not charging for those hours, then you're going to really undervalue your services and your time. The limited ability that I have to go and test out a sofa means that I have to travel more to markets like High Point in order to be knowledgeable about what is out there. Right now, sites like Lulu and Georgia and Serena & Lily are the price point my clientele is at. But as I grow, or as I decide to scale and get more into the higher-end and luxury clientele, that is going to impact how I source.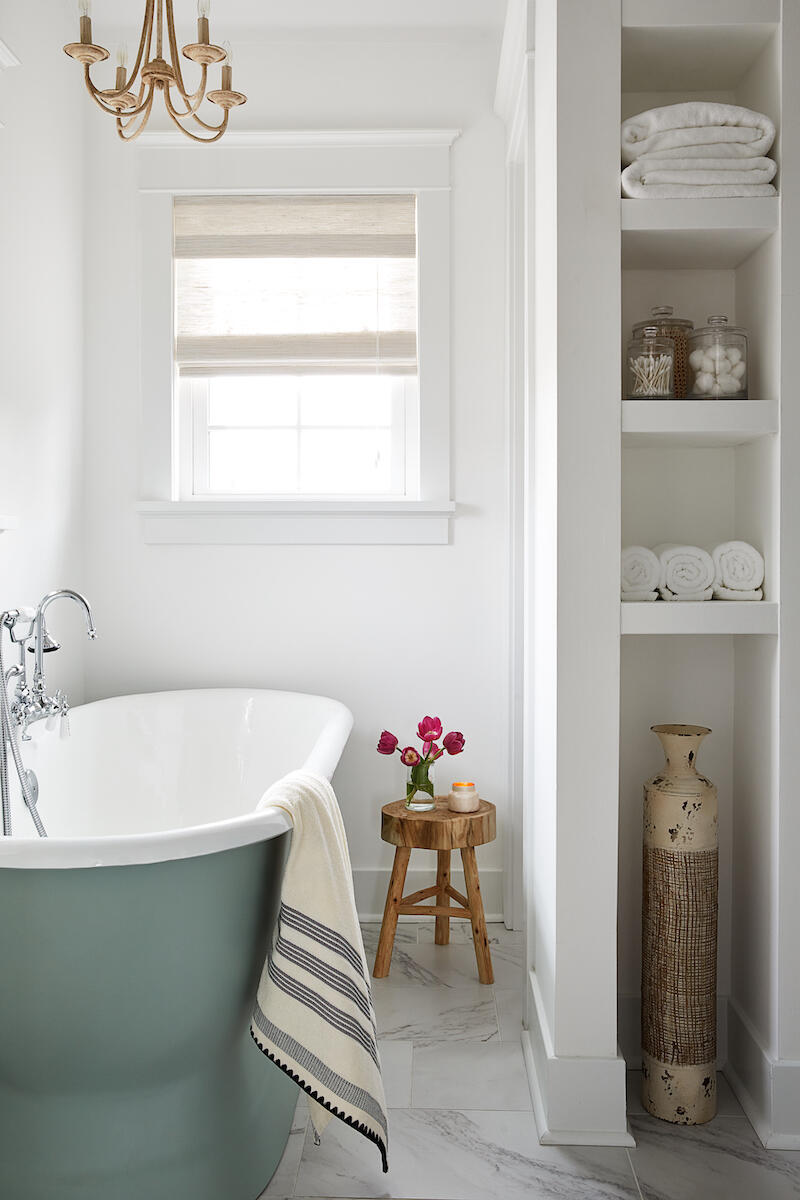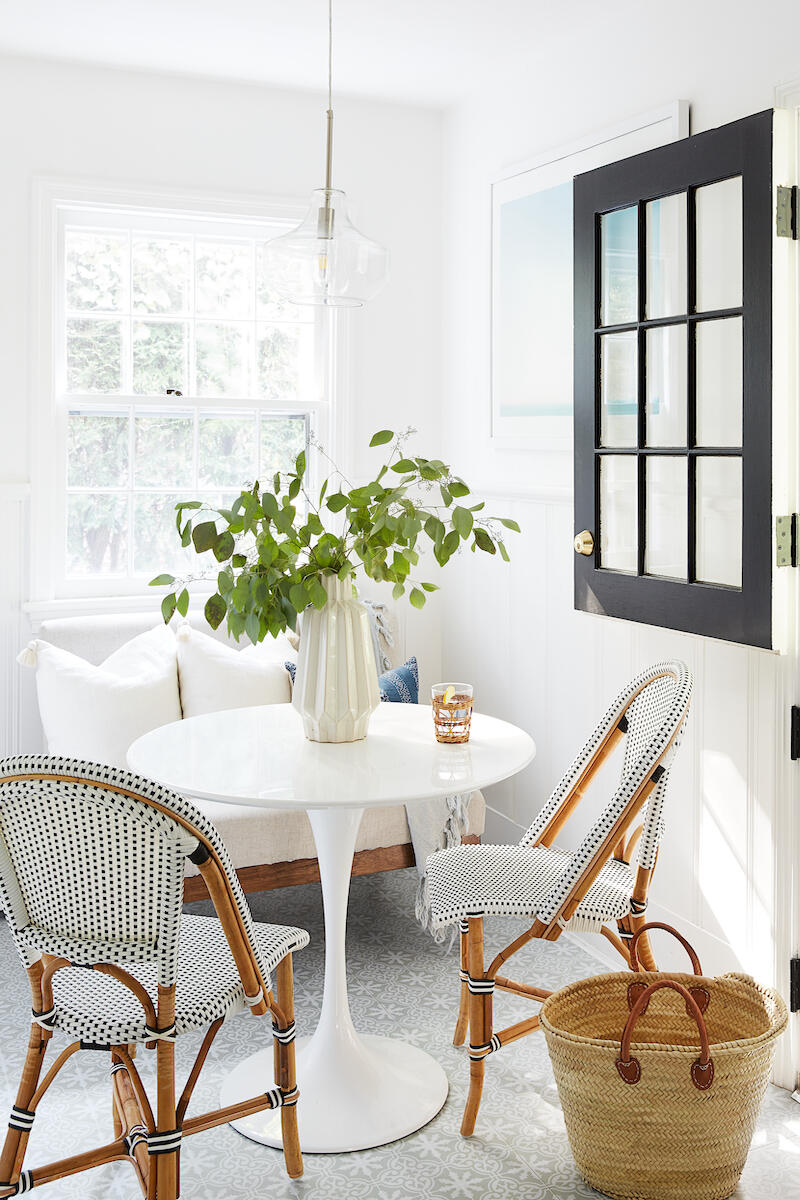 How do you approach billing today?
When I started out, I remember Kimberley Seldon saying, "No expert should start at less than $75 an hour," in one of her modules. I was like, "OK, I guess I'll start there." At that time, I was still unsure about whether to do hourly or a fixed rate. I have increased my rate since then, but I still flip-flop back and forth between whether I like the hourly or fixed [system better]. Right now, a fixed rate seems to work best for my clients. I'm not dealing with people who have a lot of resources at times, so being able to see what they'll pay is really important to them. That fixed fee is based on an estimate of hours in my mind.

When you look ahead, where do you see the most opportunity to grow?
I'm excited to bring all my skill sets to one place and to be a resource to others. As much as I love doing design work for clients, I'm most excited about my own projects. I loved when I was able to transform my living room or my office or my kitchen and showcase that on my blog and on my YouTube channels. Or doing the television show, where I'm able to transform people's homes in a budget-friendly way. The ability for a larger community to be able to have a sense of design know-how is so powerful to me, so I'm most excited about continuing to bridge that gap between design being this elitist thing that only certain people can afford and enjoy, and allowing people of all economic statuses and cultural backgrounds to be able to have a little piece of a well-designed home.

How has the TV show shifted your perspective about the future?
It's something I've wanted to do since college, but I never really thought it was possible for me once I made the decision to stay in my small town. I was kind of like, "Well, if I'm not in L.A., I don't know how I'm going to pursue my TV dreams." But now everyone's discovered through Instagram and YouTube. The network saw what I was posting and contacted me about the show.
When I started getting interested in design TV, I wanted to be the next Genevieve Gorder or Joanna Gaines. But as I started to mature and work with other designers through photography, I started to diminish the importance of the design TV in relation to, like, "real design"—because there is a real difference between what you see designers do on television and what designers do when they're working with private clients. The budgets are different, the timelines are different—nothing is real on television. I do think that design TV is often not a friend of the interior designer because it sets these unrealistic expectations for the client.
But I do think that there's an important place for design television when it comes to making design more accessible and inspirational. The people watching might not be able to afford to hire a designer right now, but it's giving them either the inspiration to tackle their own project or the aspiration to one day get to that place where they are able to hire you. I know some designers might roll their eyes when they hear about designers on HGTV or Magnolia Network, but it's one of those things where it's giving people the ability to have a beautiful space that they love, which is really important to me. And maybe the people who are influenced by that aren't necessarily your clients anyway.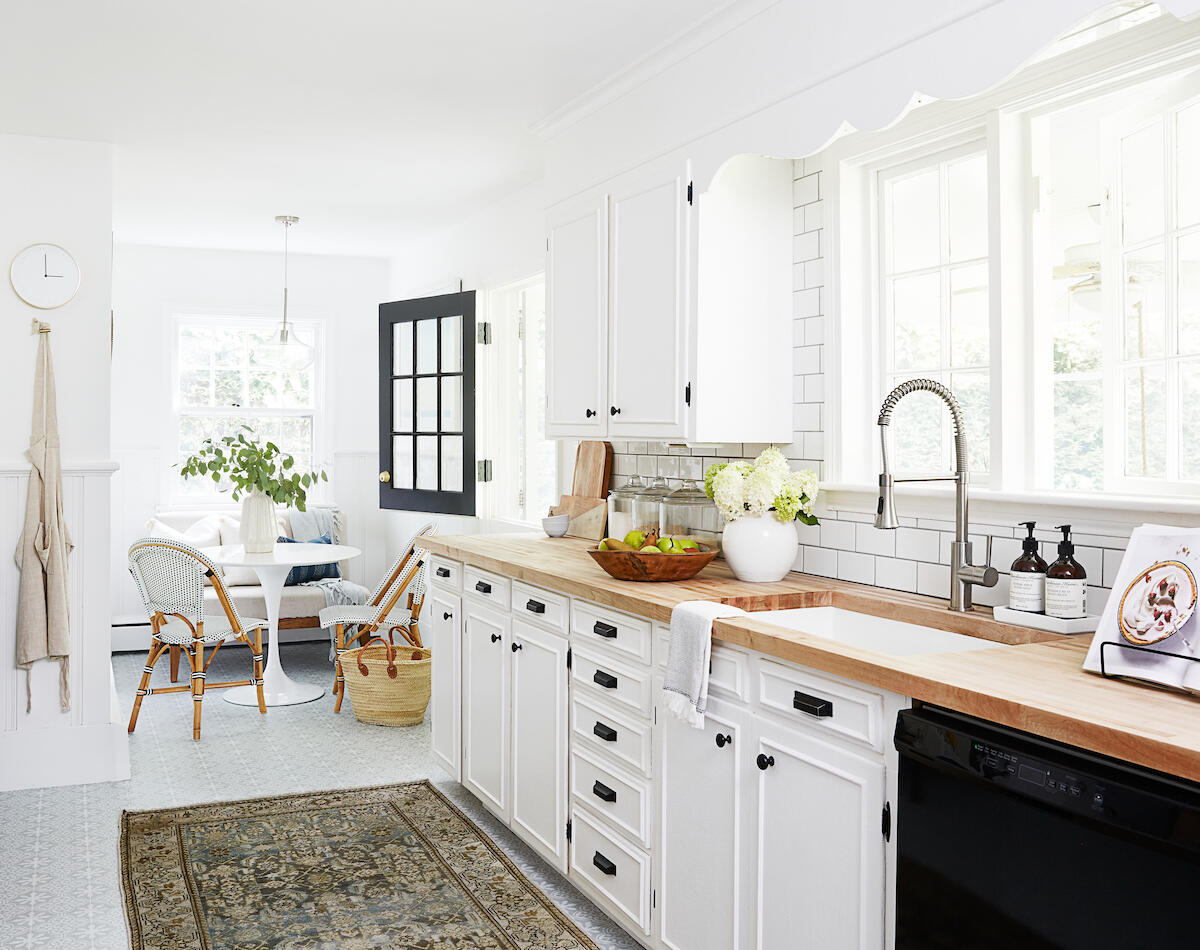 What do you see as the biggest challenge facing the design industry right now?
For me, it always comes down to diversity. Whether it's in the photography space or the publication space or the television space, design can be very whitewashed—and I'm not just talking about the paint on the walls. I wish that more people of color were showcased. I look at all these amazing collaborations that brands are doing with designers, and a lot of times, they're not people of color. Just having the same stage and platform and opportunities as some of our white colleagues is really important to me. There are amazing designers of all races and cultures and colors and creeds out here that deserve to be highlighted just as much as anyone else.

When you look back, what is the biggest thing you wish you had known when you started your design business?
Honestly, no one really knows what they're doing, and we're all just trying to figure it out. Seriously! There's so much commentary out there about impostor syndrome—I no longer subscribe to that, because so many of the people I admire who are at the top of their game, some of the biggest names in the design industry, will say they still have impostor syndrome, and that they're still figuring it out every day. That made me realize that we're really all on the same playing field. Yes, there might be some people who are more established than you are, but we are all just trying to figure it out as we go, and there's no right or wrong way. There's no perfect process or system.
In the beginning, I felt paralyzed to start—or even just to say I was an interior designer—because I didn't look like what I was seeing out there already. I didn't have the Instagram portfolio or the recognition or the projects. You really have to have that tunnel vision [focused] on what you're trying to do out in the world and not focus on anyone else. Because the second you start comparing yourself or trying to do things like someone else, it might not work for you.
What does success mean to you?
My definition of success is freedom—financial freedom, freedom with my time, freedom with my creativity. There are days when I can say, "Wow, I'm successful," because creatively, I am doing what I want to do. I have a little bit of flexibility with my time, even though this is not a regular nine-to-five and I know I'm working way more than 40 hours a week. There are definitely days when I'm like, "I feel really successful right now, but there's still so much I'm striving for." And there are other times where I'm working through the weekends, and I'm like, "No, I'm not there yet. I'm not at the financial freedom I want to be at, and I'm not at the freedom with my creativity that I want to be at, where I'm able to do what I want to do on my projects or with my time." It's a day-to-day thing, but to me it's about trying to accomplish that freedom in my life. The freedom to live the life I want to live fully.

To learn more about Keyanna Bowen, visit her website or find her on Instagram.