Sometimes, what goes around does come back around. For father-son team Tres and Nate Scheibe of Franklin, Tennessee–based furniture studio Scheibe Design, old-school know-how and a chance DM have set them on a path back to where it all started.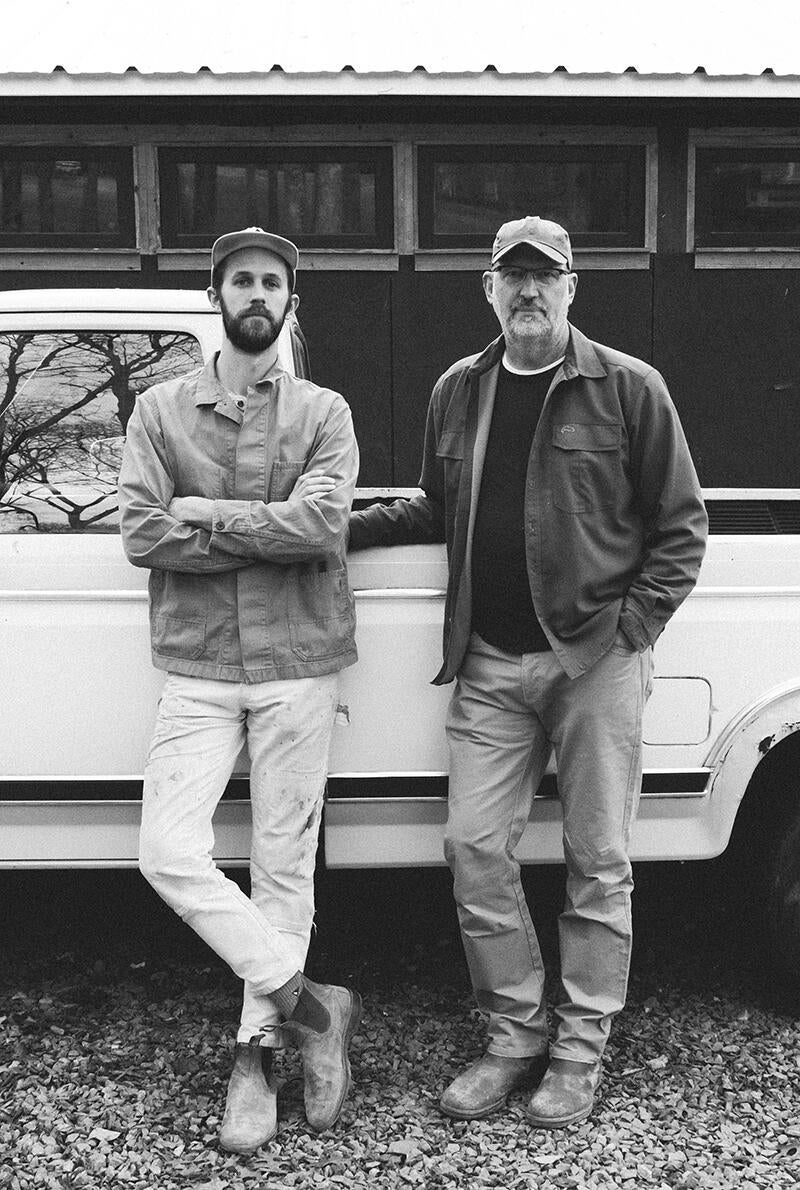 Courtesy of Scheibe Design
Tres Scheibe's professional background is in business management, having held executive roles for much of his professional life. But in his free time, an engineering mindset fostered a creative and hands-on household. "Growing up with my dad—who is handy as all get-out—I was always in an environment where we figured stuff out," says Nate. When it came time for college, influenced by his upbringing, Nate studied sculpture at Indiana's Taylor University, opting to design a collection of nonfunctional furniture for his senior showcase. After graduating in 2015, Nate returned to Franklin, where he and Tres converted an old horse barn into a woodworking studio.
Working with Nashville-based interior designers, Nate began to craft custom pieces for their projects, bringing a minimalist vernacular to life with subtle yet impactful construction techniques. Around the same time, Nate saw an Instagram post by New York–based design cooperative Colony, calling for designers and makers across the country to apply for a meeting with founder Jean Lin. "I followed Jean on Instagram, and she did this cross-country tour," says Nate. "I sent her images of stuff I was working on, and she came to the shop [in summer 2018]. We had a long conversation, and at the end, I [felt] like I needed to move to New York. She sort of said, 'Hey, this would be really good for you.'"
By January 2019, Nate was working at Brooklyn-based furniture studio Fort Standard, while Tres took over his son's outstanding clients back in Nashville. "I had gotten the job kind of suddenly," says Nate. "I moved quickly, so I had some projects that had yet to be wrapped up. Dad stepped in and finished those out, and [went on] to make some long-term relationships with those designers as I moved to New York."
When pandemic lockdowns took effect, Nate moved back to Franklin and, together with Tres, resumed production in the Nashville area. At that point they went all in on Scheibe Design, and while the two weren't entirely sure what the business would look like, they were in it together. "The only thing that was definitive was that when Nate came back, he said, 'Hey, what if we did this together?'" says Tres. "I enjoy the process of starting things, and this was an opportunity to support him and build something cool myself. [But] I've seen a lot of family businesses that don't work, and I wanted to be able to enjoy [working together]. We made sure we were clearheaded, and once we made the decision, it was like, 'Here are the things we need to do.'"
Nate takes point on artistic direction, starting with a piece's design details like the connection points and material language, pairing different hardwoods with stone, metal and leather elements. The Scheibe Design process entails a lot of back-and-forth, though, and both agree that Tres's engineering perspective sets pragmatic parameters for their designs. "I'm interested in making things that people want," says Tres. "This is not just an art project. We're trying to make things that are functional, useful—that somebody would want in their home."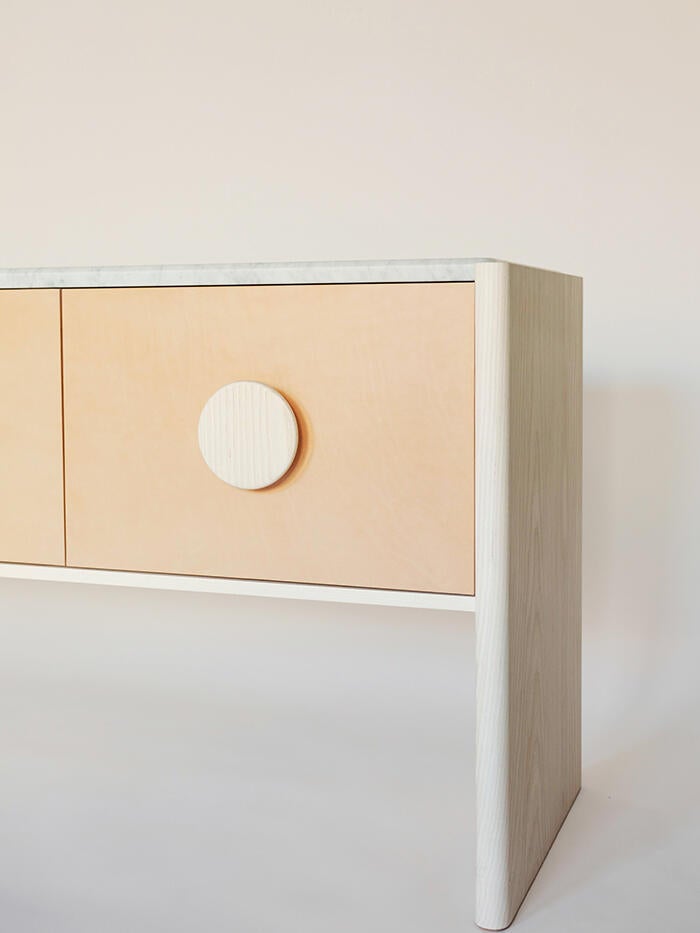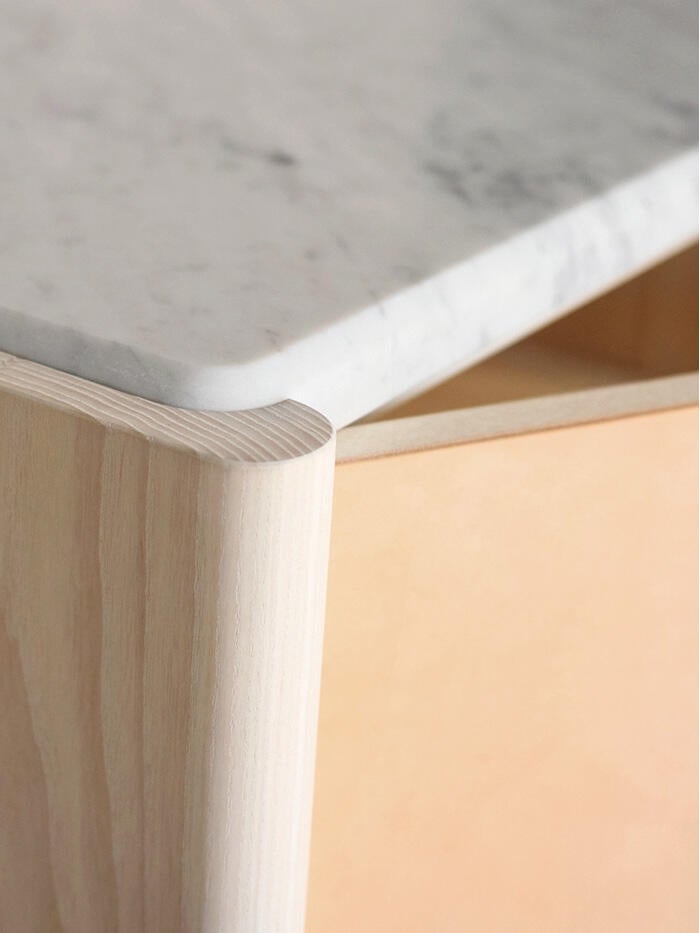 Scheibe Design has continued to grow the business, working on custom projects with interior designers while designing their own in-house pieces along the way. Last fall, the duo launched a five-piece capsule collection with Nashville-based designer Lauren Bradshaw, including a dining table, console, side table and vanity in white oak and a large walnut cabinet. "She asked us to come in and help her design a line of furniture, but also to put these pieces in this house for a Magnolia Network show," says Nate. "And we got a flood of inquiries as a result," adds Tres.
Now, Scheibe Design has come full circle. This week, the studio has released its debut stand-alone collections—Roebuck and Cumberland—in conjunction with joining Colony's cadre of design brands. True to the Scheibe aesthetic, simple geometries find a fresh expression, allowing confident craftsmanship to shine through. Riding that wave, the team plans to continue to produce highly functional, aesthetically driven work. "We want to continue to create new things that fulfill people's needs," says Tres. "I think we balance each other out," adds Nate. "There's a part of me that wants to see us doing nonfunctional items too, but the great thing about us working together is there has to be some sort of groundedness, and I'm interested to see how we go that direction."
To learn more about Scheibe Design, visit their website or follow them on Instagram.
Homepage image: A console table from Scheibe Design's Cumberland collection launching this week at Colony | Sophie Fabbri