Ashley Leftwich and Sarah English like to say they met serendipitously. Though the two technically first met through their oldest sons' kindergarten class, where there was an instant connection, they soon discovered that they were already closer than they thought: "We figured out that we live across the street from each other," says Leftwich, a designer by trade. "We weren't very neighborly!" jokes English, who was trained as a fine artist. Together, the two have spent the past two years making unique wallpapers out of Dallas under the brand name Ever Atelier, named for the children who brought them together, Evan and Greer.
Despite a background in fine arts, English spent several years working in textile design for corporate fashion brands before becoming a surface designer for various companies. Leftwich, meanwhile, had been working as a designer in Dallas for about 20 years ahead of Ever Atelier, which formed as the pair began cultivating a deeper friendship, taking cues from one another's respective creative careers. "We started talking and getting closer, and she was seeing the stuff I was doing, and I was seeing the stuff she was doing, and we just kept talking," says English. "I texted her from ICFF and was like, 'This stuff is awesome, but we could be even more awesome.'" So they decided to combine their talents and try their hand at wallpaper design.
"At the beginning, it really was an artistic experiment," says English. "It was like, 'Let's just get our heads together and see what we come up with.'" The company officially launched in tandem with a debut collection of seven patterns, right at the close of summer 2019—but not before the design duo went through a series of printers and substrates to find the materials that would bring their designs to life in just the right way. "We wanted it to be the best," says Leftwich.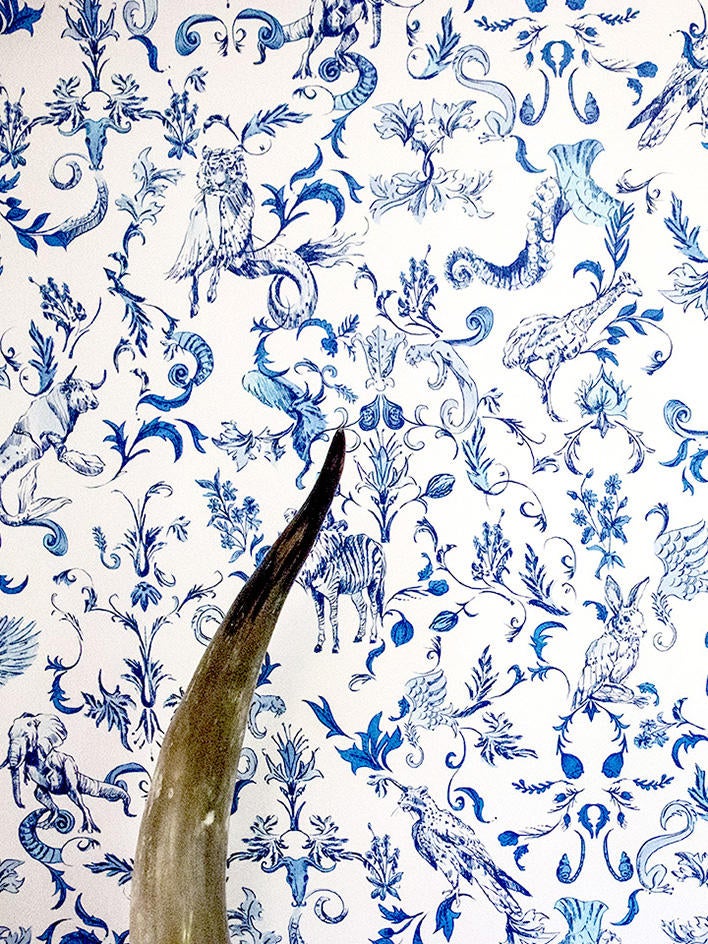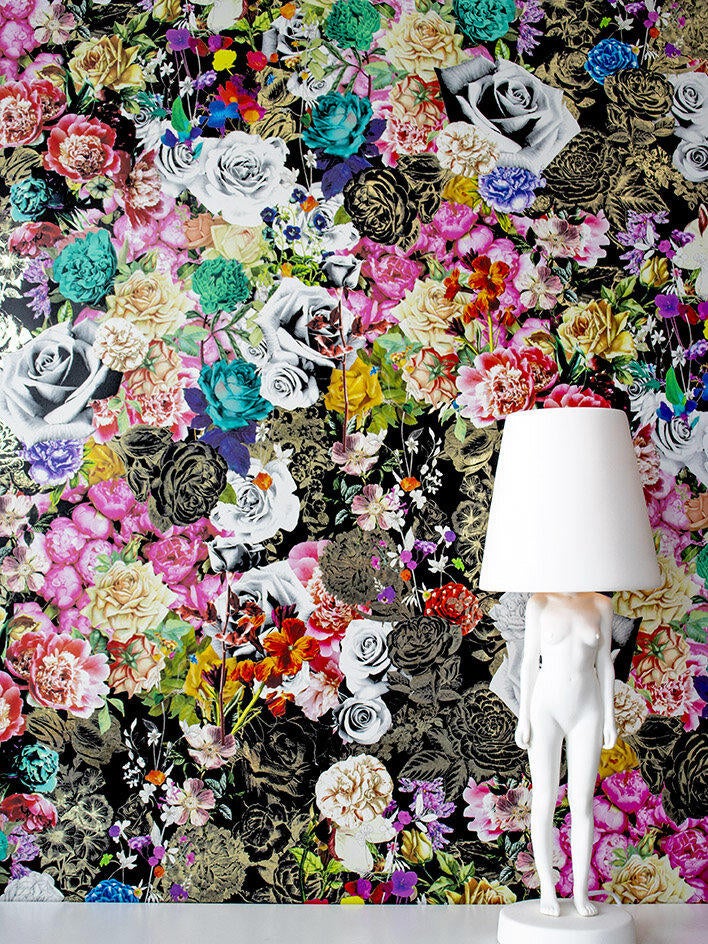 With a second collection out in the world and a third on the way, Ever Atelier is running with the momentum of orders and a growing repertoire of wallcoverings. "Each of our patterns has a different artistic story behind them," says Leftwich. And they are all distinguished by a strong play of color and striking interpretations of classic design motifs. For instance, the floral wallpaper Rose Mary Rose is anything but a delicate nod to Mother Nature. Instead, boldly colored photoreal blossoms crowd together in an almost pop-art fashion, impossible to miss and well suited to a punk yet femme room. The Razel Baselisk print draws from old-world wallpapers, as if Rudyard Kipling's imagination were set loose amid swirls of acanthus leaves; other patterns combine photography and hand-rendered designs for an entirely fresh experience.
"We always start with the images—for the original collection, we went away for a weekend, looked at all these different images and started compiling these things together," says Leftwich. "They morph and change as soon as we start working on them." Theirs is a collaborative process: Leftwich and English bring their ideas to one another, iterating and adding to photographs and sketches that eventually result in the final product. "I think that with Ashley's background in interiors, our color direction really comes from her eye and understanding and application," says English. "The world of interiors is new to me, so she has taught me a lot. She can really imagine how people would use it."
With a printer based in Dallas, Ever Atelier is able to offer lead times of two to three weeks, with the added advantage of speeding up the development process of new product, all informed by personal anecdotes, whether experiences with their children or past travels. "When we get to talk to people face to face, we always get the comment, 'Oh, I love hearing the story behind this,' because there's always a story and a meaning," says English. "That part to us as creators is very important."
And with such vibrant, punchy wallpapers, the Ever Atelier team, like most interior designers, know that not every client is their client. "We call it art for your walls, and we know our stuff can be out there for a lot of people," says English. "When someone loves it, they really get it, whereas some other people can be like, 'Oh, God, no!' We're like, all right, we understand that, too. It's like artwork. There are some things you love and some things you don't. We very much approach it that way, but even if someone hates it, we got a reaction—what we did was powerful enough for someone to say, 'That's not for me' or 'I love this.'"
"And that means we did our job," adds Leftwich.
To learn more about Ever Atelier, visit their website or find them on Instagram.
Homepage image: Sarah English (left) and Ashley Leftwich of Ever Atelier | Courtesy of Ever Atelier