The third edition of NOMAD, the contemporary art and design fair imagined by architect, curator and gallerist Nicolas Bellavance-Lecompte and luxury brand consultant and curator Giorgio Pace, took place last week in Monaco (Karl Lagerfeld's former Monte Carlo residence—NBD) and made us seriously regret not making the cross-pond trek. Take a look at a few of the show's standout pieces.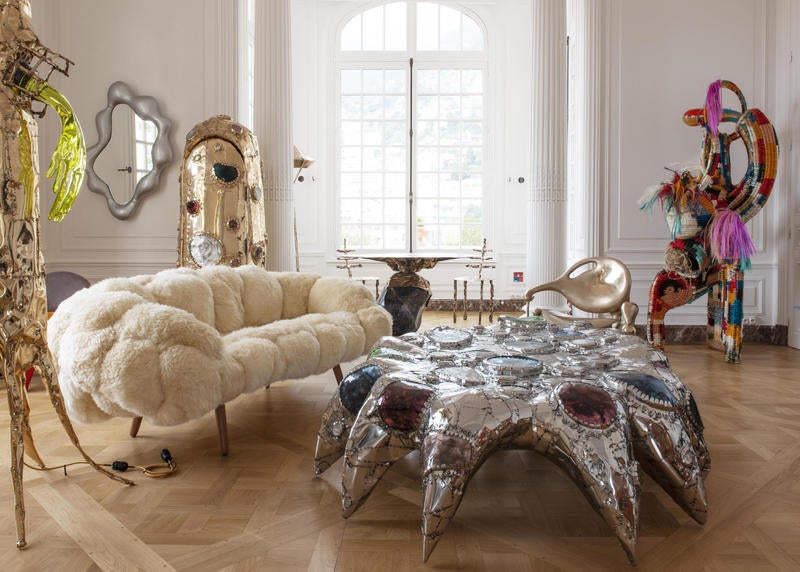 The four-day fair welcomed some 1,500 visitors and unfolded at Villa La Vigie, adorned with furniture pieces by Comme des Garçons and Dover Street Market Founder Rei Kawakubo. Among the highlights were a lounge designed by Vincent Darré with 18 Davies Street Gallery and pieces by Mathieu Lehanneur; a limited edition of Claude Missir's Stick Table, commissioned by Nilufar; a canvas by Swiss artist and Fluxus founder John Armleder; and 15 new pieces by American artist Misha Kahn that appeared near a sofa by the Campana Brothers.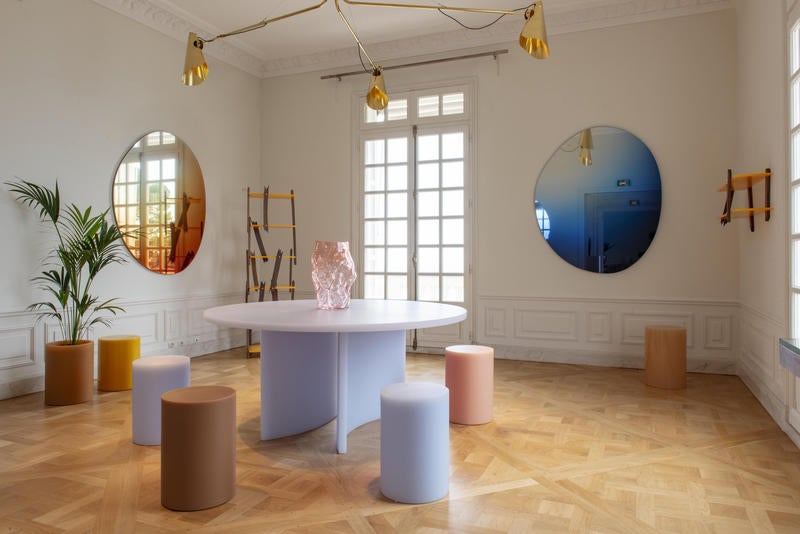 The first-ever lounge area featured design objects and rare furniture, including a sculpture by Tony Cragg and spectacular chandeliers by Aristide Najean, as well as special projects by the likes of Parley for the Oceans, Lehanneur, LizWorks and Charles Burnand.
NOMAD founders Pace and Bellavance-Lecompte shared, "Our second edition in Monaco was extremely positive. We feel we have managed to establish an identity and new destination for collectors and the design and art community. The event attracted high-quality guests, and participating galleries were extremely satisfied in terms of contacts made, sales, the inspiring context and the intimate environment that make NOMAD so unique. The success couldn't have been achieved without such high-quality presentations and the general effort of the galleries. A majority of the gallerists sold all of their pieces on show and secured further commissions of limited-edition pieces."
This year's participating galleries included Almine Rech (Paris, London, New York, Brussels), Apalazzo (Brescia, Italy), Carwan Gallery (Beirut), Brun Fine Art (London, Milan, Florence) in collaboration with Gian Enzo Sperone (New York), David Gill Gallery (London), Etage Projects (Copenhagen), Friedman Benda (New York), Gallery FUMI (London) in collaboration with Louise Alexander Gallery (Sardinia, Italy), Giustini/Stagetti Roma (Rome), Galleria Luisa delle Piane (Milan), MANIERA (Brussels) in collaboration with A1043 (Paris), Massimo de Carlo (Milan, London, Hong Kong), Nilufar (Milan) and Sarah Myerscough Gallery (London).