Kevin Kolanowski, the founder of Los Angeles–based boutique lighting company Fuse, prides himself on meticulous craftsmanship—but the company started almost by accident. It was 2000, Kolanowski was working as an interior designer, and some custom lighting he had made for clients caught the eye of an employee at renowned multiline showroom Kneedler Fauchère.
"He said, 'I didn't know you were starting a line of lighting!' I wasn't. But he was in the process of starting his own showroom, and he offered to represent my line when it got started," says Kolanowski. The employee? Thomas Lavin—who went on to found his own renowned Los Angeles multiline.
A year later, Dennis Miller saw the pieces at the Pacific Design Center's annual Westweek market and signed up Kolanowski for East Coast representation. All of a sudden, he was a lighting designer.
One of the biggest changes in Kolanowski's business came about, similarly by chance, around 14 years in. He had been exploring working with a new manufacturing partner, and had dropped off a drawing to get a quote. A week passed, but no quote arrived. Finally, he drove out to the shop and asked for it in person. "The guy had a shop full of machines, but no one was working there. He said he wasn't interested in the project, so I got my drawing back," recalls Kolanowski. "On the way out, I don't know why, but I said, 'If you ever want to sell me all this stuff, let me know.' The next day he called me back and sold it to me."
The machinery sat in storage for two years until Kolanowski was able to buy a building to house it. When he did, all of a sudden, he was a manufacturer.
Interestingly, for Kolanowski, the advantages of producing product in-house don't necessarily follow the traditional reasons for making your own stuff. His lead times (around 10 weeks) didn't get radically faster, nor did his margins get much fatter ("They're a little better," he says). The biggest change was artistic control.
"When I was working with other manufacturers, it would take three to five months to get a prototype," says Kolanowski. "By the time I got it back, I had forgotten what it was for. I was like, What was I doing with this?" Having a production facility was akin to a painter stocking up on easels, canvas and paint—though admittedly, a $40,000 production lathe makes for an expensive paintbrush.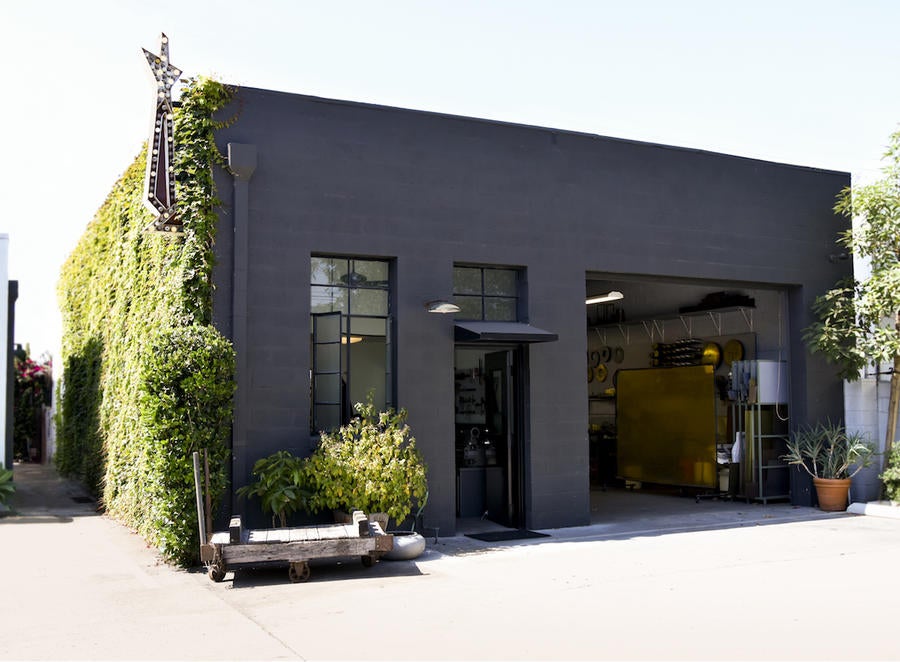 Courtesy of Fuse Lighting
"The quality got better," he says. "Now I'm there and I can see exactly how it's happening in the moment, as opposed to handing the other person the drawing and hoping they understand what I'm trying to accomplish."
This year, Kolanowski is celebrating two decades in business with a new line of product, including collaborations (his first ever) with Los Angeles designer Sue Firestone and San Francisco designer Orlando Diaz-Azcuy. He's invigorated by the challenge of working with new partners, but happy to keep things small going forward. (Don't hold your breath for Fuse direct-to-consumer, or a diffusion line with Target.) Kolanowski's biggest concern isn't growth—it's keeping the artisans he already works with in business.
"I always share my sources," he says. "I want these guys to stay busy. I always love to see when an artisan's son or daughter enters the business. One of our guys, his son left to be a banker, and I was like, Oh no!"
Homepage photo: Courtesy of Fuse Lighting