Masters of Linen, the European Confederation of Flax Linen and Hemp (CELC), hung the first strand of textile-covered lanterns along the streets of Paris in 2013. An iteration of the organization's string of lanterns at Salone del Mobile in Milan that debuted a few years prior, the scene—an inspiring dose of color and pattern draped between buildings—has since become a signature of Paris Déco Off, which celebrates its 10th anniversary this month.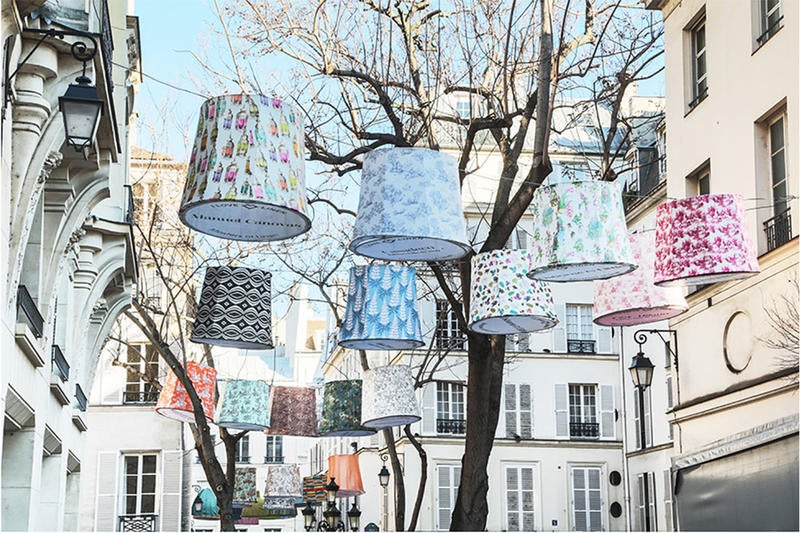 Courtesy of CELC European Confederation of Flax Linen and Hemp
In addition to some 100 fabric lanterns, Masters of Linen will return to the fair with the Masters of Linen Dream Lab, an "area for experimentation" featuring a material library, a workspace and educational resources. The confederation, which was established in 1951 and outfits some 10,000 European companies using the fiber, will also be launching a new book, Flax and Hemp Fiber Composites, a Market Reality, highlighting the materials' sustainable advantages.
"Paris Déco Off is the ideal context to address both professionals and the general public with the Masters of Linen Dream Lab Space," says Marie-Emmanuelle Belzung, CEO of CELC. "It is a place for accompaniment, research and development, and sourcing, and has an area where CELC members and professionals can meet privately to exchange ideas, discover new possibilities and stimulate their imagination. The Linen Dream Lab is not just a material library. It has imposed itself as a crossroads for creative, technical and economic projects."
The show will be the last chance to see the original Dream Lab, as Masters of Linen has announced it will debut a new space in March, available to professionals by appointment. The change comes in part as a response to how Paris Déco-Off—and in turn, the role of Master of Linen—has evolved over the past decade.
"A reference event for professionals, Paris Déco Off is becoming more and more attractive to the general public, which is increasingly asking for natural and eco-responsible products," says Belzung. "Flax linen, the fiber of proximity, is produced over 85 percent in Europe—a characteristic that places it at the top of the list of criteria for the purchase of a consumer in demand of traceability."
Tour the Masters of Linen Dream Lab (22 rue de l'Echaudé, Paris), and snap a photo with the signature fabric lanterns during Paris Déco Off 2019, held January 17 to 21.