All it took was one video to prompt Deborah DiMare to pivot her 20-year design career to solely vegan interiors. The video was about dog leather, which is legally made in China. After watching it and fighting the urge to vomit, DiMare put her phone down and decided that she couldn't sell or use animal-based products anymore.
A lifelong animal lover, she vowed to stop using wool, leather, silk and down a few years ago, but it took time and dedication to educate herself on the full extent of going vegan in her work. With no guidelines or sourcebooks of animal-free interiors existing at the time, she found herself taking on the research on her own. "Google became my best friend," says DiMare, whose firm is based in Miami. She found that there were animal byproducts in places she had never considered, like shellac paint, which is made from resin created by tropical lac bugs. She also quickly learned not to take claims of vegan products at face value—even sofas that have vegan fabric on the exterior often have wool or down filling. "There's no oversight on any of this, and it can be very misleading," she says. "I basically had to start over with how I sourced product."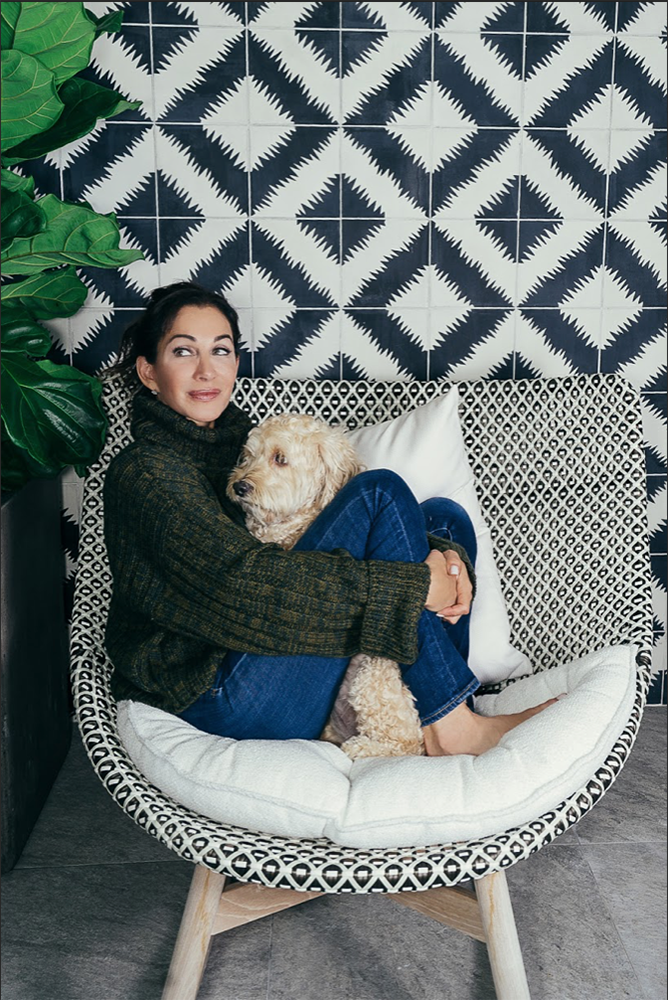 Courtesy of DiMare Designs
Not all clients are motivated by fighting animal cruelty, and even for those who want a vegan home, discussing the intricacies of leather production isn't most people's idea of a fun design process, so DiMare has also become well versed in the health benefits of animal-free interiors. Vegan products inherently have fewer harsh chemicals than animal-based materials like leather and hides, which are treated with a hefty dose of preservatives to prevent their breaking down. There can also be health concerns attached to certain animal byproducts; the dust and mites that down attracts, for example, can cause respiratory inflammation in a syndrome called "feather duvet lung."
"It all ties into the concept of health and wellness, which is so prevalent now," says DiMare. "I believe that luxury for the younger generations is going to be defined completely differently. Luxury is going to be about living a cleaner lifestyle." To that end, she also focuses on avoiding anything that requires toxic chemicals to create—like wrinkle-free sheets processed with formaldehyde or pieces that contain viscose, which is known to cause a number of health issues for the workers who manufacture it. "It's about approaching everything in an ethical way and honoring the planet and all living things," says DiMare.
Shortly after rebranding her firm, DiMare started to get emails from designers around the world asking her to share her vegan vendor list. "I couldn't figure out how they were finding me, but apparently I was the only result when you Googled 'vegan interior designers,'" she says. She started getting the requests so frequently that she decided to put together an online course on adding cruelty-free design to a firm's existing services, educating participants on the manufacturing process of skins and hides. The course, which qualifies for 7.5 CEU credits, has reached beyond professional designers to homeowners and design enthusiasts looking to create healthier homes.
"I'm always surprised to see how many people outside the industry are taking it just because they want to," says DiMare. Designers who complete the course are then certified as vegan designers. She'll soon launch a second course dedicated to vegan nursery design. "Creating a baby's room seems to be an entry point for a lot of people, especially nonprofessionals. I think it's often the first time you start to think about the real impact of what you're putting into your home."
Her course also spurred the launch of VeganDesign.org, a membership-based organization for designers and retailers. The group boasts members from around the world, something that continues to surprise DiMare. "The reach has been really amazing to see," she says. "We just had someone in Morocco sign up and we have a lot of members in the United Kingdom. They're a bit more sustainably minded in the U.K. already, so this concept seems to have caught on faster there." Also included on the website is an e-commerce section that features products and companies approved by the organization. "I want to make it really easy for people to make better choices," says DiMare.
She views the vegan design certification as something similar to a LEED certification: Just because a designer has it, that doesn't mean all of their work necessarily meets those requirements. "It's just a specialty that you can offer. People still have to make a living, I get it. It's hard to be fully vegan in this field," says DiMare. "But my hope is that our designers will approach their work differently after taking the course and that when potential clients see on your site that you have this training, they'll know that you're ethical and compassionate."
Homepage photo: A living room by Deborah DiMare | Courtesy of DiMare Designs