In just five years, New York–based design firm The MP Shift built an extraordinarily successful business by anyone's standards. With a fresh approach to restaurant design that sparked a trend of bright and airy interiors replicated around the world, The MP Shift's client roster featured dozens of marquee hospitality brands (Danny Meyer's Union Square Hospitality, Sweetgreen, and The Plaza Hotel, among others). The firm also drew media and industry accolades, including a 2018 James Beard Award for their design of New York cafe De Maria and a spot on Bon Appetit's 2016 list of Best New Restaurant Designs for Brooklyn cafe Tilda All Day.
Then in June, co-founders and friends Amy Morris and Anna Polonsky sent an email announcing that they were dissolving The MP Shift and launching solo ventures. Having built a studio that clearly worked well (to put it mildly), why call it quits? BOH chatted individually with Morris and Polonsky to find out why they're parting ways, what's next, and what—in their view—makes a partnership work.
+ + +
Longtime friends Morris and Polonsky initially joined forces professionally because they both saw a clear need for hospitality clients, especially chefs, who wanted to holistically translate their vision across every part of the brand—from the logo and menu to dishware and interiors. The duo developed what they call a "360 approach" to deeply understand a client's story, needs and goals. The getting-to-know-you process was followed by close client collaboration to create a cohesive visual identity.
It sounds simple, but both women had worked with agencies that treated every client the same way, and they saw that branding and design can't be one-size-fits-all. "Everyone is going to be different. It might not be dramatically different," says Morris, "but even a slight difference means a different approach. Both of us felt that way, and came to the partnership with that perspective, which allowed us to build a process that was different."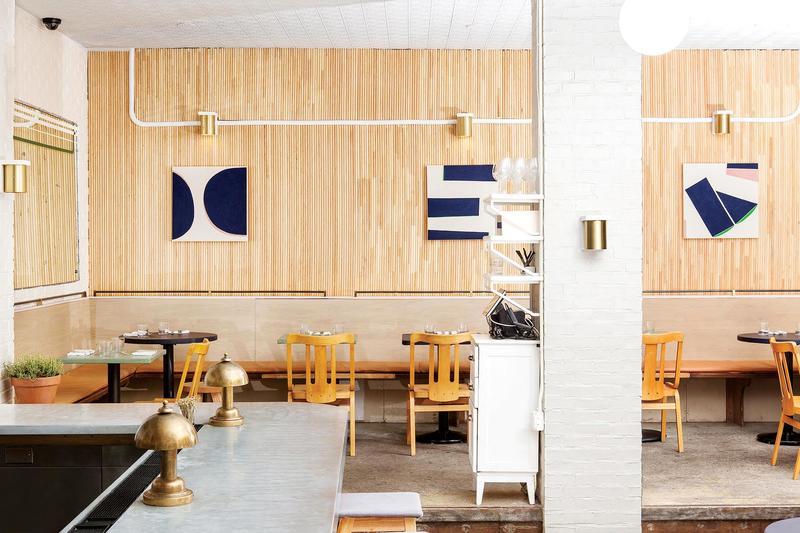 Their partnership began from that common belief, but the reason why Morris and Polonsky worked so well together was much more practical: They are both extremely organized and focused, they communicated constantly, and they set clear expectations for every client and project. "All of that might sound very common, but I feel like a lot of creative people I work with don't have that," says Polonsky.
Morris agrees: "Organization and process are often underrated in creative fields. It actually gives you a lot more space to be creative. If you have a clear process and you're organized, you have so much more room to think." Organization goes hand-in-hand with open lines of communication, which kept the partners on the same page about all facets of the business—though Polonsky notes that a history of friendship can add a layer of complexity to the dynamic. "Sometimes it's a good thing because you might feel more comfortable talking about your personal needs," she explains. "But it's harder to keep boundaries."
It helped that both were deeply committed to their goal of changing the way people thought about restaurant design. "We had a heightened level of focus on all aspects of the business, from process to design details to client relations," says Morris. "We gave a lot of thought to our approach, and there was never a moment when we hit the brakes."
Like any marriage, you need to be aligned for it to work.
Amy Morris
When the co-founders eventually did stop to take a breath earlier this year, they looked back on what they had accomplished and realized that they created an incredible opportunity for themselves. They had established strong reputations as creative directors, entrepreneurs and design professionals, and could take what they built in so many different directions.
"When we started to have deeper discussions about that," says Morris. "We realized that we had different ideas about where we wanted to [go next]. Like any marriage, you need to be aligned for it to work." Morris wants to work in fewer cities, and move beyond the hospitality industry; Polonsky will remain food-focused, but wants to be "a bit more political" and work with clients that are more socially aware.
Polonsky adds that after five years, their personal needs "just became different." Her husband travels a lot professionally and her family is in Paris, so she needs more flexibility than an agency model could offer. "It was becoming hard to be totally accountable to a partner and to a team of 15 people," she says.
Both admit that they are looking forward to the freedom of only having to answer to themselves, and are both currently launching eponymous solo ventures—The Morris Project and Polonsky & Friends—where they will still be applying their 360 approach.
"One of the benefits of being on my own is that when I have an idea I can run with it," says Morris, who is finishing up three MP Shift projects, including a flagship store outside of Boston for the cannabis company Theory Wellness. It's an industry she's keen to disrupt. "There's so much wrong with how interiors are being done in the cannabis industry," she says. "I have a lot of ideas about how to do it better, and I'm really committed to this."
Clients of The Morris Project include Whole Foods, co-living company the Collective (she's creating brand identities for three restaurants), and a restaurant in the West Village. She's also collaborating with a friend on an artists' residency in Mexico City and a creative group from London on a potential hotel in Greece or Italy, and is about to spend a month in Peru doing research with food consultants for a yet-to-be-confirmed project.
Ending a partnership is like ending a love relationship. I wanted to put this behind me and take the time to launch slowly.
Anna Polonsky
Polonsky is also finishing a couple MP Shift projects, Flor wine bar in London and a new Sweetgreen in Texas, while slowly taking on new clients. "Ending a partnership is like ending a love relationship," she says. "I wanted to put this behind me, and take the time to launch slowly."
Her first clients is are a pair of Australian chefs, James Henry and Shaun Kelly, who are opening a farm outside of Paris that will be like an "approachable Blue Hill at Stone Barns," with a permaculture garden, as well as a restaurant and hotel. She's also working with a group of farmers in Latin America on branding for a line of groceries and a French baker on creative direction for her U.S. expansion, and she's co-directing a documentary about food and gastrodiplomacy in the Middle East.
"I want to work with clients who care a bit more about their social impact rather than being on social media," says Polonsky. "I want to go beyond just opening the next Instagrammable restaurant."