Katrien Van der Schueren hasn't always been a maker, but she's always been an artist. Through her sculptural concrete and plaster wall art, the founder of Voila Creative Studio in Los Angeles gives a whole new meaning to the expression "if these walls could talk."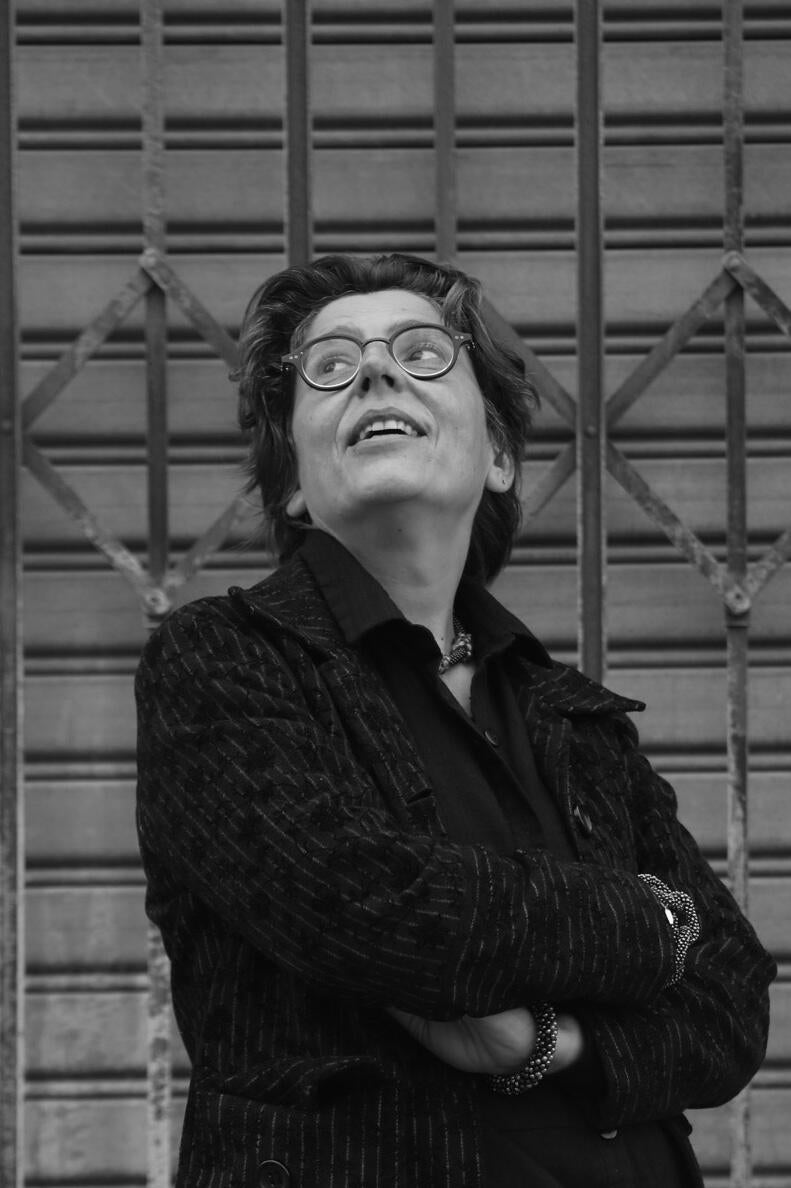 Courtesy of Voila Creative Studio
Two decades ago, Van der Schueren and her husband left their home city of Brussels to pursue a career opportunity that waited for him in the U.S. Van der Schueren had been working in art and marketing, and soon after arriving in L.A., Voila began as a business that sold imported antiques and vintage goods. Van der Schueren's artistic underpinnings did not lie dormant for long, though, and she expanded the business's offerings with her own home decor and furnishings—ones made from found objects. "At first, I started building with whatever I found," she tells Business of Home. "I would buy a container of mannequins, or glove molds or airplane parts, then I would build pieces with those vintage elements. [From there,] I went more and more into creation."
Van der Schueren continued to explore different materials in her designs, eventually outgrowing found objects when she struck a connection with plaster and concrete. But this was no arts-and-crafts hour—her rigorously researched and tested methods gave rise to sophisticated one-of-a-kind pieces that quietly attracted the attention of a high-end interior design clientele. In 2018, Voila won the commission for a large-scale wall mural at the Four Seasons Resort Los Cabos at Costa Palmas, Mexico. "I was testing out the best material for that [project], and I discovered this vertical clay made from recycled elements," she says. "It was a huge learning curve in the beginning, but I started to work with it [a lot]."
Technically speaking, applying any sort of masonry to a finished wall requires a bit of engineering—Van der Schueren learned that sometimes the clay needs to be mounted on wooden frames before being secured in place. For walls where the clay can be directly applied, time constraints add an additional challenge, much like a fresco. (In those cases, Van der Schueren usually has just two hours to finalize the details of a design before the material begins to set.)
True to her experimental attitude, Van der Schueren spent months perfecting her own combinations of clays, concretes and plasters, adjusting the formula to ensure structural viability and aesthetics. "It's like construction," she says. "You figure out how to do it and you build it, and that's the mentality with which I have approached everything—how far can you go? What can you mix to get specific effects? We get pretty detailed."
After the Four Seasons project was completed in 2019, Voila received enough hospitality commissions that it abandoned the antiques aspect of the business altogether, focusing entirely on fabrication. Its clients have ranged from Alo Yoga and Carolina Herrera retail locations to interior designers like Martyn Lawrence Bullard, and while furniture and design consultations comprise some of the business, Van der Schueren's sculpted artwork—some earth-toned paperlike pieces, others floor-to-ceiling clay reliefs—dominates Voila's portfolio.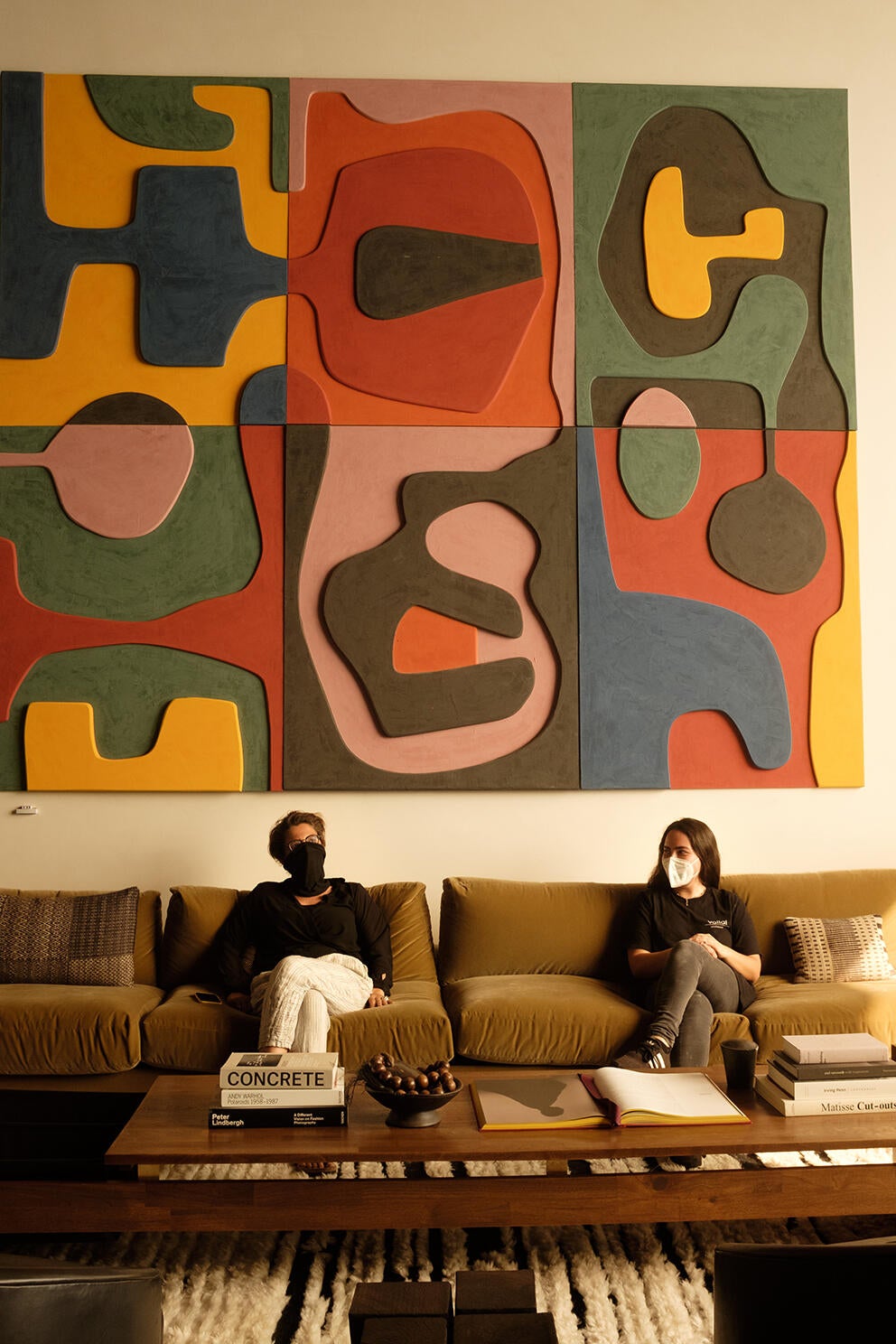 Much of the time, the artist works on a commission basis, designing custom walls to suit a given space. Her pieces can evoke themes as disparate as large-scale tree bark or a more mod tangram-esque pattern, but they're always designed to complement the mood of an interior. "Like for one hotel," she explains, "We made about 10 different concepts and then I worked out five or six [of them] on a smaller scale. I'll go more in one style [direction] or the other, but it keeps my creative juices going." Upon completion, Van der Schueren's wall installations land somewhere between sculpture and wallcovering, always lending a high-impact, organic effect to a space.
One of Van der Schueren's goals for the coming year is to develop an offering of pieces for order, providing custom size and color options to designers who want to integrate sculpted wallcoverings into their projects without necessarily bringing Van der Schueren on-site for the install. That way, she hopes to continue to add her own distinct touch to each space, contributing to what those walls would say if they could talk. "I like design because of the storytelling," she says. "The brainstorming, the creation. People are looking for more and more unique pieces."
To learn more about Katrien Van der Schueren, visit her website or follow her on Instagram.
Homepage image: One of Katrien Van Der Schueren's pieces in a project designed by Ryan Saghian | Courtesy of Voila Creative Studio