In early 2020, industrial designer Stephen Burks and his partner, scholar and urbanist Malika Leiper, were riding their bikes around the Dumbo neighborhood in Brooklyn when an empty storefront caught their attention. They'd always wanted to do more public-facing projects, and this space seemed like the perfect place for the hybrid gallery, shop and studio they'd imagined.
They signed the lease on the 400-square-foot space, painted the walls a gallery-appropriate white, and then, with the rise of the pandemic in March, were forced to put their idea on hold. Though they initially considered trying to get out of the lease, they began to feel a sort of duty to move forward as they lived through New York's lockdown and watched the virus decimate the city's cultural experiences. "Now, more than ever, every city needs creative spaces where the local public can come together to consider the big issues of our time through a dialogue with their peers around art, literature, design, and architecture," says Burks. So in October, more than six months later than anticipated, they opened Contemporaries—a storefront studio project featuring a new activation or exhibition each month.
For its inaugural show, the duo joined forces with Brooklyn-based art collection Archiviste XX to offer a reflection on the most pressing issues of our time through the art and design of the 1960s, '70s and '80s. Called "A Radical Window," the exhibition, which closed on November 14, explored the ongoing struggles for justice and freedom through images of feminist visionaries like Angela Davis; the psychedelic era of London's music scene; and the designs of Italian legends like Memphis pioneer Ettore Sottsass. "We're living in this explosive moment politically, and being able to have in-person dialogues with people who would come into the space, that was really rewarding," says Leiper. "It showed us that this concept has legs."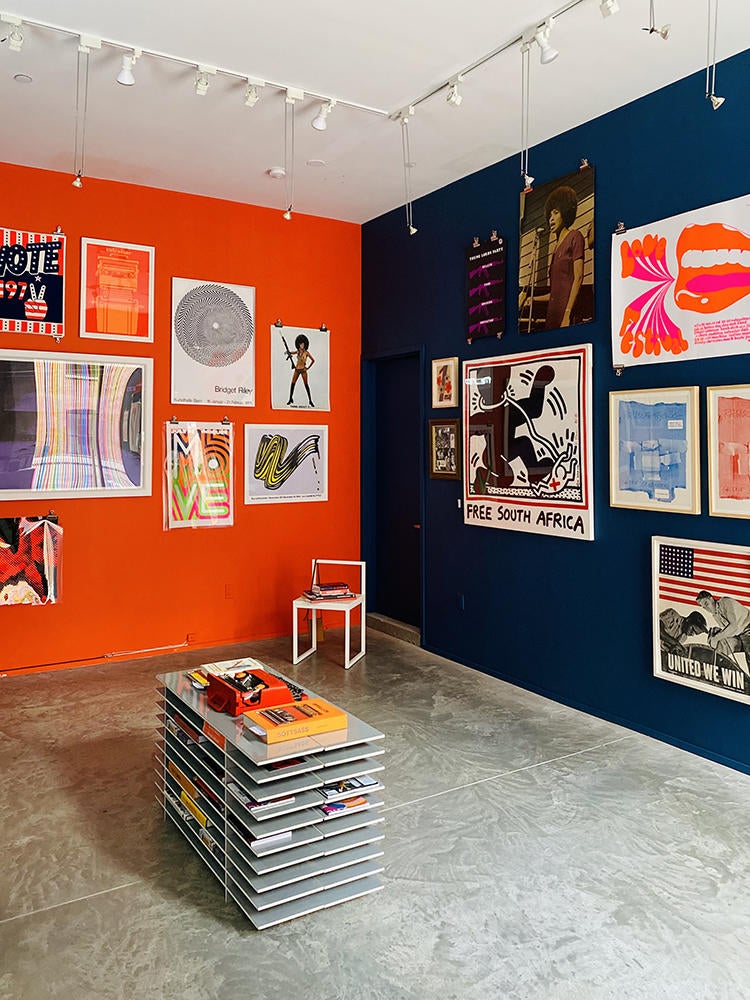 For its second event, Contemporaries will host its first author-in-residence, Katie Swenson, an architect at MASS Design Group and the writer of Design With Love and In Bohemia. Titled,"These Are the Gifts," the project will focus on themes of generosity and healing in addition to the power of kindness in urban design. A design-centric holiday market will follow Swenson's activation. "What's wonderful is that it's an experiment, but it's also collaborative," says Leiper. "We're thinking about how we can offer this space to creatives and how we can collaborate with our contemporaries—hence the name."
Even before the pandemic, brick-and-mortar retail was having a tough go of it, to say the least. Leiper and Burks are looking at Contemporaries as a potential new way to use the increasing number of vacant storefronts. "I think culture could be a tool for activating these spaces that might be considered undesirable," says Leiper.
Though they laid the groundwork for Contemporaries before the pandemic, the duo feel that the ideas behind the project have even more relevance now that the virus has made people more cognizant of their homes and personal spaces; as we turn inwards, Leiper and Burks hope the project can help ensure that the beauty of sharing public spaces and jointly experiencing culture doesn't get lost. "It's important not to lose the human touch and the human scale of connecting with one another during this time," Leiper says.
While 2020 hasn't looked the way anyone could have imagined, Burks is intent on using the challenges the health crisis has posed to fuel creativity. "The pandemic is clearly polarizing," says Burks. "Some of us live in fear, while the rest of us make a concerted effort not to be defeated by the limitations the virus has placed on our cultural possibilities. At Contemporaries, we see constraints as opportunities for radical reinvention and invite anyone who steps through our door to join us."
Homepage photo: Stephen Burks and Malika Leiper | Dan Henry