In Business of Home's series Shop Talk, we chat with owners of home furnishings stores across the country to hear about their hard-won lessons and challenges, big and small. This week, we spoke with Abby Hetherington of the Bozeman, Montana, store the Architect's Wife.
Born in Bozeman, Hetherington has watched as the town grew steadily in the past decade, then exploded during the pandemic as remote workers fled coastal cities. The "Zoom town boom," as Bloomberg Business Week called it, caused both rent and home prices to surge more than 50 percent. Of course, that was good news for the Architect's Wife, which regularly received designers and customers who needed to outfit entire homes they hadn't even seen in person yet. Ahead, Hetherington describes her business before, during and after the explosion, and discusses welcoming the competition and the wisdom of stocking recognizably luxe brands.
What was your career like before the shop?
I had been working for another design firm for about 15 years, and then I went on my own in 2012. I was trying to decide what I wanted to do, and Montana was just starting to blow up a little bit. Our clientele was pretty savvy, in the sense that we would have to travel to source or see anything. That's what led to us opening up a shop in 2016: We had high-end design clients we had to travel all over for, and none of those sources locally.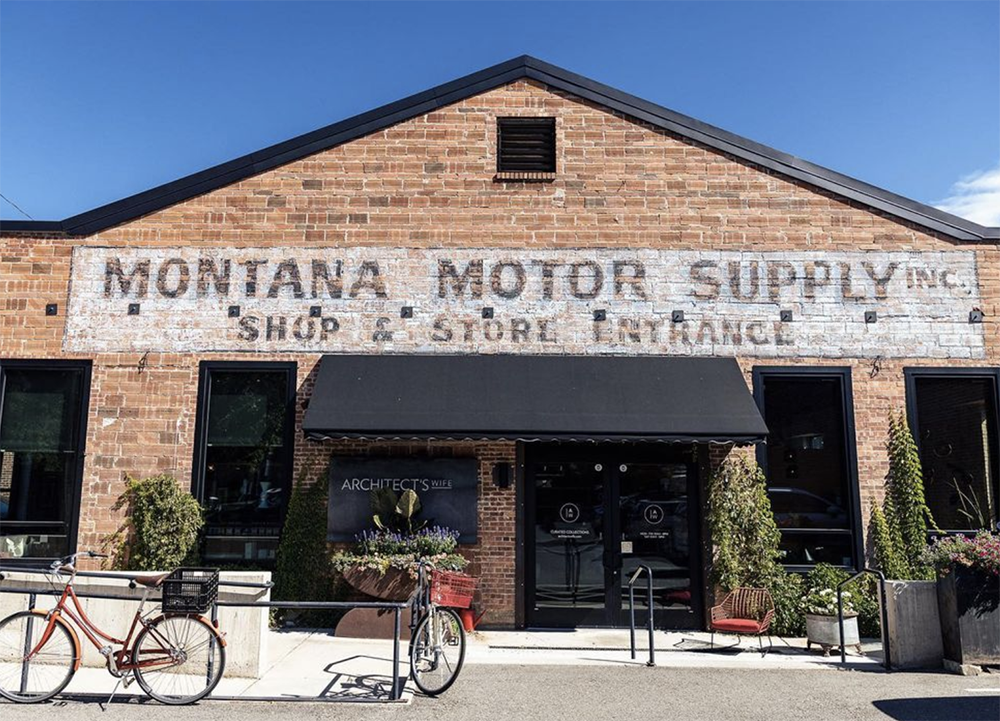 Tell me a little bit about the vibe and overall aesthetic.
It's very eclectic, a mixed bag. I love the hunt for antiques, so it's a mix of vintage and new. Then we also carry a bunch of more refined Italian lines, like Saba and Gamma.
What is your customer base?
We have been really supported locally. A lot of people love the store, love the items, but it might be out of their price point. So we've really tried to cater to that: We have cash-and-carry and grab-and-go that anybody can have—books and things. Our upholstery and furniture pieces are higher-end, but we dabble in some mid-grade and lower-end. I think any good designer knows how to mix and match different levels. We try to make sure that everybody can come in and have something. We have a lot of male clients, which is super interesting. Families will come in and sit and stay a long time, touch and feel, and I think that's the biggest compliment.
What's the neighborhood like?
We wanted to be in downtown Bozeman because that's where the people are. I always dreamed of being in a big industrial building, and this had been a motor supply shop for decades. It still has exposed steel braces, wood rafters, brick walls, concrete floors. When I opened up, the whole town was starting to change. People were moving and things were getting updated. I was really fortunate to get in before the big buzz of Bozeman. We're a block off Main Street, so we don't get the walk-through, but when people come to town and ask, "What should we see in Bozeman?" at a hotel or restaurant, it's cool that people are like, "Oh, go check out the Architect's Wife."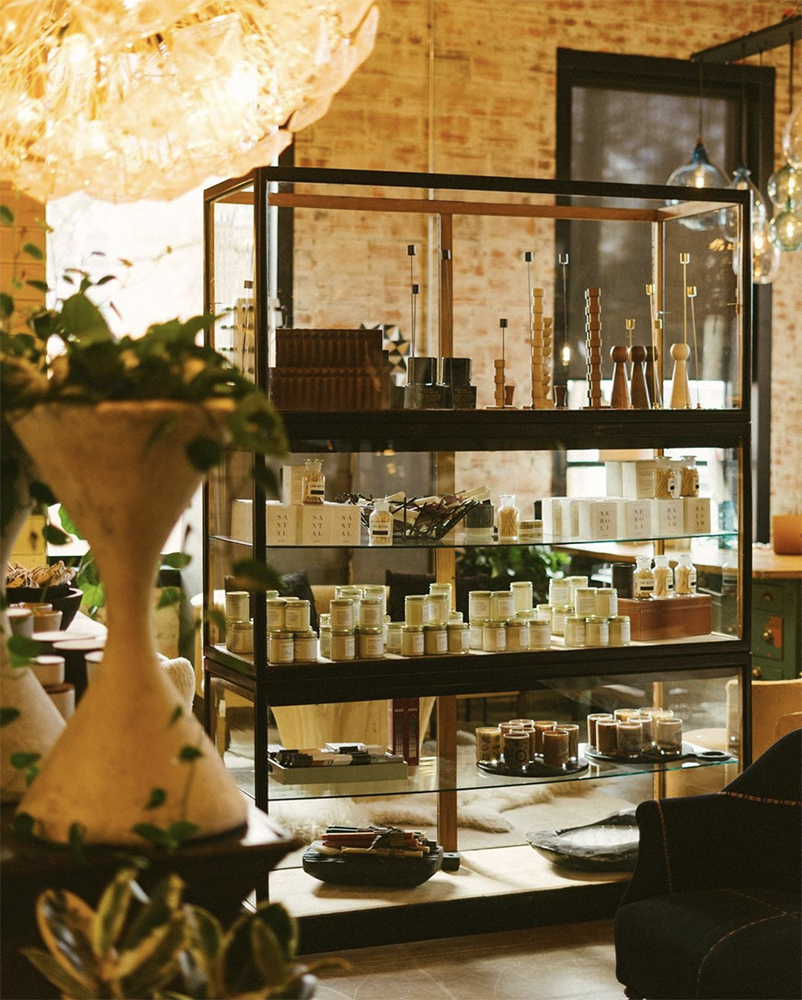 What is your biggest category of merchandise?
Some months we are heavy on cash-and-carry, and some months it's upholstery and case goods. We're in a tourist town, so I get a different clientele in the summer than in the winter, and we change the vibe of the shop. Right now, it is more ranch, cabin, Yellowstone National Park, more playful. In winter, we switch to a more sophisticated, modern ski home.
When did you realize you should respond to that switchover?
It was just who was coming in. It's unreal: I see designers in the shop that I've been following for years. We're getting huge names! [There was] Michael Smith, and I'm like, "Can I just meet him?"
Bozeman had a huge boom during Covid. We had people literally get off planes with a carry-on roller bag, and they'd need to come buy bedding to sleep in their new house. They'd never been there. We had people buying a whole house of furniture. That's one thing I've always tried to be: open to the demographic, the people coming in, and the science of what's happening to the shop.
Regarding the changing demographics, when did it really happen? Was it strictly the pandemic?
During the pandemic, [the Bozeman population] went up 250 percent, which is crazy. We are still 40 percent above where we were in 2019. People moved to Montana, bought ranches, lived in their ski homes. They hired designers, and their designers came in like, "How do we fill these houses?" We had to shift our product: We couldn't get anything, so we really hit up the antiques market. Luckily, that's always been my thing. I brought in awesome pieces that were way more expensive than I would have [paid] in 2019, but my consumer was spending more anyway.
What is your sourcing usually like?
We go to all the markets: High Point, NY Now, Salone in Milan. I go to flea markets and farmers' markets in cool towns I want to visit. We go to Round Top. I do that initial work to find [vendors], and then we talk and I do my ordering directly. I'm on the hunt for lines nobody's ever seen. We do a lot of local shopping; we even go through Etsy.
But I learned this the wrong way—I wanted to have these lines that nobody had ever heard of, but name recognition is huge. After the first couple of years, I realized I needed some true-blue lines, [since] people [are often] like, "I have a Verellen sofa [in my primary home], so I would love to have another one." That's the balance you need to have.
Will you tell me about a vendor that you love?
We work with a women-run company, Saba, out of Italy. They do a lot of amazing pieces and everything's slipcover, but really tight and formfitting. It's the functionality, given what we do with second homes—that they can take it off and wash it. Saba's really popular in Italy, but they don't spend the money for advertising in the U.S. They've been a great partnership.
Another one is [the Belgian linen shop] Libeco. Our number-one category is normally pillows. Libeco has a line that's transitional, with fabric, pillows, bedding, cloth napkins. That's been something that we look for in a line when we decide to invest with them—how versatile it is.
It's like your clients want you to curate the products but also make them feel cool for having heard of the brands.
Exactly. When I first opened, the Bozeman community didn't really get what we did. As the community has grown, we've had an influx of people from cities because they're like, "You sell Gamma! I have a Gamma sofa, I'm so stoked." Or, "How do you get Diptyque candles in Bozeman?" Those names get people into the shop.
How robust is your e-commerce program?
We've never really hit that out of the park, I'll be totally honest. That's a whole nother job. When Covid happened, it took everything just to help the people who were coming through the door. With e-commerce, it's like you build it and hope they come. I know there's a lot of strategy behind that, but we have a pretty small staff.
What are your personal favorite items or categories in the store?
My staff would be annoyed [to hear me say this, but] I love the one-of-a-kind items. My antiques shopping drives everybody nuts because it raises our inventory. But I can't stop. It's like, "C'mon you guys. If I can't do this, there's no reason for me to even have a shop."
As more people pour into Bozeman, is there more retail competition? Is that a concern?
I think competition is good. It makes you find your voice, makes you focus on what people are coming to you for. There are some really good designers in this town, with great shops, and it was uncomfortable in the beginning. Now we can all support each other and send people to each other's shops. If you have high-end things and I have high-end things, then my prices don't look as crazy. It also [comes with] maturity: The fear can make it feel uncomfortable, but I'm grateful we're almost in our 10th year and we're still here.
Are there challenges to operating in the city, aside from the recently changing demographics?
We are in the middle of nowhere, so if something comes in damaged, there are only two people who can fix it. I don't have five guys to give me a quote. Labor is really expensive. When you have McDonald's [jobs] starting at $25 an hour and I'm paying people $50 an hour to take a stain stick to something, it makes that piece of furniture go up. Living in a small resort town, that's the one thing that gets us.
Are there certain dreams or goals you have for the shop?
I want it to be a staple. I want people to count on it when they come back to Bozeman. I want them to come back to us when they buy that sofa, and it's seven years later and they're ready to buy another sofa.
What is your favorite day as a shop owner?
There are two that I love. When you get a returning client and they feel like the shop is theirs—"Oh, my gosh, are these new chairs?" The other is when I find these one-of-a-kind pieces that I don't want to sell, but then a favorite client comes in and they see a piece I'm obsessed with, and I just know it's going to a cool house. Nothing better.
Homepage image: The interior of the Architect's Wife in Bozeman, Montana | Green Door Photography