Atlanta Homes & Lifestyles magazine's Southeastern Designer Showhouse & Gardens will be held on the grounds of a historic estate in Buckhead's Kingswood neighborhood, running April 20 to May 14. Among the participants are honorary chair Jackye Lanham, and 22 designers from Georgia, South Carolina, Alabama, Florida, Tennessee, Mississippi and Virginia.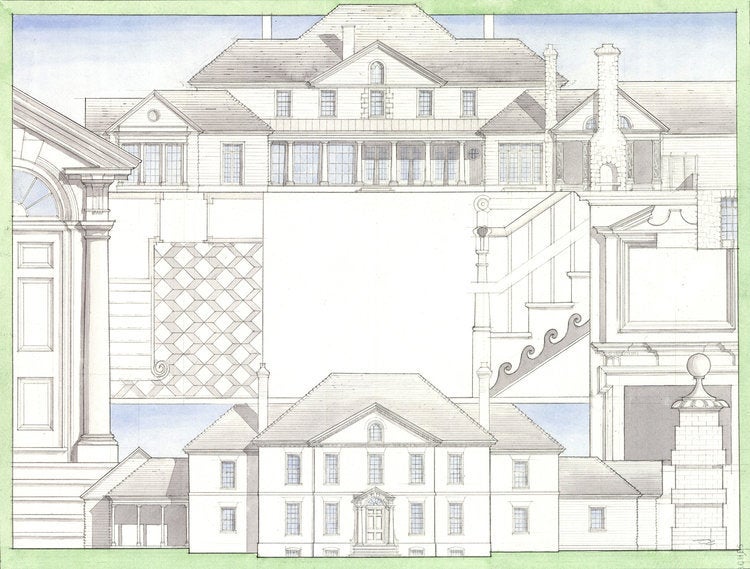 The home, which was designed by classical architect James Means, is now being transformed by architect Yong Pak of Pak Heydt, builder Michael Ladisic of Ladisic Fine Homes, landscape architect Richard Anderson, and kitchen designer Matthew Quinn of Design Galleria Kitchen and Bath Studio.
"This year's showhouse casts a fresh, modern perspective on 'Old Atlanta,'" says Atlanta Homes & Lifestyles publisher Gina Christman. "The historical aspect of the house, enhanced by inspired architecture and interior design, is further distinguished by our collaboration with the Atlanta History Center."
The home will be expanded, with a new family room, master wing (outfitted with a bedroom, bathroom, sitting room and two closets) and a porch wing with an infinity-edge pool, an upstairs laundry area, a three-car garage and basement with a wine cellar, tasting room, exercise room and game room.
"We're preserving what makes it historical and classical, integrating the new wings to be sympathetic with the classic architecture, so it feels seamless," Pak shares.
The full roster of designers includes: 
Jackye Lanham, Jacquelynne P. Lanham Designs (Atlanta)
Stan Topol, Stan Topol & Associates (Atlanta) 
Tammy Connor, Tammy Connor Interior Design (Charleston, SC, and Birmingham, AL)
Matthew Quinn, Design Galleria Kitchen and Bath Studio (Atlanta)
Phoebe Howard (Jacksonville, FL)
William Peace, Peace Design (Atlanta)
Will Huff and Heather Dewberry, Huff-Dewberry (Atlanta)
Tristan Harstan, Tristan Harstan Interior Design (Palm Beach, FL)
Lauren DeLoach, Lauren DeLoach Interiors (Atlanta)
Chad James, Chad James Group (Nashville, TN)
Mark Simmons, Mark Simmons Interiors (Nashville)
Paige Schnell, Tracery Interiors (Rosemary Beach, FL)
Dana Wolter, Dana Wolter Interiors (Birmingham)
Sarah Bartholomew, Sarah Bartholemew Designs (Nashville)
Anna Braund (Atlanta)
Lisa Palmer, Summerhouse (Jackson, MS)
B.D. Jeffries (Atlanta)
Susan Jamieson, Bridget Beari Designs (Richmond, VA)
Gordon Dunning (Atlanta)
Minhnuyet Hardy (Atlanta)
Huff Harrington Home (Atlanta)
Cindy Ingram for Ethan Allen (Atlanta)
Dan Belman and Randy Korando, Boxwoods Garden & Gifts (Atlanta)
Margaret Kirkland of Margaret Kirkland Interiors (Atlanta)