This week in design, as many people begin their annual spring cleaning, it turns out the ritual may have arisen from a dirtier era—when people heated their homes in winter by burning wood and coal—but the custom endures today as a chance to purge and prepare the home for warm, airy summer days. Stay in the know with our weekly roundup of headlines, launches, events, recommended reading and more.
Business News
MillerKnoll found itself in hot water this week after a clip from a March town hall began circulating online, capturing president and CEO Andi Owen's announcement that staffers inquiring about their bonuses needed to "leave pity city." As Jezebel reports, Owen herself took home nearly $5 million and a $1.2 million bonus in 2022, yet responded to employees' compensation questions with remarks that have since gone viral in a leaked recording from the call: "Don't ask about, 'What are we going to do if we don't get a bonus?'" says Owen in the clip. "Get the damn $26 million. Spend your time and your effort thinking about the $26 million we need and not thinking about what you're going to do if you don't get a bonus."
Digital artwork platform Tonic—launched last year by Mariam Naficy, founder of Minted, and Susannah Maybank, former head of digital at Gagosian—completed a $5 million seed funding round co-led by Patron and TTCER Partners. Part of the San Francisco–based venture studio Heretic Ventures (also launched by Naficy), Tonic was founded as a "safe space" for digital art initiates, offering a platform where users can purchase NFTs by credit card—rather than converting dollars to cryptocurrencies—and buy physical prints of their digital artwork at checkout. The platform also launched with special incentives for interior designers, offering a cut of the commission from the sale of an artwork if they help promote a drop.
New Mexico passed new legislation protecting the title and legal recognition of licensed interior designers, following in the footsteps of states including North Carolina, Oklahoma, Wisconsin and Illinois. House Bill 384, signed into law by New Mexico governor Michelle Lujan Grisham, counteracted a bill that would have dissolved the New Mexico Board of Interior Design and removed the protected title of Licensed Interior Designer from professionals in the state. Bill 384's passage was largely the result of the American Society of Interior Designers's ongoing effort to expand interior designers' practice rights across the U.S.
Redfin laid off 201 employees (or 4 percent of its staff) last week, marking the Seattle-based real estate company's third workforce reduction since June, TechCrunch reports. A Redfin spokesperson told TechCrunch that the job cuts mainly impacted roles in real estate support, and were enacted in response to the current "housing downturn and economic uncertainty"—mortgage rates remained above 6 percent this year and last, causing stagnation among buyers and sellers alike. Previous downsizing at the company saw 470 employees let go last June and 862 let go in November, while similar brands like Opendoor and Zillow made reductions to their own workforces late last year as well.
The home industry has seen a flurry of rebrands in recent weeks, most recently with the announcement from American Leather Holdings—the company that oversees American Leather, Lee Industries, BenchMade Modern and Brookline Furniture—of a new name, Artistant Lane. Earlier this month, upholstery manufacturer Decor-Rest made a similar move in creating a new corporate umbrella for its brands—Decor-Rest Furniture Ltd, Superstyle and Marzilli International—called Decor-Rest Group, or DRG for short, Home News Now reports. Plus, 3D visualization company Live Furnish has also rebranded, taking on the new name Imagine.io to reflect its expansion beyond furniture and home decor and into electronics, appliances, beauty and more, Casual News Now reports.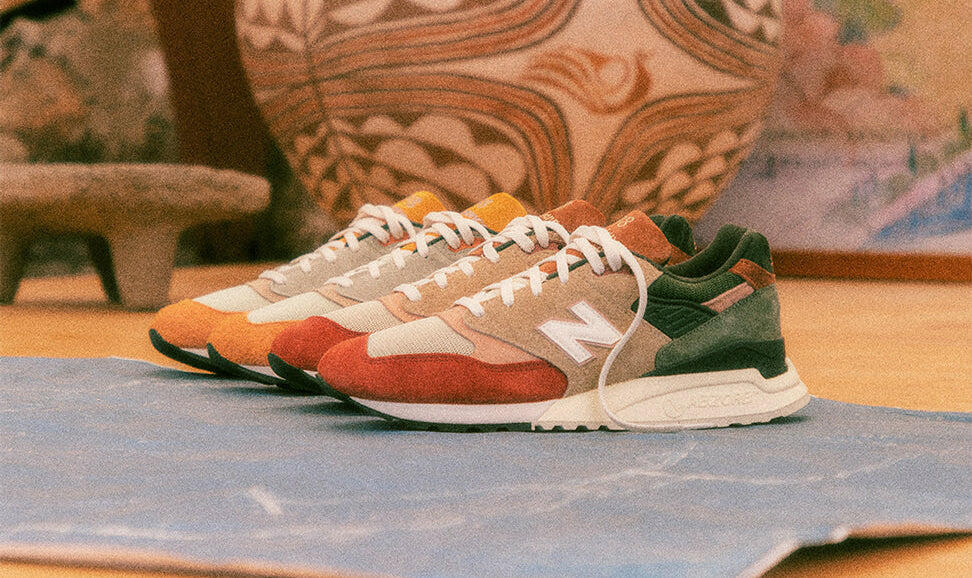 Launches & Collaborations
Furniture resale marketplace AptDeco launched a crowdfunding campaign on the Wefunder platform. The company is seeking up to $1.2 million from its community, accepting investments starting at a minimum of $100 with a $40 million market valuation cap. AptDeco plans to use the funds to grow its retail partnerships, invest in its curation technology and continue executing its recently announced plans for expansion into all major metro areas in the U.S.
Lifestyle brand Kith teamed up with the Frank Lloyd Wright Foundation for the release of a New Balance sneaker inspired by the iconic architect's concept for a futuristic city depicted in his Broadacre City sketches. Employing colors drawn from the series of architectural sketches and models—such as creamy white, brick red, apricot and olive green—the shoe includes layered textural details like pigskin suede and hairy suede panels along with classic mesh.
Sustainable home and lifestyle brand Goodee debuted a new collection in partnership with traditional West African craft brand Tensira, whose makers are based in the Republic of Guinea. The collaboration features cushions, a mattress and a bedroll, all designed with colorful check and stripe patterns made in Guinea from locally grown cotton by craftspeople who have mastered the centuries-old art of indigo dyeing.
Showhouses
The Lake Forest Showhouse & Gardens returns to Chicago this year following a three-year hiatus, debuting within a Walter Frazier–designed estate built in 1969. The 16-room red brick structure includes two one-story links leading to additional wings on the east and west, as well as several outbuildings, including a three-bedroom caretaker's cottage. A roster of 34 designers—including Sarah Vaile, Alexandra Kaehler and Randy Heller—has been selected to re-imagine the space, which will open to the public from May 6 to June 4, with proceeds to benefit the Infant Welfare Society of Chicago.
The Junior League of Greensboro debuted its fourth annual Designer Showhouse, hosted within a 1941 estate designed by New York architect Charles C. Hartmann. The historic space has been re-imagined by 22 designers from across the country, including Ashley Ross, Marie Cloud and Nicole Culler. It will remain open for tours until April 23, with proceeds to benefit the Junior League's community impact programs.
Recommended Reading
Thanks to a series of viral TikTok videos, many millennials are coming to a realization about their interiors: They've traded in the pastel palette once known as their trademark style and swapped it for a more muted approach dubbed "millennial gray." As Grace Rasmus writes for The Wall Street Journal, house flippers and property managers tend to favor the hue for its durability, meaning millennial renters and first-time homeowners often inherit spaces that are already overwhelmingly gray. Still, a combination of other factors—including the shorter-on-average lead times for gray design purchases and a colorless trend that trickled down from a high-end movement in the late 1990s—has left many wondering why they let their spaces become so blank in the first place.
At the beginning of the pandemic, Washington, D.C.–based renter Imani Keal started experimenting with design projects in her $1,400-per-month rental apartment, purely to keep herself and her modest social media following entertained during those early months of uncertainty and isolation. Fast-forward a few years later, and Keal estimates her side gig has brought in $80,000 so far through brand deals—enough to quit her day job. As Victoria M. Walker reports for The New York Times, a growing number of renters are investing more time and attention into their spaces with the hopes of cashing in on social media algorithms that prize "aesthetic" apartments.
In rural Japan, a growing supply of abandoned houses (known as akiya, Japanese for "empty house") is attracting foreign buyers seeking affordable second homes—in one recent example, an Australian software developer purchased a 2,700-square-foot property built in 1989 for just $23,000. As The New York Times reports, Japan's shrinking population and societal preference for new-build homes has fed the phenomenon, with some researchers placing the number of akiya across the country at 11 million, predicting that empty dwellings will exceed 30 percent of housing in Japan by 2033. The surplus has prompted local and national officials to seek solutions, in some places subsidizing demolitions or even taxing the owners of empty homes, who sometimes refuse to sell family land out of respect for their elders. The situation has also paved the way for a new cottage industry of akiya consultants (who mediate among relatives to help decide the fate of a family home) and startups seeking foreign buyers—a demographic that used to be mostly Australian and Singaporean clients, but now includes U.S. clients spurred by the pandemic's push toward remote work and rural living.
Homepage image: The 2023 Lake Forest Showhouse | Courtesy of Coldwell Banker Realty