If you know Zuber, you know. The average American consumer may not have ever heard of the French wallpaper maker, but for many design historians and wallpaper aficionados, it is the name. Founded in Alsace in 1797, Zuber has survived two revolutions and two world wars. The depth of its illustrations and its unmistakable palette—rich pastels, smoky greens, hazy oranges—set the early standard for scenic wallpaper. Zuber's work is hanging in the White House, and the hand-carved wooden blocks that are still used to painstakingly print its papers are classified as historic monuments in France.
"The attention to detail, the whimsy of the illustrations, the saturation of the colors … it really became a staple for decorators, and you'll see Zuber in important homes and institutions going back to the 1800s," says Brian Coleman, the author of Zuber: Two Centuries of Panoramic Wallpaper. "It's like owning a piece of history to have Zuber hanging in your home."
That's the culture. The commerce is a different story. For more than two centuries, Zuber & Cie has passed through only a handful of family owners. But, as is often quietly the case with heritage brands, the company's fortunes have not kept up pace with the prestige of its name. By the turn of the 21st century, Zuber had shrunk from several hundred employees to 19, and the company has long been in need of some fresh energy and fresh capital. Now, it has both. Zuber's former owner, Gisèle Chalaye, has sold the company to French fabric house Pierre Frey.
"For 200 years, many people have tried to copy Zuber—it's become a reference point for other designers," says Pierre Frey chairman Patrick Frey. "It's probably the best company worldwide in terms of hand-printing and archives, and they still print exactly the same way they were doing it at the end of the 18th century. It's so special, so unique, so exclusive—for me, it's like the candy on the cake. It's a privilege [to own it], and we'll have to be very careful what we do."
The selling of a 200-year-old French wallpaper company is a rarified business transaction. According to Frey, the concerns at play were as much cultural as financial—and his company's history protecting and preserving another heritage brand created a compelling case study for its stewardship of Zuber. "[Chalaye] had seen what we had done with [French heritage company] Braquenié and loved it," says Frey. "She wanted the company to stay in France, and she wanted to sell it family to family. She didn't want to sell to a group; she told us she wanted to preserve the [heritage]."
Despite the sensitivity of the deal, it was done quickly. According to Frey, Chalaye had mainly considered one other buyer: Hermès. When it didn't work out, she reached out to Frey directly this spring. "She called and said, 'Would you be interested to buy Zuber?' the way you'd call your best friend to ask if they'd like to buy your car," says Frey with a laugh. "Naturally, we were interested—who could not be?"
In many respects, it's hard to think of a more natural buyer for Zuber. Pierre Frey is a family-owned business itself, one that has managed to expand worldwide without sacrificing the halo of luxury. That growth has given it the cash to make a handful of acquisitions, which have largely consisted of European heritage brands like Braquenié and La Manach, alongside (slightly) more modern names like Boussac and Fadini Borghi. The youngest brand Frey has acquired, British printmaker Bernard Thorp, is 50 years old.
It's not hard to see how Zuber fits neatly into that roster. Still, the wallpaper brand has some real challenges Frey will need to address. For one, Zuber's storage facility, a "catacomb" where its thousands of woodblocks are kept, will need a little organizing. "We went down a few weeks ago and we were scared that everything would fall down on us," says Frey. "Nothing has been done for 50 years."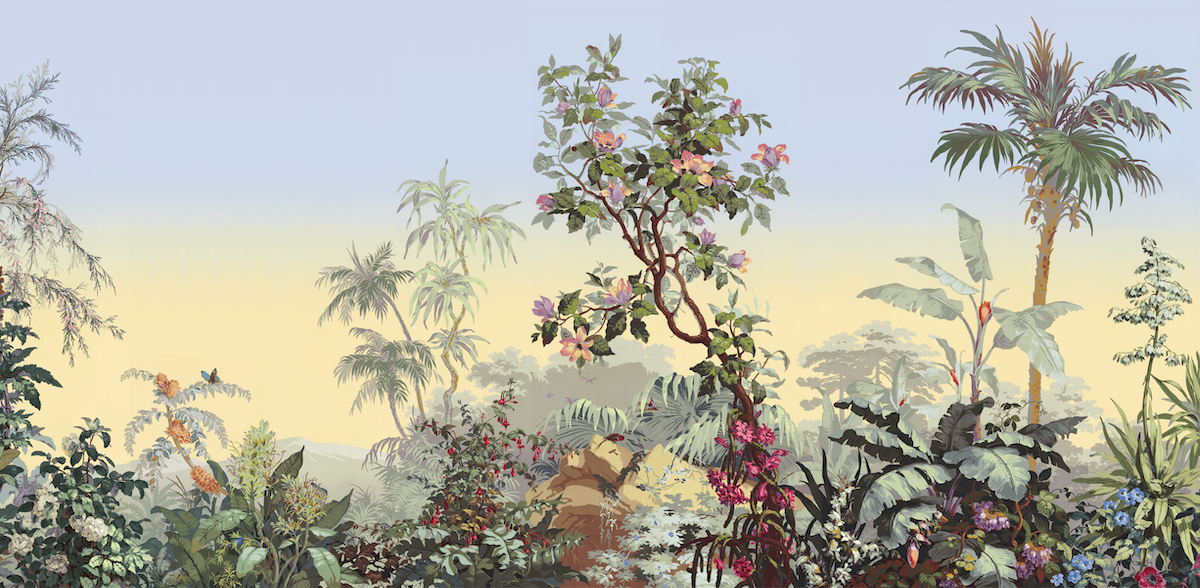 Behind that is another challenge: How to make production more efficient without losing what makes Zuber so singular. The company famously still uses original hand-carved wooden blocks to create versions of many of its papers (Zuber sells screen-printed wallpaper as well). The more complex patterns can involve more than 200 colors and 2,000 blocks. Because of the drying time involved, a full panoramic can take 18 months to produce.
Frey is hoping to find ways to help speed the process along without cutting corners. He's also hopeful that the company's traditional look, which may have fallen out of fashion during the more modern-leaning end of the 20th century, is swinging back into favor with a new audience. "The goal is to preserve the past and try to explain to young designers that you can have Zuber on your wall in a very modern setting and that they can mesh together well," says Frey.
"I think it's had a resurgence of interest in the past decade or so," says Coleman. "You can find Zuber in chateaus and castles but also in a lot of modern homes."
But for Frey, the most pressing concerns are less about style and manufacturing, and far more about knocking the dust off the brand's operations. Zuber's website is outdated. The company has more than 100,000 design documents but no official catalog. It has a somewhat creaky distribution network, with only a single showroom, a storefront in New York's Flatiron neighborhood. The pricing, too, says Frey, will have to be reevaluated to better fit the market. (Loosely: the hand-printed papers are probably too cheap, and the screen-printed patterns are probably too expensive.)
The ultimate goal is to make Zuber more accessible and exciting to designers all over the world, but particularly in the U.S. "Right now you have to go to New York or navigate the website if you want to buy," says Frey. "We want to make it possible that if you work in Atlanta, or Seattle, you can have good service and buy Zuber. That we want to do quickly … but we don't want to change too much else too fast."
That, in essence, is the tightrope walk of revitalizing a heritage brand. Do too much, and you break what was special. Do too little, and you risk irrelevance and stagnation.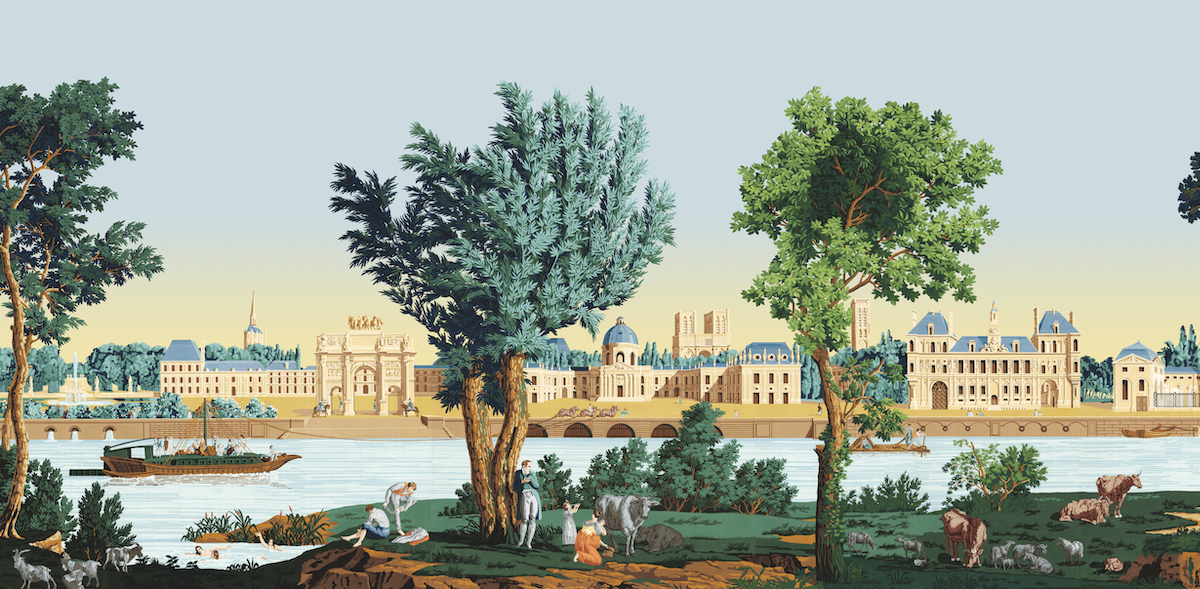 In that regard, Zuber comes with another complexity: preserving its heritage while adapting to modern sensibilities. The company's "Les Vues d'Amérique du Nord" was installed in the White House by Jackie Kennedy and remains there to this day—far and away the company's most famous placement in America. However, in recent years the pattern encountered controversy in another venue: the all-girls Spence School on Manhattan's Upper East Side.
In 2020, a group of students and alumnae protested "Vues" as an example of systemic racism at the school. The panorama, drawn by artist Jean-Julien Deltil and first produced in the 1830s, depicts scenes from early American history seen through a naively idyllic lens, with multiracial couples mingling in finery while Native Americans dance happily for settlers. An article on the protest in The New Yorker described "Vues" as "historic, but not historically accurate" and quoted alumnae as saying that the wallpaper "glorifies the trans-Atlantic slave trade and abuse of Indigenous peoples." Ultimately, Spence took the panorama down.
What happened at the school speaks to a broader reality: Historical wallpaper illustrations sometimes include racial caricatures, or depict non-Western cultures as subjects for light amusement. The vast majority of Zuber's prints—and certainly its bestsellers, says Frey—are landscapes, floral patterns and abstractions, and do not feature people at all. But as the company sifts through Zuber's immense archive, he says they will be examining the issue. "Certainly, we're not going to push in these directions," he says. "We don't live in 1850 anymore."
There are likely plenty of long-term challenges ahead, both cultural and commercial. But for the moment, Frey is buzzing with the excitement of where Zuber can go in the short term, with an eye toward extending the storied brand's history another 200 years.
"I hope it will be a good business, and I hope it will be very profitable," he says. "But I bought it more to keep this incredible name in France and in our family. Because it's a privilege to have Zuber … it has been nearly 150 years in one family, 50 years in another; now it has come to us. [As a business] it will go up and it will go down. We will try to see that it goes up, naturally. But for me it's not even a question of money. It's more a question of preservation."