While the new year tends to get off to a sleepy start for many of us, Jake Baer has already had a bustling 2023. The CEO of antiques giant Newel and his team are currently sorting through more than 15,000 square feet of inventory, enough to fill four 80-foot shipping containers, the contents of which the company acquired as part of its acquisition of Gary Rubinstein Antiques & Modern Design, a Hollywood, Florida–based dealer and a staple of the antiques scene in the Miami area.
Ready to get out of the antiques game after more than 30 years in the business, Rubinstein—who had run his shop in New York for 17 years before moving it to South Florida—approached Baer about a multimillion dollar deal late last year. "He presented us with an offer to buy the company, take on his inventory and take over his storefront in Florida," says Baer. "It was really exciting—there aren't a lot of deals like this in the antiques business—and I knew we had to pull the trigger."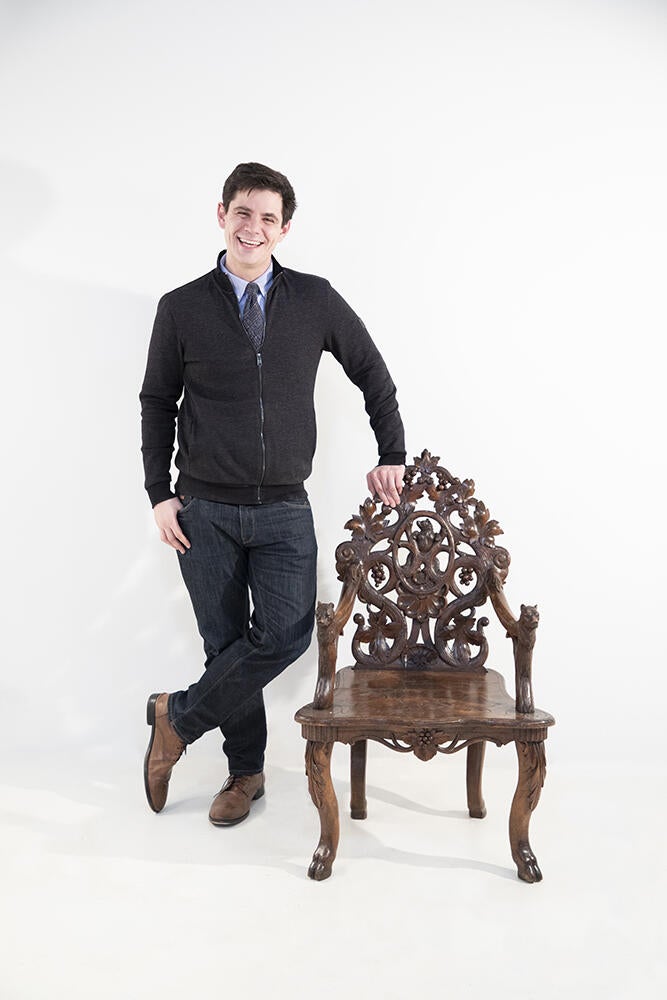 For Baer, the acquisition, which is the largest in the 84-year-old company's history, further consolidates Newel's already substantial hold on the antiques market. Founded in 1939 by Baer's great-grandfather, Newel has become one of the largest antiques dealers, if not the largest, on the East Coast, with a stock of more than 35,000 pieces. That number has swelled by 15,000 items in just under four years. "The only way to grow an antiques business is to acquire more inventory," says Baer.
Several factors have allowed the business to scale rapidly under Baer, who took over as CEO in 2016. One is that the pandemic and the supply chain woes it wrought on the rest of the home design industry were kind to the antiques sector. "We had situations where people came into our gallery and bought an entire house's worth of furniture and had it delivered the next day," says Baer. "People were buying new homes, and they didn't want to wait to live in them. Antiques were a great option because they were just ready to go."
The second major growth driver is Newel's booming rental business, a facet of the company that Baer began to build out as soon as he took the helm. He estimates that in 2016, rentals made up about 10 percent of the brand's total revenue; now, that figure is a whopping 70 percent. While some of those rentals are being used in residential settings, much of that revenue is coming from Newel Props, an arm of the company marketed to the arts and entertainment industries, with notable clients including cultural behemoths like Saturday Night Live and Vogue.
With the addition of Rubinstein's substantial collection, Baer hopes to broaden Newel's aesthetic assortment. The Florida dealer's pieces lean considerably more modern than Newel's primary assortment, featuring work by midcentury masters like Karl Springer and Gio Ponti, and Baer is hopeful that the addition of the more contemporary pieces will help grow the company's reach among designers. The bulk of Rubinstein's collection was being warehoused and hadn't been cataloged or photographed, something the Newel team is in the process of doing now so the items can be uploaded to the company's website. "Gary had this beautiful gallery, but he also had a 15,000-square-foot warehouse full of stuff that hasn't seen the light of day in years," says Baer. "We're so excited to get these pieces back on the market."
It's a great time to expand Newel's inventory, as Baer is also launching another new branch of Newel Props, a 20,000-square-foot prop house and photo studio in Long Island City. "We've been renting pieces out to fashion brands and magazines for years, and having our antiques packed up and brought to other studios," says Baer. "Now, they can rent out our space, and all the furniture will already be housed there." He's modeled the plans on Hollywood film studios like Universal, which have prop houses and studios all in one. "It's uncommon to see that setup on the East Coast," says Baer. "It seemed like something we needed to do." Baer is currently in the process of hiring a staff to run the studio, with the aim of getting it up and running in the next few months.
More immediately, Newel will take over Rubinstein's Florida gallery, which counts Stark and Kravet as neighbors, keeping on its staff. "Florida is such a hot market right now," says Baer. "It feels like we're meeting designers where they already are, and now we're able to offer a more diverse assortment and be even more of a resource to them." The Florida location will be Newel's first outside of New York, but, if Baer has his say, it won't be the last. "I hope this will be a launch pad for expanding our locations. The acquisition of inventory is what I get excited about. That's the best part of the job."
Homepage image: Some of the pieces Newel acquired from Gary Rubinstein's collection | Courtesy of Newel