Tucked away at "the bottom of the world," the island nation of New Zealand might not be top of mind when it comes to setting design trends. But with its abundance of natural materials, commitment to sustainability, and indoor-outdoor lifestyle—plus the happily casual attitude of its inhabitants—the country's characteristic style speaks directly to what many Americans want from their homes today. Kismet, then, that an alliance of six independent Kiwi brands have banded together to bring the good vibes and inspirational designs to California. Open primarily to the trade and coinciding with San Francisco Design Week, the first ever New Zealand Design Pavilion will take place from June 21 through July 1 at the landmark Ferry Building overlooking the Golden Gate Bridge.
"It's a pioneering situation—the first significant design event in the United States to spotlight a different country of origin since the pandemic—and who would have thought that country would be New Zealand?" says Scott Bridgens, co-founder of featured furniture maker Resident. The other participating companies are homewares brand Città; natural rug maker Nodi; furniture maker Noho, which crafts its pieces from reclaimed ocean plastic; sculptural lighting designer David Trubridge; and fourth-generation legacy textile manufacturer James Dunlop, also parent company to the more modern Mokum label. While each brand already has some foothold in the American market, the exhibition provides a unique opportunity to present a holistic overview of their homeland.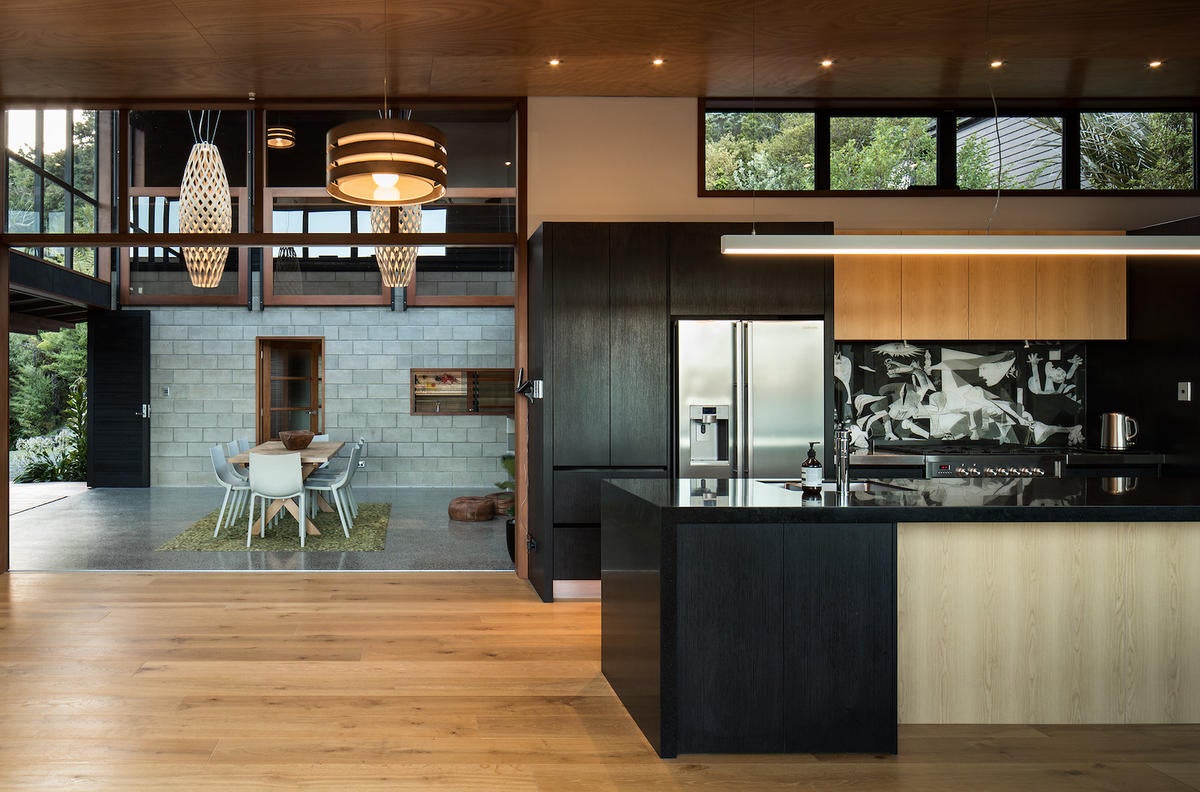 Courtesy of David Trubridge
"The biggest influence on designers is where we come from," says Stephanie Moffitt, Mokum's design director. "In New Zealand, we can go through four seasons in one day, and those dramatic climate changes have a major impact on our design process." For Mokum, that might mean a performance linen in a range of neutral colors that both reflect and can weather the sunlight of the Southern Hemisphere. For Noho, the spirit of the brand's homeland manifests in the all-purpose Move chair made of regenerated nylon fishing nets salvaged from the islands' thousands of miles of shoreline.

The exhibition space itself, spanning 7,500 square feet, is staged to express the essence of New Zealand's diverse landscapes. Created in collaboration with San Francisco–based agency Aditions, it takes visitors on a sensory tour through imagined coastal, forest and alpine settings. In the cooperative spirit of the event, each of these three terrains will integrate items from the six featured companies instead of separating them into competing vignettes.

Principals from all six firms will be in attendance at the event, which is organized around celebratory, invitation-only cocktail hours intended to introduce the brands to potential distribution partners. A cross-section of educational talks are scheduled during the day. Among other events, Trubridge will discuss sustainability through the metaphor of designing a "lifeboat" for humanity, while Moffitt and James Dunlop Textiles design director Annie Moir will discuss Mokum's most recent collection with Oscar-winning Australian costume designer Catherine Martin.

Whether socializing over drinks or negotiating new business deals, all the participants are eagerly anticipating being face-to-face again with American colleagues in the industry after such a long period of isolation. "New Zealanders are known for being friendly, relaxed, optimistic—and that's the culture we want to convey at the pavilion," says Moffitt. Noting how products for the home directly impact people's day-to-day, she adds, "Design is life-enhancing. Textiles can transform a space. After the trauma we've all been through, it's time to create a new era of joy."

Visit the New Zealand Design Pavilion at Shack15 at the Ferry Building in San Francisco from June 21 to July 1.
Homepage image: Courtesy of the New Zealand Design Pavilion