Sophisticated interior design and video games might seem like disparate worlds, but there is a place where the two overlap: The Sims. The game, which allows users to build and decorate houses—becoming interior designers as part of its game play—attracts a major contingent of design enthusiasts who are eager to create thoughtfully designed virtual worlds for their characters to inhabit.
The Sims, developed by Maxis and published by Electronic Arts, debuted in 2000 as a spinoff to the popular city-building PC game SimCity. There, users built a virtual metropolis. The Sims offered a more intimate approach, with users shepherding a make-believe family through the mundane (career challenges and household chores) to the fantastical (through game add-ons, gamers can have their Sims become mermaids or vampires). The Sims is a huge hit: Its four iterations have sold over 200 million copies in 60 countries.
Since the game's launch, building houses from the ground up immediately appealed to those with an interest in architecture and design. However, the available offerings for furnishings and decor are often, to put it mildly, uninspiring. To bridge the gap, gamers took matters into their own hands—up sprung a cottage industry of fan-created downloadable collections of chic furnishings and architectural finishings, designed by players who loved both the game and interior design.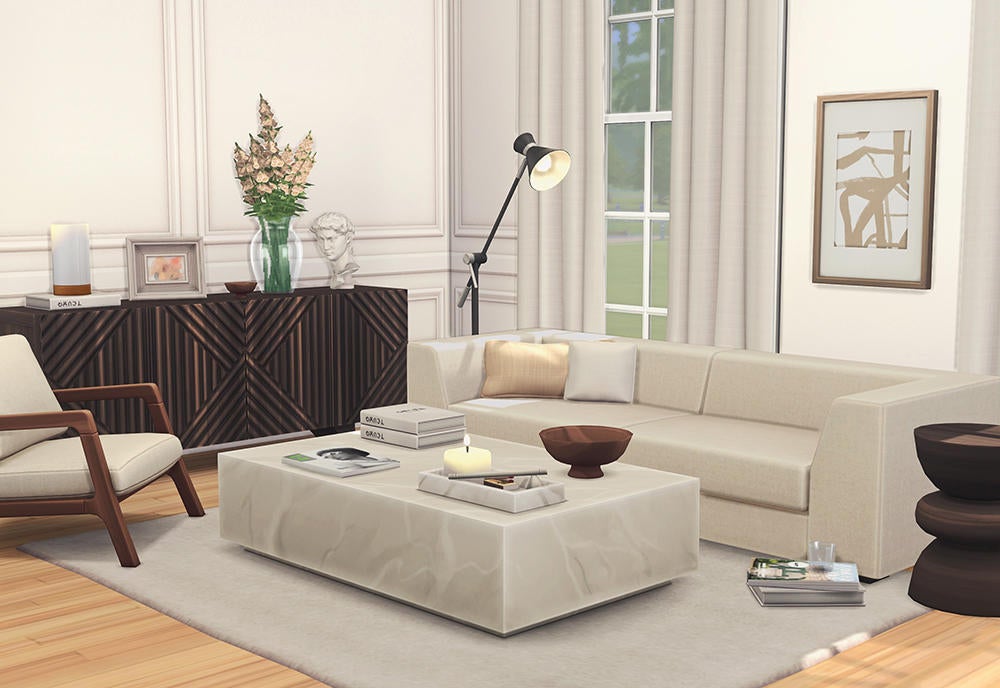 One such gamer is content creator Harrie (who, as is common in the gaming community, prefers to go by either her first name or social media handle, @HeyHarrie), a graphic designer who now makes her living designing and selling elegant arrays of virtual furniture and decor, as well as ready-to-download decorated homes for the game. Her recent designs include a Brutalist bathroom collection, a series of furnishings inspired by design influencer Athena Calderone's Brooklyn brownstone, and even a luxe treehouse designed in partnership with Gucci (yes, that Gucci) to coincide with The Sims: Off The Grid edition.
Harrie says that the lack of refinement in the game's preloaded decoration options is what has driven creators like herself to come up with more sophisticated options. "Their designs have gotten better over the years, but there's a lack of texture to them and their color palettes tend to be super saturated and bright," says Harrie. "That isn't what people want. People love neutrals—they're a crowd favorite."
Harrie is both a gamer and a serious design fan, citing publications like The World of Interiors and European editions of Architectural Digest to luxury brands like Gaggenau as sources of inspiration. "I get so many design magazines and have a collection of interior design books on top of spending hours every day scrolling through Pinterest and Instagram for inspiration," says Harrie.
Harrie always had a passion for interior design and began dabbling in creating custom builds for The Sims, which she's been playing since the game launched, in 2017. She built a following on YouTube, where she posts time-lapse videos of herself creating houses and furniture. Many of her videos have upwards of 60,000 views, with some reaching the hundred thousands. Like so many creators, she's also amassed a dedicated Instagram following as well.
She started a Patreon account in August 2020 and was able to quit her day job and become a full time content creator for the game. As part of the game's user agreement, gamers aren't technically meant to use The Sims for profit. To circumvent that policy, Harrie and creators like her have found a specific workaround: she charges for her creations for a month before releasing them for free (her sets are $5 each, with options to pay up to $20 if players are feeling generous and want to offer more monetary support).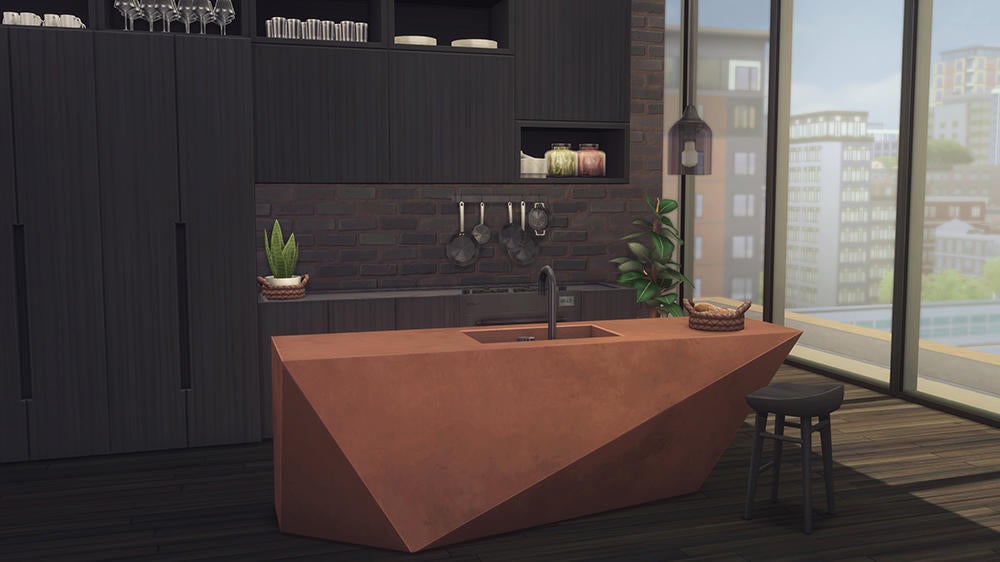 Interestingly, the fact that the designs will eventually be free doesn't seem to hamper people's willingness to pay, a fact that Harrie attributes to the older demographic of her audience. "EA tends to market the game to teens, but, in my experience, it's a lot of people over 30 playing The Sims—people with money to spend on expansion packs and additions to make the game more enjoyable for themselves," says Harrie.
Harrie says it takes about three months to take a concept from idea to completion. She's found a lot of joy in creating specific interior architecture details like patinated kitchen hardware and bifold doors. While Harrie takes inspiration from real life designs (she'll occasionally post side by side photos of her Sims rooms next to photos of real ones for comparison), she says the issue of copyright infringement has never come up. "It's ultimately just inspiration and I never hew exactly to the original design," she says.
Looking ahead, Harrie has several custom builds for an upcoming expansion pack, The Sims 4: My Wedding Stories, which she designed in a more official capacity. She says EA has even acquired some of her furniture designs and added them to the base game, but she's not slowing down on her independent creations any time soon. "I'm working on a Parisian-style apartment influenced by the work of [French architect and designer] Joseph Dirand and I'm planning on creating a collection inspired by my Ghanian heritage, which would come out in the fall," she says. "Because this is my job now, I don't really get to play the game anymore, but I've had gamers tell me that they would've stopped playing if it wasn't for my creations. That other people can get so much enjoyment out of what I'm doing, that makes it worth it."
Homepage photo: A room for The Sims inspired by design influencer Athena Calderone's townhouse | Courtesy of Harrie