When Michael Pucci gives tours of his family's gallery and factory in Manhattan, he rattles off designers' names and histories as if he grew up with them. And in a way, he did. "We've been in this space for 27 years, starting long before I worked here," Pucci, 28, tells Business of Home. "These are names that will go down in design history as the most well-known people."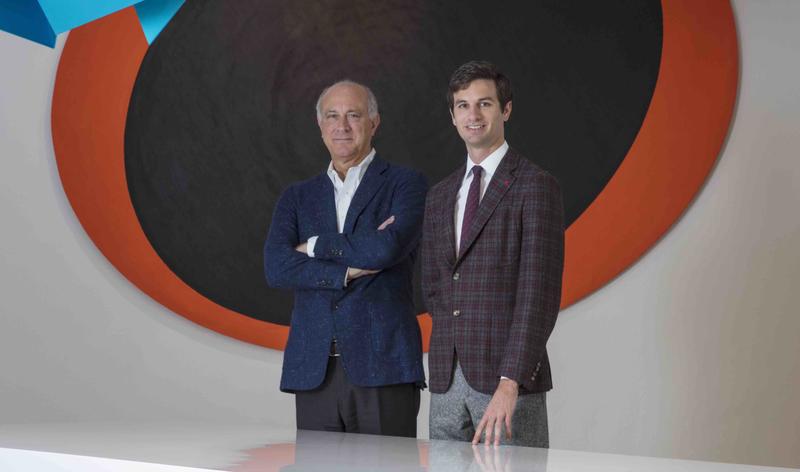 If Michael Pucci were to give his job a title, it would be vice president of Ralph Pucci International. He currently doesn't have a formal one, because as his father, Ralph Pucci, tells BOH, "We're not big on titles." When Michael joined the team in 2013 after graduating from Trinity College in Hartford, Connecticut, his role was jack-of-all-trades, down to the nitty-gritty chores like changing lightbulbs. "You have to do everything in a small family business," explains Michael. To learn the ins and outs of the job and get to know everyone he would work with, Michael studied archival invitations to gallery openings from the 1970s through '90s. "I grew up around a lot of the designers and probably learned a lot of their names through Ralph, but I didn't know the full significance of their works and careers."
Though he still changes the occasional lightbulb, Michael now splits his time evenly between sales and development. Trying to figure out what's next for the company is a behemoth of a task for a man working in the shadow of his father's legacy. (It is a challenge his father Ralph knows well, having pushed past his own parents' reservations to add furniture to the family's original mannequin business.) However, Michael—whose father sings the praises of his business mind and deems him a natural successor—already has a few ideas in the works. Real estate is one, as well as potential new stores opening in Dallas and London. Maintaining strong relationships with designers is one of Michael's top priorities, but he's not opposed to increasing the brand's own in-house offerings. "We have to sniff under every rock and see what's out there," says Michael.
Every day for the past five years, Michael and Ralph have eaten lunch together at Basta Pasta, a Japanese-owned Italian restaurant a few blocks away from the Ralph Pucci International headquarters in the Flatiron neighborhood. "[My dad has] gotten into a very healthy diet," says Michael. "I'm still on the pasta-a-day, but now he's all about vegetables." While the two may make time to catch up on sports or their weekends, the lunches are mostly shop talk. "He is my son and we don't have to talk about business every single second, but he enjoys it as much as I do, and the sky's the limit," says Ralph. Only his wife, Ann Pucci, will cut the work conversations short if she feels they go overboard.
The pair collaborate on just about everything: If a designer can't get in touch with Ralph, Michael acts as his proxy. "One of the great things about having Michael here is I don't have to open and close anymore," says Ralph. "I can work from 9 to 6, while Michael arrives at 7:30 and leaves at 7:30." ("I live a few blocks away," Michael adds. "I have no excuse to be late.") The brand has an open-door policy—meaning Ralph's door is always open. He talks to everyone (he's never had an assistant fielding calls or appointments), which is part of the reason why several of his employees have worked with him since before Michael was born.
It might sound like a dream work scenario, but like all companies, small family businesses also have their challenges. Managing expectations is one of them, according to Ralph, as well as the lack of formal corporate structure like an HR department to manage tricky scenarios. "Sometimes you get disappointed," he says. "You feel like someone's let you down, maybe the sales aren't that great, or you hear about a shocking situation. You have to take it differently—sit down and talk to people."

With someone like Michael, I can take a backseat at some point and still travel the world to meet with designers, see exhibitions, get ideas, and promote Pucci.
"
—Ralph Pucci
Ralph came into the business while his parents were running it and helped it become what it is today. His father, Nicholas Pucci, started a mannequin repair business in 1954 out of the basement of his house; now, mannequins make up only 10 percent of the product, while furniture makes up 90 percent. The company's family roots run wide: Ralph worked with his mother, Lee Pucci, for 20 years; his wife, Ann, was very involved before they had children, and she remains connected ("She makes sure everybody here is happy," says Ralph). His aunt, Maria Pucci, worked on in-house publicity from after retiring from the entertainment industry until she passed away. Though Ralph's other children, Nicole Pucci , 29, and Will Reeve, 26, don't work in the industry—Nicole (named after Ralph's father) is a principal of a charter school in Harlem and Reeve is a reporter for ABC News—they still come to all events and openings. Even Michael's girlfriend of seven years, Drew Johnson, came aboard this summer as Pucci's social media manager.
Ralph considers himself and Michael as the only executives at the company (though he also recognizes high-ranking sales associates in the Los Angeles and Miami offices). If Michael had not come on board, Ralph says he would have closed or sold the business once their lease was up. "Now that he's here," says Ralph, "I'll keep working until I drop."
What would retirement look like for a man who once spent every weekend taking clients out, who waited a decade after marriage to start a family so he could develop his career first? "I used to think, in your head, you're writing the book: You did this, you did that, all the achievements you've had, the successes," says Ralph. "How does this book end? I couldn't figure it out, and it really bothered me. So I just threw my arms up and said, 'You know what? I'm just going to work until the end.' And that's what's going to happen. With someone like Michael, I can take a backseat at some point and still travel the world to meet with designers, see exhibitions, get ideas, and promote Pucci. As of now, I have no retirement in mind. That chapter will not be written by me."