When a hobby becomes an obsession, it's a pretty good sign it might be your calling. That's how Minneapolis-based Nicole Crowder wound up forging her eponymous upholstery brand in 2017. "Upholstery was something that I had already done individually [for family and friends]," she tells Business of Home. "And it kept coming back to me, essentially. I had all these design ideas. It became an obsession, really—this affinity for dreaming up different ways to reimagine furniture."
After a 10-year stint as a photo editor at publishing and tech companies, and a move to the West Coast for a job that she did not enjoy, Crowder was looking to bring more meaning and passion into her career. As she found herself increasingly spending late nights on Craigslist, contacting sellers in the wee hours of the morning to secure the perfect vintage chair, she began to see an opportunity. With a new vision, she moved back to the East Coast and launched her brand from the living room of her one-bedroom apartment in Washington, D.C. It didn't take long for the orders to flood in.
"I was working with small one-off chairs initially, from different residential clients. And then very quickly, it grew to commissions from hotels, restaurants, the British Embassy," recalls Crowder. "And I'm still doing production myself—this is still a one-woman band."
Even as the company began to take off, bringing in impressive clients such as West Elm, The LINE hotel in D.C., and Ethel's Club in Brooklyn, New York, Crowder's creative process remained consistent. Despite the influx in new business, she has not lost sight of the personal touch and meticulous attention to detail that sets her apart from other major brands and has remained a solo operation.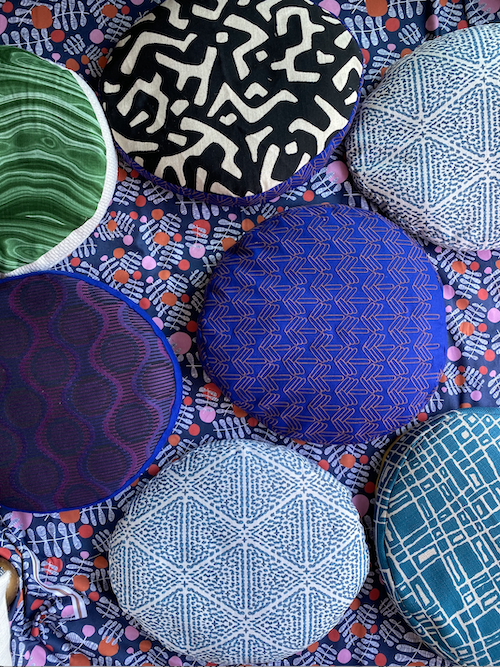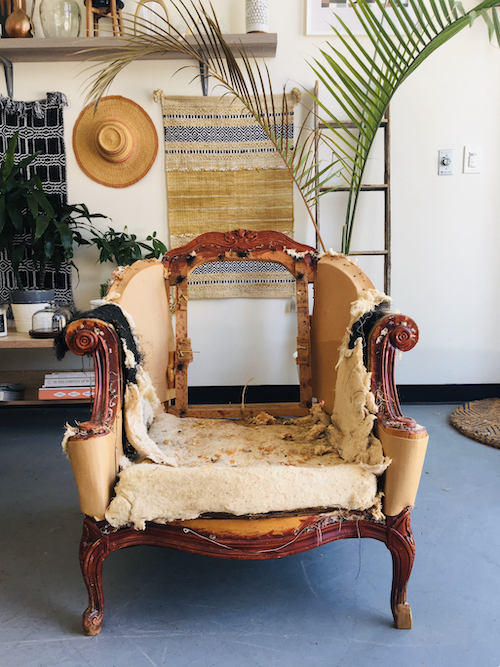 With each project, Crowder starts by posing questions that help her develop a clear vision: "What is the personality that I want this chair to have? Do I want it to be playful? Is it Gothic, is it sexy? These are all things that help inform the kind of materials that I use," she says. From there, she begins to collect materials, swatches and samples, then creates rough sketches on paper and on her phone's photo-editing apps until she is content with her design. The actual upholstering work is often the fastest part.
The designer draws inspiration from a wide range of sources—from fashion and freshly cut fruit to nature, music and her ancestors, who were craftspeople in their own right. During the pandemic, she began selling brightly patterned meditation pillows in a pay-what-you-can model; one of her favorite recent creations is a red-and-black chair inspired by Alexander McQueen, which is decked out in flower petals, rhinestones and other details reminiscent of the late designer's work.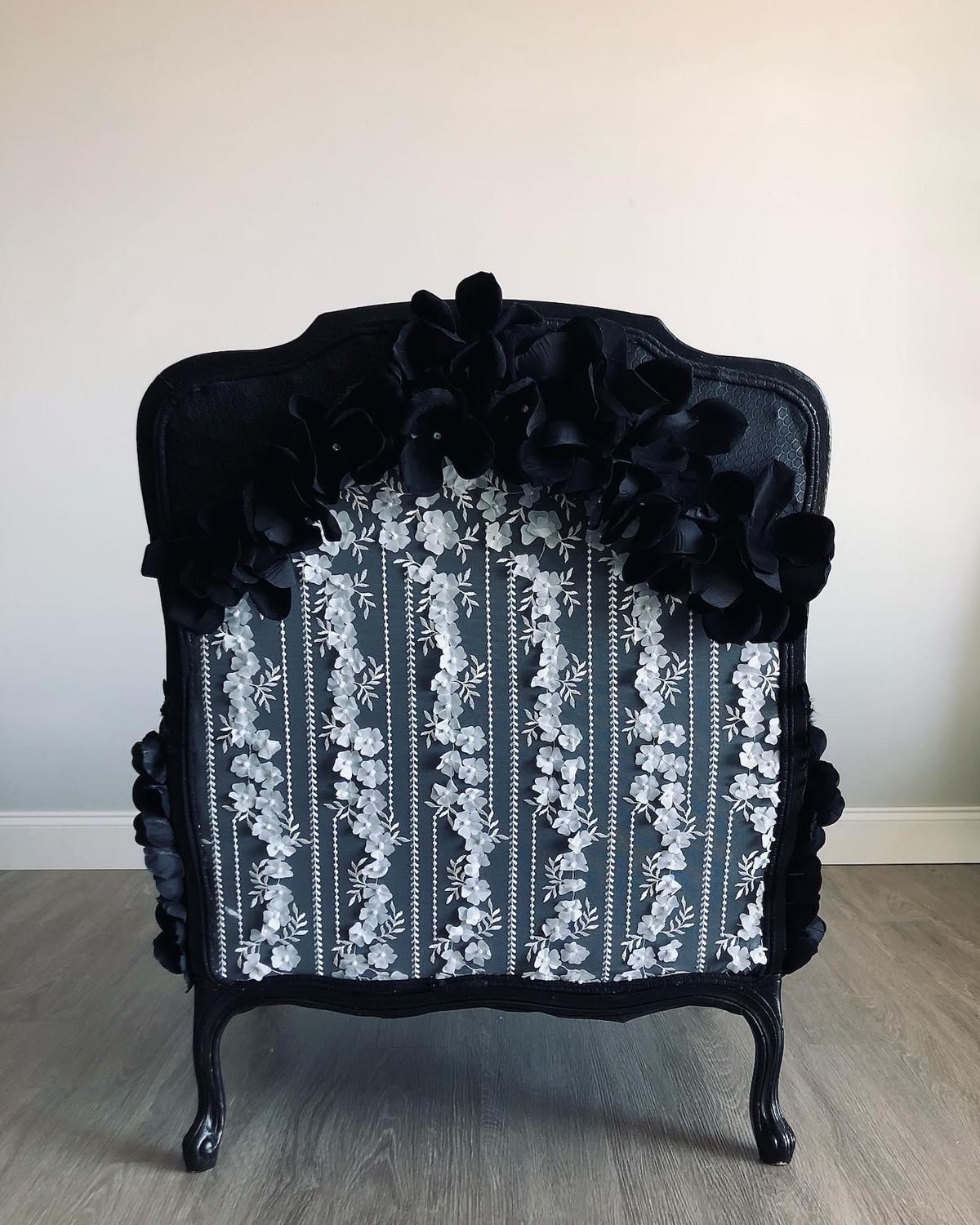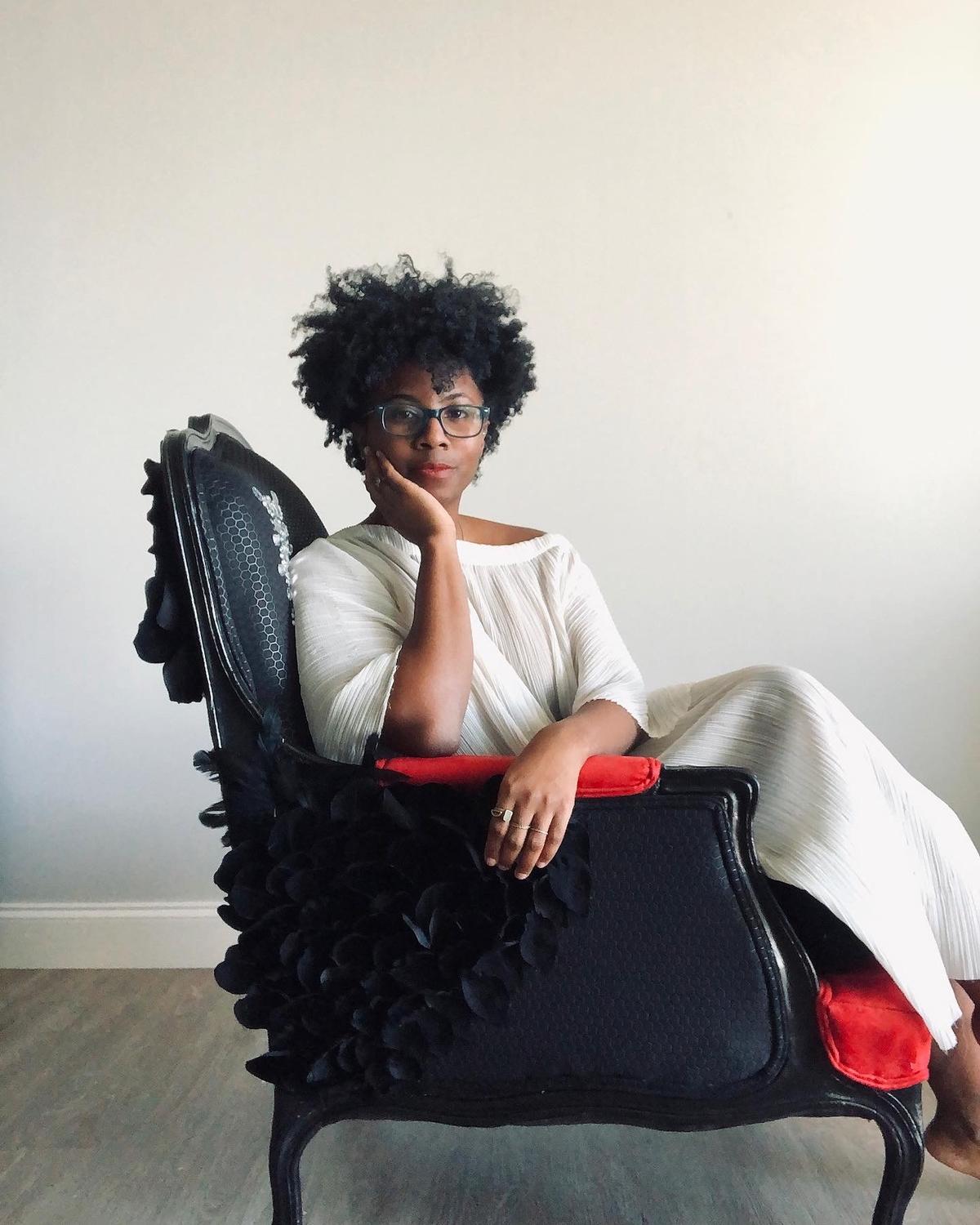 Nowadays, Crowder is working from a larger studio space in her hometown of Minneapolis and focusing on personal projects. "I was reaching burnout, trying to juggle too much," she says. "My move was a great way to purge, restart and really reconsider how I wanted to work in the long haul."
Although she isn't currently taking on new clients, her business is far from being at a standstill. Recently, she has launched new partnerships with wholesale companies Faire and 54kibo, and she's hoping to lean into more collaborations or break into film set design. She is also launching her own furniture line later this year with a manufacturing partner. "It's the first foray into making my own furniture and textiles," she says. "It's been a dream."
As her business model has shifted, so has her definition of success. At the outset of her career in upholstery, Crowder says she felt most successful when her work was affirmed, shared or praised. Now, she feels proudest when she can help other artists achieve their vision. "It's really if my success can also help someone else make steps toward their own success in whatever capacity, if it's just a single chair, or starting a business."
To learn more about Nicole Crowder, visit her website or find her on Instagram.
Homepage photo: Nicole Crowder at work upholstering a chair | Courtesy of Nicole Crowder