After two years of COVID cancellations, accommodations and last-minute postponements, this January's edition of Maison&Objet was widely hailed as a celebratory return to business as usual. Attendance was good, spirits were high, and though a European economic downturn tamped down written orders, the vibe at the fair was—as one visitor put it—"just like old times."
Despite a return to IRL normalcy, Maison&Objet has plotted out an extremely digital 2023. This year, the fair will unveil three new initiatives designed to facilitate an increasingly online retail buying process. Chairman Philippe Delhomme says that the goal, over the next four years, is for digital initiatives to make up 20 to 25 percent of Maison&Objet's revenue. "My objective is to offer an omnichannel solution to this industry," he tells Business of Home. "Our customers, the brands, have been asking about this for some time."
The first initiative, unveiled at the fair in January, is a white-labeled e-comm product that brands can use to set up their own online B2B shops—something akin to a highly specialized wholesale-only European Shopify. Delhomme says that the shops (Maison&Objet calls them "BtoB Eshops") target smaller- and medium-sized brands.
"Very often, small brands are not yet equipped to allow their customers to buy directly on their website," says Delhomme. "We want to make it easy for them to do so." The pilot program is in its infancy but roughly 20 brands are in process thus far.
The second initiative, forthcoming this spring, is a significant tweak to an existing Maison&Objet digital property. In 2016, the fair launched a site, MOM (Maison&Objet & More), that allowed brands to sell to buyers year-round. Thus far, the site has operated on a lead-generation model, connecting buyers and sellers, and letting them negotiate directly. In the spring, Maison&Objet will transition MOM to a transactional business model, where buyers can place orders through the platform itself, which will begin taking a cut—averaging between 11 and 15 percent, when the subscription fee is factored in. "[Competitors] invoice the brands with quite heavy fees, which are very often equivalent to 20 or even more percent of the sale," says Delhomme. "In terms of cost, we have a price advantage, we're lower than competition, and on top of that, we're a more focused audience—the home decoration industry."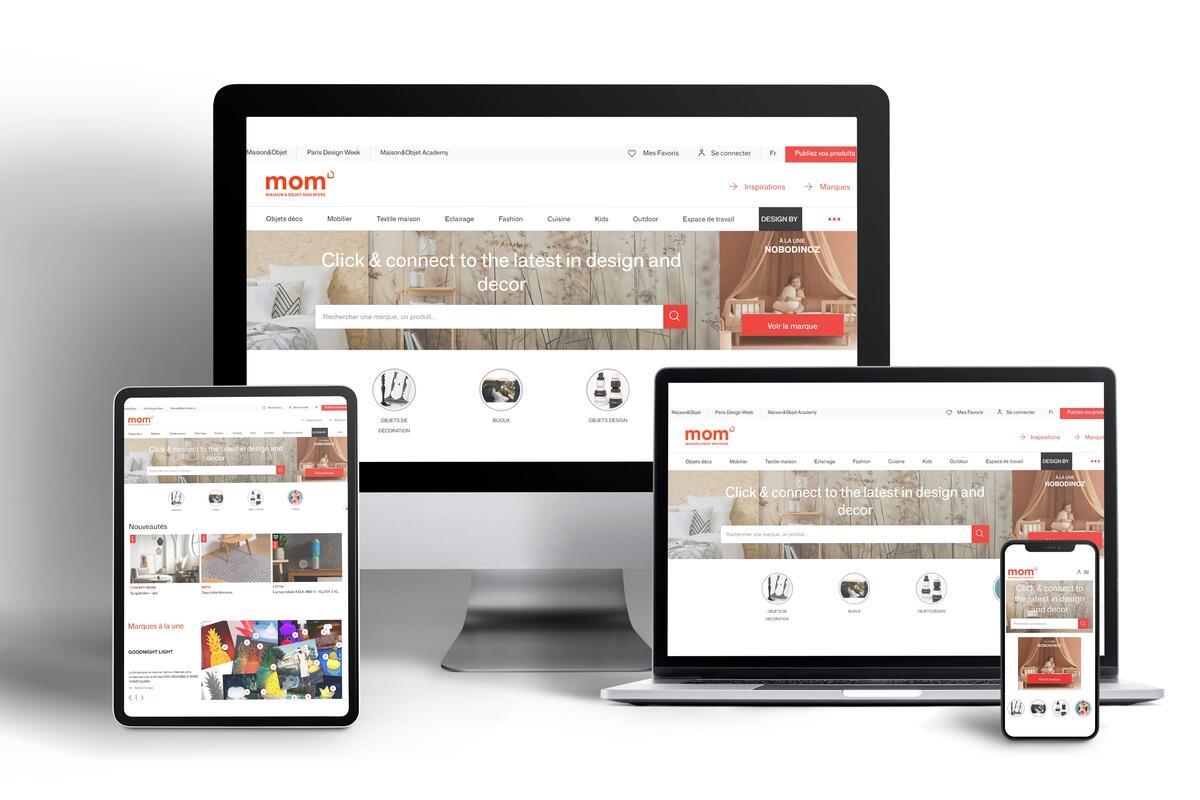 Thus far, roughly 500 brands of the 1,500 that sell on MOM have already signed up. In its first iteration, the new MOM will only be available to European buyers and sellers—and over time, Delhomme hopes to open it up to the world.
The final piece of Maison&Objet's three-part digital development plan for 2023 is an app, debuting at September's fair, that will allow buyers and sellers to place online orders directly at the show. By launching a host of digital services and a transactional e-comm marketplace, Maison&Objet joins the ranks of in-person trade shows looking to leverage their audience online. (In recent years, International Market Centers unveiled Juniper and Dough; Shoppe Object released Shoppe Online; and the Dallas Market Center launched MarketTime.) The market forces driving these initiatives are obvious: Buyers and sellers want the convenience of online transactions, and trade shows want the year-round revenue. The challenge is for the shows—which are fundamentally events businesses—to act like tech companies and compete with the likes of Faire and other online-only wholesale platforms.
To that end, Maison&Objet has hired a digital team of 20 staffers and outsourced the creation of the new MOM to a company that specializes in building transactional marketplaces. While Delhomme acknowledges that perfecting a new digital business is challenging, the fair's built-in audience will be a considerable advantage (according to a release, the combined audience of MOM and Maison&Objet's physical events is almost 480,000). "The technical aspect is difficult, but the most difficult part of this is building an audience," he says. "We are Maison&Objet, we already have an audience—the difficulty is activating that audience, but leveraging it will help us."
With the shift to a transactional model and a focus on growth comes the peril of staying true to the brand, but Delhomme says that the new iteration of MOM will be curated much like the show itself. "We don't want to be a marketplace for everything in home decoration," he says. "Our positioning is to be high-end, international, contemporary, and the element of French style is important. We'll keep all of these."
Homepage image: This year, the fair will unveil three new initiatives designed to facilitate an increasingly online retail buying process | Courtesy of Maison&Objet