South Philadelphia's BOK center, a school turned artisan/co-working space, is serving as the hub for exhibitions and curated programming throughout DesignPhiladelphia, an 11-day event that kicked off yesterday. What makes the citywide celebration stand out among other design expositions is that this festival partners with design schools around the city and highlights the City of Brotherly Love's own designers and companies. This year's event also coincides with the American Institute of Architects Forum on Architecture + Design. Here are six reasons to attend DesignPhiladelphia.
1. Peep new product debuts.
Dutch designer and industry aficionado Marcel Wanders's first collection with French furniture company Roche Bobois will launch on October 11. Dubbed Globe Trotter, the 1920s travel-inspired collection pulls details and colorways from France, Istanbul and beyond. The debut will take place in Roche Bobois' showroom in Philadelphia's Old City neighborhood as part of Philadelphia Design District's Sensory Design celebration, which features special events throughout the week in designer showrooms Biello Martin Studio, KelliJane, Petit Jardin en Ville and more. RSVP is required to attend the debut.
Didier Delmas courtesy of Roche Bobois
2. Get schooled.
The Forum on Architecture + Design, which is replacing the Design on the Delaware conference, hopes to curate multidisciplinary educational content for everyone from designers to civic leaders and real estate developers. Day one features keynote addresses from architect Toshiko Mori and Paula Scher, a principal at international design consultancy Pentagram. Michael Ford, founder of BrandNu Design and Hip Hop Architecture Camp, will speak on how he aims to increase minorities in architecture and urban planning come day two. The conference will wrap with a tour of the Metropolitan Opera House, which opened in 1908 as one the largest theaters in the world. Renovations fell into disrepair until renovations began in 2017. Attendees of the Forum on Architecture + Design will have exclusive access to see the museum's undergoing renovations, which began in 2017.
3. Tour a historical showhouse.
Another newcomer on the scene, Elfreth's Alley Designer Show House will open October 5, spanning five days of DesignPhiladelphia. Elfreth's Alley, which is considered "our nation's oldest street," dates back to 1702 and is listed as a National Historic Landmark. Today, there are about 30 houses on the street that were built between 1728 and 1836, as well as the Elfreth's Alley Museum. The museum was the home of two 18th-century dressmakers, and it has been restored to a colonial-era appearance. The Designer Show House will take place inside the museum, and design studios 36 Craven, Milleseme and The Clay Studio of Philadelphia will transform the museum into a 21st-century home. Proceeds will support Elfreth's Alley Association, a nonprofit organization committed to protect and preserve the historical landmark.
4. Find new inspiration.
Gregory Augustine, creative director of the Lucas Alexander Collection, will host "an evening of fashion for the home" with Philadelphia designer Kiley Baun on October 4. The night will include a panel discussion on fashion's influence on design and how innovative luxury materials are manufactured.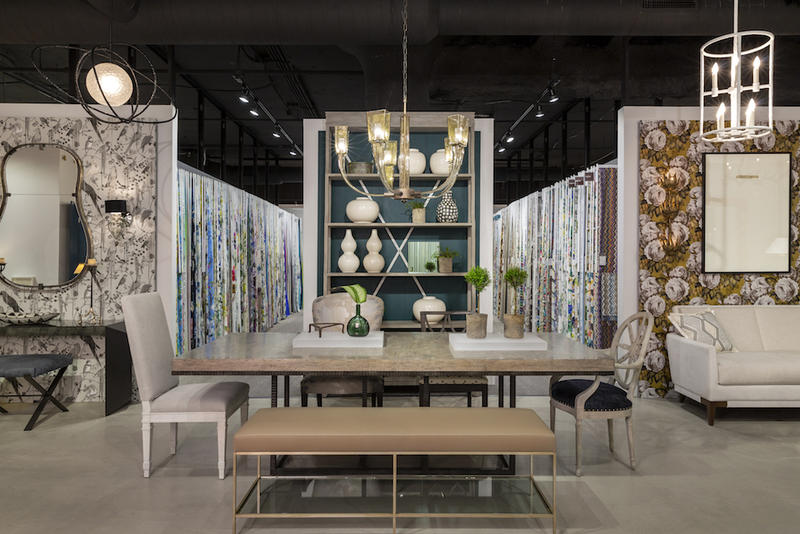 Courtesy Lucas Alexander Collection
5. Go into the weave on textiles.
The Jefferson Textile Design program is hosting a two-day symposium, "Sustainability in Textiles," which will feature speakers and presentations that explore the sustainability of textiles. The event will be hosted at Jefferson East Falls Campus in the Hayward Hall Textile Design studio and will touch on conceptual design through production, manufacturing finished products, and reuse/repurpose/recycling initiatives for textiles.
6. Learn a new craft.
On the final day of DesignPhiladelphia, there's a woodworking workshop/lecture hybrid being offered. Participants of this event will have the chance to get their hands dirty and work together in teams to build their own small, custom side tables. The workshop leaders will provide insight into how furniture is made today, the process of going from design to reality on a small scale, and how technology has changed woodworking in the recent past.