With well-designed boutique hotels popping up like daisies after spring rain, it's easy to forget that it wasn't always this way. For decades, hotels were monolithic testaments to flat gray sameness, give or a take a mustard carpet here or there. We have designers like Kit Kemp to thank for the bespoke hospitality revolution—since the '80s, she's been bringing color, craft and high style to hotels she creates with husband and Firmdale Hotels co-founder Tim Kemp.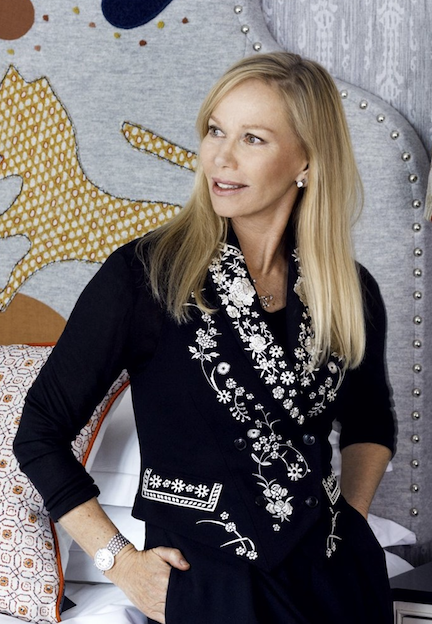 Courtesy of Firmdale Hotels
As creative director, Kit Kemp is responsible for some of the most beloved hotels on both sides of the Atlantic. In London: Ham Yard, Covent Garden and Haymarket (among others); in New York: Crosby Street and Whitby. She's also been designing products for years, and just this month is debuting a special pop-up floor at Bergdorf Goodman, collecting her fabrics, fragrances, books and furniture all under one roof.
In this episode of the Business of Home podcast, sponsored by Design Within Reach, Kemp shares with host Dennis Scully some of the wisdom she has accrued over the course of a storied career.
Pay attention to the between spaces
Kemp's hotels are chockablock with craft, color and design moments—even in unexpected, under-trafficked corners. This is intentional. "I never forget about staircases, spill-out areas and corridors," she says. "Those are the areas that introduce you to new ones. If you can make them into something that has character, it makes it more interesting. … If I can make some really boring businessman who isn't at all interested in his surroundings look around and ask me questions, then I feel as if I have achieved something."
You don't need to know exactly what the final product is
Even though hospitality is a business, Kemp is protective about the creative process. "I've always found that if I ask too many people if something was a good idea, they'd always say, 'No no no, you can't do that,'" she says. "I knew when it was finished it would look fine. But if you start asking too many people, they don't know. You can't see it until it's finished. It's an organic process. You shouldn't be able to see the final product, it should grow along the way. You've got to have self-belief and stand by your guns."
Give your collaborators room to play
Already known for including pieces by blue-chip artists (the bulbous Botero cat standing watch at the Crosby is a case in point), in recent years Kemp has been championing craft as well. She extends the same creative freedom to her collaborators that she demands of herself. "If you're commissioning people to work for you, you mustn't put them in an arm lock, you have to give them space. You've got to decide you like their work, and work with them and give them free rein. Hopefully the final piece will be better than your original idea."
Tack against the economic wind
In business for over 30 years, Kemp has lived through booms and busts alike. "You want to make sure that when things are hitting rock bottom that you've got people coming back to you, and not going elsewhere," she says. "I listen to our finance director and our accounts department, and sometimes I bear that in mind, but sometimes I say, 'They're wrong.' Because so often when things are going down, they say, 'You can't spend,' but very often that's the moment you really have to spend, because you have to be looking in the long term and make sure people are coming to you."