The landscape of museum stores is one of wild variation. At one end of the spectrum, you've got the MoMA Design Store, an international retail brand in its own right, stocking the coolest of the cool while still channeling the spirit of its backing institution. At the other, you have shops filled with stationery, magnets and assorted tchotchkes emblazoned with some of the notable works you may have seen in the nearby galleries.
Creating a retail brand that is a destination—not just a corner of the lobby museumgoers wander through on their way to the coat check—is a tall order. But that's essentially what Lisa Silverman Meyers set out to do in 2019, when she took on the newly created position of head of licensing and partnerships at The Metropolitan Museum of Art.
Silverman Meyers, a licensing veteran who had previously been a senior vice president in Viacom's $2 billion sales division, had been working on a project basis with the museum prior to taking on the role. "I was traveling a lot at the time for my previous job and I had seen so much licensing activity happening at the major European museums, like the Victoria & Albert in London," says Silverman Meyers. "The Met had done a lot of collaborations back in the '80s and '90s, but it had seemingly dropped off. I could see that there was this untapped revenue stream for The Met sitting there."
The Met agreed, and asked Silverman Meyers to lead a new department dedicated to the effort. In the years since, she's helped develop 35 partnerships and collaborations with brands as massive as Estée Lauder to boutique operations like Harlem Candle Company. The products in such collections range from the standard fare like tote bags and scarves, to the more esoteric, like jars of jam adorned with Islamic art or needlepoint kits that allow buyers to stitch odes to the museum's paintings. So far, Silverman Meyers has been taking a big-tent approach to licensing—only fitting for an institution as large as The Met.
Indeed, while the vastness of The Met's collection might seem overwhelming, Silverman Meyers sees the broadness of the archive as a unique attribute. "The Met is this global museum, with collections spanning thousands of years and featuring pieces from across the globe, but it's also inextricably linked to New York," says Silverman Meyers. "I think the combination of those two factors make it unlike any other museum." Those macro and micro qualities have led Silverman Meyers's vision, prompting her to tap smaller makers with New York ties alongside brands with global reach. "Ultimately, we want to work with people who are at the top of their game," she says.
The partnerships that have come out of Silverman Meyers's efforts are often tied to special exhibitions or anniversaries. The Estée Lauder capsule collection was in honor of the museum's 150th anniversary, and a recent collaboration with Sheila Bridges features the designer's Harlem Toile de Jouy print, which was inducted into the museum's ongoing exhibition, "Before Yesterday We Could Fly: An Afrofuturist Period Room." There was even a special drop tied to Lunar New Year earlier this week: a set of chili oil, inspired by a pair of early 20th century woodblock prints from The Met's Asian art collection, crafted by chef Lucas Sin of the New York restaurant Junzi.
Other collaborations draw from the museum's vast collections, like a series of bedding from Ann Gish (developed in partnership with licensing agencies Beanstalk and EMEA), inspired by textiles from the museum's Costume Institute, or a product line developed by John Derian, who pulled imagery from the museum's department of drawings and prints to create an assortment of trays, plates and paperweights. "The collection [of drawings] was so big it was mind-boggling," says Derian of the collaboration process. "We sat in a handsome room on the main floor, steps away from the crowd, to look through it. It was definitely magical."
The collaborations often come about from conversations with department curators as well as internal chats with Silverman Meyers's team about what would feel fresh and different. There will always be a market for art-printed scarves, but she likes to push beyond the traditional as well. "We look at collaborations in two ways: One is, is it getting noticed? Is it getting attention? Does it tell a story?" she says. "But at the end of the day, I was brought in to build a revenue stream." She says she feels strongly that a collection has to deliver not just for the museum, but also for its partners as well. "I think that's led to us having more flexibility in terms of what's being developed," she says. "We're not going to sit there and tell a brand what's going to be successful. It has to be a real partnership."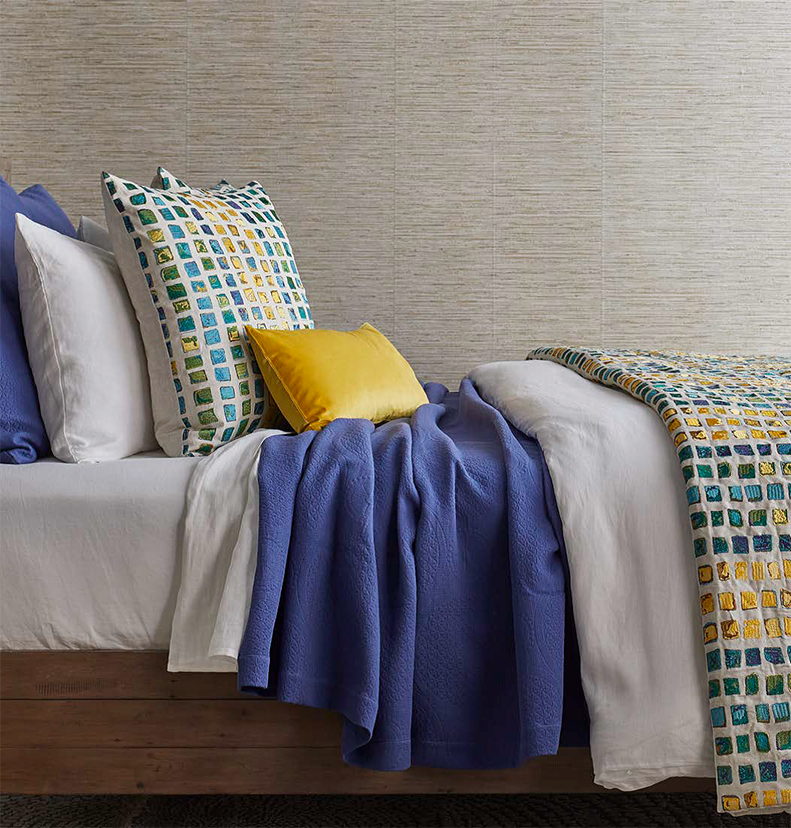 Courtesy of The Met Store
Part of that partnership is giving brands a lot of freedom in deciding which pieces from The Met's archive they want to use. When working with Ann Gish, Silverman Meyers says the brand was given access to any of the museum's two million plus artworks to translate to bedding. "They did this incredibly deep dive and came to the first creative meeting like, 'Here are these 200 items that we fell in love with—what do you guys think?' The stuff they found was incredible," she says.
Silverman Meyers says the only general parameters given to partners may include avoiding the use of religious works or pieces that could "even have the whiff of causing offense in some way," whether in their provenance or subject matter. Department curators are consulted as well, providing insight into the history of the piece and raising any concerns about usages. "[But] as much as possible, we don't want to hamper our partner's creativity," she says.
While the flurry of collaborations and licensing deals aren't slowing down anytime soon, Silverman Meyers recognizes that brand building (or even repositioning) takes time. "The V&A has a licensing program that they've been working on for 20 years," she says. "Right now, while I think we're on the right track, we're really focused on creating items that delight our patrons and our partners at the same time."
Homepage photo: The collection from John Derian for The Met Store | Courtesy of The Met Store