Bodil Kjær is a woman with many hats. The renowned Danish architect, furniture designer, professor and researcher, who is now in her mid-80s, recently came to New York to unveil Suite NY's reissue of several of the legendary designer's furnishings from the 1950s and 1960s, which had been out of production for decades. The collection of her own midcentury designs opened during NYCxDesign and, with the increasing focus on both resimercial design and employee wellness, is perhaps more relevant today than ever before.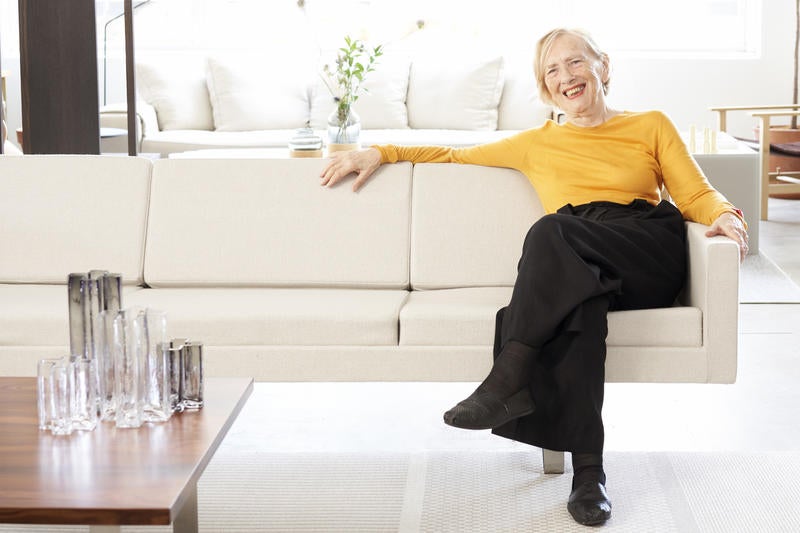 Suite NY says that among the designer's most well-known pieces are The Desk (1959), "a sleek design featuring a wood top on a streamlined steel base, which found fame in three James Bond movies, and the Cross Vase (1961), an elegantly simple geometric vessel embodying minimal simplicity and modern versatility." Kjær's work embodies a "groundbreaking emphasis on creating healthy and flexible work environments in collaboration with employees and engineers." To that end, Suite NY offers up 10 Elements of Architecture pieces of Kjær's, which have been created by big-name manufacturers like Carl Hansen & Son, Illums Bolighus, Karakter, and Holmegaard."
Among the works in the Elements of Architecture reissue, which was originally launched at Salone del Mobile in April, are The Desk, three upholstered pieces, and two coffee tables, and outdoor furnishings and other pieces will be added later this year. "This collection is modern but approachable, with designs executed in appealing textures and comforting proportions," says Maria Sepulveda, principal of Suite NY. "We're excited to bring these timeless pieces to a new generation of design professionals, enthusiasts and collectors."
Has Kjær had any particular career highlights? "It is most flattering that the Editor At Large has confidence in my ability to answer the posed questions," she says, "but I really do not recognize highlights nor difficult lessons of my life. I am always saying: 'I have had a life, not a career,' and my life has included work in architecture, planning, teaching and research."

I am always saying:
'
I have had a life, not a career,
'
and my life has included work in architecture, planning, teaching and research.
The relaunch, she says, "came about as solutions to problems of a functional and aesthetic nature during my interior planning work. The choice [of products in the relaunch] was made by the users and the manufacturers. The users are the people I design for; the manufacturers are the people who execute my designs, of course." Her aesthetic is one that is particularly popular at the moment, especially among young consumers. To what does she attribute that popularity? "Personally, I believe that we are in the middle of an era, an era that commenced shortly after the Second World War," she says, noting that she thinks it "will continue far into the 2000s."