An imaginative collection from a company based in rural Virginia is aiming to bring tile to children's room applications. The second of a series, KIDDO: Wunderkammer Edition by New Ravenna spans a number of waterjet stone and hand-cut stone mosaic designs, drawing influence as diverse as oceanic explorations, storybook fantasies and the adventures of a world-class arrowhead hunter (and father of Cean Irminger, the brand's creative director).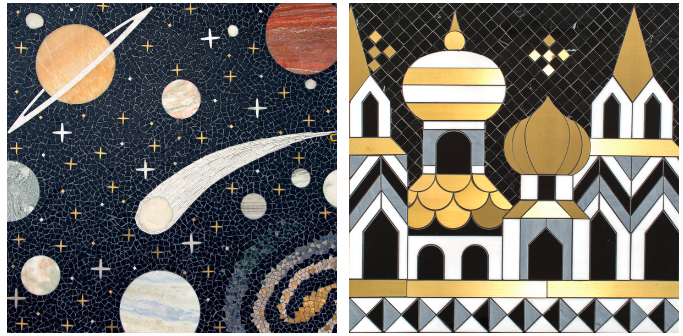 "The idea of a Wunderkammer, otherwise known as a wonder room, has always delighted me," says Irminger. "Essentially a trove of fantastic curiosities from the natural, scientific and artistic worlds, it's a collection that by its nature draws one in to look closer, to try and discover the story of each object. The aim of the KIDDO collection has always been to entice viewers and transport them to a place of childlike wonder. I wanted the designs to inspire the happy jolts of surprise you get from discovering a secret in plain sight. I feel that the purpose of this collection, and also of New Ravenna, is to give personality and a voice to the inanimate spaces of our lives, and to give people joy in their daily surroundings."
Irminger's 2016 iteration featured rabbits, geometric boxes, paper airplanes, shadow puppets and zoo animals.
How can designers implement tile—known for its permanence—into children's rooms? "Designing with a medium as permanent as mosaics in a kid's space can be a daunting task, so it's important to create a look that can grow with the child. One way can be to tweak the color palette toward more neutrals or a tone-on-tone layout. This way, the piece evolves into a texture from a distance and then the lighthearted subject matter becomes a joyful discovery at closer range," says Irminger. "Another option for those who can't resist the cheerful rainbow hues of childhood can be to customize the design to fit a smaller area. Instead of a big focal wall of pattern, choose a border like Here Be Dragons that can be used as a base moulding or chair rail. You can combine any mosaic border with a simpler neutral field to create a bold pop of color and pattern running around the room like a magical accent."
And what of the hunter's influence? "The pattern that was the most fun to create was Arrow Rows. It's an homage to my dad, who is a world-class arrowhead hunter—he can find one every time he steps outside. I've always wanted to surprise him with an arrowhead I found myself, but after over three decades of looking, I still haven't found one, so I decided to make him arrowheads instead. It was fun to draw the shapes for the arrows and fletching, to play with colors, and then to create a background technique that would soften and round the stone stalks to create the impression of momentum and the flight of an arrow through space. Finding a name that makes everyone who says it sound like Scooby-Doo was an added bonus!"