When a building is demolished or a company decides to downsize, the issue of where all the extra stuff inside will go—the furniture, office equipment, decor and artwork—is often swept to the side. The problem of redirecting used items is not one that many companies choose to focus on, and for that reason, it's become enormous: an estimated $600 billion in surplus assets sit idle in American companies today.
Rheaply, a circular economy startup, aims to change that. Founded in 2016, the company was created to build a community where workplace resources could find their next use, implementing inventory management, product data and an online platform to see the mission through. Rheaply's clientele, who pay a monthly subscription fee in exchange for services, includes a group of Fortune 500 companies like Google and Target, along with the city of San Francisco and the U.S. Department of Defense, plus more than 150 smaller community partners and local businesses—including contractors and architectural studios.
Rheaply's story began when founder and CEO Garry Cooper Jr., then a neuroscientist, noticed that the lab he'd been conducting research in had extra equipment, chemicals and supplies lying around unused. "He started literally with a squeaky rolling cart, moving from lab to lab and sharing resources," says Daniel Kietzer, Rheaply's director of ecosystem growth. "Then he started thinking, 'Maybe there's something bigger to be built here, where we can enable this at scale.'"
Cooper soon took the idea a step further, building out an online platform and coordinating with landlords to move contents of their buildings that would otherwise head to the landfill, starting with smaller items like furniture and decor before moving on to larger architectural fixtures like doors and window frames. In 2020, Rheaply gained some real traction after Cooper secured a $1 million investment after winning a pitch contest. This year marks the start of an ever larger phase of growth for the company, following its June fundraise of $20 million from a group of investors that included Revolution's Rise of the Rest Seed Fund. Rheaply plans to use the funding to expand in up to 50 U.S. cities in the next few years.
Rheaply guides companies through the circularity process from start to finish. The journey begins by first bringing attention to the stuff a large company has in its possession, with a focus on interiors and office footprint. That assortment usually includes furniture, fixtures, equipment and architectural products—or, as Kietzer says, "If you were to pick up a building and shake it, anything that falls out."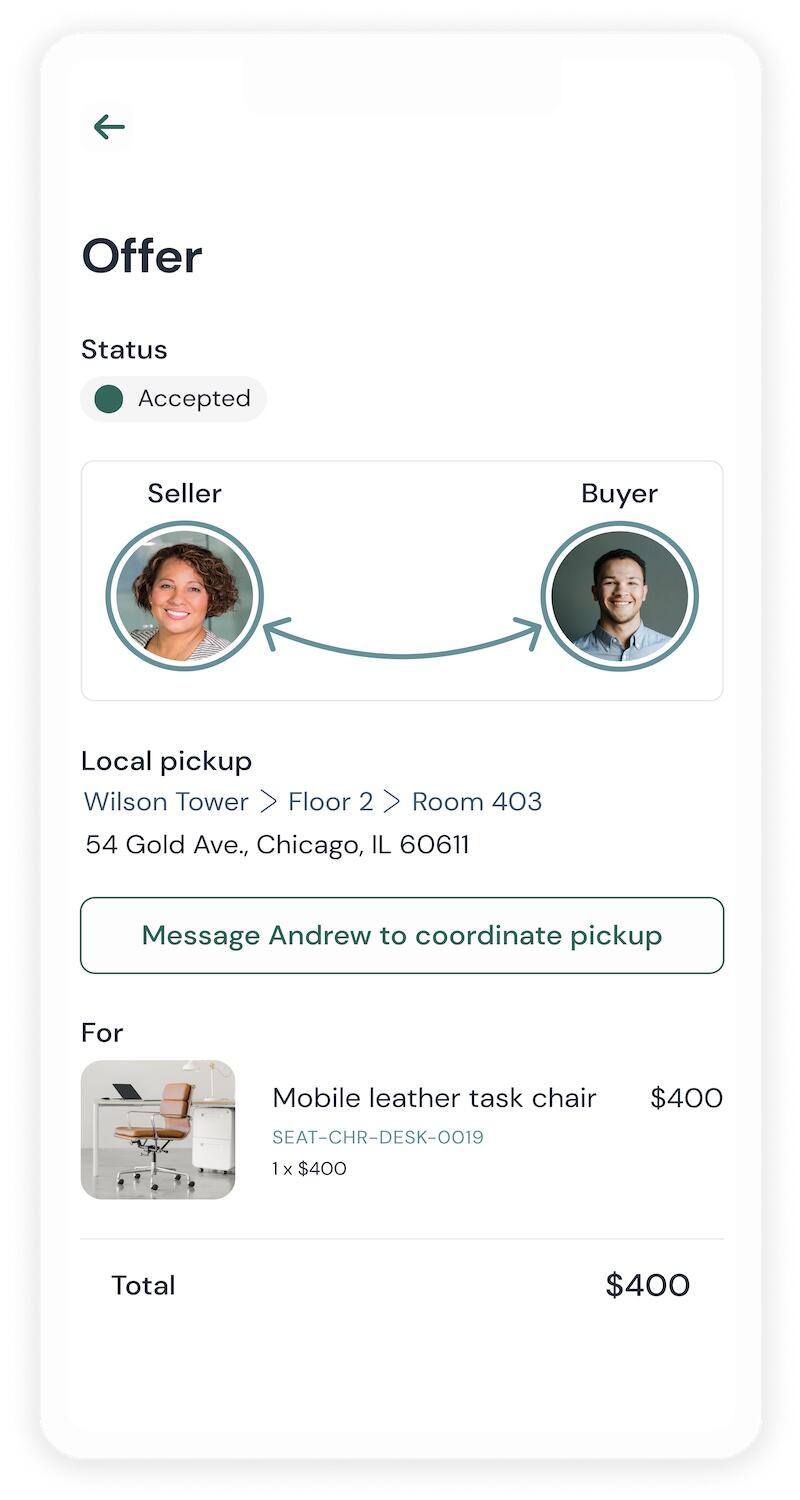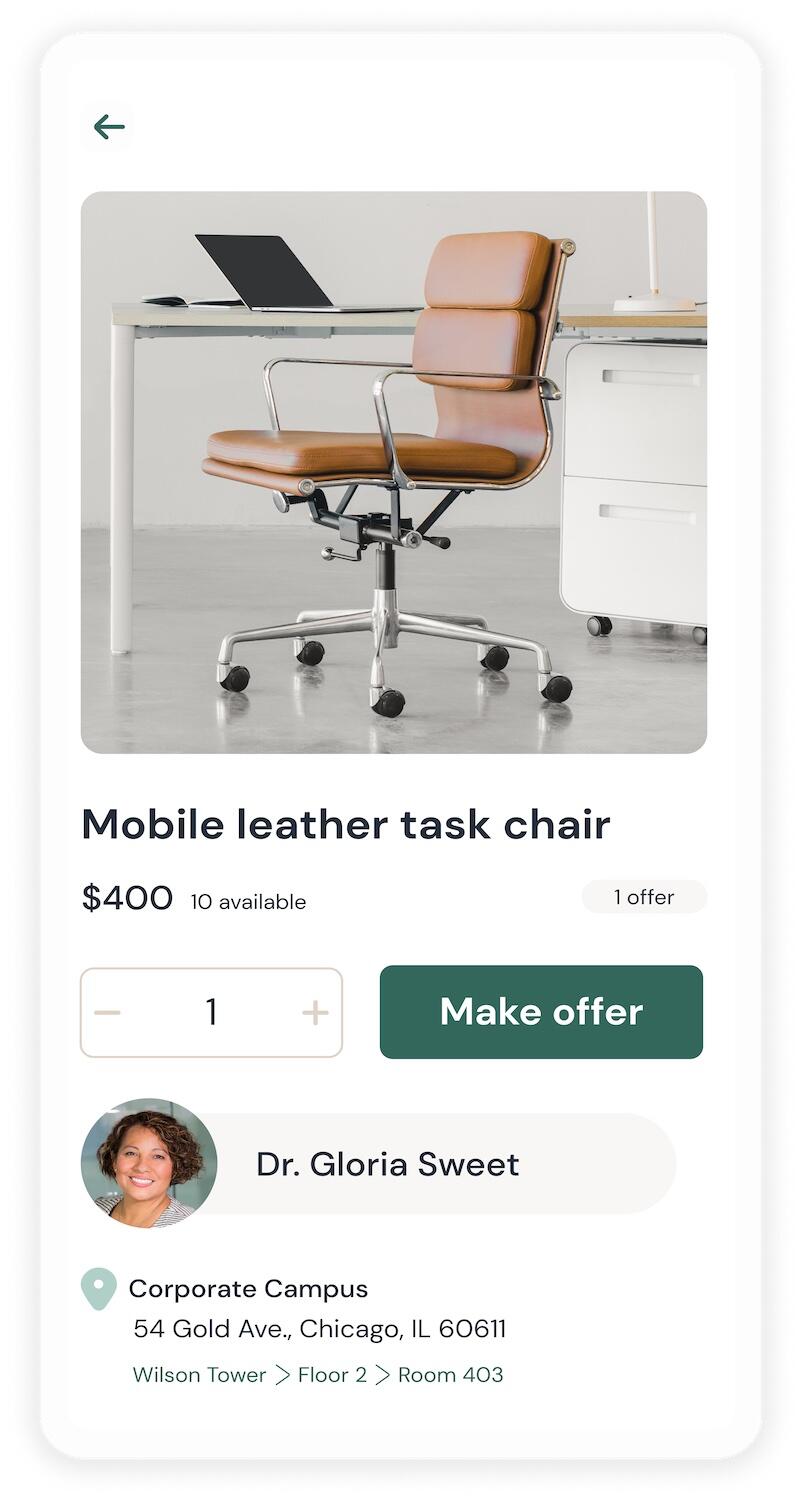 Rheaply creates an inventory of the items in a company's possession, but also collects data from manufacturers on what a product should look like (i.e., what its specifications were when it was brand new) and logs an item's condition. With that knowledge, the company can quickly assess the assets it already owns and consider where they can be reused right away, or whether they need to be refurbished first.
"It really starts with that visibility piece and understanding how stuff is used," says Kietzer. "And then using all of that information in a very easy-to-manage way to make decisions about how it's used."
If the company doesn't want to reuse an item internally, Rheaply can also help arrange its passage into another workplace, business or residential space. That's where the company's online platform comes in, allowing other organizations to browse and purchase items that are on their way out of a building set for demolition or downsizing.
To date, Rheaply has upcycled more than 50,000 items with a value of $19 million through its platform, though the company's sights are now set on multiplying those numbers, says Kietzer. Part of that process will involve Rheaply's recent acquisition of the United States Business Council for Sustainable Development's Materials Marketplace—an organization that focuses on upcycling building-materials waste from small businesses and government agencies—where Kietzer worked in the years prior to joining Rheaply. With the Materials Marketplace under its purview, the company has secured an additional network of 2,200 partners with expertise in upcycling building materials.
Rheaply is also focused on providing better metrics to its users, not only on the amount of dollars saved in reusing items, but also on how their circular actions can reduce their output of landfill waste and carbon emissions, which can now be measured through the platform's carbon calculator feature. Still, even as the company continues to grow its network, Kietzer says the most significant thing companies can do to attain circularity is simply look closer to home. Plus, though the company's current focus remains on listing assets from the commercial sector, Rheaply aims to onboard more residential third-party users in the years to come.
"We're laser focused on what the impact is—more than just [looking at] a dollar value, we want to make sure that what we're facilitating has large-scale, measurable impacts on the environment," says Kietzer. "The easiest action to implement today is just making better use of the stuff we have around us already."
Homepage image: A Rheaply clearout in action | Courtesy of Rheaply