In Business of Home's series Shop Talk, we chat with owners of home furnishings stores across the country to hear about their hard-won lessons and challenges, big and small. This week, we spoke with retailer Tori Jones of Rhode Island's Tori Jones Studio.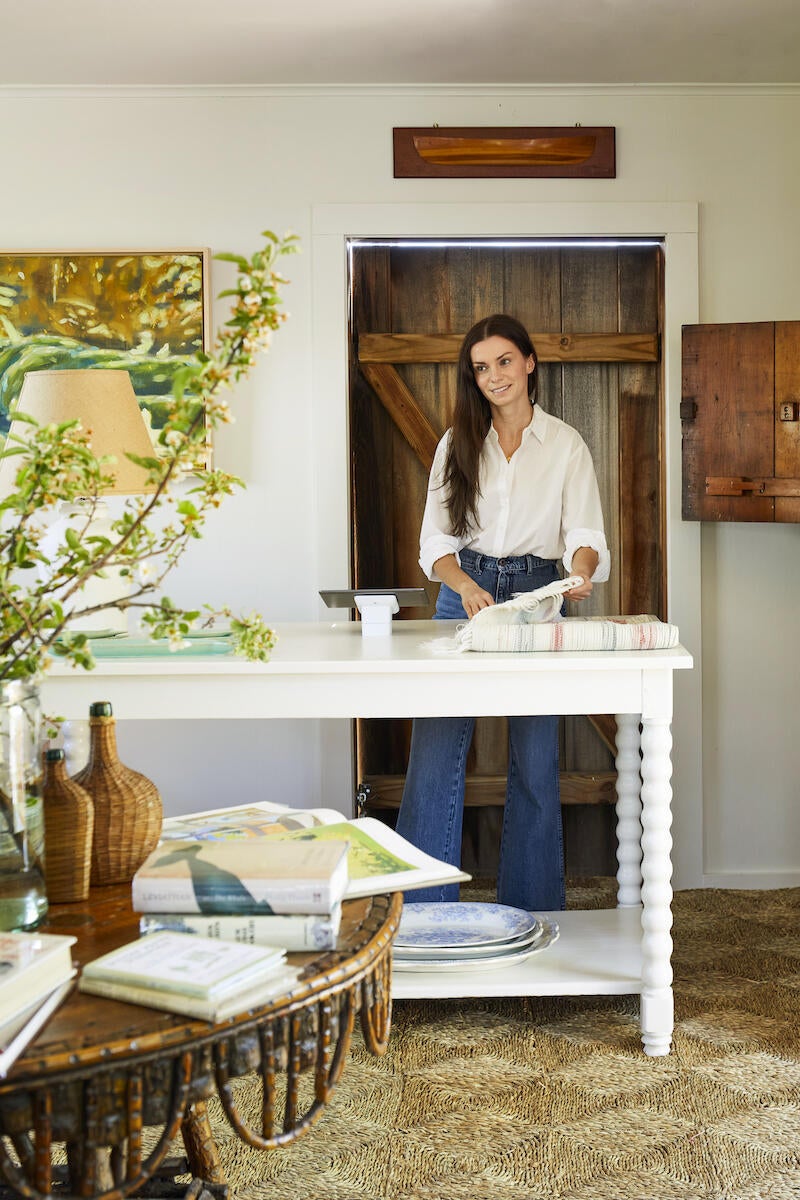 Courtesy of Tori Jones Studio
First inspired by her grandmother's charming cottage on Block Island, where the design MO was simply to fill each space with beloved things, Jones worked through several corners of the industry. She got her start styling and editing design magazines, then served as the director of creative services at Schumacher before launching her e-commerce antiques business in the first year of the pandemic. Finally, in 2021, she tested out a pop-up brick-and-mortar concept back on the New England island of her childhood, opening up a seasonal outpost in earnest last summer. Here, Jones explains how she makes the business work in a town of 1,000 people, the massive effort of shipping and the magic of canvas hats.
What was your career like before the shop?
I started as a style assistant at the first Domino, which was [owned by] Condé Nast, and then went to Hearst and worked at Veranda, Elle Decor and House Beautiful. I worked at Schumacher, then did small decorating and styling jobs through word-of-mouth—those jobs helped me have the money to launch the business. It was always a dream of mine to be an antiques dealer. When I was working in corporate, I spent so much of my free time going to markets and combing antiques shows. I wanted to translate that feeling—the thrill of the hunt, but without the backbreaking work. Our company started digitally in September 2020, during the pandemic.
So it started out purely e-commerce. What was the mix of merchandise?
When we started, it was entirely antiques, but with a focus—which remains to this day—on artwork. Interestingly, it remains our bestselling category. The fact that we were able to do that digitally was something I was pretty unsure of in the beginning, but it worked, so we've continued with it.
The other part of the dream was always to have a physical presence, a brick-and-mortar space. But I was cautious about it. We tested the waters with a pop-up shop on Block Island the summer of 2021. It was just three weeks, and it was our way to see how that particular market would respond. It went well, so we signed a lease, and this is our second full season there. It's a joint venture of physical space and robust e-commerce.
Do you have a partner? Is it family?
I have a small but mighty team. My mom is my business partner and very much the cornerstone of the business, and then I have a young woman who's become my right hand, who came into our pop-up shop and liked what she saw and just inquired about openings. She's now our shop manager and head of our e-commerce platform. Then we have a shipper, our Wonder Woman, who helps us with logistics of getting antiques on and off a small New England island. And we have a whole roster of pickers who provide us with the most special things.
How do you find pickers? Do they do this for multiple stores?
All of the sourcing is, at this point anyway, relationship-based. We go to antiques shows throughout the country, and we're at every Brimfield [Antique Flea Market in Massachusetts]. Sourcing for us is a 24/7 thing. We're always hunting. But there's a group I've met through attending these shows—through being persistent, always curious and just talking to people at markets—and we've created this network. I think it's about pounding the pavement. You connect with people who have a shared sensibility, and that's how it's worked for us.
What is your connection to Block Island, and where are you based throughout the year?
I live between Manhattan and Block Island. My family has spent the summer months on Block Island for generations. New England, especially New England in the summertime, has always been a big influence on my whole sensibility and point of view. My grandmother's cottage on the island informed how I approached home and interiors: She had this big fieldstone fireplace, painted floors, rush rugs. The house wasn't exactly decorated, but filled with things she loved that were meaningful. I pictured her house when I thought about what I wanted to offer clients. When I was in high school and college, I had my first retail jobs at shops and galleries in town. There are a lot of female business owners here who I admire, so I was always interested in having a seasonal business. It's this special little Victorian village, and I just love it.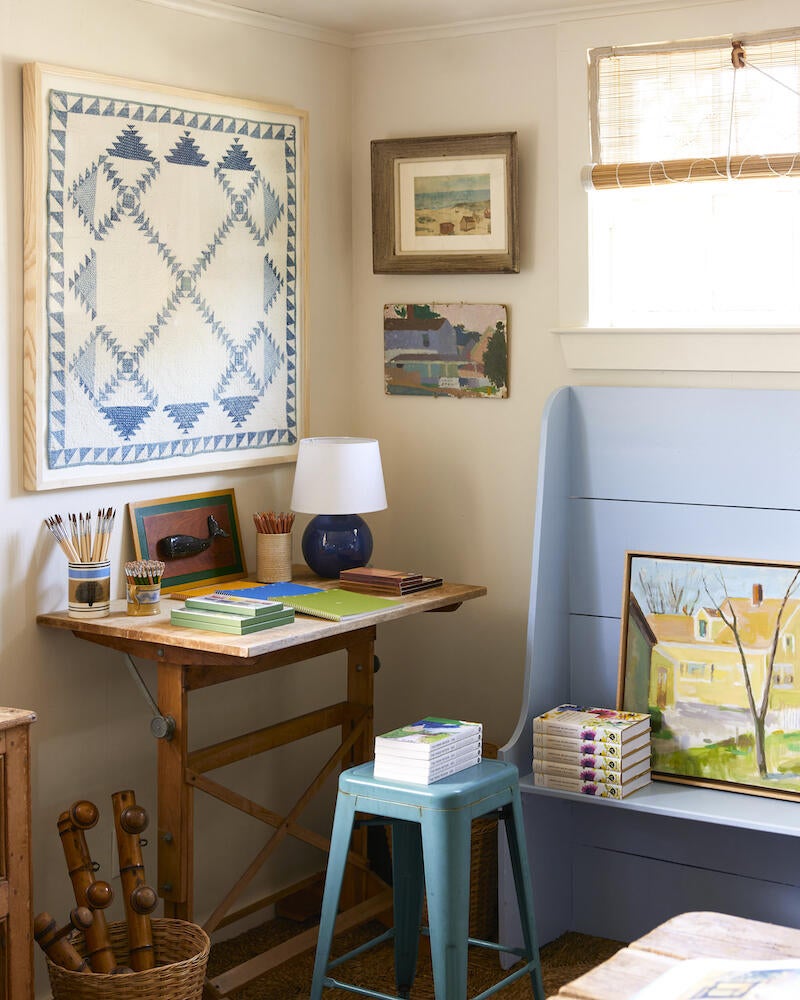 Courtesy of Tori Jones Studio
What is the design scene there like, if you can call it that? Why did you think something like this would fit in there?
There are definitely housewares stores here, and a lot of artists doing interesting things. I'm trying to think of how to say this because there are definitely vendors who sell furniture—what we wanted was to sell authentic New England antiques, so a lot of our sourcing [happens] in Rhode Island, Maine, Massachusetts. We wanted a shop geared toward the ease of New England summertime, while also offering things that are exceptional quality and beautiful. There's a design scene, but it's very relaxed and low-key. I think that the real estate market has been booming, and it just seemed like an opportunity to offer homeowners there, and throughout New England, more of those things.
OK, I'm going to say something and you can blink once for yes. I grew up on the Jersey Shore, and I know that in these beach communities, a lot of what you see in decor stores is driftwood signs or lamps with seashells in the base. Is it that?
Exactly right.
So who is the customer coming in? Are there any designers, or is it foot traffic?
Well, it's interesting. A lot of the [pieces] go to Martha's Vineyard, Nantucket or Maine. So it's definitely people from New England, but I think with the investment that we've made in our website and making that as detailed as it is—I mean, we ship things all over the world. We have a pretty diverse group of design enthusiasts, and we do have a trade program. Designers come to us when they're shopping for second homes, for beach houses. We offer net pricing and we take care of all of the white-glove shipping for them. Obviously, that can always grow, and we're looking to grow the designer side even more. We attract a lot of different people. We have people who are just on the island for the day or the weekend, who are looking to pick up something small—a souvenir or a token for their vacation. Then homeowners, and designers who are seriously shopping for projects. It's three-prong.
What is your popular category or object in the store versus online?
Both in-store and online right now, especially in summertime, there's a big frenzy for antique quilts. That category is a big labor of love for us. We sell 19th [century] and early 20th century quilts that we've restored and hand-washed, real heirloom pieces. They're certainly not inexpensive, but we always sell out of those, and we're constantly restocking them. We work hard so that people have a real understanding of what they are and what their condition is through our website. But we sell a lot in-store, too. People want to feel and see them up close.
Artwork remains a big category for us. In the shop, we sell a lot of cult-favorite Japanese stationery and art supplies. We have beautiful hand-made notebooks and brushes, fine watercolors. People are always picking up things like that to take to the beach, a relaxing thing to do on their vacation. And we sell a lot of Magic hats, these funny bucket hats made of canvas.
I'm definitely unfamiliar with these!
Oh, my God, we can't keep those in stock. We always joke that we should just sell Magic hats. They're magic because they're packable; they don't lose their shape. It's hard to travel with a hat! They were made in the 1970s by a couple whose last name is actually Hatter. They met on a sailboat, so they made the hats from sailcloth. I can't even tell you how many times we've restocked them. I guess everyone wants a hat in summertime.
We also sell a lot of hobnail glassware from the Czech Republic. We've slowly added some ready-made items that are available in multiples, but we've been very careful and thoughtful about what those products are.
To go back to logistics—for shipping the furniture, antiques, quilts, the bigger pieces, is your stock mostly on Block Island, or do you have a warehouse in New York or on the mainland? Or both?
Both. Pretty much everything is on the island for the season, and we're actually shipping from here.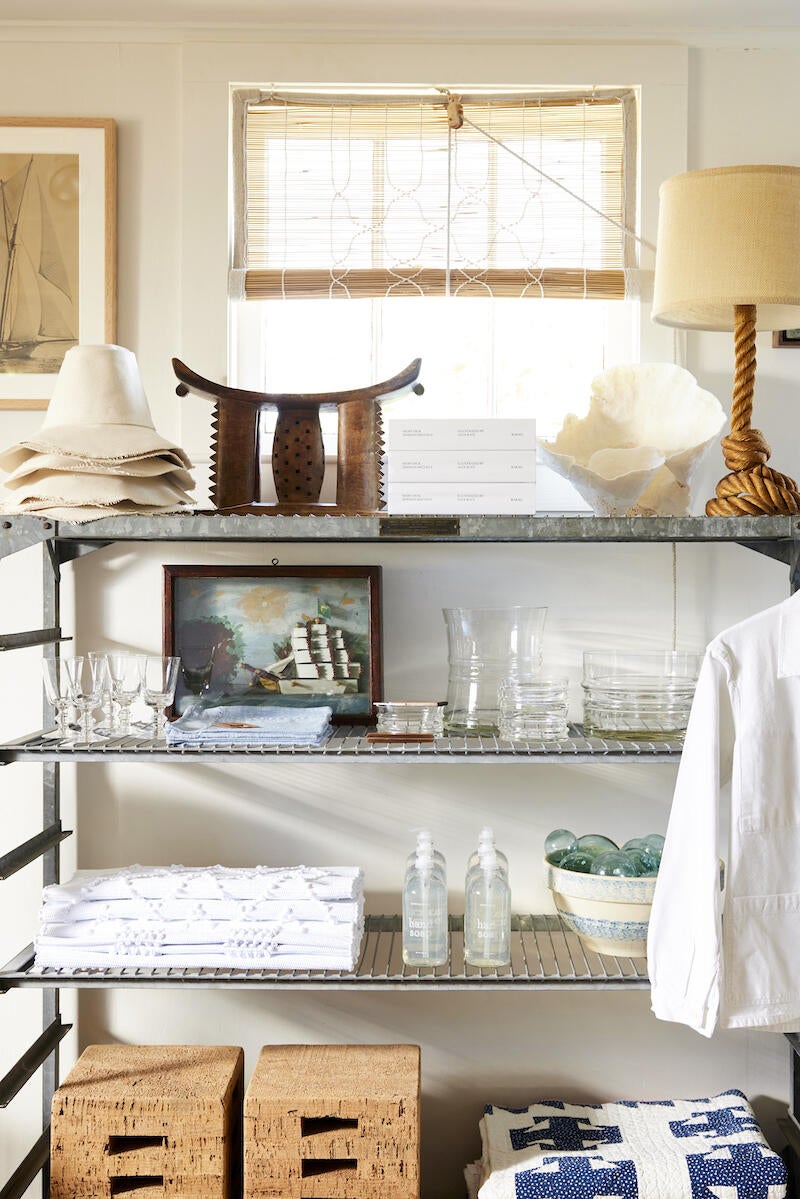 Courtesy of Tori Jones Studio
Wow.
It wasn't one of my most practical decisions to have an antiques business on an island. I feel like it's almost sharpened our business acumen and our problem-solving, because amazingly, we've been able to make it work. We have a shipper based in Massachusetts, so she handles all of the deliveries for New England and the tri-state area. Otherwise, we work with white-glove companies to ship throughout the world. We've made it work, which I kind of can't believe.
I know it hasn't been very long, but has your e-commerce changed platforms, hosts or strategies since you've launched?
I worked with a developer to build my site. It's a Shopify site, but basically as customized as you can get. Building the website took a lot of time; I think it was a much bigger project than we anticipated. To be honest, I had started with a different host, and quickly realized Shopify was the best avenue for what I was looking to do.
Our e-commerce is a bit tricky. We handle trade accounts through our website, and trade pricing through it as well. I needed to make sure I had a platform that could handle net pricing, tax exemption and shipping quotes. We think about trying to make it as easy for the customer as possible. I've noticed that a lot of other antiques businesses don't offer online purchasing; you have to call or email the shop. I knew I wanted it to be as simple as clicking, and then we follow up with a final shipping cost and an invoice with a clickable payment to make it as streamlined as possible. We're always thinking about ways to improve [the experience].
The other big component of our digital presence is email marketing, and it's something we see great returns from. We built a custom template on MailChimp, and we try to send out those emails biweekly.
I just spoke with someone recently who talked about seeing a high customer bounce rate at the shipping point in the checkout process. When they didn't provide an estimate of shipping costs in real time, people just leave. We're just so used to that kind of convenience.
We have a feature on each of our product pages where people, before purchasing, can contact us directly for a quote. When we started the site, we got a lot of people asking for quotes. Interestingly, now we have less. I guess we've built some trust with our client base, or maybe we're attracting a different group at this point—who just wants the item and hasn't seen anything else like it and is willing to pay.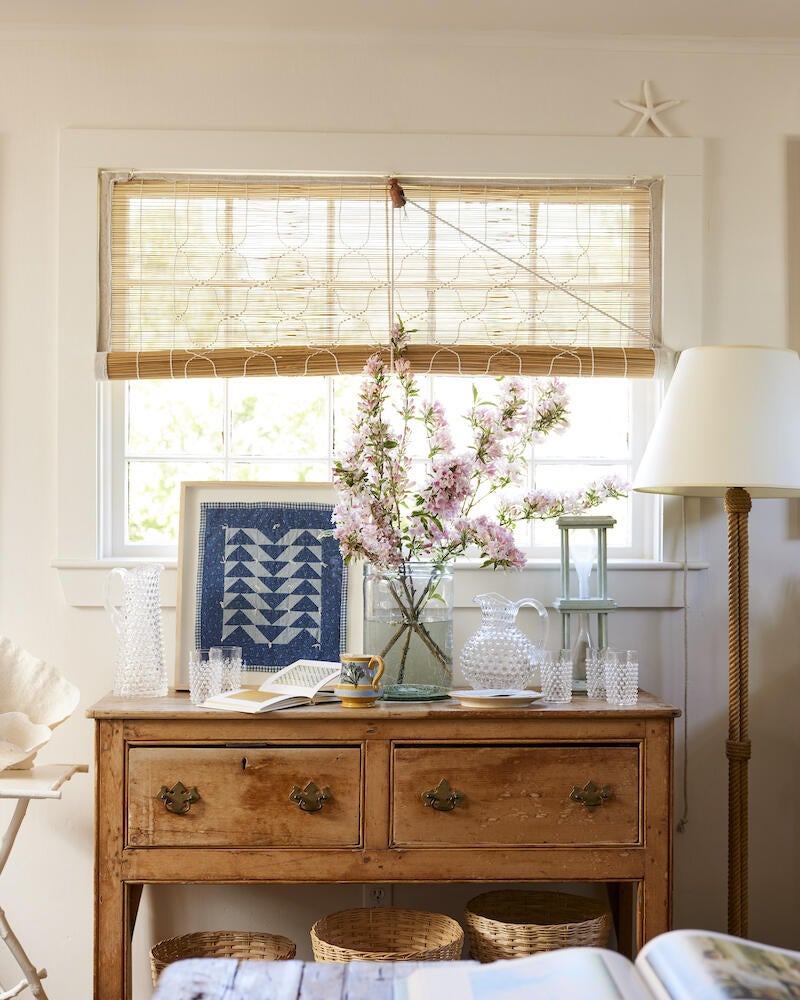 Courtesy of Tori Jones Studio
What did you learn from your first summer that surprised you, and were there ways you adapted between last summer and this one?
The first summer was all antiques and vintage, which remain the heart of the business. I didn't have a lot of those items that can be easily picked up by anybody coming in. We've worked to have more variation in our price points. For people who come in and appreciate—but cannot necessarily afford or are not in the market for—a big antique piece of furniture, we try to offer small things that are still of a quality we can stand behind.
How do you plot a business financially with a seasonal store? Or does the majority of the business come from online purchases anyway, so it's not a huge concern?
I'll be honest in saying that, yes, the majority comes from online. Even when the shop is open, the online business remains the backbone. I am primarily an antiques dealer, but we take on design projects, too, and those have come to us through the shop. The shop is a way for us to attract clients. It's a select group of [projects] we take on, just because our team is so small and we want to keep the focus on retail. But that's a lot of what goes on in the off months. We are thinking, too, about a second location. That's probably in the cards for the future, to have something on the mainland.
You now have the store you always wanted. How do you feel about the future of small business? You're still, on some level, competing with the Amazons and the Wayfairs of the world.
There are a lot of challenges. Having been a market editor for so long, I'm very cognizant of what furniture is selling for in other places, whether on Wayfair or through a big-box retailer. I think we offer something that is just so much more authentic. We offer an experience in our local community.
And I've always thought this, but I've noticed that clients are saying it to us more now, too—there's an awareness that antiques are good for the environment. These are things that have lasted for so long, and will continue to last for so long, with respect and a little bit of love. These are things that can be handed down and are not going in landfills. People are more interested in that. It's an Amazon world, but I see an awareness and interest in value, quality, timelessness. Small businesses are the ones that offer those things.
What is your favorite day as a shop owner?
When we get new deliveries in. We are constantly re-merchandising our shop, so every time a customer comes in, something's different. Being on an island, we have a bit of a captive audience. People are always coming in and discovering new things. We also have special events, art openings, and those are fun days. I love it when families come in together to pick out an item, and when people send us photos of the pieces in their house. That's really rewarding.
Homepage image: In 2021, Jones tested out a pop-up brick-and-mortar concept on Block Island, Rhode Island | Courtesy of Tori Jones Studio