In Business of Home's series Shop Talk, we chat with owners of home furnishings stores across the country to hear about their hard-won lessons and challenges, big and small. This week, we spoke with retailer Laura Weiszer of Philadelphia's Betsu Studio.
Weiszer pursued several creative paths before striking on the surprisingly satisfying—and lucrative—side hustle of finding and fixing up vintage furniture and design pieces. After first selling on Etsy, she opened a garage for her wares and finally a sprawling warehouse in Philadelphia's Port Richmond neighborhood, along the Delaware River. There, she and her staff of appraisal experts welcome visitors, vintage seekers and the occasional TikTok follower. Weiszer chatted about ongoing e-comm challenges, her love for chairs and the ultimate ambition for the store.
What was your career like before the shop?
I got my BFA in illustration and started doing editorial work after college. Illustration led to graphic design, which brought me into the film and production world. Eventually, I started doing set design—film, commercial, TV, music videos—and that was really rewarding. It combined the creativity and flexibility of my freelance art career with a sense of community, and a hands-on aspect that I really loved. I still felt a bit all over the place, and freelance is very feast or famine, so it never really felt stable. Betsu is the closest thing I've had to a stable career, though it didn't start that way.
How did it start?
Around 2016, I was working from home a lot—or was unemployed from home a lot—so I spent my free time redecorating. I had a very small budget, so I would find furniture at thrift stores with broken legs or chipped paint and restore it, either to its original glory or something totally new. Then I would get bored of it like a month later and sell it, so eventually, I made an Etsy shop to help get rid of a few items, and they all sold pretty quickly. This side hustle was different than the other hustles of freelance life, because every aspect of this genuinely made me so excited and kept me interested in learning more, from rewiring lights to coding a website, creative copywriting, bookkeeping, all of it. I would take the profit from one sale and put it back into buying new inventory. I eventually had too much to fill my house, so I got a small garage space in Philly. Then I outgrew that. Within two years, I ended up in this giant warehouse, and I've been here ever since.
What is the vibe of the store?
We are in an old industrial warehouse on the outskirts of the city, so you feel like you've found a hidden gem when you come to visit. The ceilings are really tall, we have huge windows, and everything's painted white, so it's really beautiful and clean. You can see people's faces when they walk in—their eyes just light up. In terms of the aesthetic of our inventory, 95 percent of what we sell is vintage, and 50 percent of that gets reupholstered or refinished in some way. We focus on design from the latter half of the 20th century. Because of the nature of vintage, the inventory is rotating constantly. Every week the website will be different, and every time you come into the shop it'll look different.
Who is your typical customer, given the location?
[Betsu is] a destination, and we are open by appointment. Philly is smack-dab between all of these East Coast cities, so we get a lot of visitors who come specifically to shop with us. But we do most of our business online and have shoppers in New York, Los Angeles, Austin, Miami, all over.
We [also] launched a trade program this year and already have a long list of designers signed up. We go above and beyond the usual perks like a discount and tax-exempt purchasing. We'll help them source specific pieces for their projects and give them access to our exclusive Instagram content, which lets subscribers have first dibs on new arrivals before they go live on our site, plus real-time behind the scenes while we're on the ground sourcing.
Tell me more about your sourcing process. Is it the internet, estate sales, are you traveling?
A little bit of all of that. When we started, we did a lot of thrift stores, and they were incredibly reliable and consistently full of treasures. Now, thrift stores are mostly full of particleboard, but I do still love that hunt. At this point, we have established a reputation online and in our area, so we get a lot more people coming to us directly, like, "My aunt is downsizing, and she has this teak dining set. Do you guys want it?" Those relationships are incredibly valuable on top of the other hunting that we're always doing.
I wanted to ask you about your pricing because I was really struck by how affordable it was. It just seems so approachable.
It's so funny that you say that. That, for me, is the telltale sign of someone who is not from Philly: "Your price is so affordable." Philly is such a working-class city, and that's ingrained in me, too. Being born and raised here, I've always been price-conscious. When I'm doing research on a piece and learn what it's worth, a little voice in my head might be like, "Damn, that's too expensive. Could I make it more affordable?"
It's all relative. Yes, we have competitive prices in the vintage design world, but we're expensive for Philly. And yes, we could charge more and people would probably pay more, but at the end of the day, I'd rather try to keep prices lower and keep inventory moving. We work twice as hard to find good deals, we're creative with improving and fixing pieces, and I assume that operating costs are lower in Philly than most other cities. I'd rather pass those savings to our customers.
All of your staff are educated experts at appraisals. How have you built your team?
I am so lucky to have my staff. Last time I posted a [job] listing, I ended up going through a hundred resumes. There's no shortage of talent in Philly! One of my staff has 10 years of experience working at 1stDibs, then another staff member has 10 years of experience in marketing. There are only three of us full-time, in addition to contract workers, photographers and delivery drivers. Right now, my goal is trying to keep them happy and fulfilled and invested.
Since most of your sales are online and shipping is so much work, what is your approach to e-commerce, and how has it changed over the years?
We started out on Etsy, so e-commerce has been a part of the business since day one, but it's an ongoing project. We're always investing in ways to improve user experience and site functionality. Shipping has been one of our biggest challenges—coming up with a way to generate automatic shipping quotes at checkout feels like a necessity. I know so many shops that say, "Call us for a quote!" But I can't imagine having to do that work every time a potential customer wants a price. As a shopper, that is a complete deterrent for me. It's a big pet peeve not to have transparency. That's been one of the biggest challenges of e-comm in the past couple years.
What were some of the hardest aspects of the pandemic to weather?
Where do I start? The lockdowns caused a lot of our in-person sources to go online. Where we used to just compete with buyers in a room with us, we're now competing with buyers all around the country or the globe. That still hasn't really gone back to normal; a lot of those places are still only selling online, so that's been a challenge. On top of that, shipping prices, fuel prices—you still have Amazon and other big box stores offering free shipping, so people become accustomed to that. We saw a lot of dropoff at checkout once the shipping prices were calculated. But I think that just goes with [being a] small-business furniture dealer.
At the same time, did you experience the pandemic boom?
Absolutely.
Has that slowed down?
No, business is still really steady and has been growing. I was only in business for two years before the pandemic, so I've only had room to grow, essentially.
Is there a certain kind of item that everyone's looking for, that flies out the door?
We designed and produced our first product, this "portal mirror." We had a 100 percent sell rate. We couldn't keep them in stock and did a lot of runs until eventually our fabricator was too busy to make more. Lighting has been a top performer for us this year. I made a TikTok that went viral, talking about how shitty the overhead lights that come with every rental apartment are. Lighting has been hard to keep in stock. We have a few contemporary makers that our customers love, and vintage lighting always flies.
Do you think that's a price point thing or because accessories funk up a space? What's your theory there?
It's a bit of both, but we do offer a lot of items at lower price points than some of our lighting. I think it's accessorizing and who knows—maybe that TikTok! Maybe they all saw it and were like, "Turn those overhead lights off. Let's fill our homes with lamps."
Was this your personal TikTok or a branded store TikTok?
It's not a branded, professional TikTok, and not as polished as our Instagram or website. I started during the pandemic when everyone got on TikTok. If I have an idea for a video, I'll make one really quickly, but it's not an area I invest too much time in.
Are there other marketing extensions that you've seen a lot of return from?
We get great responses from our weekly newsletters when we drop new inventory. We also have our shop linked to Instagram, so it's easy for us to post a picture of the warehouse and tag every product in the photo; people can just click and shop, so that's been really helpful.
What are your own favorite items that come through the shop?
I have this thing with chairs. I'm at the warehouse right now looking at all of our inventory, and we have chairs of all shapes and sizes and colors. Aside from chairs, it's the pillows we made with a seamstress in our building using scrap pieces of fabric left over from our upholstery projects.
To go back to the mirrors—what's your approach to creating your own products?
I'm always sketching ideas; I'm looking at different designs every day, all day, and I have so many ideas of products that I want to make. While I would love to produce more of our own designs, production isn't at the top of our priorities. The world is already full of so much stuff! The portal mirror was only conceived of after I found a perfectly fine piece of mirrored glass on the side of the road. It needed a frame if I was going to sell it, so I designed it, had a friend build it, posted it on Instagram, and the response was crazy. There were so many people asking for one, so I worked with a local carpenter to make more. I never sat down and thought, "What's the next big product going to be? What do the people want?" I just took what I had and made it better. That's my strength: fixing what's broken, restoring and re-imagining what already exists.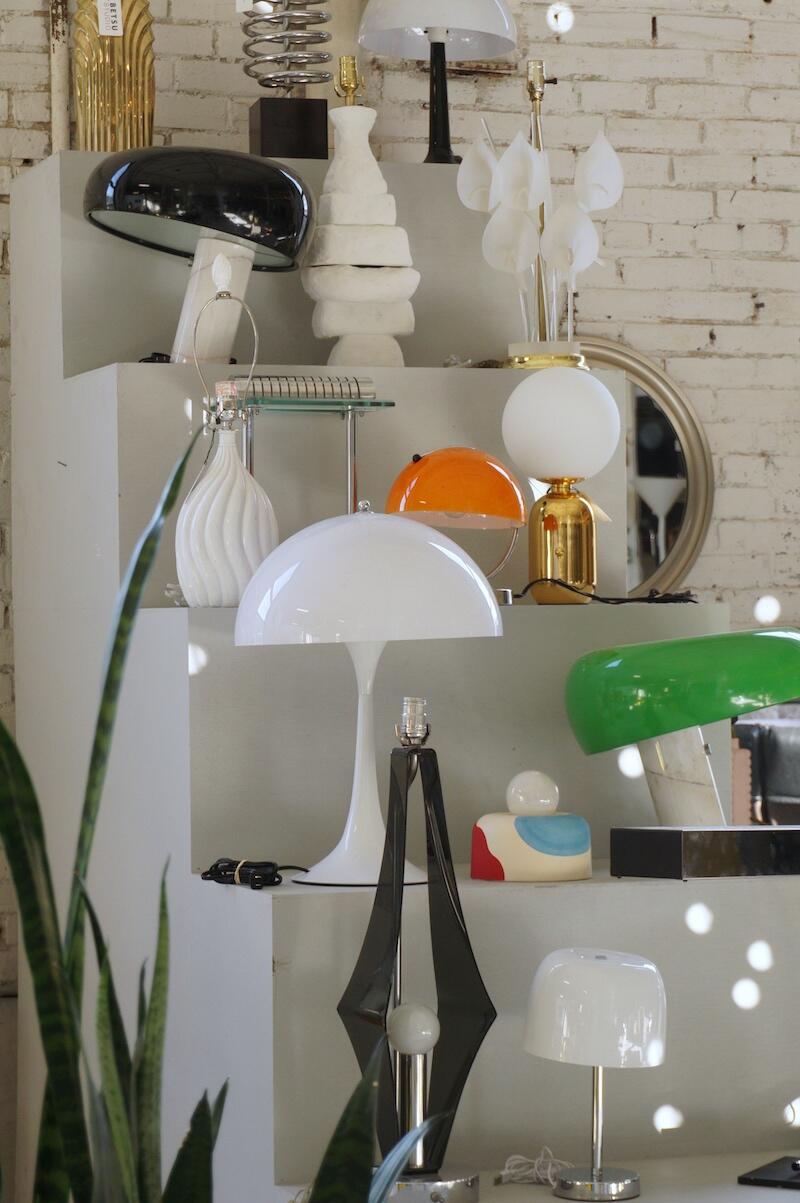 What's the Philly design scene like? I don't think of it as having as big a scene as, say, Atlanta, of course.
Betsu is a unique experience in Philadelphia. There are only two to three other shops that do curated vintage design and modern home goods like we do. I think it's true that some of this has to do with a small local economy and more working-class customers, but I also think that so much of this has to do with Philly's DIY spirit. There are thousands of creatives here who make their own pottery, lighting, furniture, you name it. It's somewhat sustainable to do it, to sell it yourself and make a living, and there are a lot of creatives who are super thrifty—so many of my friends scour Facebook Marketplace daily and go to Goodwill weekly. On top of that, there's a general attitude that most people here don't care about being "cool" or being told what's cool—which I totally vibe with—but I think that might be why there aren't more shops like ours, and why Philly isn't the first city most people think of when they think of design.
How do you feel about the future of independent business?
Being a small business owner is a challenge on a good day. But if the pandemic showed me anything, it's that small businesses are really adaptable and resilient. When big-box retailers have had drops in revenue and done massive layoffs in the past quarter, we've maintained stability and have even flourished. As a small business, we embrace change more readily and we're able to make those changes quicker. I'm pretty optimistic, I must say.
One shop owner I spoke with said they'd rather be a tugboat than the Titanic. You can pivot more easily.
Exactly! I have so many friends in Philly with small businesses, and they were selling face masks immediately when the pandemic hit. It took Target months to get those on the shelf.
Are there places you'd like to take the business from here? What are your ambitions?
We have 2023 and 2024 goals calendars that I collaborate with my team on. I have tons of ideas, but in the grand scheme, I just want to keep on keeping on. To maintain a career that brings me and other people joy—that's the biggest goal.
What is your favorite type of day as a shop owner?
I feel most at peace when I'm on the road, traveling to go treasure-hunting in areas of the U.S. that have no cell phone service. Windows down, listening to music, headed to find stuff—that's my happy place. But I also find it extremely satisfying and rewarding to spend a day bookkeeping, pulling and analyzing reports, and obsessing over the most minute details of business operations. It's all about balance for me!
Homepage image: Betsu Studio is in a sprawling warehouse in Philadelphia's Port Richmond neighborhood | Courtesy of Betsu Studio