The 50 States Project is a yearlong series of candid conversations with interior designers, state by state, about how they've built their businesses. Today, we're chatting with Fargo, North Dakota–based Lindsey Christie, who founded Lindsey Grace Interiors three years ago after moving back to her hometown and realizing that her dream job didn't exist. She tells us about the importance of on-the-job learning, why e-design hasn't taken off for her firm, and how she focuses on the value of saving time when she's pitching her services to clients.
Did you always know that you wanted to be a designer?
I did. I don't know why I wanted to become an interior designer—I didn't have any interior designers around me when I was growing up—but I think it stemmed from watching HGTV and thinking that was really cool. I had no idea what the career was, though, I just knew that I wanted to do it. I went to school and got my four-year degree at North Dakota State University. Once I signed up for the interior design program [and got the course list], that was the first time I actually learned what the career would truly look like. It was like, Whoa, do I actually want to do this? It was a lot more work than I thought it would be.
What made you have that initial reaction?
When you first start, they spend an entire weekend going over what the different careers look like [within the design industry] and what you can do with them. They showed us that you can do residential, but you can also do commercial. You can do health care, you can design prisons—there's an interior designer for everything out there. And that was a little bit overwhelming.
And the subtext there is, 'We're going to teach you to do all of those things,' right?
Oh, yes—and they definitely do. Our program focused more on the commercial side of things because they feel like if you know how to do that, you can really do anything within residential.
I love having interns, and that's because I had really great mentors myself and learned so much from them. I really push to my interns, and to young designers in general, that if you want to grow quickly in this industry, you need to get your schooling, but you also need to start working right away. I started working in the actual industry sophomore year and never stopped. I am pretty young—I've owned my business now for three years and I'm not even 30 yet—and the reason I've been able to do that is because I've had such lovely and amazing mentors. I interned under James Rixner in New York; after graduation, I went to the Minneapolis-St. Paul area and worked under Bria Hammel while she grew her company.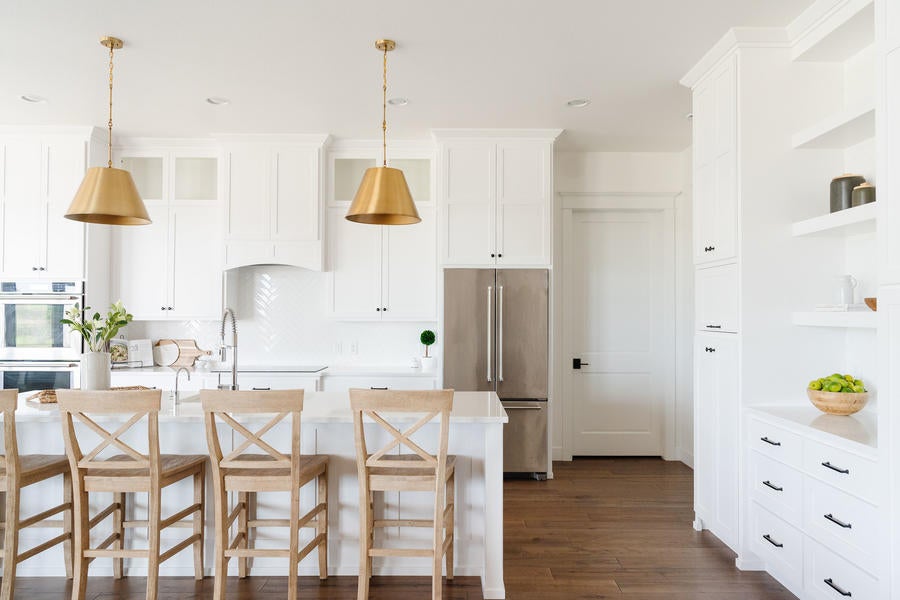 Courtesy of Lindsey Grace Interiors
What's some of the on-the-job stuff that you just can't learn in design school that was so helpful to you?
How to talk to clients. That was the earliest thing—sitting back and shadowing, learning how to talk to clients and run a design meeting. In New York, the other biggest lesson was all of the product that is out there and available to us as designers. Working alongside Bria, it was how to actually run a business—how you sell the product, how you provide services for builders in order to have the new construction side of it.
I still keep in touch with all of my mentors. Running a business, there's always some new challenge—I mean, I'm three years in and I finally feel like, OK, this ship is not going to sink. I used to feel that way every day; now it's maybe once a week. It's [so helpful] that I can still reach out to these amazing designers and ask them questions.
What made you want to launch your own firm?
I moved back to Fargo to be with my husband, who has a career here. I was not planning on starting my own company, but I did a lot of interviews, and I quickly realized my dream job did not exist here. There are other designers in Fargo that do something similar to what I do, but I can truly say that none of them provide the same full-service decorating and new construction services, and I saw that and I saw that our market really needed that. I told my husband, "There's nothing out there that I want to do, and I'm not going to settle." So I created my own business.
What exactly is your niche, and why was that so needed in Fargo?
New construction here is booming. When I came in three years ago, it was extremely busy. One thing that I knew right away was that I wanted to build a relationship with local builders. I wanted to be the client's go-to, but I also wanted to be the builder's go-to to have on the team to make it a really fun and easy process, you know?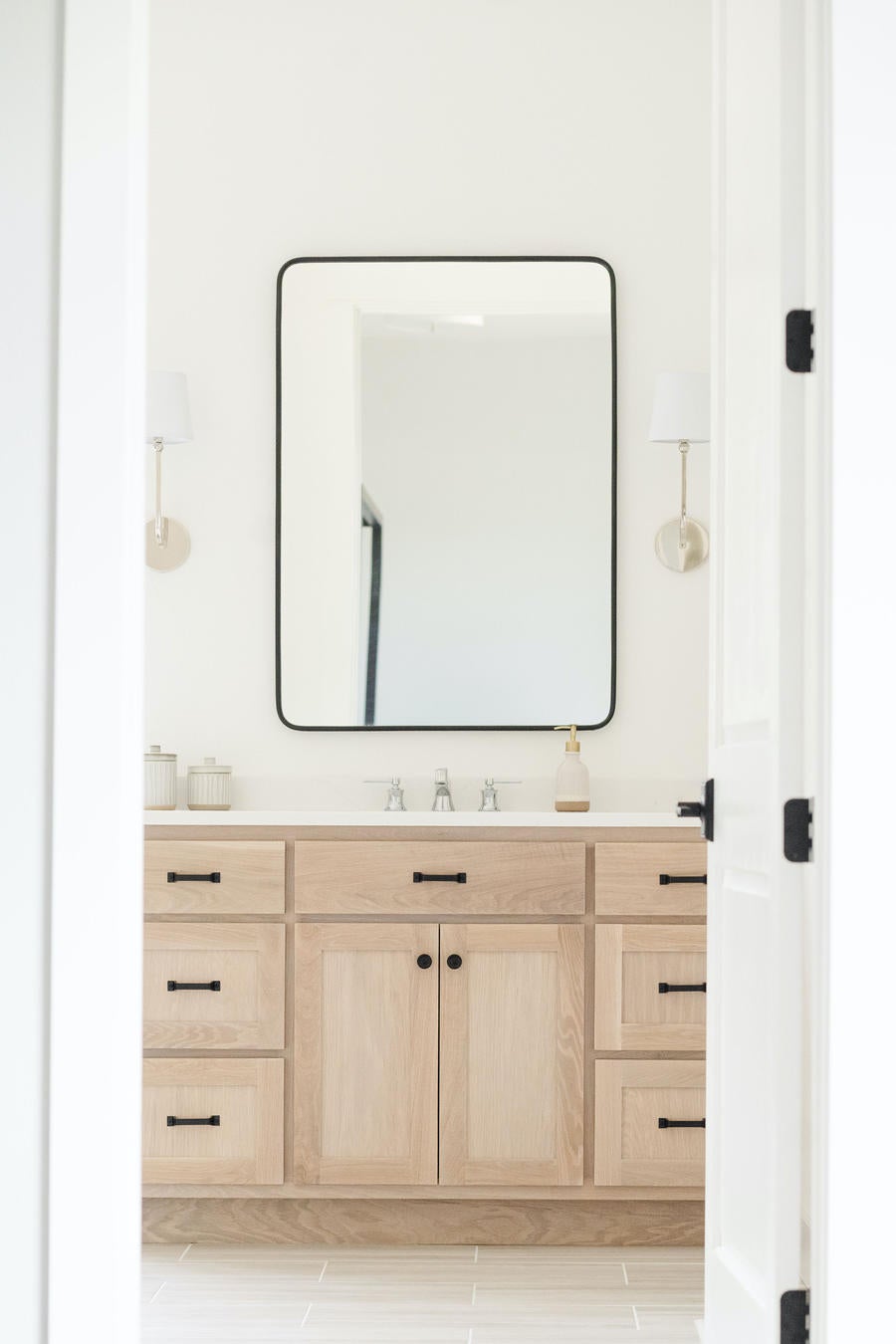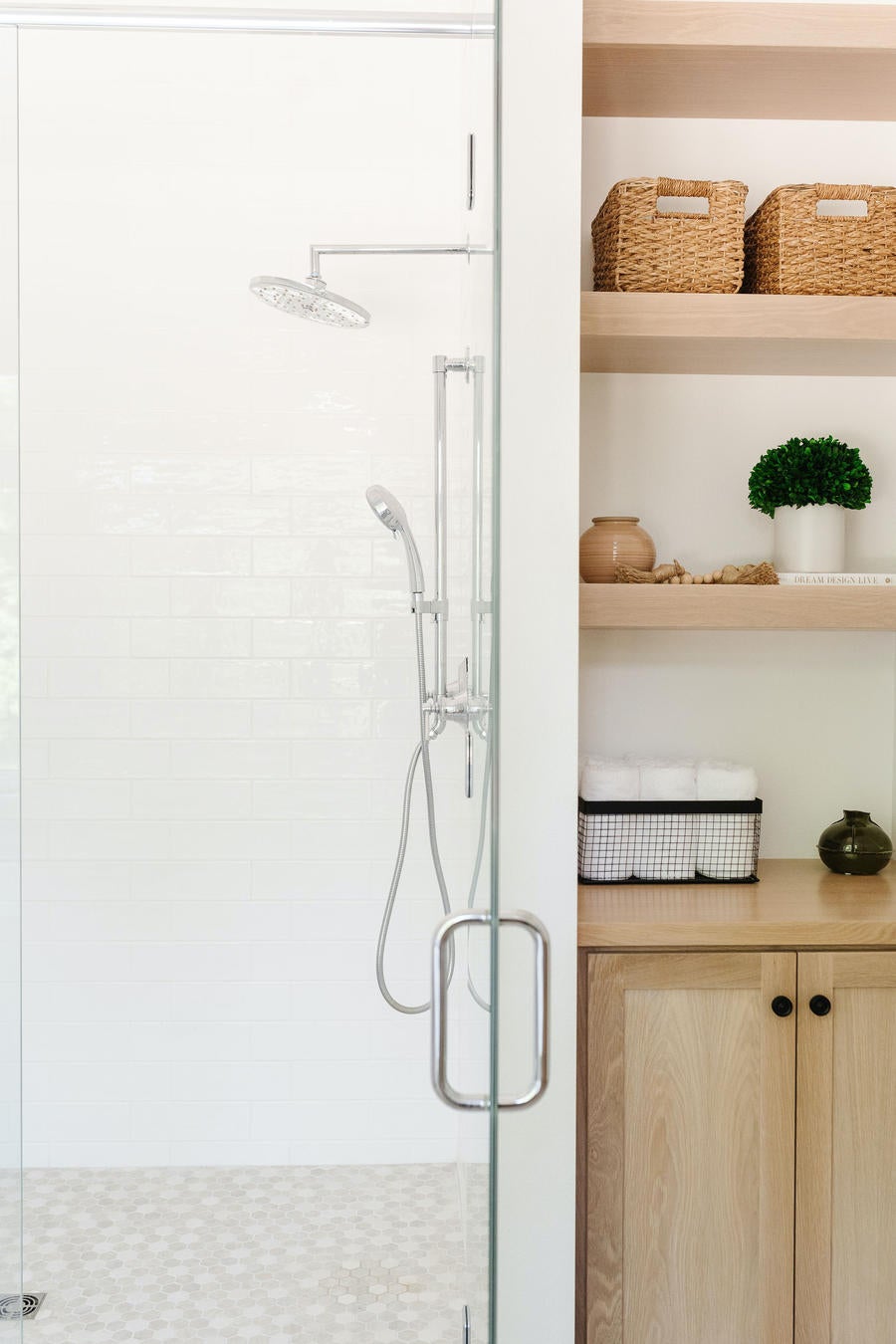 How did you pitch yourself to builders?
I met up with a lot of builders when I first got here, and I saw that they were all sending their clients to the showrooms and then expecting the showrooms to communicate all the selections back to them. Some of the builders were even going to the showrooms with the clients! I was like, "How are you building the houses and doing all the design work?" So I really had to introduce the entire concept of full-service interior design and what that would look like to the market and to the community and how much of an asset it would be to everybody.
Were they receptive initially?
No, it took a lot of convincing on the builder side of it.
Has that changed?
Honestly, there is still a lot of educating consumers on what they should expect from an interior designer and the value that we bring. I work with business and marketing coaches to figure out how to really educate them on what to expect. It's gotten easier now as I [get new clients] through referrals.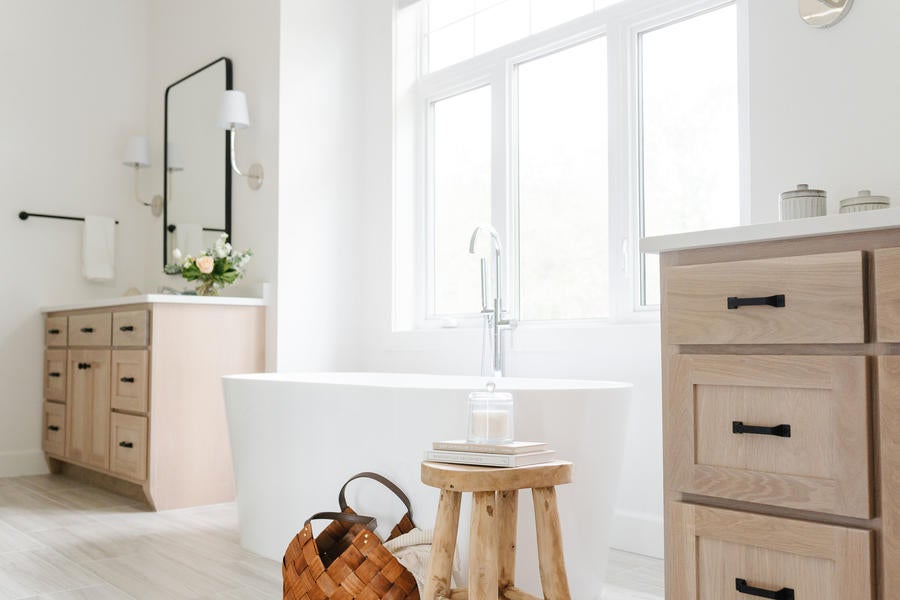 Courtesy of Lindsey Grace Interiors
How has the firm grown in the past three years, and how did you build your team?
I officially hired an operations manager last month, I have an intern, and we opened our brand-new studio space this month! It's our own personal office space in a shared building in Fargo, close to a lot of the homes I work on. It's actually one minute away from one of our big remodels right now! That wasn't the deciding factor, but it'll be very convenient this year. I had been working out of my home, and I wanted a nice place to host my clients. I'll never do the retail aspect, but it'll be a great way to showcase my personal brand.
I've brought a lot of amazing furniture lines to Fargo, but up until this point, clients haven't had anything to sit on—they just order it with a lot of trust in me. Now, we'll have a little seating area in the studio where clients can touch and feel. It'll all still be custom-ordered, but they can experience the different lines that we carry. That's been another aspect of educating our market, is talking about the different quality of frames and what you can truly expect out of high-quality furniture.
How did you know what roles to hire for to build out your team?
I've been taking on a much larger workload, and I never want my client experience to waver from what it has been. So adding an operations manager will create more time for me to keep designing [by taking on] the pricing, order tracking and receiving. I also have interns, and one thing they have been really good at is the drawings. That's extremely helpful as an asset to our company.
You mentioned that you've brought a lot of lines to Fargo, but in general, what kind of resources are available? How and where do you source?
For commercial projects or finishes, we have great showrooms—the tile, countertop and cabinetry providers here are amazing, and I source all of that locally. And if they don't have what I want, I don't go to the cities. Instead, I'll ask them to bring in the product that I'm looking for. We are really, really big on supporting local here.
On the more soft goods, furnishings side, what resources are available?
I create my own resources. I brought a lot of the lines that I grew to love while working with James and Bria to Fargo, and everybody's really been loving it. Obviously, when I was in New York, I had amazing showrooms and I was really able to get my hands on a lot of great materials; when I worked with Bria, we would go to market [to meet with vendors]. She was in the early stages of starting her furniture line [Brooke & Lou], so you get to know the pieces really, really well.
How do your clients find you right now?
We have a really great local publication, Midwest Nest, where I place print ads. They do a really great job locally. That's something that I noticed was extremely different from Minneapolis. There, they have The Scout Guide that a lot of people will look at. But here, every single month, my mom, my aunts, my clients, everybody grabs an issue of Midwest Nest at the grocery store and throws it on their coffee table.
That's amazing.
It's so crazy, but it was huge for my business. I started running print ads there and people think, "Oh, she's being featured." That's what I did right away. I also really focused on my social media.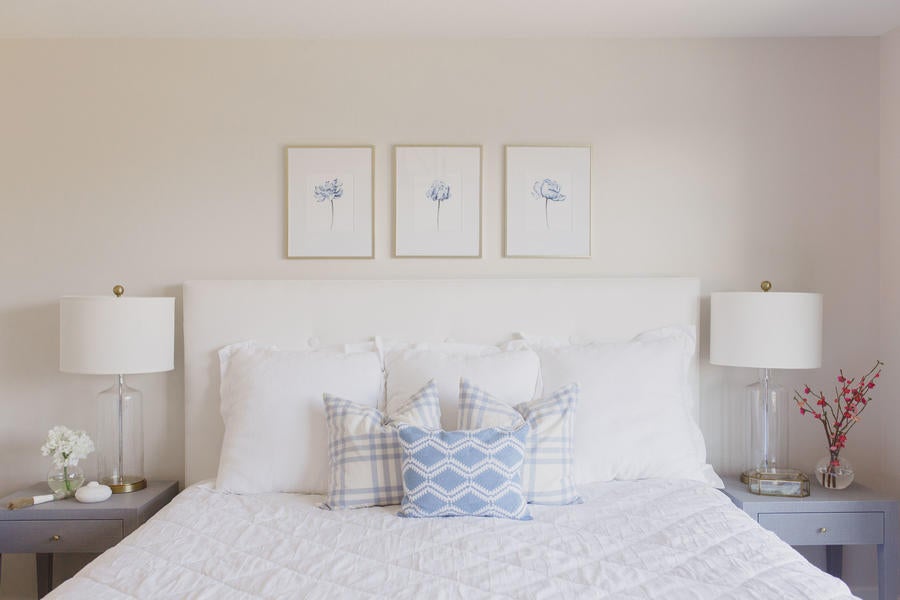 Courtesy of Lindsey Grace Interiors
What has your angle been for getting that right?
I would say just being authentic and approachable. And also understanding that it is secondary—I don't expect my clients to find me on social media, but once they see my print ads in Midwest Nest and want to get to know a little bit more about me as a person, I try and have my social media showcase what they can expect the tone of our relationship to be and also get a really good visual sense of my aesthetic. I want to elevate our market and show that the Midwest can have amazing design.
When you talk about services, your site highlights new construction, decorating and e-design. How big is each of these categories for you?
I would say it's 50-50 between new construction and full-service decorating, but they happen within different phases of the year. In the summer, we are very focused on new construction, and then we phase into more decorating in the winter.
Has e-design been a big piece of the business ever?
It hasn't. My clients want that in-person connection, not just the service.
How do you approach the client management piece of the business?
I typically become the third person in their marriage! No, I'm joking, but I think it works because people trust me, and they trust me because I am super authentic. I always want them to truly know that I am there every step of the way. Home building is a very emotional, expensive, exciting process, and I think that I bring a lot of value to my clients by just knowing that no matter what comes up throughout the process, it's normal, I've usually dealt with it before, and I'll be there to take care of it. For most people, building a home is probably the most money they'll ever spend on anything in their lives, and for it to be a miserable process that nobody ever wants to do again—that isn't good for our industry or the consumer, so I want my clients to feel like it's a fun experience. It really should be!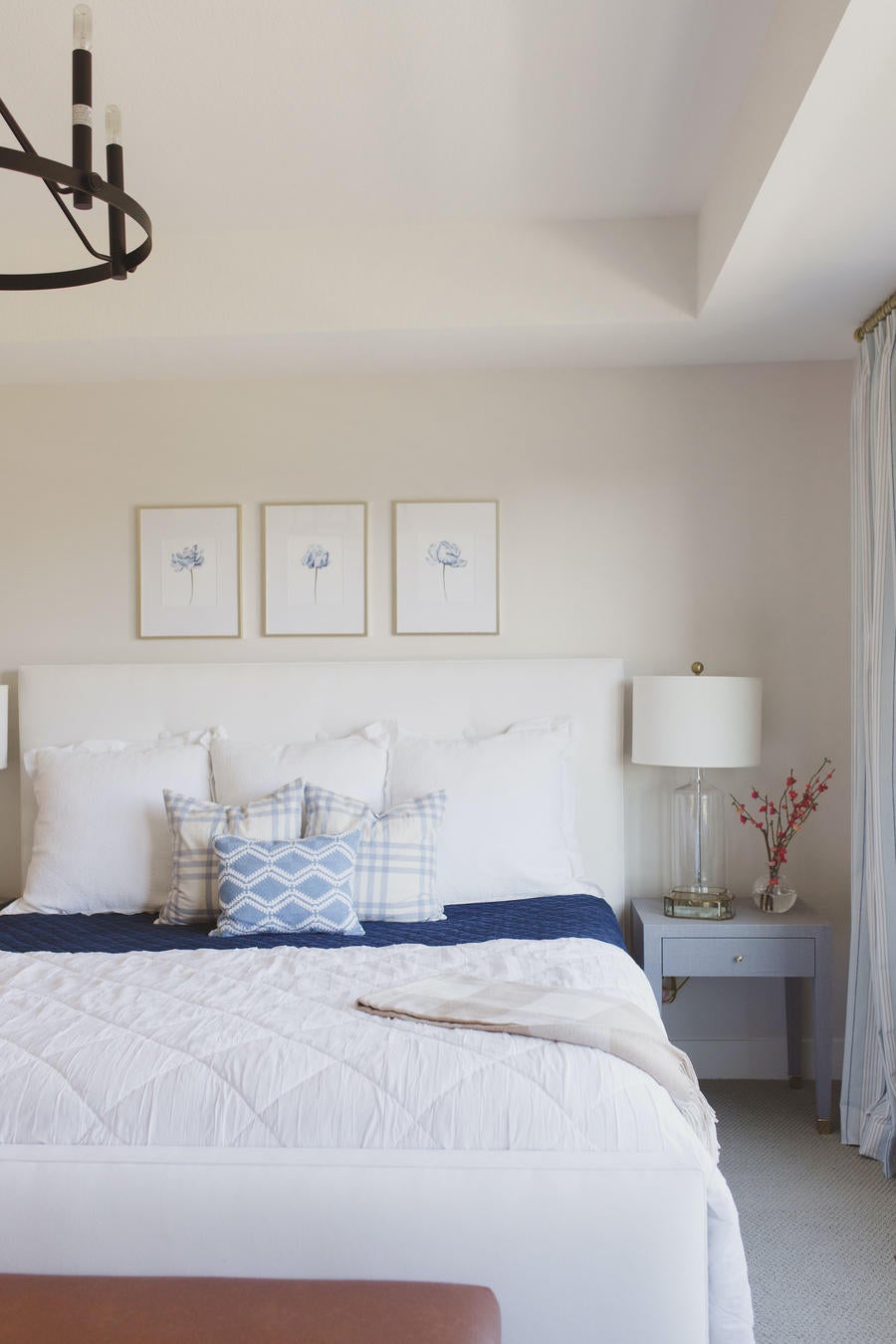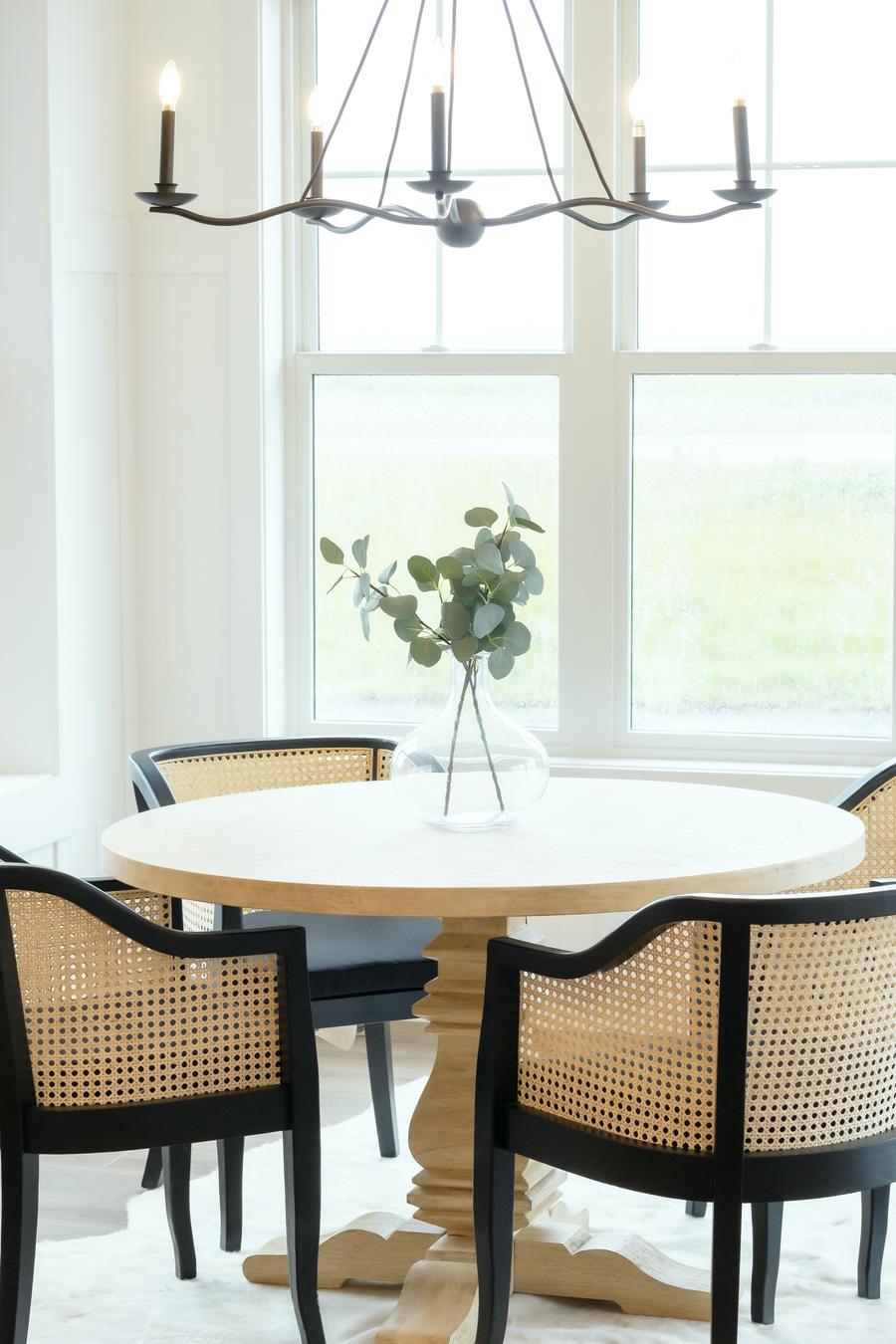 You touched on a topic I'm super interested in at the moment, which is that sense of value. How do you talk about that? How do you help the client understand the value that you're bringing to the project?
I talk about their time. I ask them, "How much do you value your time?" And then I walk them through what it would be like if I wasn't involved in the process versus if I were to be. Whether you're making a sandwich or planning a trip, everything is always better when it's done by somebody else. That's how I look at the home-building process, and especially the decorating process.
You mentioned age earlier. Have you experienced moments where you felt that being younger held you back or made it harder to do the job?
Because I don't have kids, people sometimes think I don't know how to design for families with children, but I usually nip that in the bud in the first design meeting. I've actually studied children and what they need—really, what everybody needs from their home. That's what makes me a good designer.
Who is your client? Is it the young family with kids?
It is! We do design for a lot of families with kids. Our ideal clients are people that just don't have time.
How have you established how you want to bill for your services?
Right now, I offer flat rate fees for builders and industry professionals, and then every other project is hourly. I had to look to what my previous experiences taught me and then I felt out what was right. That's something I tell my interns: That's something that just takes experience, and it's not going to be the same for each market. Along the way, if I felt that I needed to re-evaluate and make a little bit of a change due to the entire market, I would do that, but I have never changed [how I charge] based on how the client thought that they wanted to do it. I definitely think standing your ground and saying, "This is how we run it, and it's in the best interest of you and me"—that's so important.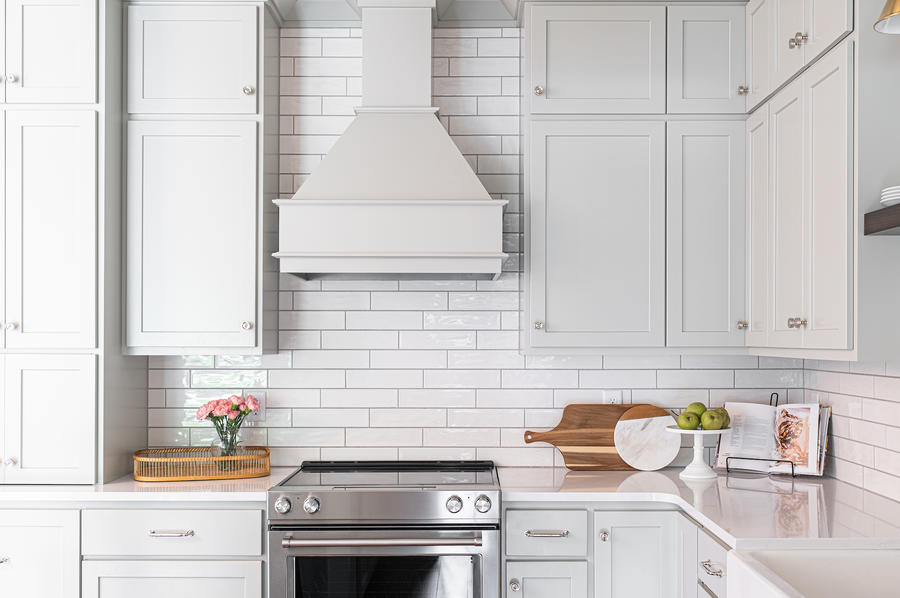 Courtesy of Lindsey Grace Interiors
When you say for builders—is that a house with no homeowners yet?
Yes, exactly. And after working with them [on a few projects], a lot of my builders now refuse to do a house without me. They realize the time they save by having me be a part of the project, so they don't even give the clients the option to not have me a part of the job. In those cases, the builder is essentially hiring me as a staff member.
How did you set that up?
I reached out to all the builders and asked them how their current process was going and what their pain points were. I explained to them that by simply just adding me to their team, it's going to make the experience look like this versus how it looks now—and they really couldn't say no, because it works! Having the clients taken care of during the build process and truly adding the value of my services, it was a no-brainer for everybody.
If you have a builder who has a client, does that tend to lead to more client work?
Any client that they get, I will for sure get for this upcoming year. These builders are going to build at least three to four houses, so I will have three to four new builds with this one builder. It ensures that my pipeline is full, and then it leads to more work if that client decides to sign on for decorating services.
So when you are working on the builder side, it's much more like the hard surfaces and the fixtures and things like that?
Yes. I help the relationship, too, because if I have a client come to me first, I know each builder's processes and how they operate, and I'm able to then pair up the client with the builder that I feel would work best for them. That saves time on the builder's end, having to interview clients that may or may not work out.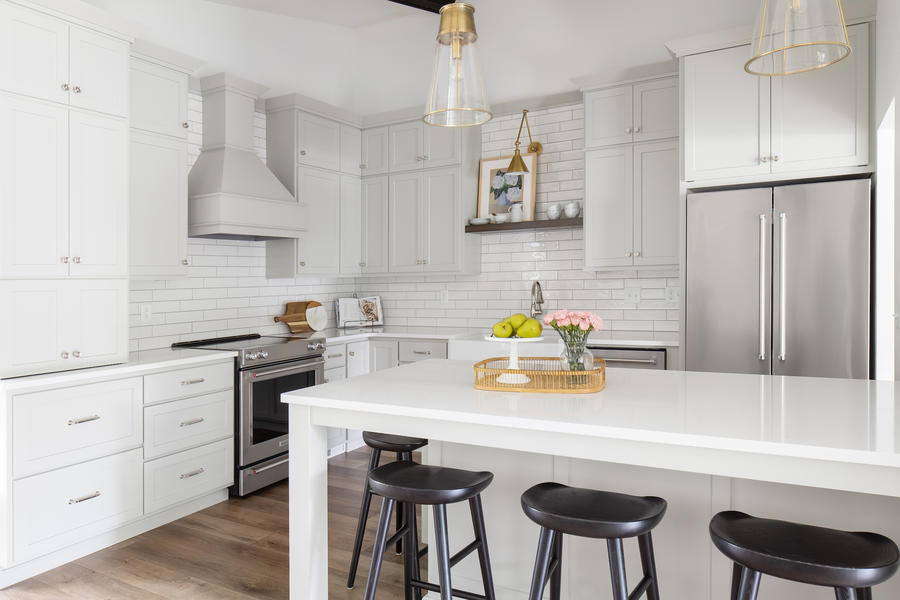 Courtesy of Lindsey Grace Interiors
How many projects do you have in the works at any given time?
It's anywhere usually from nine to 14.
And you've been doing it by yourself until this month?
Yes.
Do you see that number growing as you grow your team a little bit?
I think so, though I don't know that [doubling the team] means I'll maintain double the projects I'm working on. My goal is to maintain the customer and client experience. Making them feel the way that they do when they walk into their homes at the end of the process is definitely something that makes me want to keep doing it.
What is the biggest thing you wish you knew when you were launching the firm?
Probably that you're never going to please everybody.
In terms of clients?
Yes, there's just some people that, no matter what you do, they're not going to be happy. So we probably shouldn't have got in there [and taken that job]—that's been the biggest lesson. The other thing was just learning how to navigate every situation that is thrown my way. Everything is always new, and I think just recognizing that is something that—I had to recognize that I'll never always have it all the way figured out, and be open to growing and changing.
To learn more about Lindsey Christie, visit her website or find her on Instagram.