​​In Business of Home's series Shop Talk, we chat with owners of home furnishings stores across the country—and the world—to hear about their hard-won lessons and challenges, big and small. This week, we spoke with Nur Kaoukji, the co-founder of the Kuwait- and India-based home decor shop Ecru.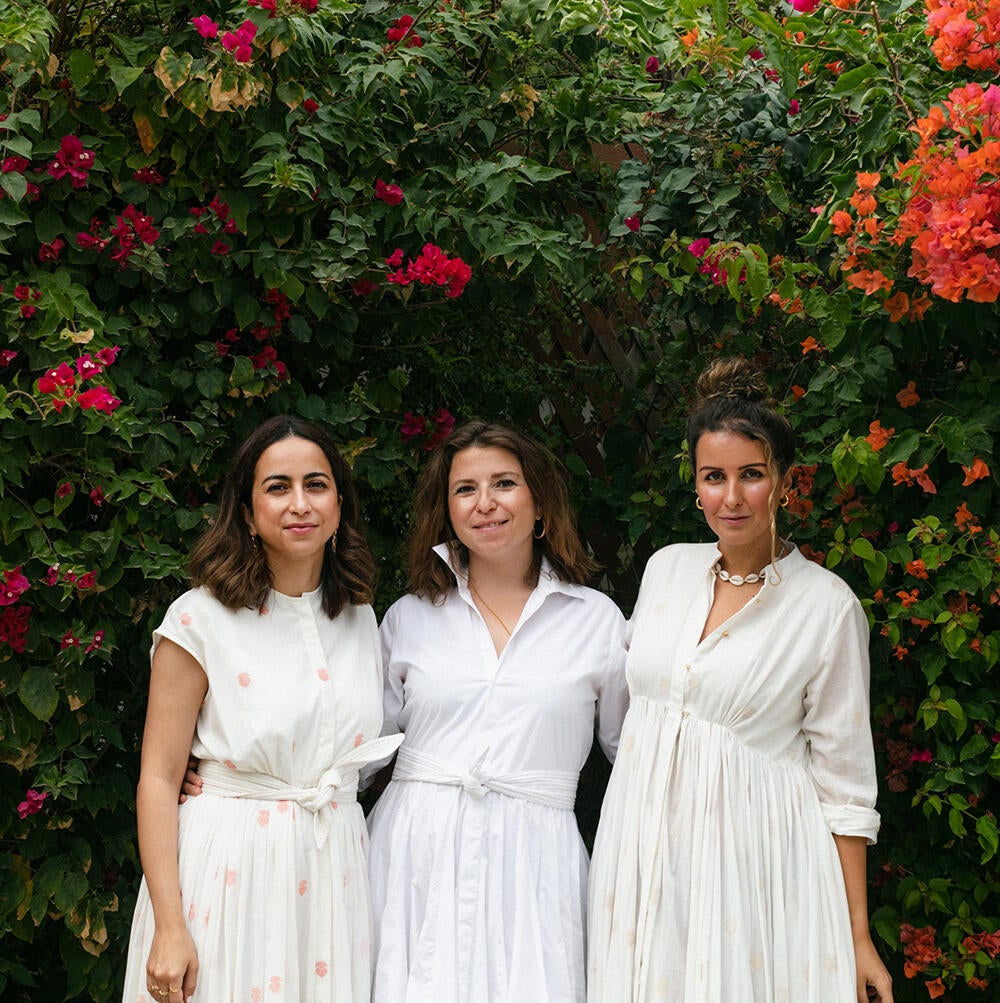 Ecru is the product of two creative childhood friends from Kuwait—Kaoukji and Noor Al Sabah—and first launched in 2013 as an online store that celebrated the products of Arab hospitality, including tableware, furniture and textiles. The pair eventually brought on a third partner and childhood friend, Hussah Al Tamimi, and in 2021 opened a brick-and-mortar retail "bungalow" in Kaoukji's adopted city of Jaipur.
Ahead, Kaoukji discusses the support (and demands) of their initial Kuwaiti customers, working with Indian artisans and the founders' hopes for tackling the rest of the globe next.
How did this idea come about?
Noor was already heavily [involved] in fashion, in a very big group based in Kuwait that was responsible for bringing important and interesting designers to the Gulf region. I was always interested in craft. I was working in jewelry predominantly in the beginning, working with ancient techniques still used in India today; I arrived in India at 21 to focus on these techniques. On arrival, I fell in love with India, so I wanted an excuse to stay. Noor and I grew up together and did creative things together a lot. We thought, "Why don't we combine forces and create something we both need? We're pretty sure other people might like it, too." We tried it and it worked.
What was its original form?
It was a pop-up. Hussah was a school friend who was also creative; she was working in books, but she loved fashion and we had similar interests. We asked her if she wanted to join us 10 years ago, and she said yes. The community in Kuwait is very, very supportive. We were working with artisans in India, but we were a local concept, and people were genuinely interested; it wasn't just family and friends. We had the pop-up open for maybe a week, and we had an immense amount of people come. It was word of mouth. We had one more pop-up and then we were online.
What was the array of products at the beginning?
It is pretty much the same [as it is now]. We had a series of kaftans that I had created alone, and then things for the home. The product range hasn't changed much—whatever [products] we found master artisans in, we focused on and developed. It's all quite organic. There are no rules, and that's the beauty of having something small. We're just three friends making things we like.
How else did you gain traction?
We were one of the first small [home] brands to be online. I think, at the time, Net-a-Porter's biggest client base was Kuwait, because Kuwait was one of the first countries to trust purchasing online. So going online was really interesting, especially with things for the home; a lot of times, people like to see and touch and feel [those products]. For instance, marble is always different. [You might see] a photograph with a particular grain and then receive a piece with a completely different grain. Obviously, there were a lot of bumps, but we were really lucky to have started off here, in this small market that gives you a lot of feedback.
What kind of feedback?
Oh, my God, we had people who would literally send us videos of their homes and be like, "OK, I want to put this here, but it's a bit bulky. I'd like it small." That was essential to us, because then we understood how people used things practically. Then some people are like, "I want to buy something, but I want you to be able to [send] it to me the same day in a different size." You start to understand what a customer's expecting in terms of service, and what you can and can't provide. When you're up against big companies, their services are incredible.
Arab and Indian retail experience is very particular, because we have the ancient souk culture—you receive someone, you give them a coffee, you speak to them about their family, where they're from, you have a chat, then you show them things. You make them feel like they're the only person who ever shops in your store. People are very used to that relationship, and you have to translate that through a computer. The conversations that we have with clients via Instagram [aim to] create that same feeling. If someone feels comfortable enough to send us a picture of their home via WhatsApp, then we have a conversation about it, chitchat. You have to keep up the level of hospitality that people expect and enjoy.
You just explained how that relates to customer experience, but how does that impact the merchandise as well?
When you enter the shop, we have replicated a typical Arab living room, with plates and serveware out to receive a guest at all times. Usually you receive people with dates, dried fruits, nuts, tea, coffee. Stay on for a meal, stay on 'til the evening, stay on as long as you like! Everything around that form of hospitality is depicted in the products we [offer], even the scents—you have a smell of [the traditional incense] bakhoor.
Why open in Jaipur?
I'm based in Jaipur, and I absolutely love it. It's home. At this point, it is an Indian brand as much as it is Kuwaiti, in the sense that it's based on the artisans [and their products]. Also, it's one thing for the artisans to see a photograph [of their creation] on a website; it's very exciting to see it in a setting. They come and bring their families.
Who is your typical customer?
Our largest customer is from the Gulf, where we started, because they know our product best. It's predominantly women, of all ages. You have people like my mother, the curator of a museum; she has family, she has children. She buys a kaftan, she buys gifts. A lot of people buy plates, tea cups, glasses. You have Mother's Day, Christmas, Ramadan—when we receive a lot [of orders]. On the international scale, we have quite a few designers who purchase on a wholesale basis to decorate for events. We're aiming to see if there's an interest in the product in the United States. We have no idea.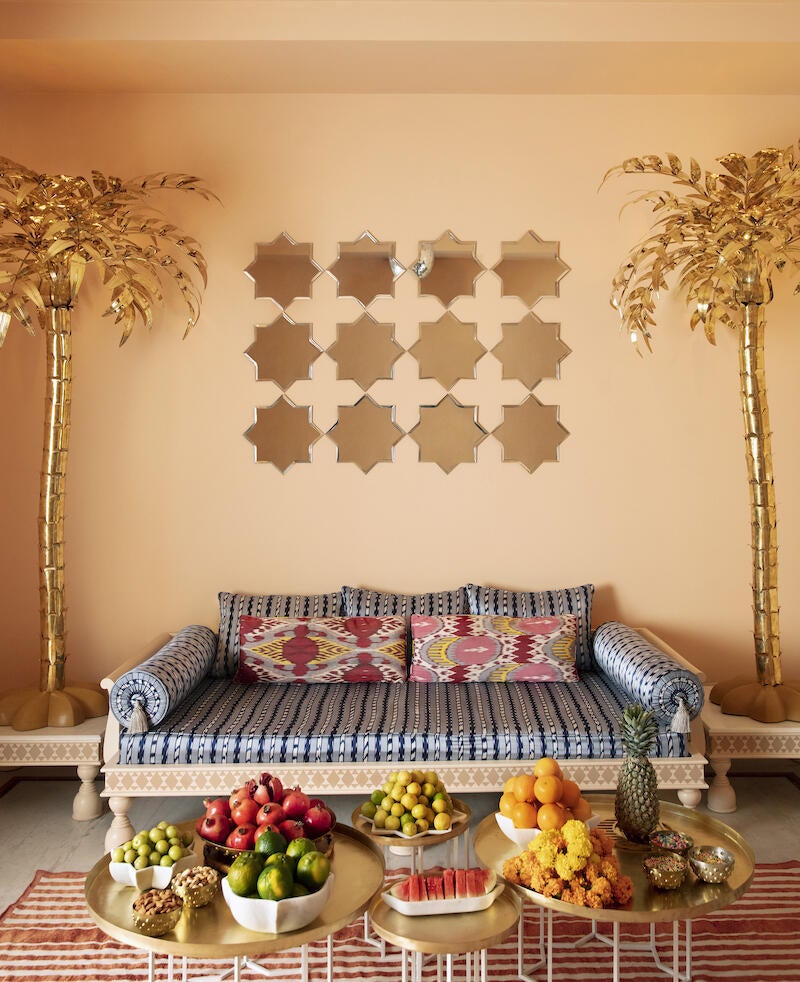 Where do you find your vendors? I imagine some of them are long-term relationships.
A lot of them I've been working with since I was 21. One of the carpenters was [initially hired] for a project I worked on 15 years ago, and now he does all our woodwork. He works with reclaimed wood, and he's a master. Another example—I found out about this textile called mushroom that I was very interested in, made in Syria. I used to work with weavers in Syria who sadly are no longer around, and then I found out that historically they produced this exact same fabric in Gujarat, India. I went there and scouted and sourced until I found weavers with this textile, and now we work with them on a regular basis. You look into the history of a craft and how it developed, and if it moved, then I'll go to that region [to make new connections], either through my network of friends, or my team, or local artisans who know about other artisans. You scout them that way.
How much of the merchandise does your company produce, and how much of it is from vendors? Or is it artisan partnerships?
Ninety percent is things we've designed, working directly with an artisan who's generally either self-employed or working together with a group of artisans. But we also do collaborations with independent artists or brands who work with their own artisans. We give them our input and ask them to produce something exclusively for us, generally. Then there's a very, very small percentage of extremely exciting finds that Noor or I or a friend will find when traveling, an object that's extremely beautiful, and we purchase those. We've had small collections of these kinds of objects. But predominantly, it's in-house design and artisan production from our network of artisans.
What is an object or a category that sells out fast, and is it different in the store versus online?
It's less [between] the store and online and [more based on] location. On the website, outside of the Gulf, we sell homewares most—the glass and marble and table linens, etc. Whereas in the Gulf, what we sell like mad is our clothing, something that doesn't necessarily translate [in other regions], because certain kaftans are very traditional. You have to know how to wear them, how to accessorize them. They're not kaftans you wear to the beach with flats. They're silk, worn with heels. You wear them really dressed up, but not out for dinner in Paris. In this respect, we are branching out and creating things that are more urban or more international.
What was it like to open your doors in India during the pandemic, as the country was so devastated by Covid?
I mean, I hate to say it, but we did remarkably well during the pandemic due to the fact that we were online. One of us at a time would go in and get the orders sent out; then there was, by law, a two-day interval, and then we'd go in. But the most important thing was that the orders were going out. We were small enough to not have to fire people, not have to minimize our teams, no salaries got cut. We did well.
We didn't want these phenomenal artisans [to lose all work]. The carpenter who had all these projects put on hold—he was not being paid—it was the ideal time to have that ray of light: "OK, don't worry." Of course, people couldn't go to the shop, but we were working via computer, and all these artisans' homes are often attached to their workshops. Everyone was working and had a project, which was really nice for all of us.
How about some of the global pandemic issues, like supply chain or shipping problems: Did they have an impact?
Huge, yeah. Not during the pandemic, because luckily we produce two major collections a year, and we had just finished the production of the biggest one, so we had stock. What became an issue was after the pandemic, when we were hoping to reach an international market, and we still are—suddenly you get slapped with this massive increase in fuel prices. Shipping has gone from being 10 percent of your final bill to 25 percent. A lot of people were deterred from purchasing, and that hit us hard.
Another thing was, we work a lot with glass, and there was a lack of oxygen cylinders. A huge black market developed, and then the value of oxygen also skyrocketed, so the artisans' prices skyrocketed, and therefore our retail price. Things you wouldn't even think of! In India, most of the stuff comes from India, so that was OK, but then one aspect of your stitching machine comes from China, and to get that fixed was suddenly extremely complicated. So definitely, the issues came post-pandemic, in the last two years.
Some of your products are expensive, and it seems possible that the Kuwaiti and Jaipur customers might handle that differently. Can you talk a little bit about how you set pricing?
In India, your average consumer will have had access to these artisans, so they know cost-value. They know, for example, that if you're going to produce 15 of something, it's going to cost you a massive amount, as opposed to 1,500 of something. Also, our products here are sold at a different price range, because they don't [require] international shipping, packing and insurance, so it is definitely cheaper if you purchase in-store in India.
In Kuwait, [customers are] very exposed to products from all over the world. We are as expensive as a European homewares brand, but ours are hand-painted. We have a clientele that's loyal to us and keeps returning.
What is it like to operate a retail business in Jaipur? What are some of the challenges and the advantages?
It's difficult for me to tell in the sense that I've only been exposed to that. We started this business when we were all very young. I'm sure it must be easier in a city that's more international, in terms of facilities. If you're based out of Delhi, things get shipped out that day. If you're in Jaipur, it gets shipped out the next day, because that goes through Delhi. But for me, Jaipur [operates] on a much more human scale. If there's an issue, I go myself to clear up that issue. I'm not in this bustling city where you have to deal with a hundred people before you get an answer. It's much more manageable.
What are your goals for the business? Would it be opening another location, another city? Is it expanding e-comm?
The three of us would like to expand internationally and see how [those new demographics] react to the product. We're curious to see if people understand, appreciate, enjoy it. The dream is to reach many, many places without ever compromising our capabilities. Certainly, we're not interested in producing hundreds of thousands of anything. We want to stay at the scale that we are at now, which is sustainable and human, working with artisans who can have a life and be comfortable as opposed to turning into machines.
What is your favorite kind of day at work?
The thing that excites the three of us the most is when you have an order from somewhere very exciting; you can't help but wonder how this person has learned about us. And I love nothing more than to be in the workshops and send photos to the girls in Kuwait to hear their reactions. There are many negative things on the internet, but there are also very positive things—you can be connected and work all together despite being far apart.
Homepage image: Ecru is the product of Hussah Al Tamimi, Nur Kaoukji and Noor Al Sabah, and first launched in 2013 as an online store | Prarthna Singh