In Business of Home's series Shop Talk, we chat with owners of home furnishings stores across the country to hear about their hard-won lessons and challenges, big and small. This week, we spoke with Indianapolis-based interior designer and retailer Heidi Woodman.
Unlike many other designers who establish their interiors businesses before expanding to a brick-and-mortar shop, Woodman's aspiration was retail from the start. She was raised by a family that cherished small businesses and pledged allegiance to them with their dollars. In 2010, she opened her showroom Haus Love Interiors in Indianapolis, and found that her soulful, slightly edgy aesthetic and abundance of original art pieces were a tough sell. Ahead, Woodman explains how she fought to find her audience, how her fine-arts background shaped her vibe, and why she's resisting e-comm—possibly forever.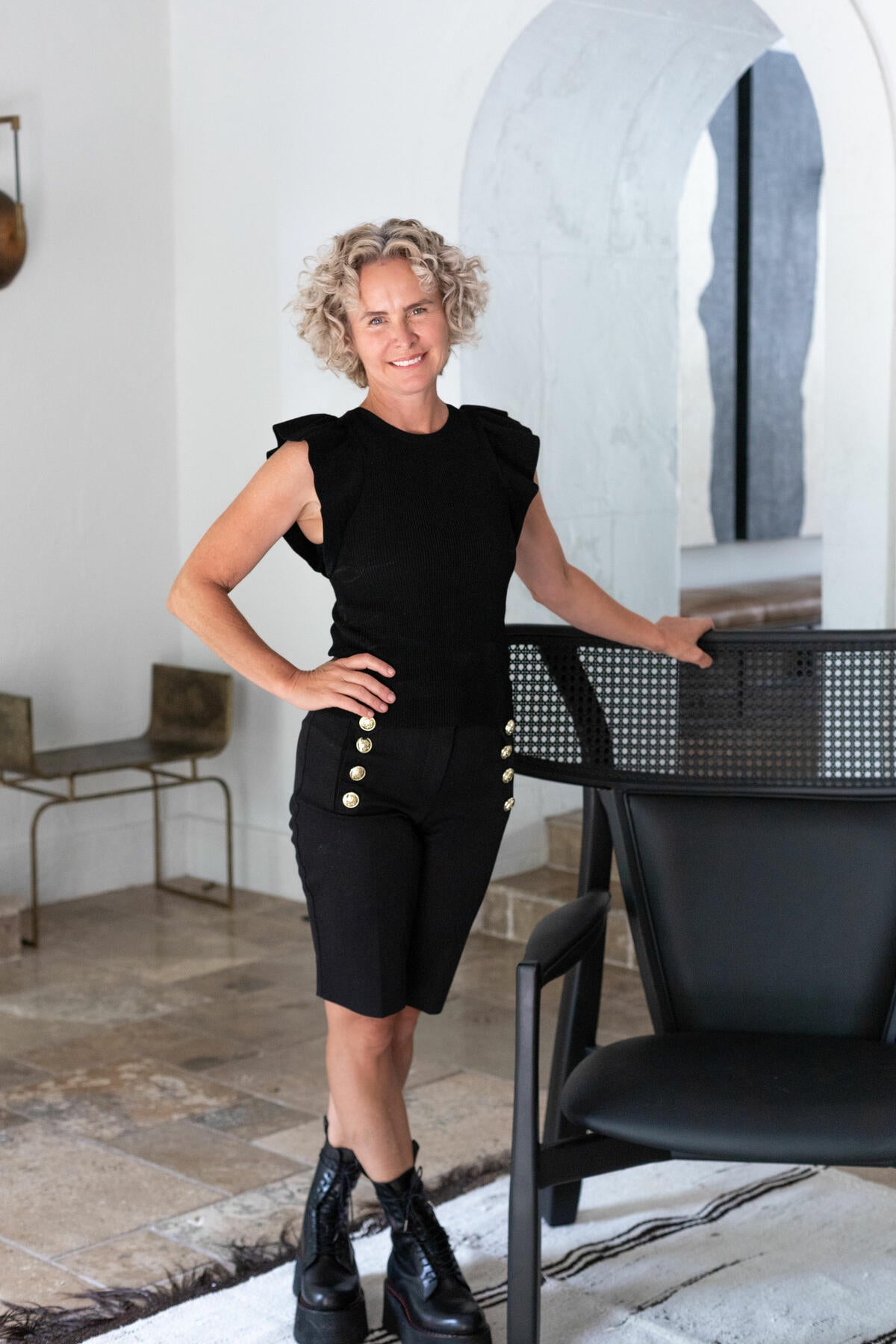 What was your career like before the store? You have a fine arts background, right?
Yes, I got my degree in fine arts with an emphasis on painting and sculpture. It took a little longer to get my degree [because] I got cancer during school. Art is very, very important to me still. I have plans to go back someday to get my master's. I love learning, all the time. With my clients, I always make sure to push art on them. It tells a story. I think art school definitely gave me a different approach to interior design as well.

How did you get into interior design?
I'm not classically trained in interior design. I told myself that if I got through treatment, I would open up a store like I'd always wanted to. I opened up a little boutique in 2010 and just filled the store with unique objects I found across the United States. I couldn't go to Europe then, because I didn't have any money, so that's how I started. Customers would constantly ask me to help them in their homes. I did a little bit, part-time, and it grew from there, organically.

My first project was actually one of my biggest projects, still to this day. She was one of the wealthiest people in the state of Indiana, though I didn't know who she was. She asked me to help with her daughter's room, and I agreed to do that, and then we ended up doing her entire home. I fell in love [with interior design] immediately, instantly. I did a little bit of research and took some AutoCAD classes, and grew my firm from there.

Where did that dream of retail come from?
My mom is German, so we would go to Germany every year growing up to visit our family. Supporting community is really big with my family, and we'd go there and constantly shop in the small shops. So I grew up supporting small businesses. I wanted to be a part of my community.

It was definitely difficult because Indiana is quite conservative, and I stuck out like a sore thumb when I first opened. I had artisan and vintage pieces, and it was uncommon back then. It's a little more common now. But I loved it. I loved meeting people in the Meridian-Kessler area [of Indianapolis] and feeling like I was contributing to the community.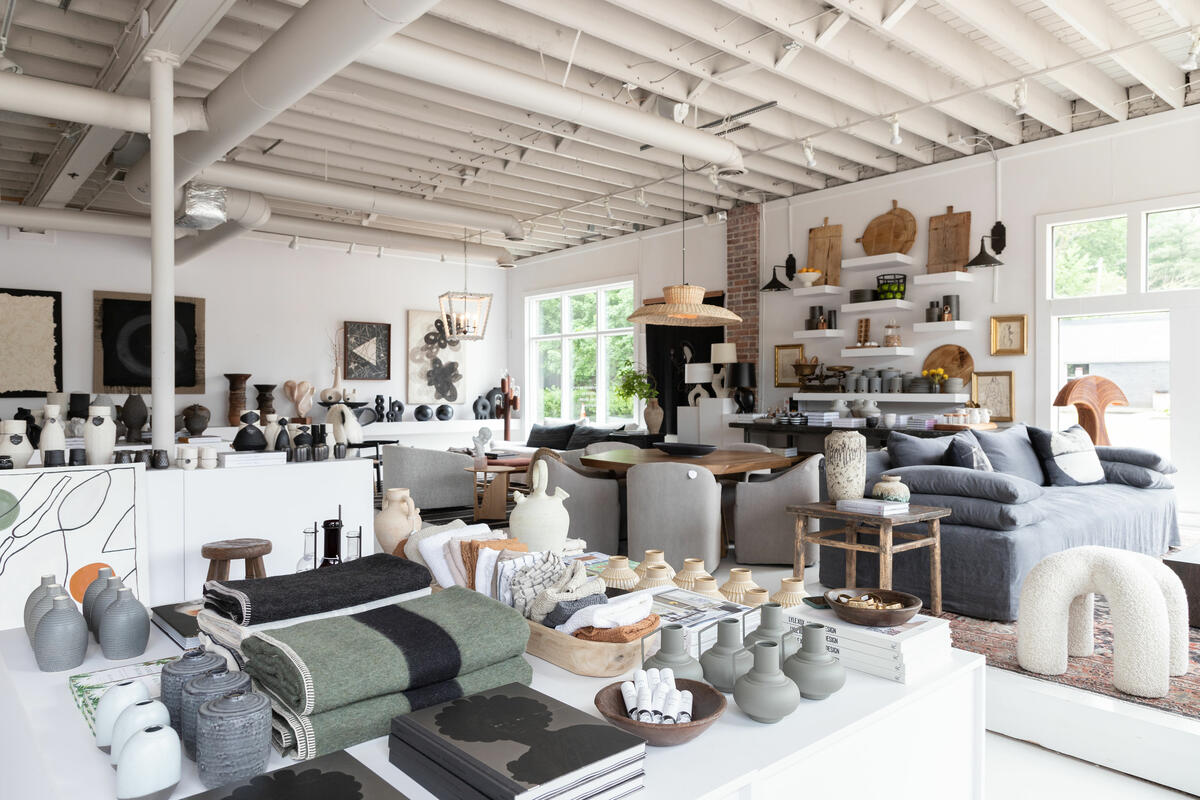 How would you describe the store's aesthetic?
I want everything to have had hands on it. I don't want anything mass-produced. It's a combination of old and new; anything new, I try to pick pieces hand-made from artists. I have furnishings in my store as well, like our sofas bench-made from Verellen in North Carolina. I think that every piece tells a story and has a soul. For art, I'm constantly sourcing, at art shows and fairs. And now, I am starting to go to Europe to buy the vintage pieces.

Do you ever use online marketplaces?
I don't. I love meeting new people, so I enjoy going to shows. Now that my kids are older, I can do that even more. I travel quite a bit now. I research shows through Instagram, and I try to meet that artist in person and hear their story. So I try not to order online, although that's easier.

Whom would you say is your typical customer? Is any of it trade?
I mean, there aren't a lot of interior designers in the city, and I think they all have their own style. I think my store is very niche. I have designers come in, but most of my sales are either through my clients or, actually, architects. A lot of people come in from out of town. We sell through Instagram as well. But it's definitely a niche clientele.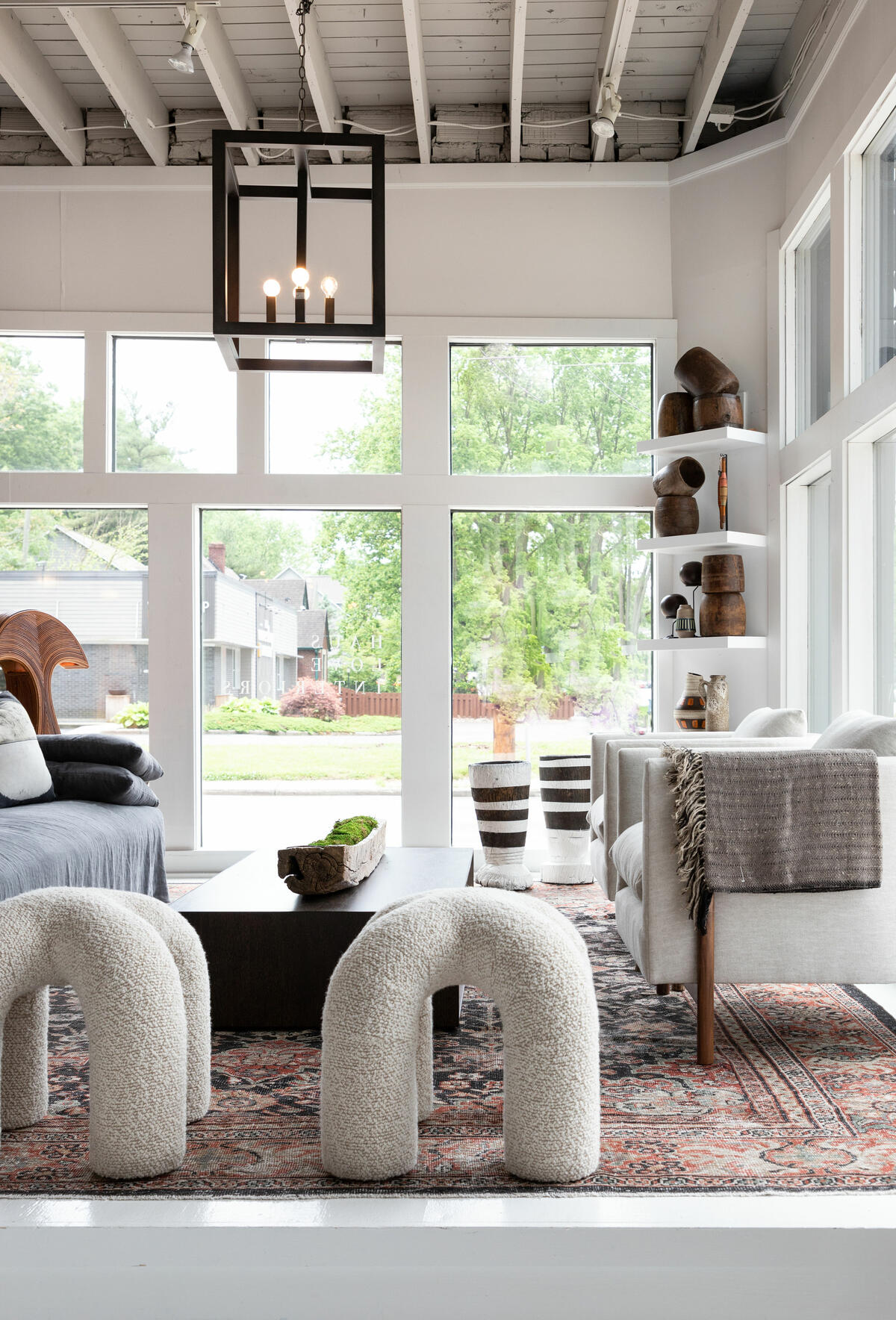 What's an object or a category that you can barely keep in stock?
That's easy: I sell these European breadboards that I go hand-pick about three times a year. I buy probably 100 of them. They're not the most clean, because they've traveled and I think they've actually been used in restaurants. We have to wash them off, and then put this lovely oil on them. It makes them sing, and then clients absolutely love them because each is so different. They're not that expensive because I buy them in bulk, and they look beautiful in a kitchen.

What's your approach to e-comm? You mentioned selling on Instagram.
I actually don't have e-comm. Our clients on Instagram will DM us and we will give them a tour of the shop, and then we have a shipper who will come and pick it up. I have been battling e-comm for years, honestly. There's something about it that scares me—I think because I don't want to get too big. I like staying small, and it's working. Especially because my pieces are one of a kind. We would constantly have to edit the website. I don't think everything would be as special to me if I was moving inventory that quickly.

Hey, if you survived the pandemic without it, I think you're good. How have you handled some of the issues of the past few years, like staffing, shipping problems and supply-chain delays?
Patience, I guess. We have to wait longer for items to come in, and that's OK. When the pandemic started, I overordered because I knew that it was going to take forever for a product to come in. Vintage helped a ton because I could get it right away, so I leaned into the vintage a little bit more to carry me through. I went to all the flea markets. And for the new pieces, we just had to wait. My customers were more patient. They wouldn't argue with me about it.

What's a business problem that you think might be unique to the Indianapolis area, that you think retailers in New York or Los Angeles might not be grappling with?
When I told you that my store sticks out like a sore thumb, it really does in the Midwest. Sadly, when I first opened, because I have an eye for the nicer, finer things, some customers would get upset with me: "This is ridiculous, who do you think you are?"

Oh, wow.
The Midwest is more traditional, so it took me several years to find my crowd. I have that now. It still is a bit of a problem when people come in who are new to the area. But I stand behind it, because everything is either made by an artist or it's old—like it's been traveled, and it's been loved on. Now, I stand up to them and tell them that.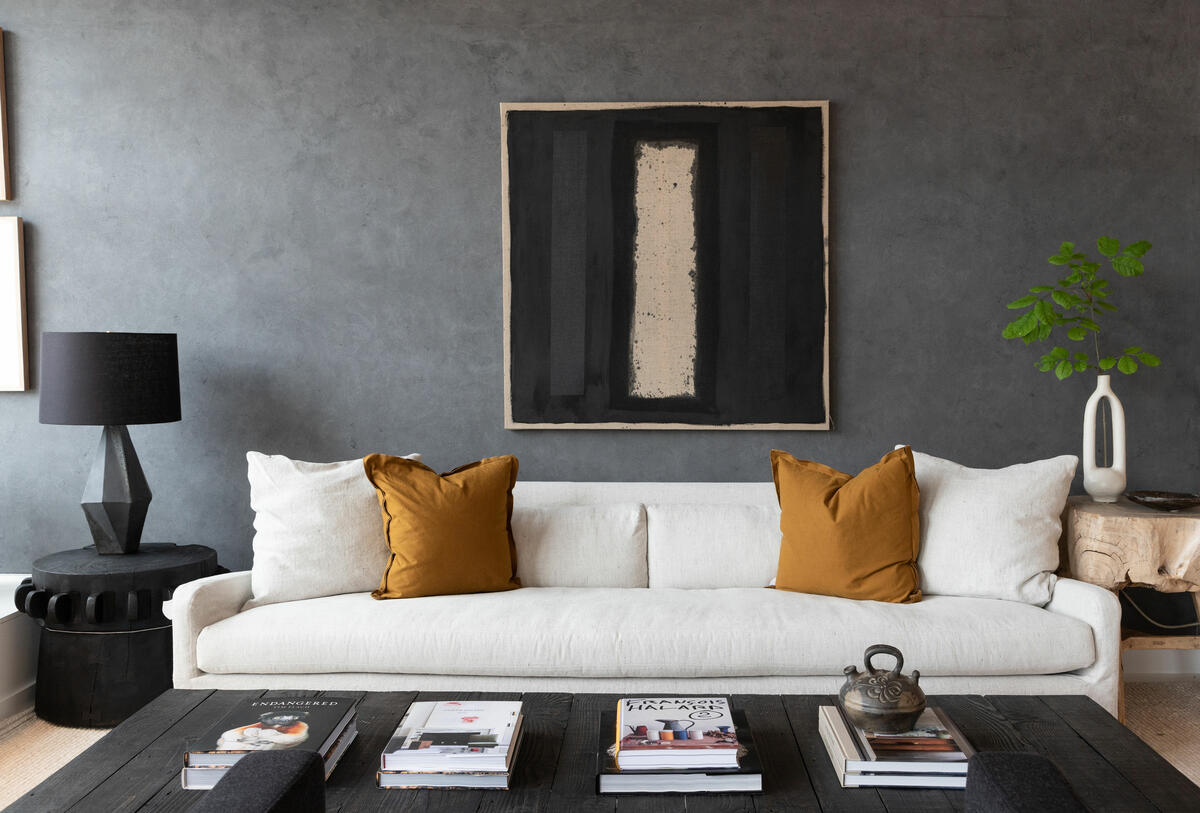 Are they reacting to the style or the price or both?
The price, and a little bit the style. Some would come in and say, "Oh, this is … different." I would always say, "Thank you? Is that a compliment?" It made me question [my buying], but I knew that eventually I would have a following. I just had to stand behind what I was passionate about.

If your market is expecting or demanding a certain look, how do you stand tough and not just give them what they want? I've heard from multiple shop owners in Florida who don't want to sell only gray-and-white beachy stuff. How did you have faith that the customers would come?
Honestly, going through cancer gave me the courage. When I got better, I told myself, "This is the worst thing that can happen to me." So in the beginning, I wasn't really scared, [even though] it was really hard. I had to wait tables at night until I developed my clientele. I didn't grow up with money, but I had passion. I have a strong work ethic. My dad and brother are business owners, and they started from nothing as well. So I was not scared. I love, love, love design.

Was there a turning point with people finding you? And if so, could you understand where it came from?
Word of mouth helped a ton. I had some business-owner friends who told me the magic number is three to five years, and that was so true. That's how long it takes to [develop] your presence, especially with a small business. I didn't do any advertising, so locally, it was word of mouth. And once I got on Instagram, that really helped as well.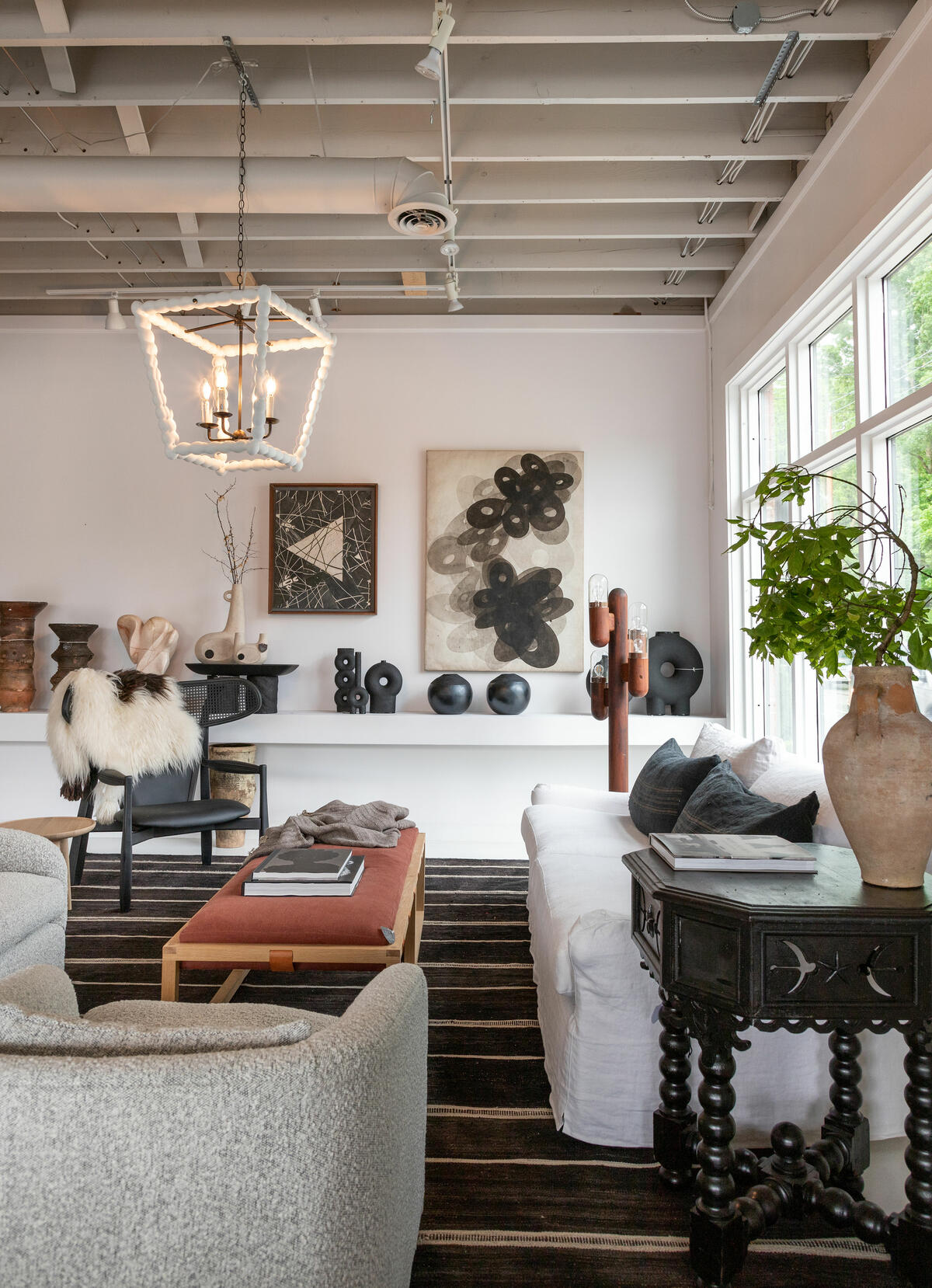 How do you discuss the price with customers who are shocked? Do you have a boilerplate speech for why a Verellen piece costs as much as it does?
First of all, sofas and chairs are important to me because in my home, that's where I snuggle with my family. I explain to my clients and customers that [those pieces are] going to be an investment. You don't want something that's going to last a year because the fabric is not the quality you need, especially if you have kids and dogs. The craftsmanship makes a big difference, as opposed to a factory, where there's just not the attention to detail. A lot of the fabrics are Belgian linen, hand-dyed. That's what I tell my clients, and they're OK with it.

We've talked a lot about the importance to you of independent business. How do you feel about the future of small businesses like yours, with Amazon and the big boxes changing people's expectations of what retail should look like?
It's always going to be scary to me, and it's always on my mind. When I travel, I take a "me" day, to walk the area and find those small, special boutiques. I always, always buy something, and I think that there are a lot of people like me out there. I don't think that that's ever going to change. There's something about that human contact that we all need.

So there's an expansion in your future, right? What's coming up?
It's actually selfish. My family are nature lovers, and we always go to the mountains when we travel, and we decided we need to just live near a mountain and an ocean. I'll keep my store and firm in Indiana, but we're scouting Santa Barbara, San Francisco or Denver. We'll see! We're excited about it.
Homepage image: Inside the Haus Love Interiors showroom | Ashley Kindred