The 50 States Project is a yearlong series of candid conversations with interior designers we admire, state by state. Today, we're chatting with Tiffany Skilling, who founded her Indianapolis-based firm in 2015 and gained early clients by leading tours of her own home on the local neighborhood association's house walk. In addition to sharing the renovation of her house and home office, she talks about seeing the potential in old homes, the in-person design activity she misses most during quarantine, and why she doesn't want her firm to grow much bigger.
Tell me a little bit about the design scene in Indianapolis—the types of clients and size of the projects you're working on.
The firm started out with just me five years ago. I did small projects, one room at a time—I'd do a kitchen, or a living room's furnishings, and a half-bath or a master bath. Now, it's evolved. We really like to focus on whole houses, and specifically in the Meridian-Kessler neighborhood and the surrounding area in midtown Indianapolis. And we like to focus on renovating historic homes.
How did you focus in on that niche specifically?
I've always loved historic homes. I'm originally from Grand Rapids, Michigan. My husband and I lived in Cold Spring, New York, for a while before moving back to the Midwest. We lived in Grand Rapids for a year in an old farmhouse—it was the first house [built] in that area, and then all these larger, beautiful historic homes popped up over time. We got our first taste of old houses there, and then four and a half years ago we moved to the Meridian-Kessler area of Indianapolis and bought a fixer-upper. It's been a labor of love, this house. But moving into this area brought me my clients. I was lucky enough to be on the Meridian-Kessler neighborhood association home tour right after we finished the house, so several thousand people went through it, and my business—I wouldn't say it exploded, but I really started to gain interest.
So, on the house tour, were you also saying, 'I'm a designer and you can hire me to do this'?
Yes. You had an option to be at the home during the tour, and I was so proud of it that I wanted to be one of the docents. I hung out there, answered questions and shamelessly handed out my business card. If you want something, you gotta make it happen.
Since then, it's all been word of mouth, and I've had amazing opportunity after amazing opportunity—and wonderful clients who believe in us, who I'm now on second and third projects with. At this point, we really are focusing on whole houses, which is super fun. I mean, it's kind of crazy right now. Some of our houses have been halted; some are still under construction.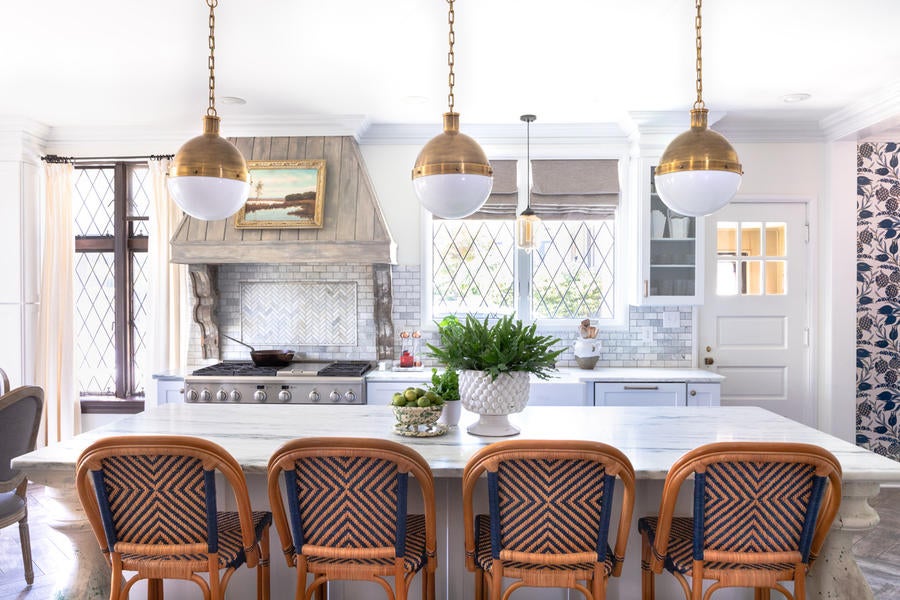 Ashlee Kindred, Ash and Co. Creative
What are you working on right now?
Whole-house wise, we have a refresh that's underway—we went in and changed the exterior, including paint colors, windows, lighting, and then new wood floors, paint, trim and lighting inside, and we redid their master bath. That's almost done. And then we have another house, a large Tudor that we've completely transformed. We changed the entire floor plan but kept all of the beautiful elements. And then we're transforming a large Greek Revival home too, and it also has an addition. Those are our big projects, and then we have all kinds of little ones going on in between.
How many projects are you typically working on at one time?
Large-scale, I would say three to five. Smaller-scale, probably 10 to 15. And then we have our repeat clients who will say, "Hey, I need a lighting update," or "I need some new art," or "I need a new sofa." We always have them coming back, so we have to have room for them too.
What does your team look like now?
Well, right this minute, it's a little different because we're all in the shelter-in-place atmosphere. But in general, Kelly Colby is our director of operations; she handles billing clients and doing all of our QuickBooks along with assisting me with design. And then Donna Porter is our design coordinator. She just joined us—she was actually a client of ours, and we just finished their whole house in January, but she started working with us in September because she loved the process so much and I was like, "Ooh! We need you!" She works for us about 15 hours a week, keeping the office in shape by making sure that samples go in and out properly and that our crazy library of samples is always in order.
Your own sample librarian!
She is. She's amazing. And she's kind of my mom too. She always takes care of me. She makes sure that the printer has ink and orders us new business cards, that kind of stuff. And then we work the Ashlee Kindred on our photography and social media.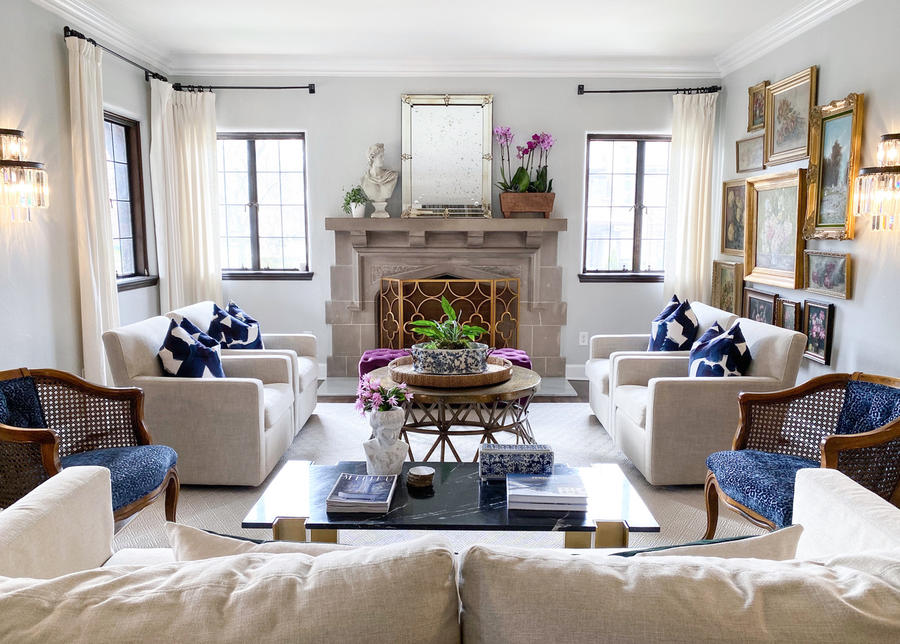 Ashlee Kindred, Ash and Co. Creative
You're all working out of an office in your home, right?
So, this house that we bought, we're the third owners. It was a Lutheran parsonage, and then this other family bought it and owned it for 40 years. It hadn't been touched besides a 1960s renovation to the kitchen. It was a three-bedroom house with a bunch of small, compartmentalized rooms, but a huge dining room because it was a place for the clergy to meet. Only the main floor was finished, but the attic was huge. It had 9-foot ceilings, and the floor joists supported a second floor. We knew that before we bought the house.
We did a renovation in two phases: First, we did the main floor. At the time, one of the bedrooms that was off the kitchen and made that into our laundry room and also my office. But we knew that there was always going to be a phase two for the attic, which we finished a year and a half ago. We added three bedrooms and two baths upstairs, which completely transformed how this house worked. Our old master bedroom became my office. I was like, Oh, my gosh, I have my own space now. Because for the first couple of years, my office was in the laundry room but I really worked at our kitchen island. I had crap there all day, every day, and it drove everyone crazy.
Did you have a team at that point, or did you have your own dedicated space by the time you had a team?
Kelly and I worked together at my kitchen island for a year and a half. She just went along with it, and it was great. She and I laugh about it now—when the major construction was going on upstairs, adding plumbing lines and electrical to this empty shell of a space, it was so loud we couldn't even hear anything. So it's funny to look back and remember that. Now we're bursting at the seams in this office!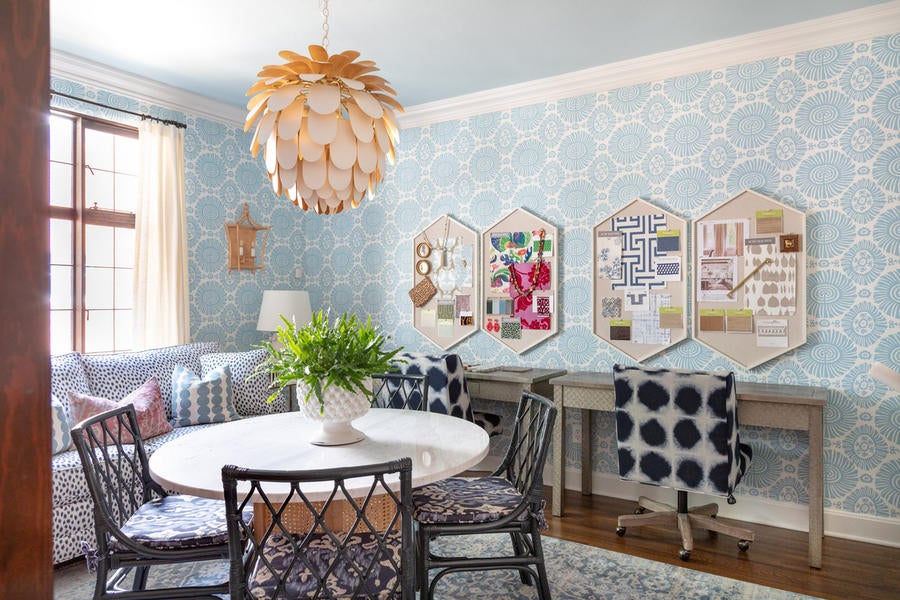 Ashlee Kindred, Ash and Co. Creative
Where do you typically shop?
We have a lot of direct relationships with reps, so I don't go to the design center [in Indianapolis] a lot. There are times that we do get there, and they're a fantastic resource. But I find that for where we are located, how we work, and the efficiencies for our business, having reps come right to us when there are new products, it's sometimes more efficient to work [with them] directly.
For fabrics and wallcoverings, I love Thibaut, Schumacher, Phillip Jeffries and Quadrille. I love Stark for carpet, and we also work with a local company called Blakeley's that carries a lot of different carpet brands. I like DuChateau for hardwood flooring; for tile, I have a special place in my heart for Rookwood Tile—they're an amazing, small, historic tile company. They've been around since the late 1800s and are a women-owned company, and 80 percent of their employees are women too. They also do really beautiful ceramics. We also work with The Tile Shop, Louisville Tile and another local tile company called Architectural Brick & Tile. And for lighting, we tend to use Visual Comfort in most of our projects, as well as Currey & Company, Urban Electric Co., and Arteriors. Whoever is really easy to work with, they're the ones who are kind of our tried-and-true.
You studied textile and apparel design and then worked as a fashion designer and clothing production manager. How did you get your start in design, and what was your journey to launching your own firm?
I had stopped working [as a stylist] at Anthropologie and took a little time off. I had our second child and really just didn't know what I wanted to do anymore. We were renovating a house in Carmel, Indiana. I knew I really loved interior design, and I could take the skill sets I had through fashion design and the different industries I've been in and create a business. The big step was right before we moved [from Carmel] to this home in the Meridian-Kessler area. I just took the leap [in 2015], and people started hiring me.
With the shelter-in-place order, how much work is on hold for you right now, and how are you approaching that pause?
For the first couple weeks, some projects were still going pretty heavy. I was finalizing whole-house lighting plans in two different homes and a couple other large-scale deliverables that I needed to give to some contractors who are still moving forward. Construction in Indiana is still essential, for the most part, so those projects kept me busy for the first couple of weeks. Last week was slower, but in a good way—my kids were technically on spring break. Then this week has kind of been like, "What do I do next?"
Last Friday, I had a potential client contact me through Instagram, saying that they have a new build that they wanted to talk to me about, so now I have a call with them tomorrow. That's starting in the fall. Then I have two other future new-builds happening. One is slated to start in the fall, so we're working on exterior renderings right now. People are still thinking about the future, so things are still going on. And then I have another new client that we just signed that wants to do two furnishing projects and she is OK with doing them virtually. So we had a FaceTime call last week, and then she uploaded photos and video of the two rooms she wants to work on, and did a little walkthrough for me, and she's providing me with measurements, and we're moving forward.
So it's a little slower, and there are some things that are on pause—like a couple of stair-runners that we haven't installed because the clients don't want people in their houses. Our amazing workroom that does all of our custom draperies is on pause right now. But you know what? It's fine. You know? We are where we are right now. We also canceled a couple of photo shoots. I'm kind of sad that we can't show our work on those right now, but we're just trying to do our part.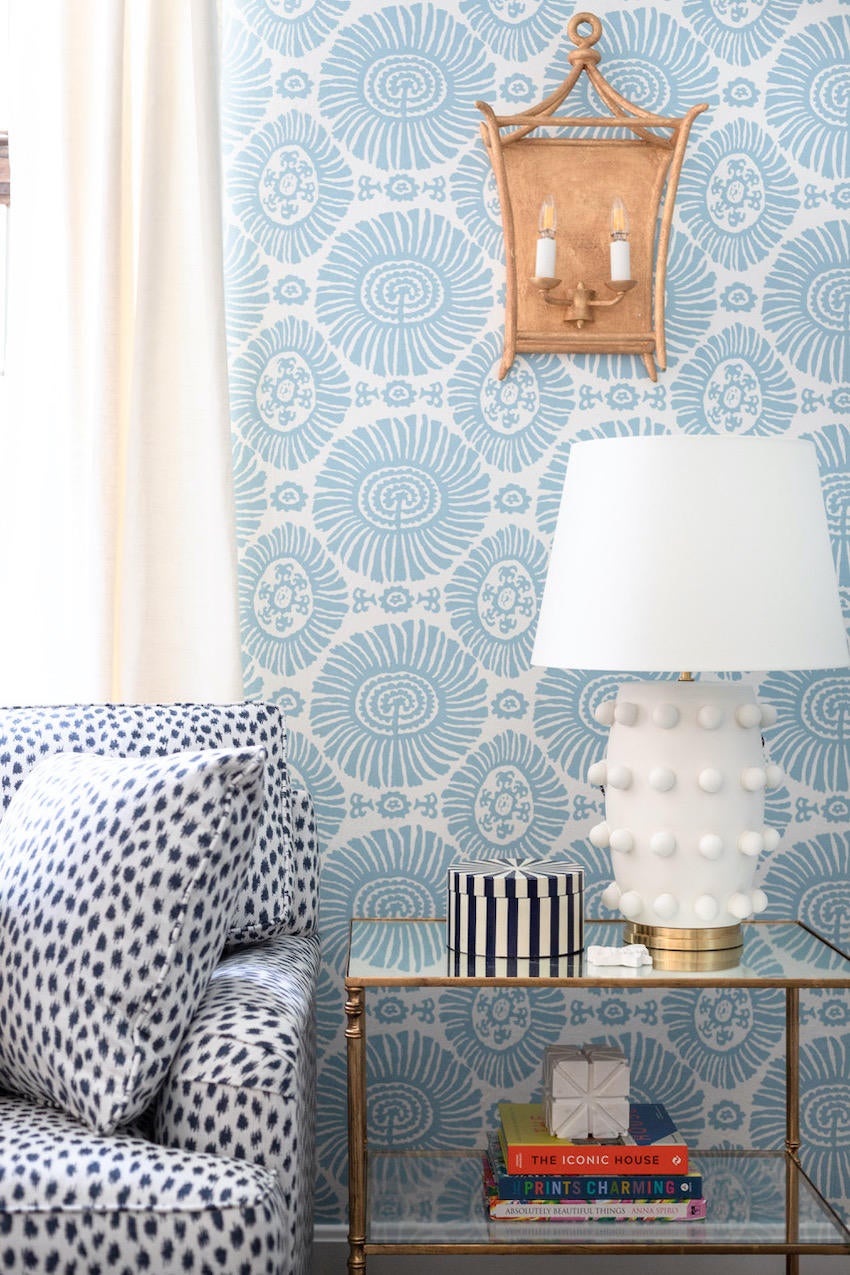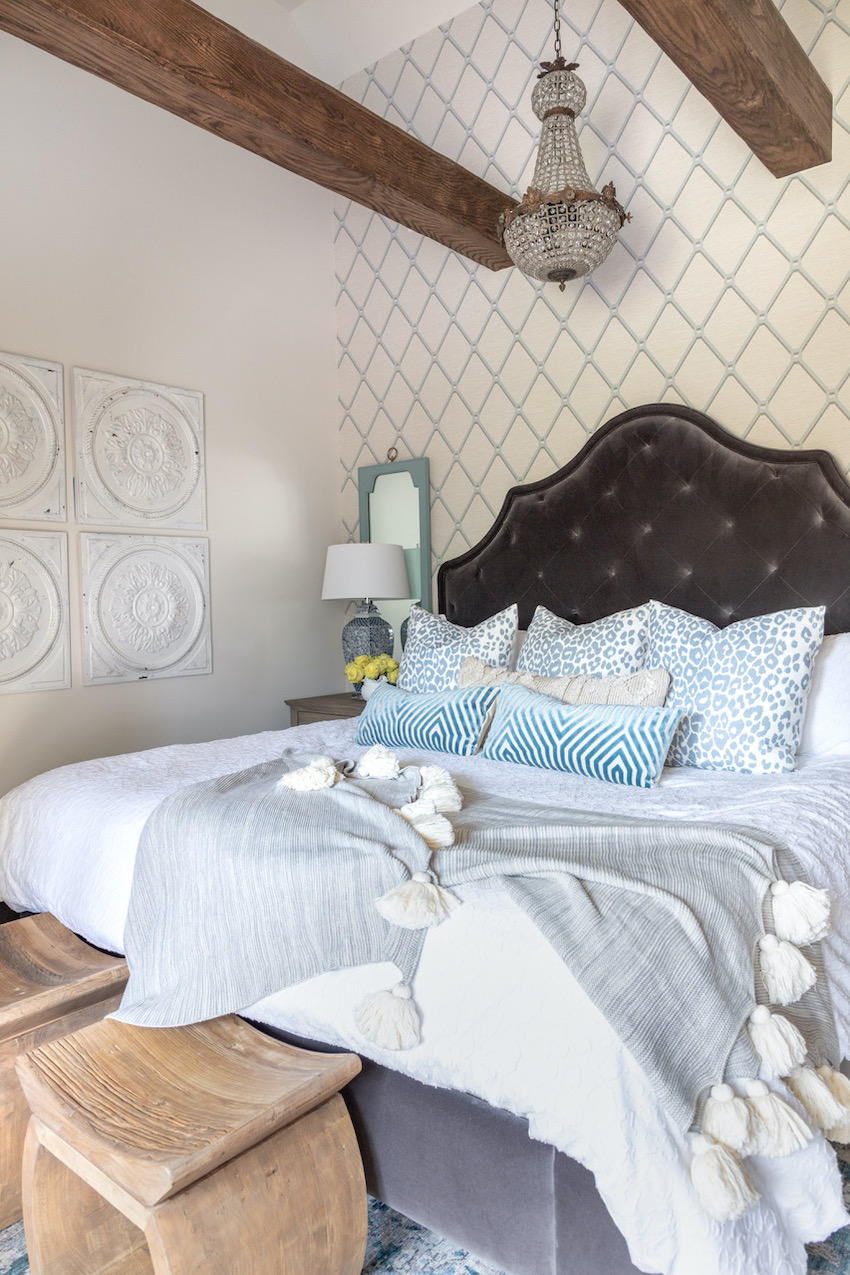 Before the coronavirus, what was the biggest challenge you were looking at in the business, and how were you thinking about opportunities to grow?
Last year, our goal was to rebrand. We revised the website and did a new logo. This year, it's really about refinement and trying to do all of our processes better, be more efficient. But growth-wise, I don't necessarily want [the firm] to get bigger. I know that that's crazy.
No, I think that's really interesting.
The workload we have is a lot for our small company. My biggest challenge is that sometimes I've taken on too much and not known when to say no. But in the end, the only people hurt by it are me and my family because I'm working too much. This year is about knowing when to say no and knowing when to work smarter, not harder.
How do you start to do that? I feel like that's something that's so much easier to recognize in hindsight.
For me, it's after so many times of doing it and then realizing, "Oh, why did I take that?" I've done it so many times now, that it's just [making myself] pause for a second and really think, Is this a project that will bring me growth and positivity?
Sometimes you look at a project and you're like, Nope, red flag. It's not going to be a good fit. Not because it's not a great project, it's just not a project for my firm. I've taken thinking about those things to heart—reflecting on previous jobs and knowing if something would be good or not. And Kelly, who works with me, is an amazing voice of reason too. She's like, "Tiffany, are you sure that's one you want to do?" She makes me think a little deeper sometimes instead of just saying yes all the time. And it's hard to say no—it really is! But we do it a lot now.
Is it about saying no to projects, or is it about adjusting timelines until you're available for those projects?
If clients are willing to wait for us, then we absolutely will put them on schedule when we think that we can fit that project in. Like, if it's a kitchen—kitchens aren't crazy anymore for us, so usually those will be two months out, depending on our schedule. But we have really overcommitted in the last couple of years, [to the point] that I found myself constantly gasping for air because I just said yes all the time. I feel like we have just come out of that in the last couple of months, and now that I am on the other side of it—there was a great project [recently], a new build that was right down the street from me, so easy to do. But they wanted to meet right away and to make these selections immediately. They had this timeline that I could not, with my current capacity of clients, there was no way that I could make it work unless I bent over backwards, so I had to say no! It was not fun.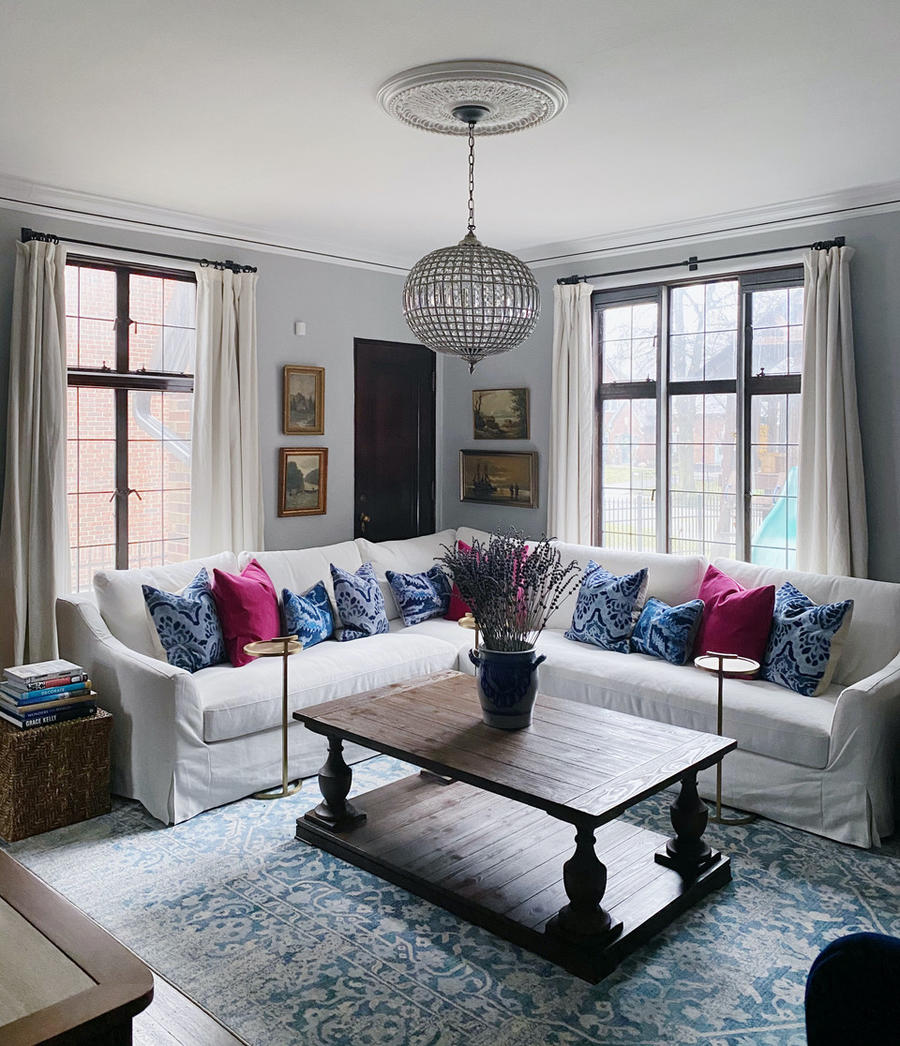 Ashlee Kindred, Ash and Co. Creative
Saying no to things means less revenue. How do you balance the health of the firm versus the revenue side of the decision?
It could mean more revenue, but then we're not supporting our current clients and working to their full capacity, so then I might not be billing the hours that I really should be for them. So I feel like it kind of evens out. Now if I wanted to grow more and hire another designer, we could take more, but then there's a whole other aspect to that too. I'm trying to figure out where we really want to be in the scheme of things and right now, I like being [small] and not taking on too much anymore.
I love that. It's so refreshing, because I feel like the external pressure is to always get bigger, to grow, to take on more.
Yeah, and you know, I felt that.
I would like to get bigger in terms of gaining more of a following on Instagram. But in regards to overwhelming ourselves with projects, I think if people want to work with us, I would hope that they're willing to wait. And if not, then it's not meant to be.
How do you approach billing?
Our design agreement says that we bill by the hour, in 15-minute increments for everything that we do for the project, and that we bill at the end of every month. Now, of course, if I'm just doing a quick text to someone, I don't bill my clients for that. But anything from doing actual project work, making selections, renderings, space plans—if we're on a call, if someday we meet in person again—we bill for that time.
Has there ever been pushback around that?
I would say, one in 50 clients question it.
How have you managed that? That's amazing.
There's always going to be that one person who challenges you. But our clients really respect us and the work we do. I mean, they don't even flinch at what we're billing at the end of the month. We're very thorough in what we say that we do. I have my billable hours in front of me right now: For one client, a 15-minute FaceTime call. Another client, hardware schedule, 1 hour. I'm really old-school, so I have a pen and a pad of paper and I write my billable hours as I'm going through. I don't have any crazy program that I use, I just write them down as I go. I could be losing hours doing it that way, but I feel I've gotten really good at it, for the most part. Then I take a picture of my pad of paper and send it to Kelly, who enters it into Ivy.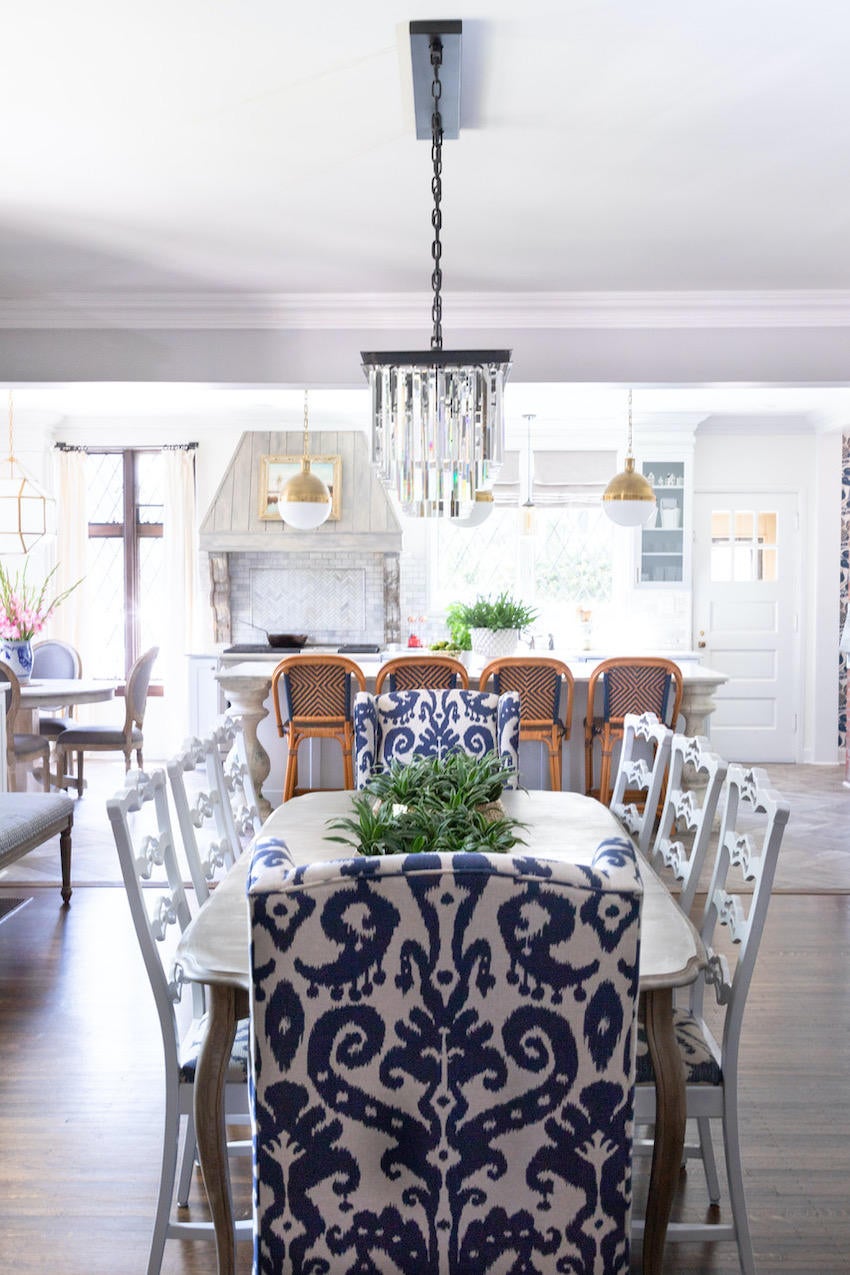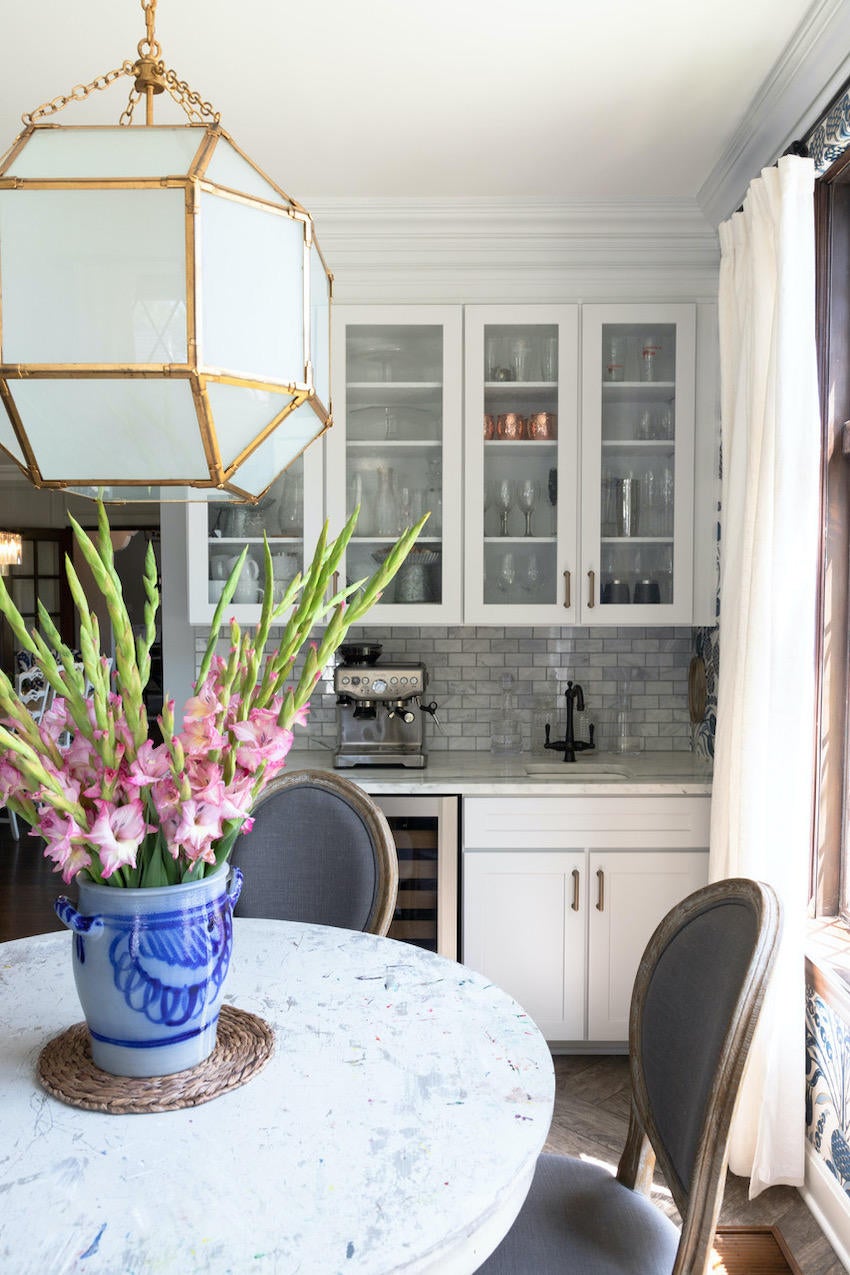 Speaking of Ivy, what tech has been essential to make the firm run?
We really like Ivy. It integrates really well with QuickBooks, so we use those two hand in hand. I probably don't use Ivy to its full capacity—I still do my mood boards in Pages. I like doing them that way, it's easy, it doesn't take too long. I do all of my space plans in AutoCAD. And I still do a lot of hand drafting. I did take a lot of classes—while I do not have an interior design degree, I have taken a lot of classes at IUPUI. It was almost to get an associate's, but then I decided to quit because I just couldn't handle it anymore. Going to school full-time, working full-time, and with the kids, it was too much! I was like, What am I doing?
When did you do that?
I did that the first couple of years of having my firm. It was insane. I do not recommend it.
That's a lot all at once. What made you want to start?
The first drive for that was because I felt that I needed it—but I only felt that I needed it because I didn't believe in myself enough. My husband always told me, "You do not need to do this." People do need to go to school, don't get me wrong, and I feel like in the end, it was invaluable. I learned so much. And I needed that for my story. I love that Steve Jobs quote, "You can't connect the dots moving forward, only looking back." I know that I needed to do that. But I also knew there was a time when I needed to be done.
What were the most useful elements of those courses?
AutoCAD. I took several AutoCAD classes and a couple of Revit classes, though I don't use Revit because it's a little more robust than what I really need. I took several classes on lighting design, a ton of space planning classes, some mechanical design, an introduction to building construction. It was enough for me to learn what I needed to understand about how the trades and construction work. I wouldn't say I have formal training, but we've done enough projects now that I think I'm kind of there.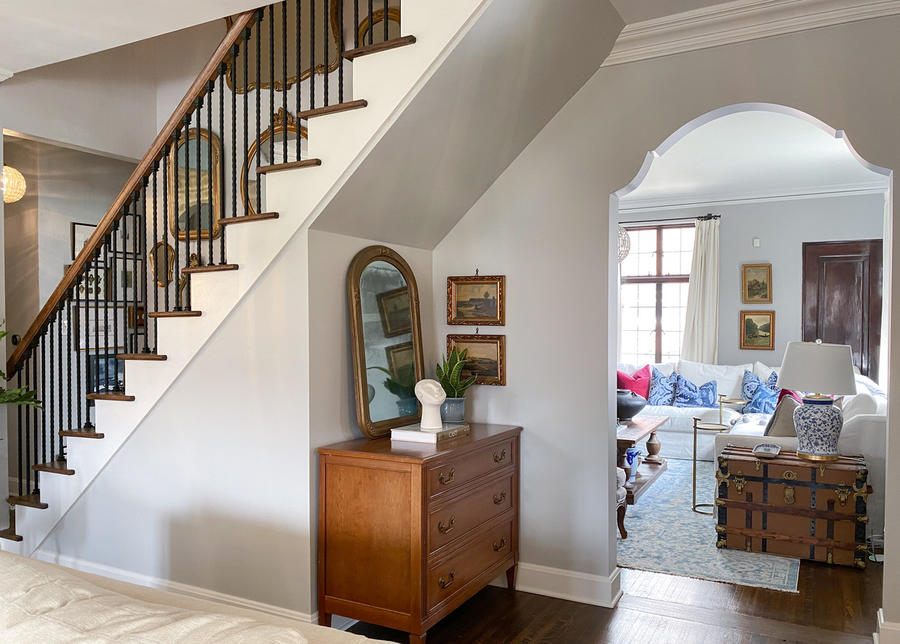 Ashlee Kindred, Ash and Co. Creative
What shaped your aesthetic, and what are the influences that have informed the look and feel of what you do?
I think the most beautiful designs are ones that have this rich layering to them. I am a very avid antiquer. It's killing me right now that I can't. I mean, I antique weekly. I'm always going to junk shops and antique shops and finding treasures—that's what I call them. On any given day, there's a bunch of what my husband calls "crap" in my office. My mother-in-law and I started antiquing together years ago, and she taught me a lot too. She has a really great eye. Also, my background in the fashion industry [has influenced me]—it's a lot of things rolled up into one.
When you'​​​​​​​re antiquing, are you buying with a client or a place for that piece in mind? Or are you buying because you know it's a good piece and you'll find a place for it?
Both! I have a running list right now of clients who want specific things. Actually, right before all of this happened, I found this beautiful wardrobe for a client—I had the dimensions with me in a Google doc of exactly what could fit in this space. We took away their foyer closet when we renovated their kitchen, so they still needed a place to put coats. I came upon this beautiful armoire, and it fit perfectly for them. I found several sets of antique corbels a couple months ago, and I only have one set left. They found homes in different projects, but when I bought them, I had no idea where they were going.
Is there risk in that, or has that worked out well for you historically?
To me there's no risk, because we are always using what I am sourcing in staging for photo shoots, and most of the time, whatever we stage, clients will buy some of it. So it's always rotating. One client recently said, "Hey, I need something for my dining table." So I was like, "Let's go shopping with Tiffany," and I texted her all of these pictures of things that I had that would work. Then I walked down the street with this antique foot bath and dropped it off on her porch yesterday. And she sent me a picture of it this morning!
Are you optimistic about what the next, two, three, five years hold? Where do you hope to be?
I hope to continue working on these beautiful old homes, telling the story of these homes for our clients. I feel like it's so special to be a part of, and you really develop these rich relationships with people, and I hope people continue to want to do that with us. I would love to start designing some furnishings, whether it's tabletop, decor—like vases or objects—or I really love doing custom artwork. Now that we're in this slow time, I have a bunch of custom artwork, some original pieces by me that I'm going to upload to our e-commerce site. I hope maybe that evolves a little bit. I would love to design wallcoverings and maybe some textiles. Things like that. I would love to grow in that way. In regard to home design, I don't know if I want to be any bigger than we are.
To learn more about Tiffany Skilling, visit her website or find her on Instagram.
Homepage photo: Tiffany Skilling | Chloe Lane Photography