The 50 States Project is a series of candid conversations with interior designers across the country about how they've built their businesses. This week, Idaho Falls, Idaho–based designer Jacie Coleman of Juniper Interiors tells us about launching her firm after she and her co-founder weathered new builds without guidance, how they got people to warm up and take them seriously in a builder-driven design community, and how their rural location impacts their work.
Can you walk me through your path into the design industry?
My mother is a really good decorator—she puts together a really beautiful home, and she's constantly rearranging and playing with different fabrics and furniture. Growing up, I was always really drawn to that. We would watch PBS design shows, and then we got into HGTV when that came out. But I went to school on a math and science scholarship, back when [there was an effort] to get girls into STEM. I was in the engineering program for two years, and then switched to math and I loved it. It was great, but it's hard to do much with a math degree outside of working behind a desk. I ended up teaching high school math for five or six years, and then took a break from that when I had my kids.
[I took] more of a nontraditional path to design. My business partner Erika Hachey and I started the business in 2017, after we had both gone through the process of building our own homes here in Idaho—hers in Pocatello, and then mine up in Teton Valley mountains. We had helped each other through it, and we realized that while there's a great community of builders and subtrades [in Eastern Idaho], the process is very builder-driven. We saw a need for interior design in our area, so we jumped in. We asked a ton of questions, put it out there that we were novices and just tried to glean as much information as we could.
What did those early days of the business look like?
We based [the firm and its processes] off of our own experience initially. And then we ended up getting in with some of the local builders and asking for their perspective—how would they appreciate using a designer, and how could we be the advocate for the client but also work closely with the subtrades?
For one of our first ground-up projects, we were able to connect with an architect in Teton Valley whose work we just adored. We did not know her—it was a cold call—but we said, "Hey, we have this really amazing project in Pocatello, and we want to bring you on board. Are you interested?" We met with her a few times, and she met with the client. That project was a huge learning curve for us. We learned so much about the architecture side, pulling in engineers and structural building code. That was our first big jump into a new residential project from the beginning.
What was missing from the build process that you both wished for? What was the gap you were trying to fill?
It comes back to our [location]. I was born and raised in the mountains in Idaho, and I moved to Southeast Idaho after college for my husband's career; Erika moved to Idaho when she was 14 and has been in Pocatello since then. This area is really male-dominated and builder-driven. That's not always a bad thing, but it's a struggle because—for instance, when Erika was building her home, the builders would say, "I need you to go [to the store] to pick up some tile," and didn't even go in with her. It's just, "Go in and pick out your tile." And that happens again and again: "It's time to get carpeting. I need your selection tomorrow."
There was no support to help you make a good decision.
Exactly. Erika was calling me every day—and then I was calling her every day on my design-build project. We realized we both loved it, that there was a need for it, and that there's a much better way to do it so that the client doesn't feel bombarded with decisions with no help—and also a really tight time frame.
Is that still what drives your firm's purpose?
It's evolving more now that we're getting more word of mouth. People are reaching out to us because they hear that we're super efficient, that we have a good aesthetic, that it's different. It's not the traditional builder-grade kind of beige and brown of the '90s. There are so many more options, and especially with social media, people are starting to recognize that it's OK to want something different—and that the builder can work around that.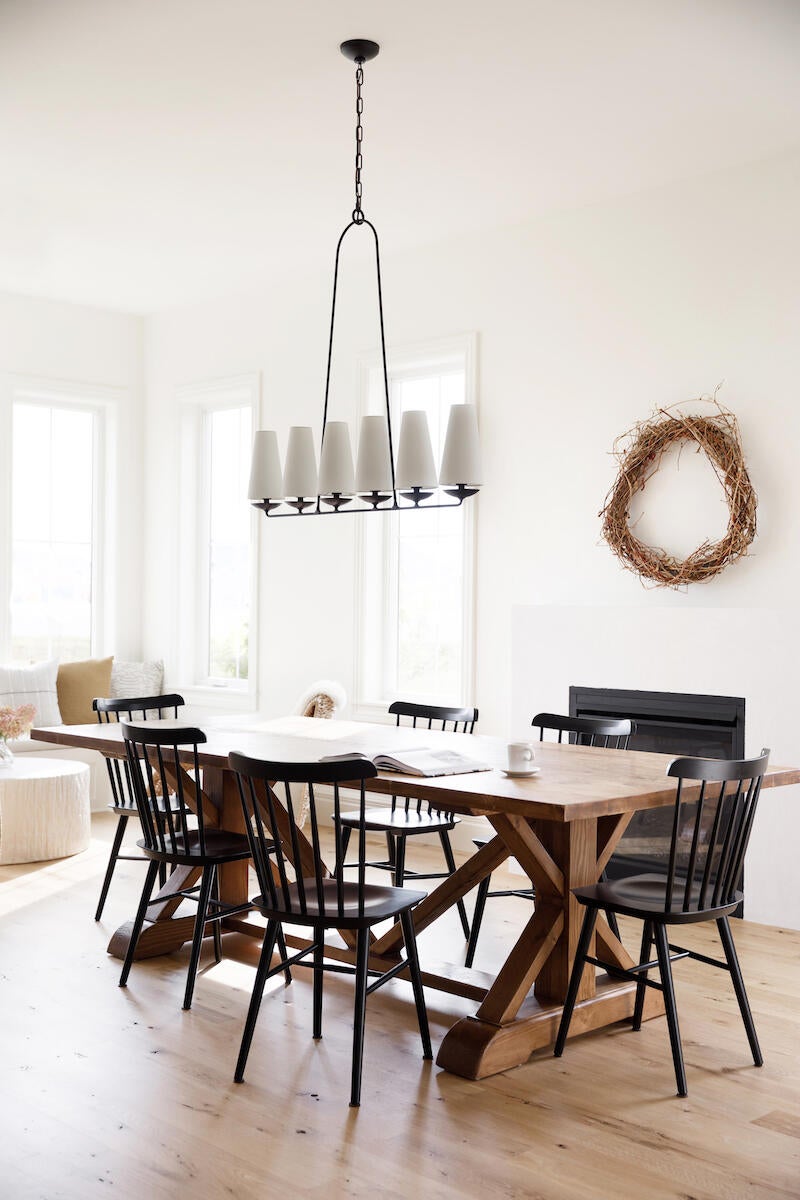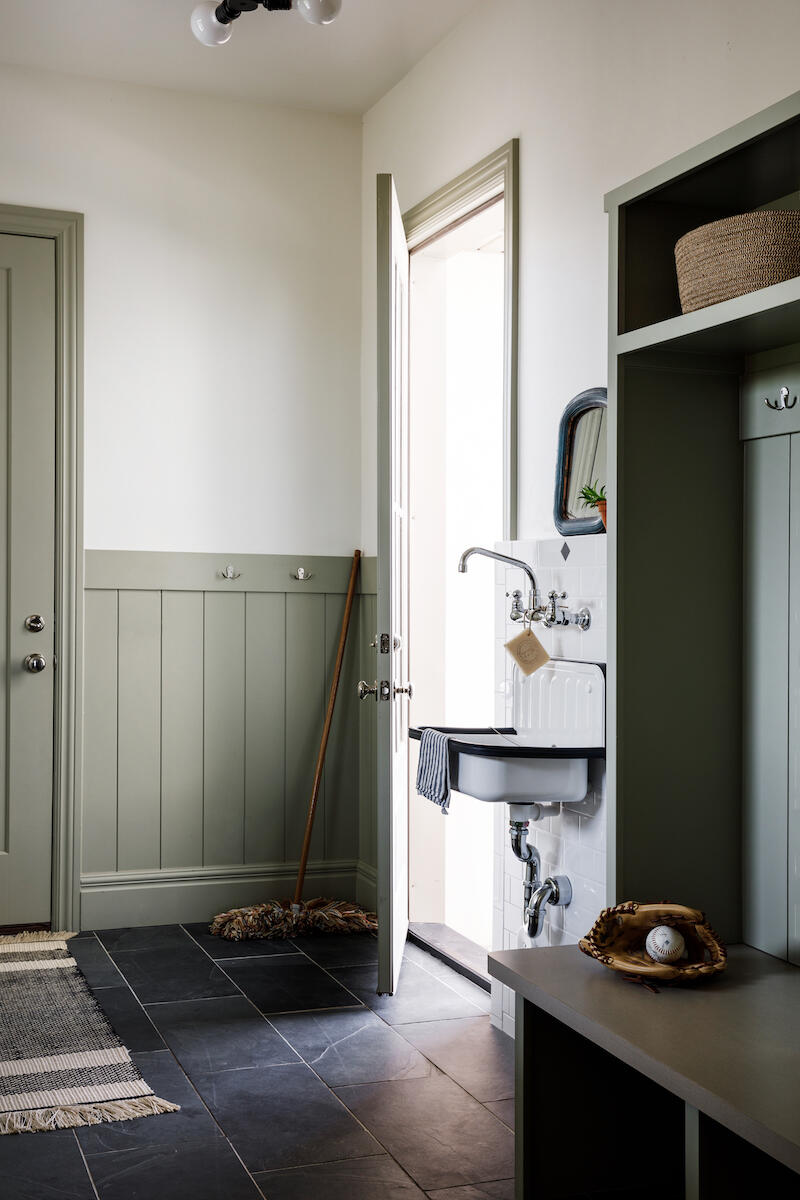 Is there a skill set that you had to develop to advocate for your clients throughout the process?
The most challenging part is when you walk into a job site and say, "Hey, my name is so-and-so, I'm the designer." You can get a lot of eye rolls or just a cold shoulder. For us, being super prepared and available—answering the phone and being responsive—has paid off a lot. But also listening to the subtrades and asking their opinions: "Well, what do you recommend? How would you approach this? This is the tile we want, is it going to work? And if not, what do we need to do differently?" Instead of being like, "This is the tile that has to go in, and we want it done in this way"—we're listening to their perspective as well. In this area, it's a bigger community if you look at the broader scope of the cities, because they've kind of all run together, but there are a few subtrades who do [their work] really well and you get to know one another. Then you start recommending one another, so it almost becomes a team even if you're working across different builders.
Has that fed the growth of the business?
Absolutely. After we worked with the architect on that first big project, she recommended us to other clients, and that's how we got work over in Teton Valley. And then the builder of that project started recommending us too—all because we were easy to work with and responsive.
There's a benefit for them, too, when the end result looks so much better because you were part of it.
I think so too, but I think only a handful of builders actually pick up on that. I know some of the project foremen do, and some of the subtrades really pick up on it and enjoy it. But for the builder, I don't know that they really care. They just want the project finished on time and on budget.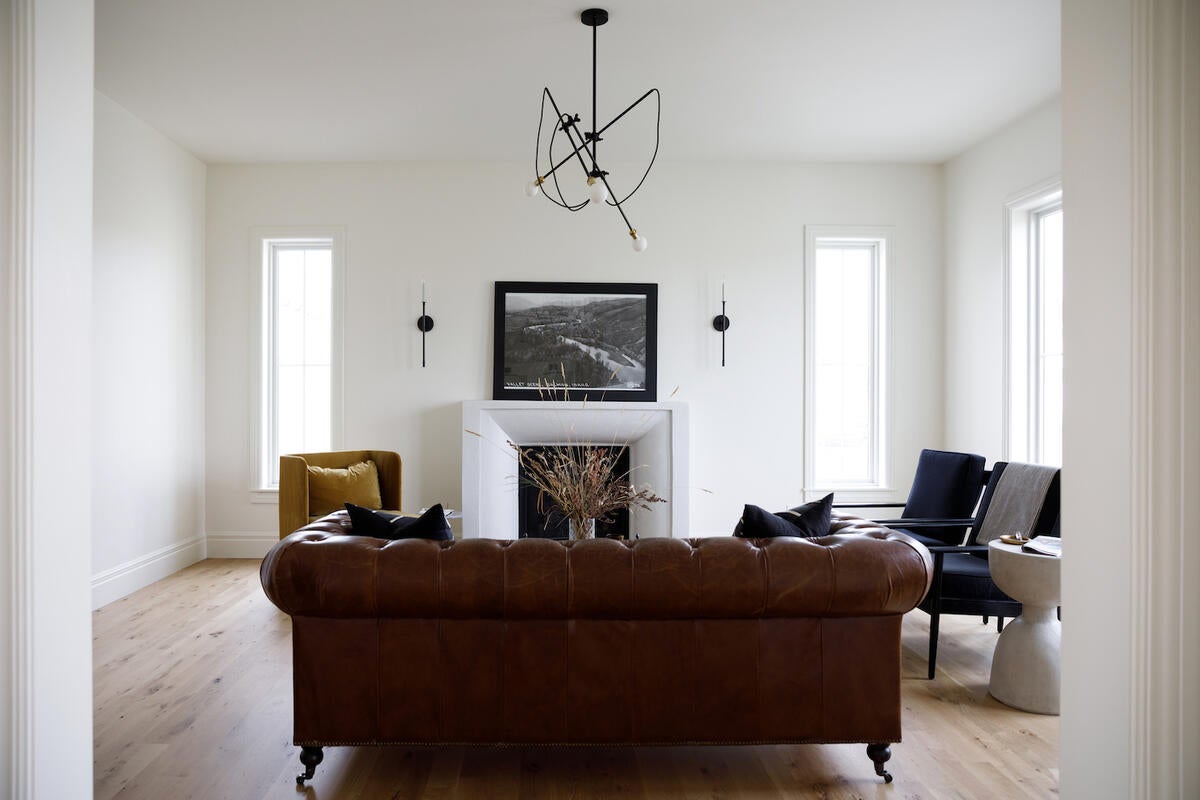 Allison Corona Photography
What does your business look like today?
We currently have 12 full-service projects. We have a team of three in-house, including Erika and I, and then we hire out accounting, legal and some AutoCAD work. We also rely heavily on our local flooring and tile gals, our local hardware supply store and our local hardwoods shop.
What is everybody's strength and role within the business?
We're a 50-50 partnership. Erika is in Pocatello, and she handles the regional work in Pocatello, Salt Lake City and Bear Lake. I am in Idaho Falls, which is about an hour south of Pocatello. When new projects come in, we figure out who's going to take the lead and then divvy it up that way. Erika's strengths are very big-idea and conceptual. I think because of my math background, I'm deeper into the details, and I tend to focus more on that part of it. So she'll come up with the conceptual design, and then I dig into the specifications, and then if we have to have any sort of detailed drawings, I work with that because I have [experience] with AutoCAD and SketchUp. And then our newest hire, Vanessa Prairie, specializes in windows and doors. She's also our project manager—she's really good with communication, and she'll send out the weekly updates and manage the day-to-day aspects of a project.

How many of your projects are more focused on finishes, and how many include furnishings?
We're actually seeing more and more of that. COVID turned everything upside down, especially for our area. It is difficult when the closest big city is Seattle or Salt Lake—we're considered rural, or a long-distance haul, so it's tricky to get furniture. We have to be really prepared and do a lot of space planning, a lot of measuring, a lot of spreadsheets.
We just wrapped up a 5,000-square-foot full-service project—which sounds big, but it's kind of normal for out here. We have big families, and a lot of times we have extended family staying with us, and we just have a lot of land, so the homes tend to be a little bit bigger. Anyway, we were brought on from the beginning with that project, and then the client said, "OK, I'm ready to furnish," and she wanted to start completely over, not using anything from her existing home. So we worked with her to source furnishings, fixtures and accessories. And we've been in the process of installing that in three phases. We're almost finished tidying up the last round, which will happen in April. We do not do that on every project—it's time-consuming and it's a bear, but all three of us really enjoy it.
Most of these projects are vacation homes, right?
All of the work over in Teton Valley, which is a ski resort [destination], is primarily vacation homes and second residences, but we're seeing people actually deciding to move out full-time.
How does that change the work?
We end up going from, "Oh, this space will be used for Airbnb or Vrbo," to, "We need to make this kid-friendly for our family and our dog"—that kind of thing. We try to be really good about that anyway, in terms of selecting furnishings that have a higher rub count. Our style is not so hoity-toity that it can't be lived in.
How do you shop on the furnishing side?
First we establish a budget, and that really drives who we go through—whether we're going to be sourcing through big-box stores for product, or whether we're going to be able to go more to the trade. We like to mix it up as much as possible so that it doesn't feel like a Pottery Barn catalog. We've been to High Point Market. That was huge for us. We met a ton of people and had a really great time. We want to go to Las Vegas Market next January. And we're constantly on the lookout for new stuff, for things that are exciting—I look through Dwell and Mountain Living and Big Sky Journal Home, and whenever I see something I love, I look in the back for the vendor.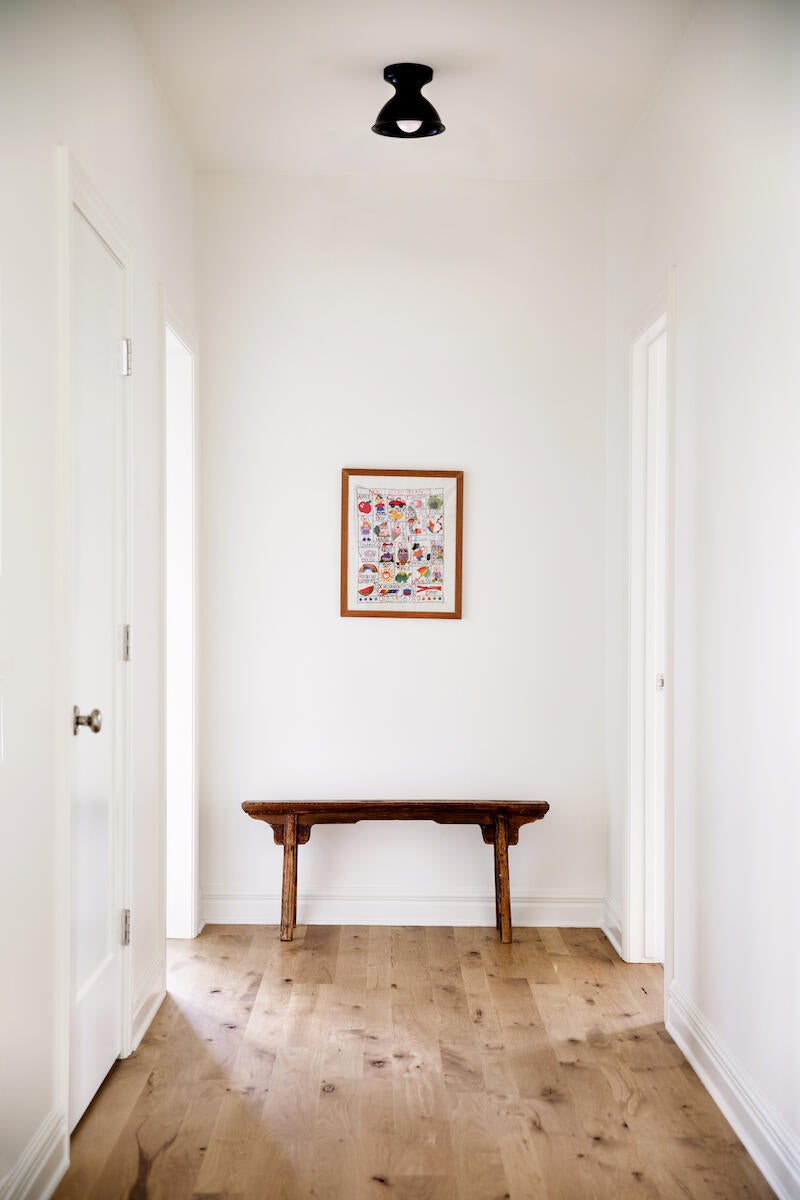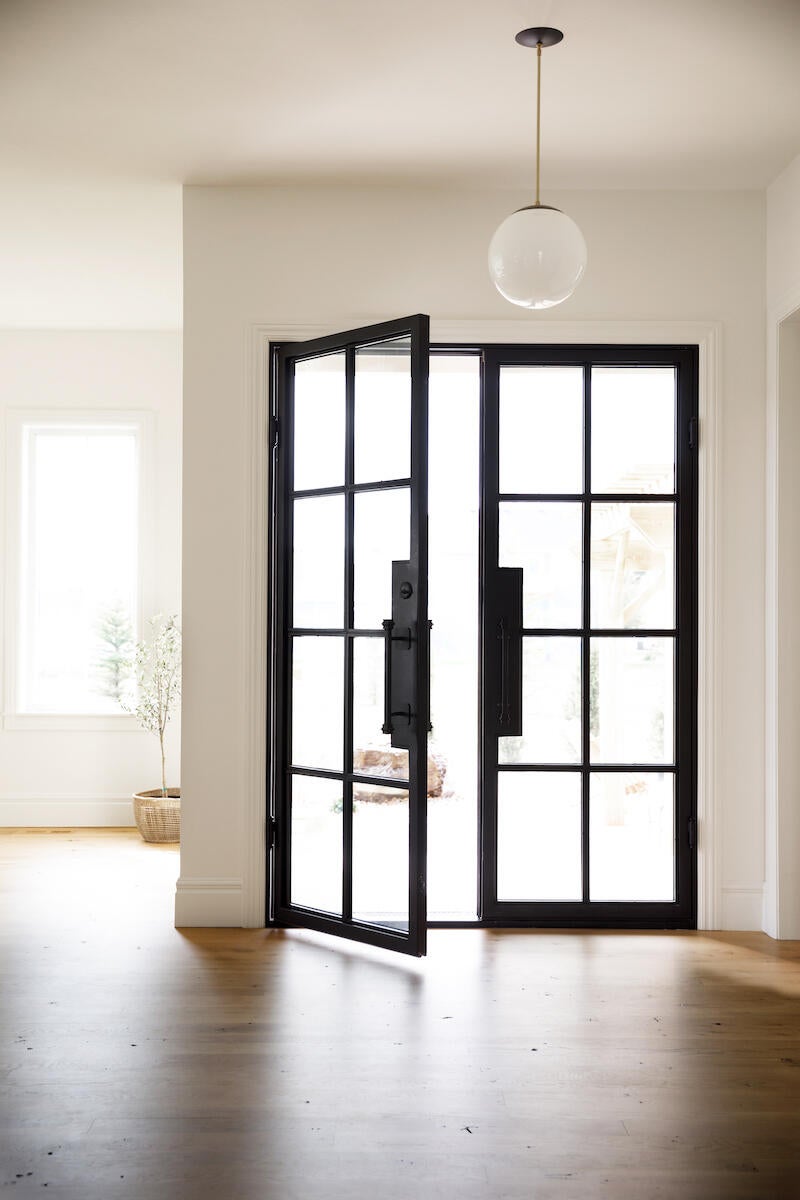 How have you approached billing?
That's changed a lot since we started. It's tricky because a lot of the big-box brands will offer discounts if you become a member, so we have to be really careful about that. Anything that we receive through a trade account, we definitely mark that up a percentage because it is so expensive to get things shipped here to us and we have to cover things that are broken.
What about billing for the design work?
In the beginning, we were terrible. We never charged enough for our time—we gave so much work away because we were trying to establish a name for ourselves and get our feet underneath us. As we gained confidence and became busier, we figured out a better path. We now charge a retainer upfront to secures the project in our calendar, and then we bill against that at our hourly rate. Once that's actualized, we bill at the end of each month. We keep extremely meticulous notes on our hours on the time-tracking app Harvest, which is on both mobile and computer desktop. It's very project-based, which is great for us, and we can actually tack on expenses if we have receipts too.
Do you ever get client pushback, or have people been comfortable with that model?
People have been really comfortable because when we send out our monthly invoices, we attach that time sheet. So it's just right there—there's not a lot to argue with.
When you look ahead, where do you see opportunity for growth?
More and more of our work is over in Teton Valley, so I think we need to open some sort of a location there—I would love to hire somebody there on an hourly basis to help out with the management of those projects.
Can you tell me about the design market in Idaho right now, and how that shapes the opportunities for your firm?
Idaho is a big state, so [the design] definitely [differs by] region. You have Coeur d'Alene up in the north, which is really high-end and very different, really influenced by Seattle. And then you have the Boise Valley, where the capital city is. It's very progressive, forward-thinking, a lot of really great, fun, exciting work coming out of Boise. But we typically pass on those projects because there are so many designers out there that are doing a good job, and they can serve the clients better there—it's four hours from us, so it's too hard to be really hands-on. And then there's Sun Valley, which is in its own kind of bubble—very high-end, very custom, sometimes very kitschy, but also not, depending on the project. And then Jackson Hole is on the other side of Teton Valley, and it's influencing that region of our state a lot.
How do you hope the industry evolves in your region?
It's growing enough that I would love to see some better options for local design centers. We've seen a shift toward that, but it's not quite where we need it to be. Designers are working really hard to create fabric and tile libraries. It would be so nice to be able to take clients into a design center with a little bit of everything that you could start out with—finishes and general ideas [that help you] start narrowing in the specifics.
We open a lot of accounts with national vendors—I have so much tile in my storage closet—but the issue with that is we don't want to recommend the same thing over and over, so we're trying to be very specific to the project.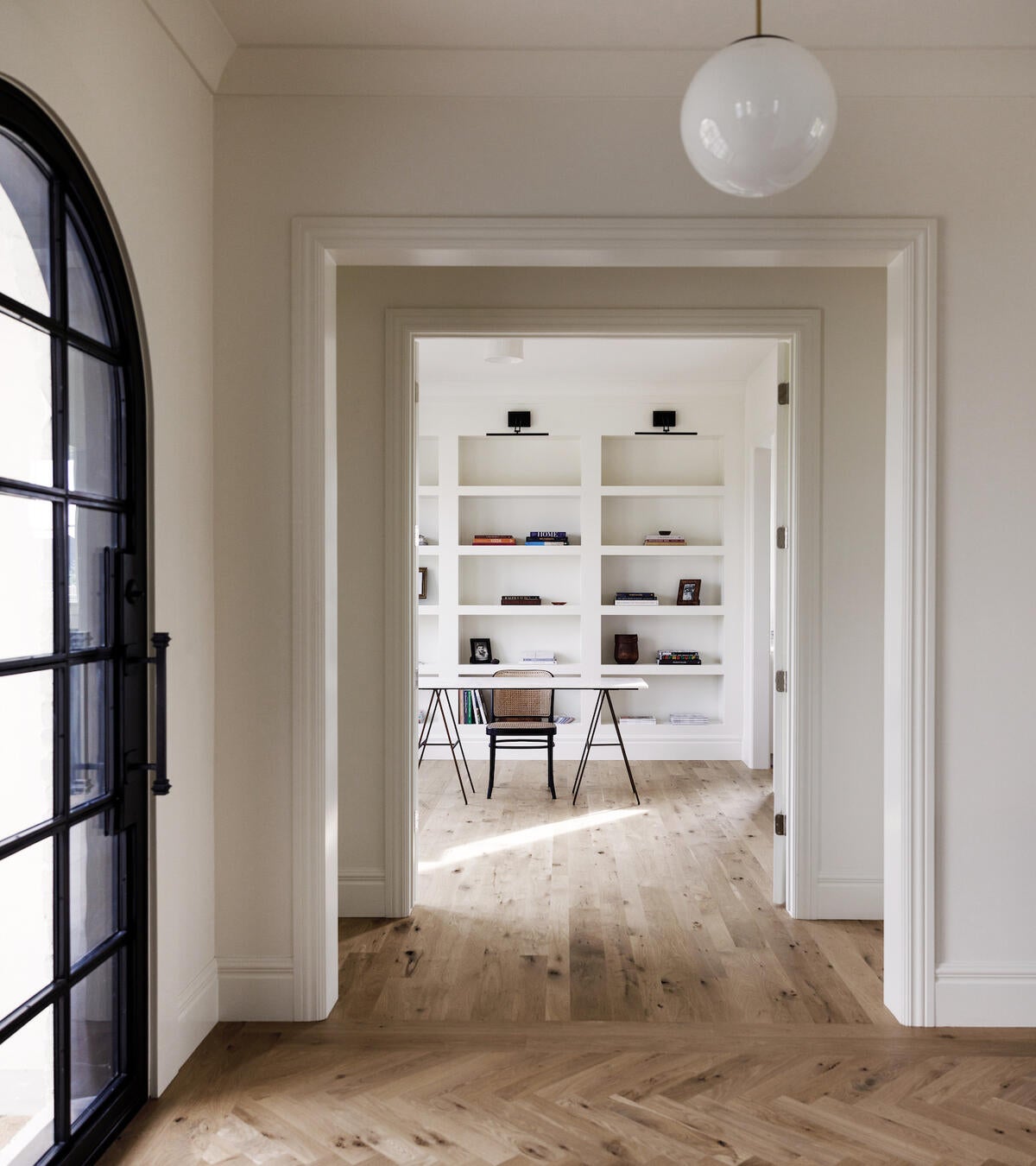 Allison Corona Photography
What does your partnership with Erika look like, and how has it changed as the business evolves?
We're really close—I am married to her older brother, and we talk a lot on the phone. We collaborate a lot. I guess what's been interesting is to see each other's strengths and weaknesses and try to be really upfront and honest about that, but also be respectful of each other's time. Initially, we would just call or text at the drop of a pin, and now we try to do work things more through email to be respectful. Otherwise, you can fall asleep thinking about this business and wake up thinking about it. It just can be so grueling.
When did you realize you needed to firm up those boundaries?
We're still working on that. It's so hard to say no, because we're in this industry of people-pleasing, trying to say yes to everything and finding the right solution. I know Erika's working hours, so I try not to bother her outside of that time, and she does the same for me. But later this week, we'll all be traveling for spring break out of the country, so we've been working so hard to get everything done before we leave. I have not taken a day off in probably 10 days.
What is the biggest thing you know now that you wish you had known when you started the business?
It's OK to say no, and it's OK to pass on a project if you don't feel comfortable, whether it's scope of work that's not a fit or there are some red flags.
Are you saying no to more now?
For sure. People will reach out to us a couple of different ways—through our website, through Instagram or through word of mouth—and we're finding those word-of-mouth referrals are almost always a really good fit. With Instagram and website referrals, we tend to have to go through a few phone calls and meet the clients in person, if possible. We have to be more careful on those and make sure they're a good fit.

Is it a budget fit or an expectations fit?
It's less about budget, because honestly, we're seeing people be like, "What's your price? OK, great. When can you start?" With people in this area, they just don't really care about costs. It's crazy. But because of that, it's more about whether or not we're going to get along with one another, whether or not their expectations are realistic, and honestly timeline. It's really hard when you get a call and they need you to start tomorrow because someone's asking them for exterior finishes tomorrow. The best projects are the ones where the client reaches out and says, "Hey, I'm looking at designing a house. Do you have a builder and an architect in mind, and are you taking new clients?" That's the best.
We're pretty much booked out through the end of the year, but if the right project came along, we would try to figure out a way to make it work. It's so hard to turn down a really good project.
What is one thing that you would never delegate away? What for you is the most important part of your role at the firm?
The reason we've stayed so small is that we love to be hands-on. The clients know all of us, and we really like that. We don't really want to grow beyond that, I don't think.
What does success look like for you?
We're all in our mid- to late 40s. We'd like to be able to [run the firm for] 10 more years and then see what happens—maybe retire, maybe just take on a few projects a year for fun. In terms of the next 10 years, success is continuing to get these really amazing projects, and working with clients we love and continuing to grow in that capacity.
To learn more about Jacie Coleman, visit her website or find her on Instagram.
Homepage image: From left, Jacie Coleman, Erika Hachey and Vanessa Prairie | Courtesy of Juniper Interiors