The 50 States Project is a series of candid conversations with interior designers across the country about how they've built their businesses. This week, Anchorage, Alaska–based designer Michael Fredericks tells us ​​how her firm, SALT, created an affordable design process, why she's riding high on the design boom but eyeing a recession, and why stakeholder engagement is the core of her business model.
What were your early memories of being drawn to design?
My uncle was one of my great heroes in life, and he was always interested in architecture and design. He started architecture school and married young to a fabulous woman. Their second child was born with a cleft palate while he was in school, and he immediately dropped out and joined the Air Force because the medical bills to help the child were overwhelming. He left his dream of being a designer to take care of his family. But as a young child, I was always really influenced by him—even though he became an aviator, he was always drawing or doing things around design, so I was really interested in that.
Did you have other connections to design and architecture as a profession?
Anchorage is a really small, connected community—there's a lot of camaraderie. Our family went to church with a family in town who were designers: the husband, Larry Cash, was an architect, and the wife, Barbara Cash, was an interior designer. Each of them owned companies. Knowing that I was interested in design, my parents worked to create a relationship with them, so I interned at Larry's architecture firm when I was in high school and worked with Barb a few times doing admin stuff here and there.
You studied architecture at the University of Washington, and then got your master's degree at the University of Illinois Chicago—which is when everything changed for you. What happened?
I'm an Alaska native from a tribe in middle-western Alaska, and our tribe has unceded land. Our traditional lands were held in the state in trust, and as part of getting them back into the tribe's hands, we had to have a plan. Our tribal council, which was run by my father, wrote a planning grant to look at how we wanted to [develop] this land. But typical planning is very colonized and westernized, so we started from the very beginning [by thinking about] how we would want a community to live.
I was in college doing my graduate work in architecture, and I ended up using this planning piece as my master's thesis, which was about reconstructing a community and deconstructing colonization in community thinking. The plan was really heavily engaging with stakeholders, because we were rethinking what a community would look like and how we would divide land. Although all planning has stakeholder engagement at some level, this was at a different level—it was at a traditional-knowledge tribal-consultation level that was not matched by anything else. And ultimately, because of that consultation process, that plan became an example plan for other projects that had to do with tribes.
Bren dan Shanley, LostInPrint
How did you approach the project?
It was crazy. I had been interning for Larry's architecture firm, which at the time was called Cash Burner Architect. We hired them, and I project-managed it while I was in my early 20s, and used it as a theoretical master's project. Then it got recognized statewide for the process.
I was on my way back to Chicago for grad school when I got a call from Larry. He was like, "I'm getting all these calls from tribes. They want to do this planning and get funding through this funder who's using your planning as an example." I think I was 25 at the time, but he's like, "Do you want to start a company and do this?" So we did.
What did that look like?
So, together with my father—because he knew the tribal systems—we started this company. My father and I owned it, and we started to focus on stakeholder engagement, not at a level that was just informative, but what I would call transformative. We were changing design and review processes based on how the stakeholder would best engage, for clients like native groups that had really complex user groups.
So, at this point, there's three companies: There's the architecture firm that I had worked at as an intern, there's my firm that's an architecture firm [focused on] stakeholders and heavy engagement, and then there's Barb's interior design firm. The three of us would get projects—and they were typically Alaska Native–based projects, because that's who I was focused on working with—and we would go through these design processes where the stakeholder groups would become part of the design team.
What kind of projects were you working on?
The first project that we did was an Alaska Native engineering program building for the University of Alaska Anchorage. This program was created by this engineer who kept going out to rural Alaska, which is very remote—it's like a different country—and saw that dominant-culture designers and engineers had created designs that had no context in this place, in terms of technology and traditional knowledge. I'm talking about community-wide systems—things like water systems and buildings that would be built really incorrectly or not for the context of the community because they were created by people in urban areas. So this man, he went back to school, became a professor, and devoted his life to training native people to become professionals to build in their own community so that they could create solutions that had context for their community.
Our first project was to build a building for these students—Alaska Native kids who were training to be engineers. We used the building to tell their story, and to teach them engineering. The interiors were stripped down so that you can see the beams and all the connections, and we shaped it to be a canoe, which is a perfectly engineered object. There's nothing on a canoe that you don't need because it has to do its job—and that was sort of the same thing for these people; they were really focused on learning to give back to their communities and using this building in a way to further that learning. It went from being inspired by things like culture, color palette or texture, to something that was really philosophical and deep. It was rough—we almost got fired four times—because it was a lot. It was talking about trauma and culture, and it was a big process. But we came through it, and it was an incredible success.
Another really big project for the three of us was a youth shelter that was trying to transform itself from being a shelter to being an engagement center to transform the idea of homelessness. We took the design team and the client on a series of trips around the Northwest to all these other youth shelters, looking for the best examples of interior design. Then we created an advisory panel of youth, and we hired an intern who worked with us for three years as we designed and built the shelter. When it was complete, it was four times the size of the original shelter but required one-quarter of the cost to operate because we did things that lowered their risk insurance. We designed it with huge partnerships in mind and made it so that partners could invest in the shelter and come provide services rather than the shelter providing them on their own. It was recognized nationally as a design process that was really incredible.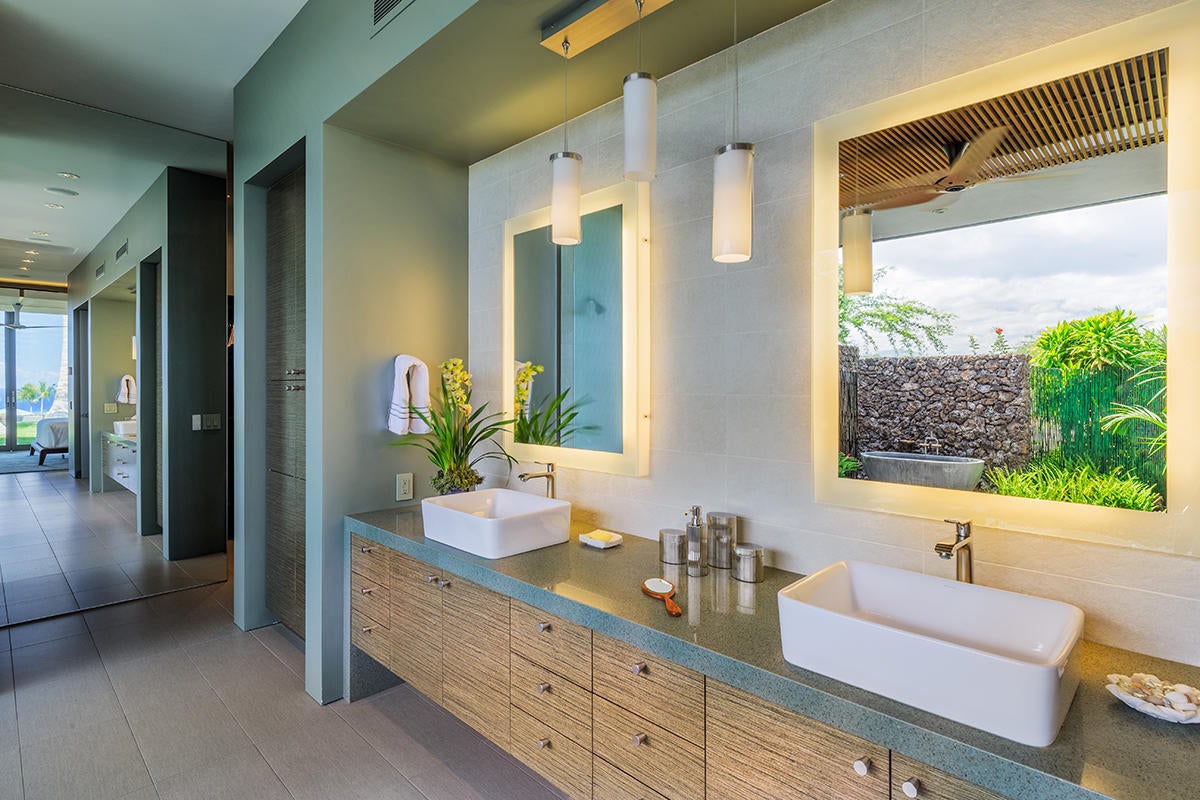 David Tonnes, PanaViz Photography
How did those early successes shape your business's growth?
We kept seeing that this process was really valuable, and it had the potential to be transformative generationally. If you really engaged people that weren't typically engaged, they would take ownership of this space. We started doing that for Alaska Native folks for the first five to 10 years, and then we realized this really applies to everything. We started applying it everywhere.
My career started in architecture, but I found that I am much better at engaging stakeholders and figuring out how to involve them in a design process. I completely abandoned getting my license in architecture, which pissed off a lot of people—especially my parents and my mentors—and instead, I went headfirst into this idea of stakeholder engagement.
What did that look like?
I worked on a hospital project in Barrow, which is the northernmost community in Alaska. There's no daylight most of the year, and it's the most intense, crazy climate that you've ever experienced. I do not know how people lived there 10,000 years ago, but it's incredible. I was on the stakeholder engagement side of the hospital being built there. What we found is that the health outcomes at the hospital were really low—not because of the [quality of the] health care, but because in that community, people would not go to the hospital until it was too late. They would not go for primary care, and we found that there was this perception that the doctors were practicing on them, because of all the traumatic things that had happened in colonization with native people. People were like, "These doctors are just here to get their medical school paid off. They don't really know what they're doing." We were able to change that perception through not only the redesign but also the processes of having healing ceremonies and publicly talking about the board-certified doctors that worked there.
While I was in Barrow, I met a woman who had adopted a bunch of children. Because of that, other women from the native community would come to her, and she would connect native women looking to adopt their children with other native people. In our culture, native-to-native adoption doesn't go through a state adoption process, it goes through a tribal process. I became really good friends with her, and she reached out to me and said, "I think you should adopt a kid." I was like, "Oh, there's no way. I don't even like children." I didn't want to do that. I was doing this business, and I wanted to do politics. She was like, "Oh, you're so silly."
A year later, she called me and she's like, "Your kid is on the way. You need to go meet this woman, because she's going through a bunch of stuff and can't raise this child." So here I was running this very successful company, but I go meet this woman, and we immediately connect. Seven days later, the baby was born and I adopted him. I was at the hospital when he was born, and I took him home. But at the same time, I was like, "I don't know what the hell I'm doing." I was so overwhelmed—I was working 60 hours a week to keep this [business] up, and now I had this brand-new baby.
Larry told me that I could come work for his architecture firm while I was figuring out this mothering stuff and until I was ready to reopen my own firm. So I did that for five years—I worked directly for him so I could have health insurance and not have to find and do projects all on my own. When my son was about 6 years old, I started getting itchy working for someone and I wanted to do my own thing again.
By then, Barbara Cash, who owned the interior design company, was ready to retire. I approached her and said, "I don't want to do architecture, and I don't want to be an architect. I want to really do the stakeholder engagement, which really impacts interior design much more than architecture, and I would be interested in purchasing your company." She had 40 years of amazing projects and credibility, and I had worked on them with her for 20 years. She had young partners that were my age who were mothers that were just really sassy and awesome, and I felt like it was the right environment for me. In 2018, she sold me her shares in the company and I became the majority owner. The company has expanded from engaging stakeholders for design projects and now also includes strategic planning and large-project planning.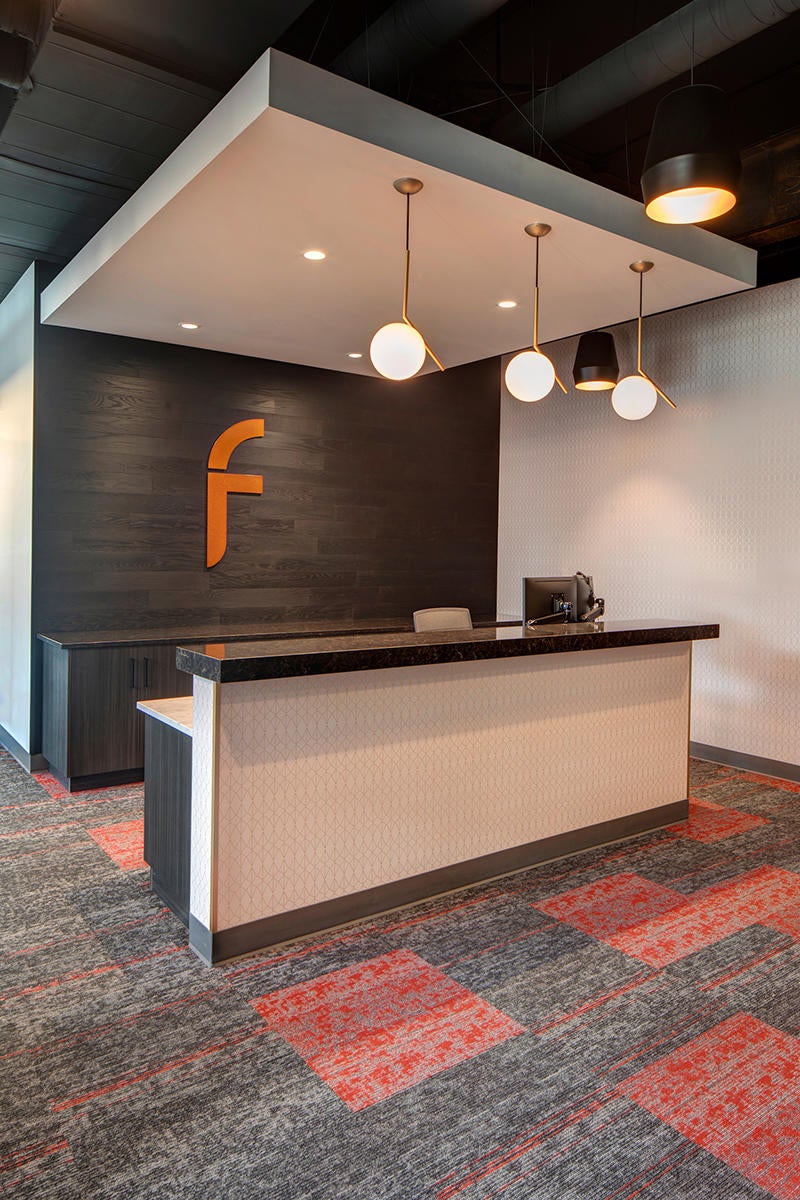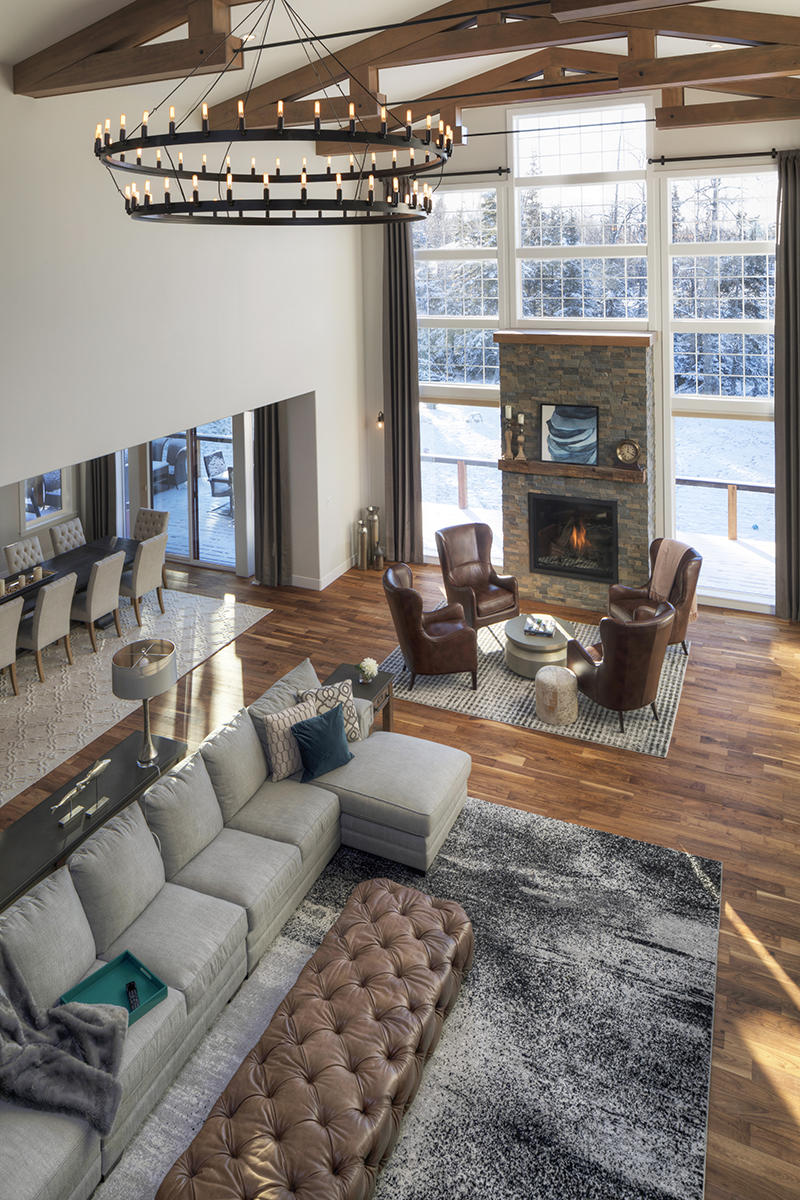 What does the team look like today?
When I bought the company, there were six or seven employees—it's small, but it's also the largest interiors firm in Alaska. We work with an architect if there are code things, because we don't have licensure for that, but we're working on that in order to be able to do that ourselves. Now we have a team of 10, and of that, seven of them are interior-design-focused. I am not design-focused any longer, although I am involved in some ways as the owner. Myself and another colleague are more focused on the strategy and engagement side of the business, and then we have an accountant who really takes care of us and makes sure we do everything legally.
How many projects are you working on typically?
In 2021, we had over 100 projects. The scale of our projects varies, but for the majority of them—across both the engagement and design sectors—our sweet spot is budgets of $15,000 to $20,000. So they're not huge. We are really good at getting in and out and doing things efficiently. But we do have some much larger, longer-term projects.
Alaska's economy is very different from the Lower 48, and we're typically flipped. When they're booming, we're dying, and when we're booming, they're dying. So what you see happening with a lot of Alaskan firms, which is very smart, is that they partner with people outside of Alaska so they can get through that boom-and-bust. But we're so small and efficient that we survive in that space really well. When design or construction is down, strategy and planning is up, and vice versa.
What's happening in the market for you right now?
I mean, right now is unprecedented, and it's killing me. There's so much money in our market associated with design and planning that we can't keep up, and we know it. We know that this is a bubble, and we've got three years to do this work before we go into a really serious recession.
So you're already planning for that?
Before COVID, Alaska was unfortunately very reliant on oil revenue. We have ridiculous amounts of oil being pumped out of our state ground, and we haven't diversified. The state is very lucky that it does have oil reserves, and that it has all of this money associated with that from the 1980s. Even when we are in a recession, we're a very rich state compared to other states. A recession for us is a little bit different—like, our schools aren't failing and we still have hundreds of millions of dollars in the bank. The problem with that is that if you've got a big fat savings account and things aren't going well, you're not going to make the changes that you need to make.
But we were finally getting to the point with our reserves and economy where we were starting to realize we needed to make some serious changes, which had a really big effect on design. For the first time, people were looking at per-square-footage costs for people working in an office. In California, you were looking at that 20 years ago, but we were just starting to look at those efficiencies when COVID happened. We just had a huge infusion of money as a result, but I do think we'll go back to that recession. Our firm is working as much as we can to build a buffer, and I think we'll be fine. We were fine before COVID. We always have a bunch of money in the bank because our mentors taught us that this business is boom-and-bust.
The other big thing is even before COVID, the only growing sector in our state was health care. The "silver tsunami" that's happening everywhere—it's happening to us too, but our health care costs are, like, four times what the Lower 48 experiences. We have a lot of new health care providers coming to our state because being a health care provider [elsewhere] isn't working anymore for people, but it works really well here. A couple years ago, there was an article that said the average doctor here makes like $1.8 million. People are coming here to provide health care services, so there's a ton of design around that, and we do a ton of it. Our biggest client this year was one of our major health care providers.
Brendan Shanley, LostInPrint
You have every category in your portfolio. Is there one that feels like a particular strength or focus, or is diversifying really part of the ethos of what you do?
Well, that's a great question. In Alaska, the thing that's unique about us is you have to be diverse. We work with firms in the Lower 48 that do only health care, but if we specialized in that way, we would die. People call and they're like, "Can you help us work on a bomber squadron?" And we're like, "Yes, we can do that. We'll figure it out." Each of us is kind of specialized because you do need to know some stuff. We keep ourselves really well trained in as many sectors as we can, because if not, we will fail.
What's really interesting is Barb started this company in the 1970s, and there was a different culture around women owning businesses. She was wearing business suits to work and really proving that she could do this and be successful in business. She built her company to be very professional and cutting-edge, and she went for huge clients. I don't know if she did that subconsciously or consciously, but I've always thought that she wanted to set herself apart from what was traditionally a woman's role in interior design. As a result, the firm never did any kind of interior design for housing. But we have this fabulous young designer who was super interested in housing, and we said, "If you want to test out the waters, do it." She built up our residential portfolio to almost our second-largest sector this last year. It was incredible.
Is that multifamily projects, or single-family homes?
Single-family homes. We have always done large-scale multifamily because that's a more professionalized category, but we never really did a lot of single-family residential. We're good at producing huge construction sets, and that's a whole different game, so we never thought we would be able to do it efficiently. But this has been really fun for me, and I'm learning a lot about our younger generation. It's so fun to tap into their innovation.
How does a residential client engage with your firm?
Kelsi [Swank, the director of residential design at SALT], was so innovative. She started a whole DIY interior services program that's totally approachable for a middle-class person, which I wouldn't have thought would work out financially. She made it work. It's not about doing huge construction projects; she has great space-planning skills and has such an eye to pull out the style and aesthetic of the people and make it a great space, but she's only giving enough service [to give them] what they need [to do the work] with a contractor or to help you do it yourself. She is killing it in the amount of work and profit we're making.
How did you bill for that specifically?
She created a web-based service—all of this came out of COVID. One of the cost-saving things was creating a little booklet on how to measure your house and do an as-built. She gave people that, and then would come up with a concept. Based on plans and a finish schedule, she was doing really efficient $1,000 concepts for people. Some people want the construction documents, so she also provides that service. But she was really making it more equitable for everyone. I'm not in the million-dollar club at all—but she made it approachable for me. It's pretty cool.
Are you guys doing the purchasing as well, or are people doing their own materials and furnishings purchasing?
Because we don't have anything here, we have a lot of purchasers that go out of state. That means we select items, and then connect them up with the purchasers and shippers if they want that level of service. But at any level of our design service, we don't do any purchasing. We do bid documents for FF&E purchasing for schools and hospitals; for residential, we just do concept aesthetics.
So all of the firm's revenue is from design fees?
Yeah, and we're almost $1.6 million of revenue last year. So we're small, but super efficient.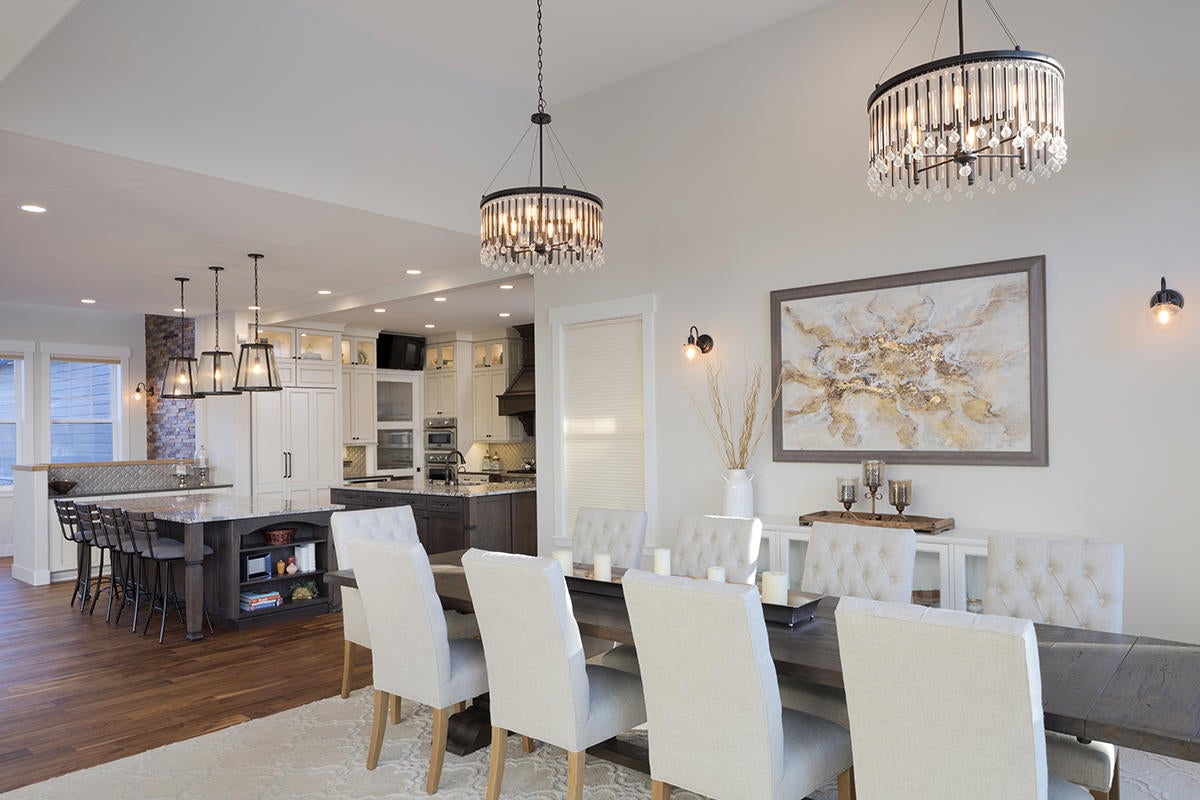 Chris Arend, Chris Arend Photography
Where did the name SALT come from?
The company was called RIM Design when I bought it. We wanted to rebrand it because although the woman who started this was incredible, we also needed to show that we could create more, build on her success and leverage that. We came up with SALT because it is something that every culture can connect with. Who doesn't like salt, right? It's referencing the ocean that we're on, and the surfaces that we get from that. It's an element of life that you need to live—just like design is, in our opinion. It was something ethereal, and we felt that it removed us from being any one specific thing so that we could change as we wanted to.
What's really funny is that in the end, why we really call it SALT is because it stands for "so awesome, like tacos." We don't have big egos—we're just normal people doing the best they can. Our mission is to create transformation on a generational level, not just to do design for today.
That is awesome—like tacos! Where do you see the most opportunity to grow, and where do you want that growth to happen?
If we did add more people, I think it would be on the strategic planning side, because it is very hard here to find designers. As a matter of fact, we hired three new designers this year because they were young people coming out of college, and they just happened to come to our firm. We hired them because you can never get people to move here and stay. It's too harsh of a climate. It's too far from family. So we kind of grew really big—for us, three people is a lot. We want to have measured growth, and to grow more than just in people and service. We want to grow our capability and our training. We are in a sweet spot in our size—we're just the right size to live through anything, and we don't want to scale back or grow with the economy, because we know that it will change. This is a place where we can keep 10 families moving forward and sustained.
I will say that as I am in this place in life where selling my hours is really hard, because you only have so many hours in life to sell. I am really wanting to look at scaling our services in a different way, so that we're selling a process and not hours. Kelsi's innovation on the residential side got me thinking there might be a different business model that we can look into to start to grow where we're selling a strategic planning process or an engagement process that we can co-create with someone rather than lead. It could be a subscription service, or something like that, because selling hours your whole life is tough.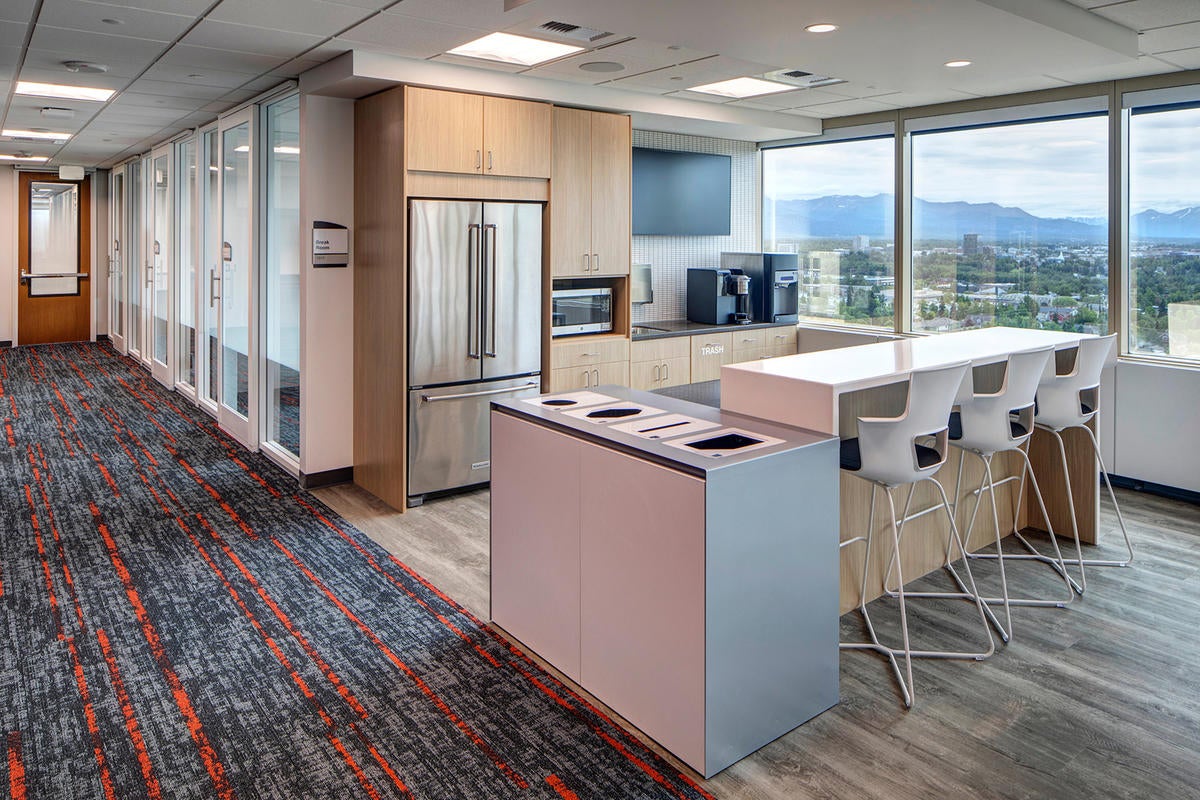 Photo Credits: Chris Arend, Chris Arend
We've talked a lot about engaging stakeholders in a more meaningful way. How did you find that process, and how have you refined it?
That is sort of the basis of me. I am an Alaska Native; I grew up in the house I live in now. But when my dad was born here in 1935, English was not his first language, and his family was still moving with the seasons for food. In one generation, you go from someone who's living a pretty decolonized life to me, who's living in downtown Anchorage, which is fairly urban. My idea of subsistence is at the grocery store—I'm not going to fish or hunt, but that transition was really hard and filled with some significant racism. I'm only 45, and I remember being ushered out of stores with my father because he's native. They were like, "You can't be here."
My father ran our Native Corporation, which is a multimillion-dollar corporation. He didn't go to college—he didn't even finish the ninth grade, because he had to go to work—but he was brilliant. All my life, I have lived this weird existence of transition between something really culture-based and really colonized. I never felt like I fit in with either. For me, design was a way to connect back and to say, "Traditional knowledge is important, and these people should be at the table." So I did my master's in activist practice around the idea of how to engage minority groups and people who were not at the power table in design, and I applied that to Alaska Native people. It was about reconnecting and bringing my community forward as an important voice.
When I was growing up, my dad was like, "Never, ever speak the [native] language. Act as white as you can because otherwise, you won't survive." He was beaten for speaking the language in school. Now, it's super cool to be native, and everything is about equity. It's totally different. My 10-year-old is teaching me the language. He's so excited to be a Yupik native boy. He thinks it's the coolest thing ever, and when I was 10 years old, I was ashamed. In 30 years, you can go from being ashamed to having a child who is so proud of who he is. They're saying land acknowledgments in his school after they do the Pledge of Allegiance. That's what it is all about for me: bringing it forward in a way that made me feel safer and part of the identity that I lacked.
Has that shift changed the work you're able to do or the conversations you're having when you go into communities?
Absolutely. We're not such big leagues that we can afford to not take on all projects, but we really look for that kind of work because it's here, and it's everywhere. For example, I'm working for our museum here and taking them through a process to become an antiracist institution. They've hired me to do that. The thing about design is it translates into so many things, and I don't think people realize the impact it really has. You can use it to change thinking and to change bias.
My partners at SALT are the most authentic and amazing people, and we can have these conversations like, "Is this project going to make generational transformation, or is it just a way to feed our family?" Being able to do that with your business partners and apply those really personal, ethical, larger goals at a business level—and having people working their butt off to do it—I have to say, I never thought I would have this. I never thought that life could be so fabulous, and it's really because they're on the same journey.
To learn more about Michael Fredericks, visit the SALT website or find the firm on Instagram.