In 2021, Hannah Learner had been working in fashion for nearly a decade, and she was beginning to grow weary. The ever-faster trend cycle—and the sense of disposability it fostered—had her no longer looking to the future for inspiration, but instead delving into the past.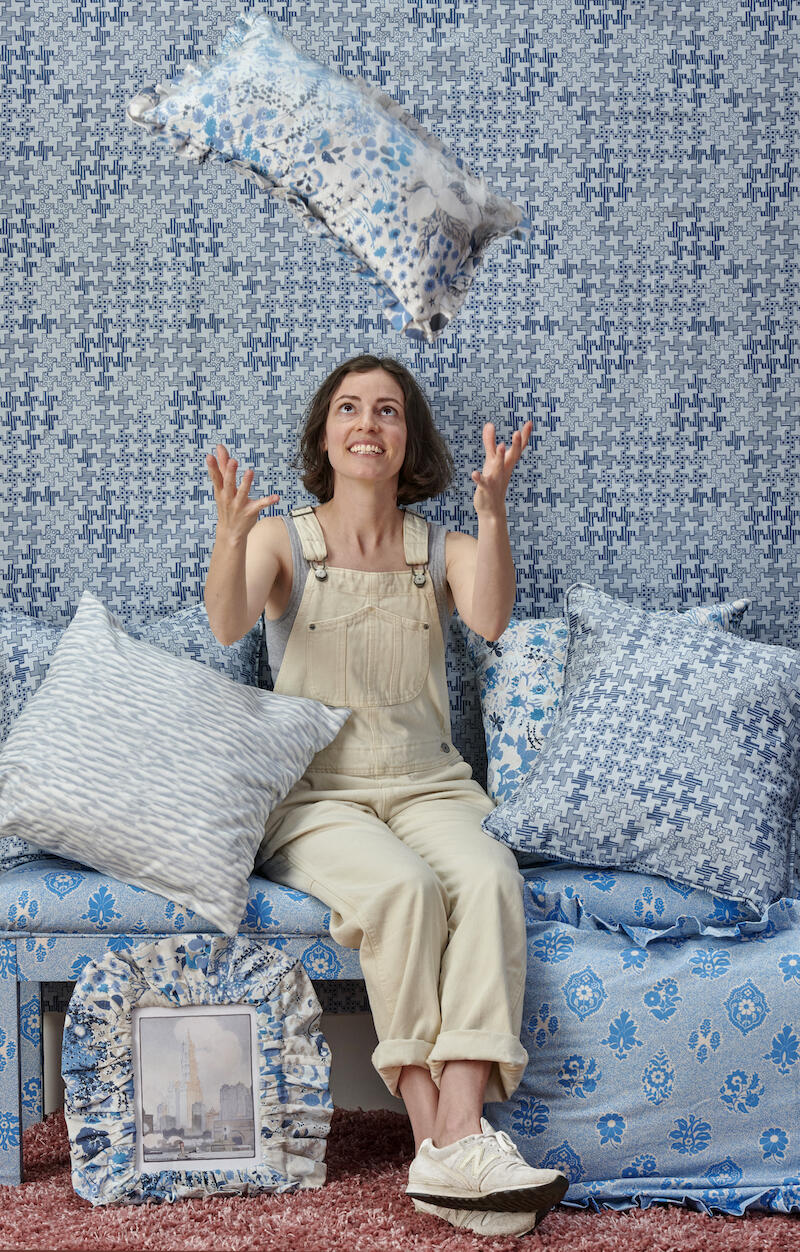 "My reaction was to have even more reverence for things that are older, and to seek out even more depth behind vintage pieces," says Learner. "Rather than showing things that are like, 'Made today, gone tomorrow,' [I've been] really exploring things that have longevity and stories."
Along her quest to investigate design history, she found herself at a textile library in Upstate New York during a day of inspiration-gathering (at the time, she was design director at the contemporary lifestyle brand Splendid). One piece in particular caught her eye—a framed pattern hanging on the wall, with a pencil signature in the lower corner that read: John Jacoby. "It was the first time it hit me to [consider] the real people behind these old artworks," says Learner. "Not just seeing them as antiques, but somebody made this and signed at the bottom—who is it?"
As she came to find out, Jacoby was an American textile artist employed by the New York textile house Cyrus Clark Company. The work that caught Learner's eye would eventually serve as the inspiration for Megaflora, one of eight patterns based on vintage designs that comprise her newly launched textile brand, Rhinne. The company's debut collection of wallpapers, fabrics and pillows revives designs from the archives of 20th century mills, using textiles drafted and printed by hand in a nod to the craftsmanship and conditions under which the original works came to be.
While many contemporary brands that source vintage artworks as inspiration do so anonymously and without acknowledgment—as many such collections are of unknown origin—Learner's grounding concept was to explicitly draw the connection between past and present, namely by only working with archives that have a clear provenance. That commitment often led to a dilemma: In most cases, a textile company (or often, says Learner, an heir) will sell their archives and release the works for inspirational use to an agency like the one Learner worked with long after the mill itself had ceased operations. "Their records are a literal paper trail, ending before digitization," says Learner.
That first day in the library was the start of an extensive research process that prompted Learner to think outside the box to find the original artisans behind each pattern. Oftentimes, a simple Google search of the maker's name came up empty. Instead, Learner contacted librarians at institutions such as Cooper Hewitt and the Library of Congress to track down leads, and in one case even hired a grad student in Italy to petition the librarians at the Como Silk Museum. When traditional research processes failed, Learner gathered her own documents, going so far as to purchase old records on eBay in order to find a company name or address.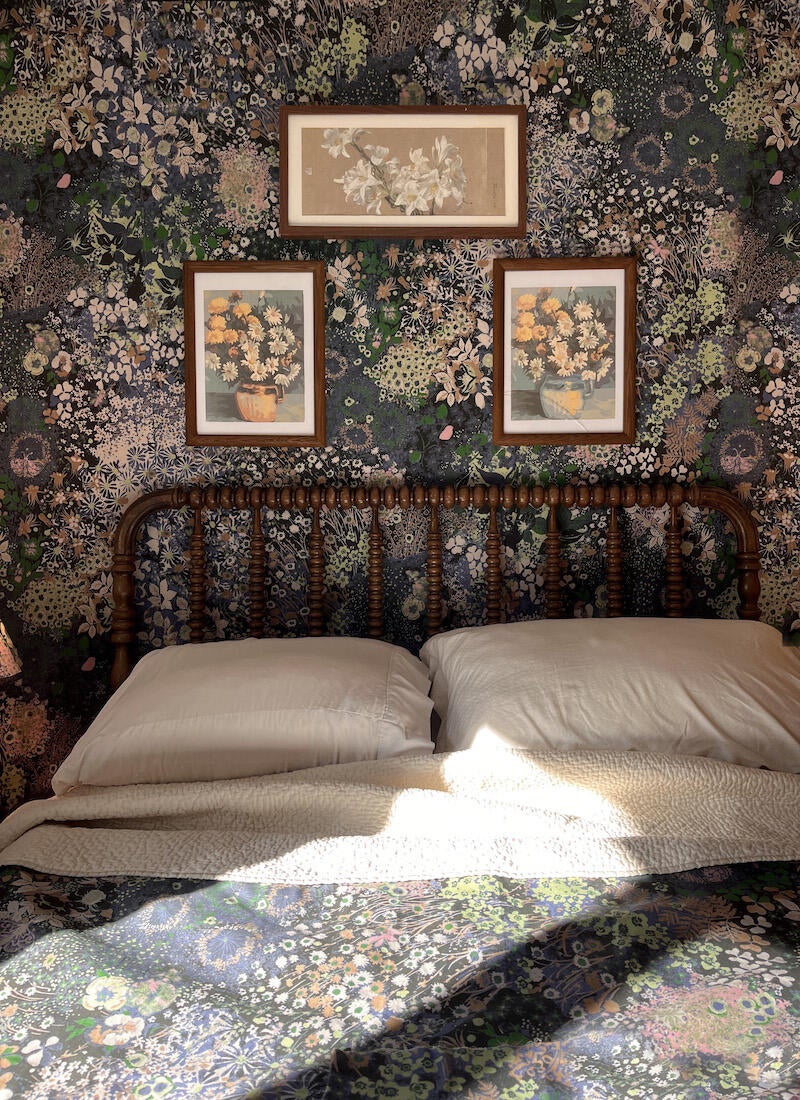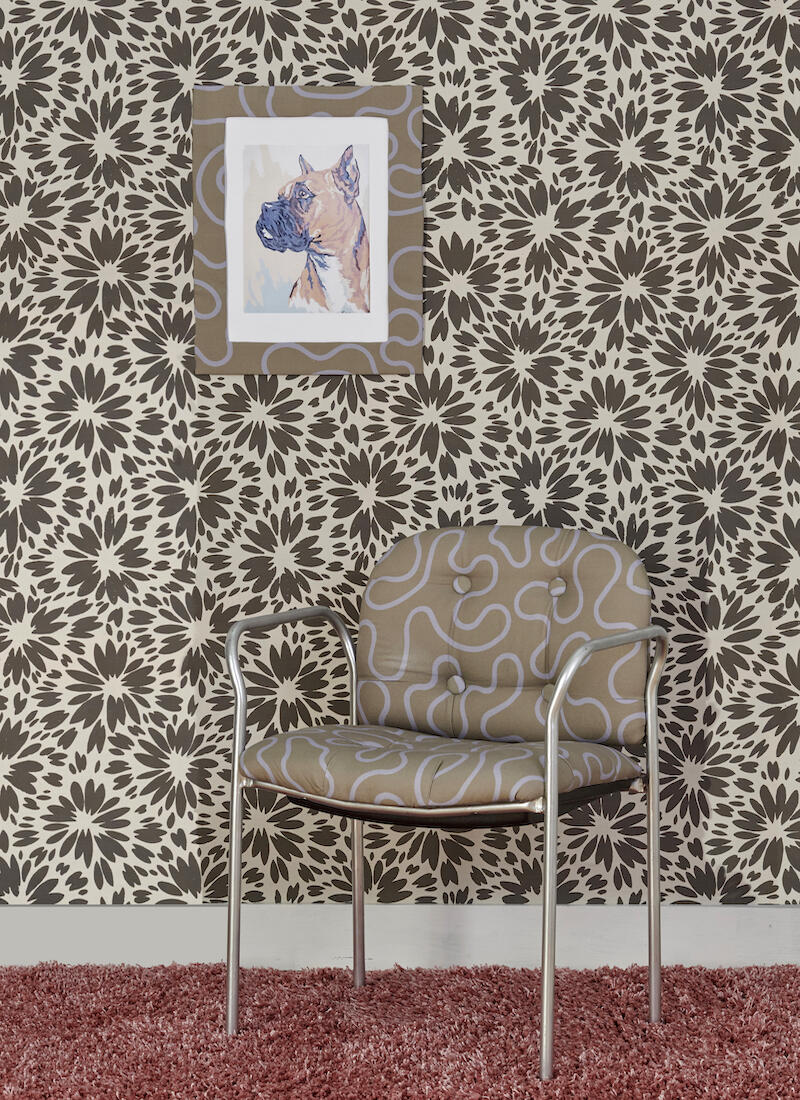 The result is a collection steeped in untold history, with pieces inspired by patterns dating back as far as 120 years and as recently as half a century ago, each serving as an emblem of their time of origin. Some of Learner's favorite examples: Two of the debut collection's patterns, the Ondulé and Étincelle, come from the archive of Lyon, France–based mill Bianchini-Férier, which debuted at the 1889 World's Fair in Paris—the same event for which the Eiffel Tower was built and unveiled.
From a design perspective, the patterns themselves offer a look at a forward-thinking past, with the Étincelle (French for "spark") utilizing boomeranglike shapes—inspired by early ideas of space travel—that would become popular in the Atomic Age to follow. Others harken to a more recent past, such as the Botanico pattern, drawn from the archives of Farkas-Ortenzi, a textile design studio active during the 1960s to 1970s that produced motifs ranging from pop-art-inspired daisies to fleur-de-lis and paisley. The Megaflora pattern, too, tells a rich narrative about the history and habits of its maker, who hand-painted each design with gouache and was known for hiding a butterfly in each of his creations.
"[Some of these patterns] were drafted around the globe 100 years ago," says Learner. "They've been in the archives through world wars, through automation, all kinds of changes in the world, and they still hold so much beauty and freshness."
For now, Rhinne is available direct to consumer on the company's site and will also be exhibiting at several editions of the traveling trade show Design Social in the year to come. Looking ahead, Learner plans to expand future collections into additional home lifestyle offerings like lampshades and upcycled vintage pieces, encouraging designers and homeowners to embrace an old-meets-new aesthetic. "I see it as an opportunity to use vintage in a very playful mix-and-match, approachable way—I wanted to take vintage down off the shelf and [give it] a contemporary life," says Learner.
Homepage image: Rhinne's Botanico fabric in Avocado | Courtesy of Rhinne