The 50 States Project is a series of candid conversations with interior designers across the country about how they've built their businesses. This week, Des Moines, Iowa–based designer Jessi Economos of Jeid Studio tells us why she hates the word "decorator," why her age isn't an indication of her talent and how she got comfortable raising her hourly rate.
Did you always want to be a designer?
It was a long path—back in high school, I took every science class I could get my hands on.

That is not the answer I was expecting.
I did—I worked my tail off. And to be honest, I was a B student. I was not top of the class. The sciences were super hard for me, but I had it in my head that I wanted to become a physical therapist. It's kind of hilarious because I actually get really nervous in doctors' offices and I do not handle blood well. That probably should have been clue number one that I was going in the wrong direction!
I was all signed up to go to Central College in Pella, Iowa, for exercise science. I had scholarships, I had a roommate, I had everything figured out—and then, in my last quarter of high school, I took a graphic design class and learned Photoshop. Most people took it because it was an easy A, but I fell in love with it. I was staying late and going in early, doing anything and everything I could to win the weekly design challenge. My best friend started saying, "OK, science is so hard for you, but this is coming so easy and you are killing it. Why are you going to college for exercise science again?" I ended up touring Iowa State University in June and moved in that August to do their design program. It was the first time in my life that I was top of my class.
Was design school what you expected?
I wasn't taking all the art options I could in high school because that wasn't what I was going to do. I knew that I loved fashion and color, but I didn't know if I could draw. [My experience] ended up being surprising in a really good way—like, "Oh, my gosh, I can't believe I just did that. I did this amazing drawing in charcoal, and I literally didn't even know what pencils to use at the beginning of the class." I had never felt so understood in my life. The people in my classes thought like I did, and they studied like I did, and it just felt so different than everything I was working so hard at in high school, where I was not getting the results that I wanted.

Did you know what kind of design work you wanted to do after graduation?
During college, I had an internship in Denver with a high-end interior designer named Kristina Sterling. She was a one-woman show, and her business was Seek Interior Design. After interning with her, it was very clear to me that I wanted to be in high-end design, and I wanted to be able to set my own schedule and hours. She was a single mother with two little kids, and I saw how she was able to build her business around them, which was really inspiring to me. After I graduated, I was at a firm here in Des Moines, and I learned so much. But in the back of my mind, I always knew I wanted to start my own thing. And after four years, I did, in January 2020. It was terrifying, and that was before COVID even happened. But I landed a job. When you first start out, you take anything and everything, so I accepted a primary bathroom and closet remodel. To be honest, I did not really want to take it. But it turned out to be an incredible project—probably a $200,000 project just for those two rooms—and then it led me to a project in the Bahamas.
How did that come about?
The clients were like, "Oh, by the way, we just bought a house in the Bahamas. And we have a private jet, so we can fly you out." I was like, "What is this? This is not real life." I'm a small-town Iowa girl—that's definitely not how I grew up. But that project ended up being during COVID, which was incredibly difficult. Not only was I trying to navigate how to present all of the hard finishes for an entire house virtually, when I'd never done that before—but there were also questions like, "How do I communicate with installers who don't speak English, or who don't know how to read?" While that was super challenging, it did set me up for success. To be forced into thinking through all of those details, and how to best communicate what I want design-wise, meant building the systems that I'm still using to this day.
That sounds like an amazing learning experience.
It was. But while that project sounds super sexy, getting furniture to the Bahamas was hard. Thankfully, this wasn't the client's first house there, so they already had a receiver in Florida. Once the pieces got to Florida, the clients took over, and they handled things like import taxes. But even just coordinating—like, where is everything? And this was during COVID, when there were 40-week lead times. So making sure I knew where everything was—is it at the receiver in Florida? Is it on a boat? Are there any claims?—was a lot. And it was just me at that time; I didn't have any employees. So it was a great way for me to dig in and get [processes] figured out so I could grow a team and have some idea of how I wanted to track all of that.
What kind of systems were you building out?
My husband, John, is incredible when it comes to writing macros and developing programs in Excel and Google Workspace, so we have developed our own internal system of tracking the entire design process from beginning to end. It's been really fun to work with him on it, knowing that the work can be done so much more efficiently, so much faster and more accurately, and then to be able to take it step by step with someone who knows how to translate to a developer. It has been a game changer.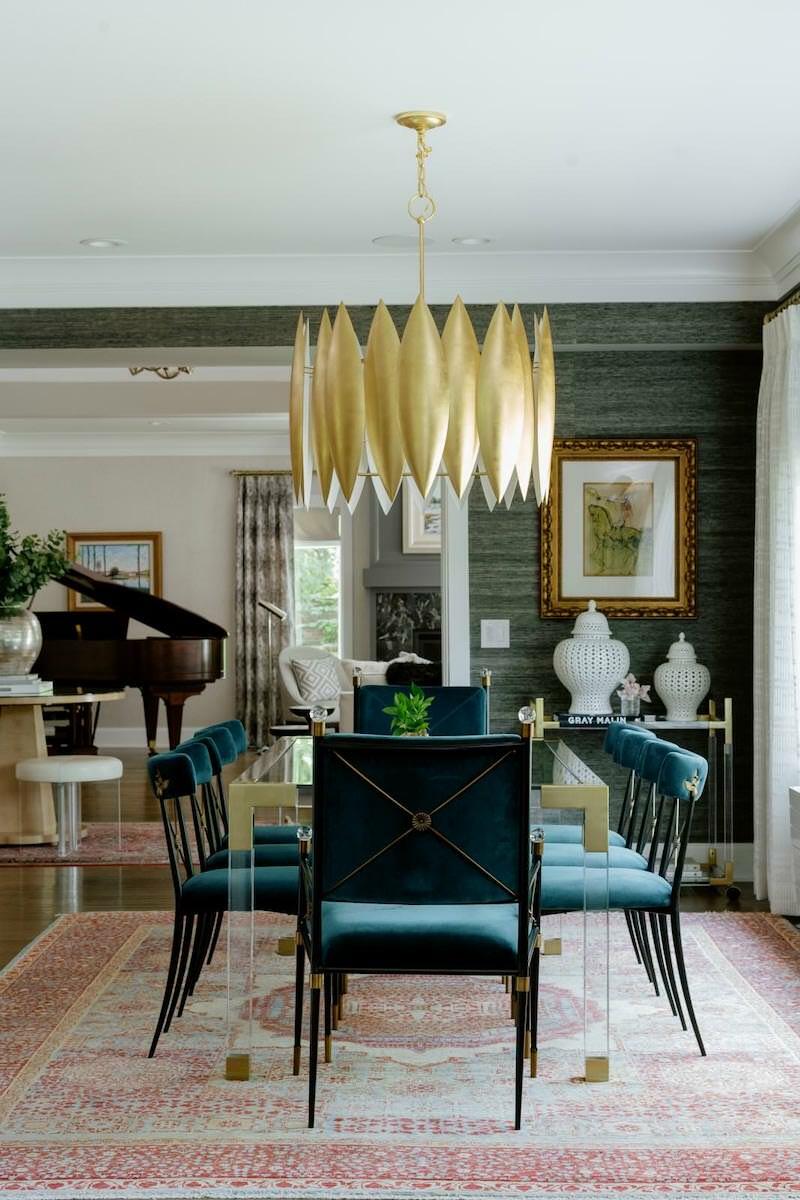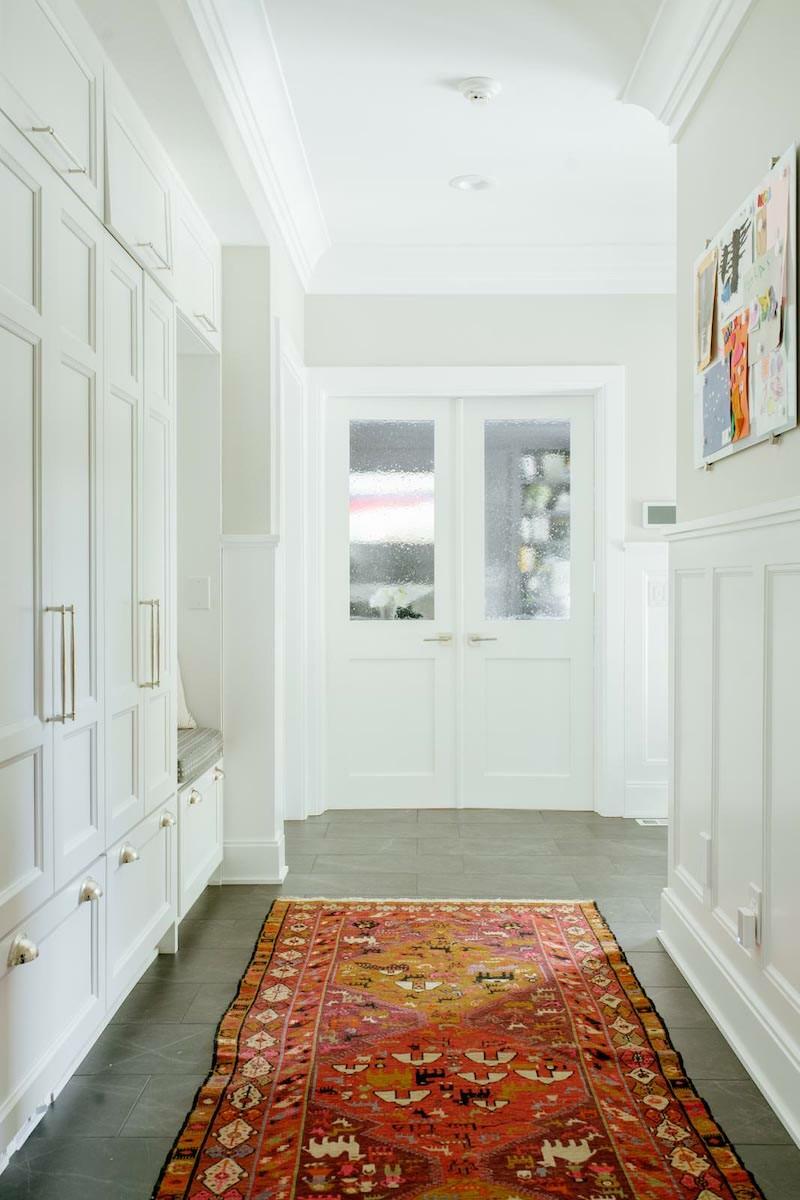 Where did you find yourself streamlining or saving time?
One of the biggest pain points in design, especially if you're not using one of the other platforms out there, is that there's a lot of data—images and intricate details that vary from item to item—and you present them in so many different ways. First, you're pricing it, and then you're sending a proposal to the client with an approval letter, and then a purchase order and then updates on that purchase order.
At my first job, we were creating all of those documents individually. That meant downloading that image seven times, just for one product. We've developed a system where you enter your product once, it's in a huge database, and it transfers and creates all of these beautiful documents to present to clients automatically. So for your big presentation of, "Here are all of your images and the different angles that the vendor's showing you"—it puts it all together into this nicely designed PowerPoint that would have taken me hours to create. Now it's done in a matter of minutes.
We're creating systems that still make everything aesthetically beautiful for the client, but that save our designers time. I think the biggest [point] of these automations is to try to keep our designers in their sweet spot. Copying and pasting data is not creative, it's not fun and no one wants to do that. And in today's world, nobody should be doing that.
You have a big team for how young your business is. Can you tell me about starting to hire?
I think I waited too long to hire. I was literally working 80-hour weeks, Hustling as hard as I could. And I think now it's becoming more and more popular to buck the hustle culture.
I'm an Enneagram eight, so I will pour my heart and soul into everything I'm working on until my body forces me to stop. So that was truly my first year and a half in business—I was just head down. I was going to make this work and it was going to be big. I have a vision—I don't want this to sound cocky at all, but my vision is that if anyone in Des Moines needs a designer, Jeid Studio is the first thing that pops into their head. That's been the goal from the very beginning, and I knew that I would need a huge team for that to be the case, because you can only manage so much on your own.
So after a long time of trying to just make it work, I decided it was time for a new hire. And that was absolutely terrifying. But I put it out on Instagram, which was essentially only followed by my family at the time, and I was very fortunate that one of the applicants was Caitlyn Croston, who was actually an intern at the firm I worked at previously. We had worked really well together, and it was just a no-brainer. To be able to know and trust your first hire—that was huge.
Next we brought on Paris Schnepf—she started part-time, helping with cardboard and checking product in and all of the things that you never have time to do because you're running around like a chicken with your head cut off. We joke around that she's our chaos coordinator. She quickly became full-time, and she helps keep everything buttoned up and makes sure all the clients are updated.
One of the things our software helps with is capacity planning: How much time a week can a designer put forth [on different tasks]? We estimate how many hours we think projects are going to take, and when we did that, it became evident that we needed more bodies to be able to give our clients the treatment that we wanted. So we added a couple more designers, and then hired Carla Gillotti as our business development person. She is the cutest woman you will ever meet, and she knows everyone in Des Moines.
Probably the scariest hire ever—and I don't think this will ever change—was hiring my husband. When we started talking about Jeid Studio, it was like, "Babe, just go for it." And then two and a half years later, I was like, "OK, I think this is going to work, and I need you to be here and help me with this." And we haven't looked back. He has been huge in helping us with our processes and systems and the development of our team, which is massively important. As COO, he makes sure our team knows that they can share anything and everything with us, and that we're going to push them to become better people, not just designers. That takes time, and he's been huge in helping with that.
What does that look like in practice?
We use Gusto, which is an online platform for payroll, and also where we do reviews. We have surveys that we send out to the team to review their peers, and we can enter in feedback—like, "So-and-so waited a little too long on this project. We procrastinated, and then we felt a little rushed." John and I will go through big-picture areas where they're winning and things they can be improving on. It helps us ask, "What tangibly can you change in your day-to-day [routine]? What can we do to help you?" He has been meeting with them about every 90 days. They just go out and grab a cup of coffee and talk through it, and they can give us feedback too. It's been really great, and I was not taking time to do it even though I value that so much.
Were there things about that process that surprised you?
Yes. You very quickly get an inside glimpse of people's day-to-day lives, their mental health, their family issues. Work takes up so much of your life, but it's not the only thing. I think that's been the biggest surprise—we have a very open team, so we share. I'm sharing about all of [John's and my] infertility stuff, and we're talking about depression and anxiety and all of these things in the office, and that is very different from my last job. I think I've been so surprised at the willingness of our girls to be vulnerable and honest, and it's created a really, really close, tight-knit team. It's only going to become better with the more one-on-ones we do.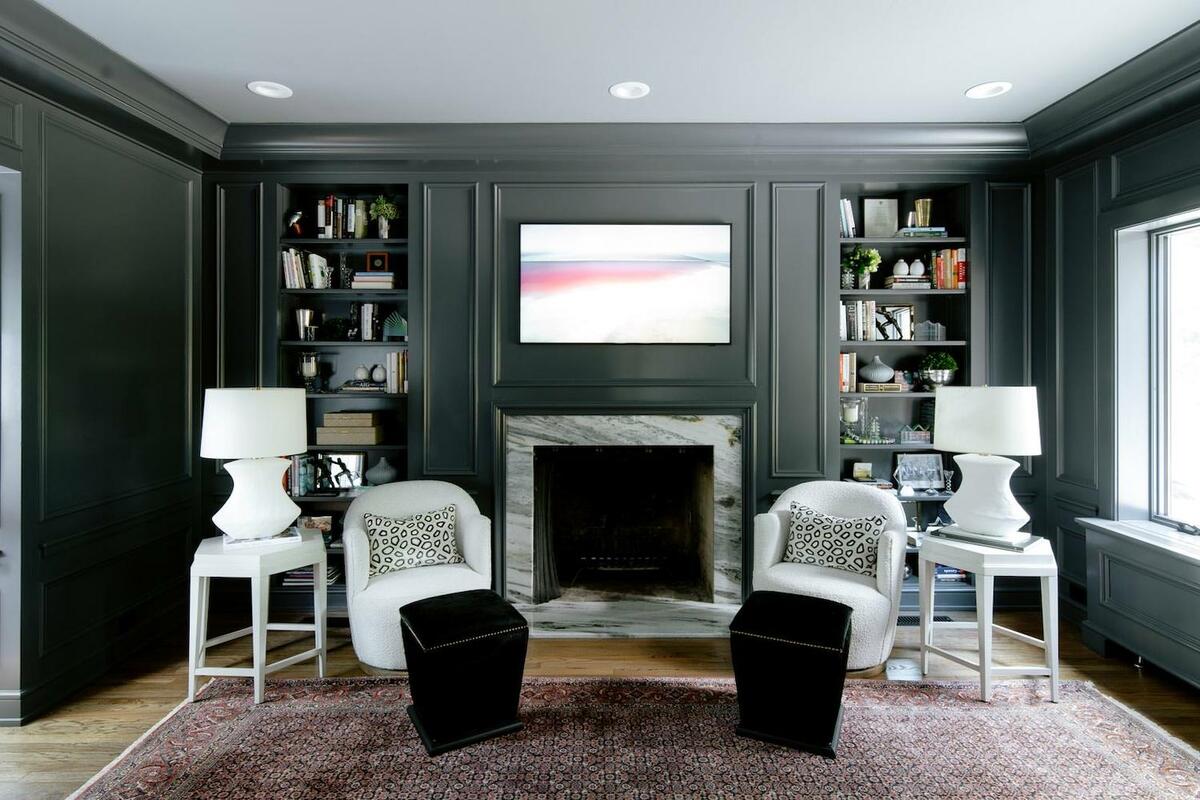 How has your role changed as your team has grown?
I have to give up control. Which is hard—especially as an [Enneagram] eight. My role initially was pulling the ideas, curating all of the concepts, pricing every item, delivering all of those deliverables, ordering everything, tracking those orders, paying for everything—truly it was me doing every single step, which is what you have to do at the beginning.
Now that we have more people on the team, delegating has become huge. We have enough projects that I truly can't go to all the meetings, even if I wanted to. That's a blessing, and I trust my girls. But I would be lying if I said it's not difficult to let them go and do it. This is what I love. This is what keeps me up at night. And I do wish I could have the mental capacity and time in the week to be on everything, but now it's more about guiding them. My husband jokes that I'm a "first-lap girl." I meet the clients, get the project, help with the initial ideas and set the vision, and then the team oversees the smaller, individual details that help it come to life. So I'm doing the first lap rather than the whole marathon now.
How do you present that process to clients?
It's never like I'm in the first two meetings and then I completely ghost them. But we do communicate upfront that we have lots of hands and feet and this will be a group project. We have a whole onboarding sequence that explains what clients can expect, who they will be hearing from and what those people do—that is part of our consultation as we are talking through the meeting schedule. And then if a client has a direct connection with me, I will be on probably 50 percent or more of the creative meetings. But if a client just heard of Jeid Studio through Google, or they didn't request that they work with me specifically, we let our other designers roll with it.

You hired Carla to focus on business development. How has she challenged you to grow?
One of the scariest things is going after new business when your current capacity is getting close to being full. She knows the vision of the company, and she knows that we want to grow this team, but we have to do it in a smart way. So she's done a really great job of pushing us to trust ourselves that if the projects come in, we can add to the team and we're not going to be stuck.
The other big thing is that she knows how we work so well that she can pinpoint and find partners who have a similar vision—who treat clients the way we do—and she has been setting up lots of meetings with builders and contractors and wallpaper installers to vet them and make sure it's going to be a good fit. We have a presentation where we walk through how we work, ask the [potential collaborator] a bunch of questions about how they work, and then we can hopefully just dive into our first project. She has found some incredible contractors and builders that I'd never even heard of to build out our local vendors and get to know more people. That way, we can be confident in handing out different people's names when a client needs a referral—and this past week alone, we landed two new projects that were a direct result of her setting up those meetings with new contractors.
How many projects is the firm working on at a given time right now?
We have about 12 new builds going, which are 4,000 square feet or larger. Beyond that, we probably have 20 smaller-scale projects, whether it's furniture only or a little remodel.
Can you tell me a little bit about how you've approached billing for your work and how you talk about money with clients?
We bill hourly, which was very intimidating for me because I had never done that. But I tried a flat fee and it just felt like I was getting burned. And hourly is a way you can be very, very transparent with a client, and they get charged for what they spend and you get paid for the time you're working. After the client consultation, we list all of the rooms we're helping on and all of the elements within that room that will need to be selected. That's the basis for our hourly estimator, which is another system that spits out an estimate for the whole project.
At that point, we have a meeting to talk through the estimate, [explaining that] 'This can obviously go up or down, but we collect 50 percent upfront'—that's to hold their spot on our calendar and ensure that they're serious about this. Every month they get a report on how our time was spent, and after the 50 percent mark, they'll get an invoice once a month until the project is complete.
Let's go back to the fact that you have systemized that estimate. So many designers tell me they agonize over giving clients an estimate. Does making that a formula take some of the second-guessing out of the equation?
Yes, that's so big. And I know not all women struggle with this, but women do tend to undervalue themselves. So when [we estimate] a $75,000 proposal, my stomach just sinks. I'm like, "Oh, my gosh, they're going to freak out." But in reality, that is true for an 8,500-square-foot home. Having the estimator gives me the reassurance that I'm worth this. And if the client says no, then it just wasn't meant to be. And it's OK.

How have you approached raising your rates over time?
Our rates are kind of based on our designers' experience. Our newest hire is $100 an hour, and I'm $175. I started at $100 an hour, but as the team was growing and we were getting project after project after project, it became apparent that if clients really do want me on every project or to be at every meeting, that's OK, but my time costs the company more. So we bumped up my price and nobody balked at it. And I can work fast and efficiently—I have experience that means we can get through things faster when I'm there.

It's a weird thing to say out loud, though, isn't it?
It is, because I have so much to learn. But Carla, our business development gal, was like, "You are not $100 an hour, Jessi. You need to be above that." So having somebody else tell me was helpful. I needed that push.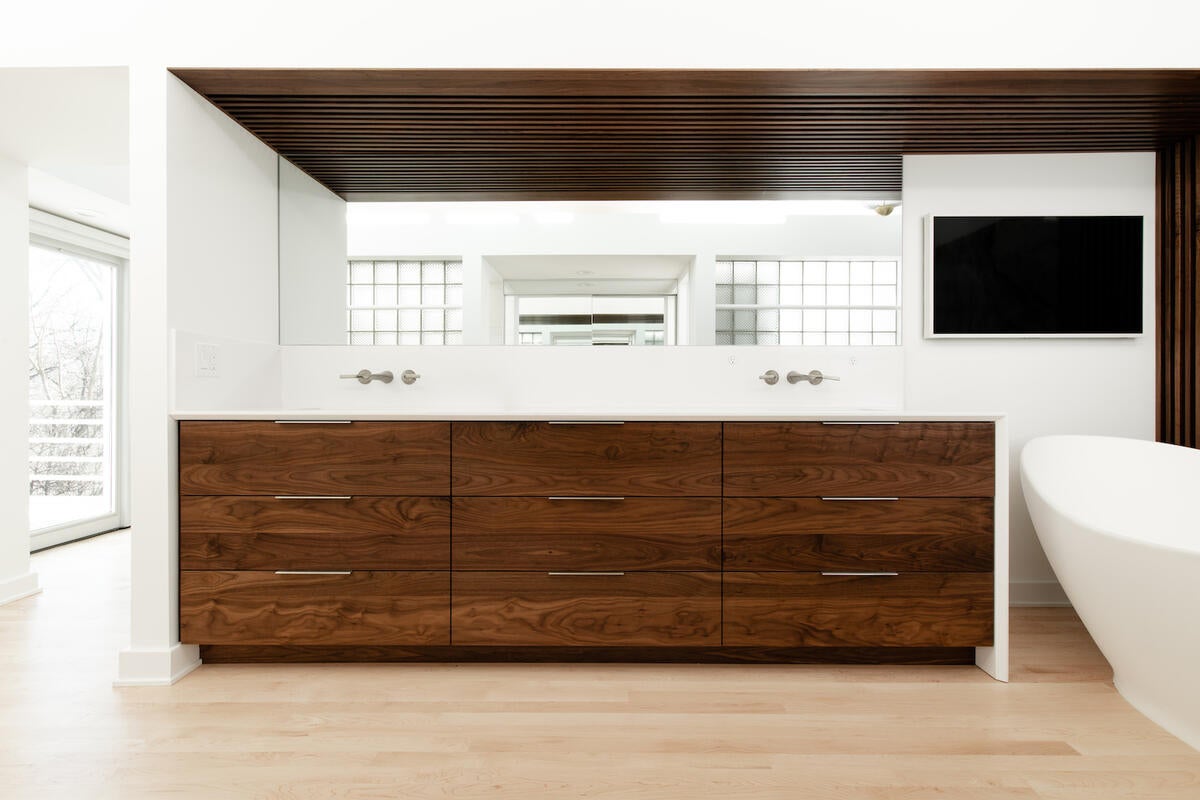 What are your prospective clients like these days?
As time goes on, people have a better understanding of what designers do. For so long, we were kind of discredited as "decorators." And that word just makes me want to crawl out of my skin—I just hate it. We do so much more than decorate. Finding vendors and partners who appreciate what you do and understand what a designer is capable of has been massively important. A change that I've been seeing is that younger clients are spreading our name like wildfire. So instead of our clientele only being older people who are maybe retiring and building their forever home, we're getting kind of that younger generation who have three kids at home and the dog, and they still see the value of how we can help them select items that will withstand the intensity of their family.

What vendors are important to you, and where do you go to connect with them?
We buy all of our product wholesale through vendors like Hickory Chair, Vanguard and Lee Industries. We do not source West Elm or Pottery Barn—we go direct, which has been a huge factor in why we can afford to hire as many employees and take on as many projects as we have. We have like a list of over 200 vendors—for example, we just opened an account with Chaddock furniture. We went to High Point Market this past fall, and their furniture just sat so well that they quickly skyrocketed to one of my favorites. It is just so comfortable.
Ben Johnston's collection was also such a showstopper there last fall.
I know! And Ben's partner was in the showroom when we walked through, so he gave us a 45-minute tour—and it turns out his mom is from Ankeny, Iowa. What a small world! He said they're gonna pop into Jeid Studio the next time they're in Des Moines. Oh, my God, I'm going to die if that happens.
Is High Point Market an important resource for you?
Yes, we go about once a year to get inspiration.
We also opened a studio space—that actually happened before our first hire. I was going back and forth between hiring someone or getting a studio, and I landed on a studio space because I was 26 at the time, and I felt like having an actual physical space that clients could come to would give the firm a little bit more credibility, especially with how young I was. It's not something where I intend to be high in retail sales—our goal is not to have walk-ins buying tchotchkes off of the shelves—but it is a great way to display some of our favorite vendors and show a working portfolio for our clients. When they come in, they can sit in our pieces: What do you like? What do you not like? And we can really tailor our selections to fit what they feel is comfortable.
I want to ask you about the choices you made to seem more credible because you had a big job at a young age. I've experienced some of that, too, and what you said really struck me—it can feel like no one ever talks about it, but I do think feeling like it's something you have to do probably sticks with you and impacts the way you approach your work for longer than it should.
You're right, nobody talks about it. I had a couple of experiences that really irked me—where clients would ask straight up, like, "How old are you?" And they ask it in that tone. Or they call you "bud" or "buddy." And you're like, "I am not your buddy, I am managing your $2 million home and I am nailing every detail." So I think I had a little bit of a fire from those comments. I always had that desire to show clients that I'm not a risk at all. So [perfecting] our systems the way we have, being extra professional—I am young and I am a female, but we have the systems dialed in.
What's the biggest challenge you see looming ahead?
It has to do with being female. [My team is] all young women very close to having babies. So that's going to be a challenge.
So you can see the writing on the wall?
Yeah. Hopefully we're at least like a month apart. But if not, we'll figure it out. [Another challenge is] the transition between me being involved in all of the projects and knowing when I can be fully removed—there's a delicate balance there. I never want a client to feel like they're being pushed aside, but more importantly, I don't want my designers to feel like I don't trust them to handle it without me. So that's a challenge as our designers are becoming more developed and understanding the process more and more. I want to be respectful to both sides. There are lots of opinions about what that looks like to each person. So [it's about] trying to figure out how to best communicate that to all parties.

What does success look like for you?
It looks like being able to provide a workplace that my employees love coming to and feel inspired by. I think it's work-life balance for not only my employees but John and me as well. I think it's really beautiful that we get the opportunity to help clients design and develop spots in their home that will hold their most precious memories. Being able to experience that time and time again, there's no better feeling.

When you think about the size of your firm, is there a cap on that for you? How big do you imagine growing to be?
For Jeid Studio, there's not really a specific number—I think less than 30 people? I want Jeid Studio to be big, and to be kind of the design mecca of Des Moines, because there aren't very many spots here where people can access services like ours.
What is one thing you know now that you wish you had known when you started your business?
That I can trust myself—I think that's huge. Growing up, I was teased for not being super intelligent because I was trying to pour my heart and soul into sciences, which I was not made to do. So just trusting that I am built to be a business owner, and I am capable, and I am smart. And I am able to learn new things and develop new skills. And I don't need to second-guess myself.
That's so beautiful.
Thank you. It's definitely a healthier mindset now. I still have to shut down that internal voice every now and again. But it's been a really cool thing to experience.
To learn more about Jessi Economos, visit her website or find her on Instagram.