A week before everything fell apart, they threw a party.
Wednesday, March 22, was a busy day at the Pacific Design Center. It was the building's spring market, and the festivities kicked off early with some big names: A 9:30 a.m. panel on architect-designer collaborations featured Annette English and William Hefner. The venue was the light-filled Jean de Merry showroom, which occupied a coveted space in the atrium on the building's top floor.
Over two decades in business, Jean de Merry had built a reputation both for the quality of its own product and for representing respected artisans and brands. That morning, as guests mingled, the showroom was filled with artful lighting and sleek, elegant furniture.
The following Monday, visitors to the top floor encountered an entirely different sight: papered windows. A note announcing a "re-imagining" of the space did little to quiet the building's rumor mill, and represented brands soon arrived to cart away their floor samples. Across the country, similar scenes were playing out at Jean de Merry's three additional locations in Dallas, Chicago and New York—papered windows, locked doors, a posted notice and an exodus of product. Nearby tenants were all left to wonder: What happened to Jean de Merry?
In an April interview with Business of Home, brand co-founder Christian Maroselli described a chain reaction of financial struggles stemming from Covid that ultimately forced the abrupt shutdown of Jean de Merry's multiline business. "The more I'm trying to fix things with my clients or represented designers, the more the energy is pushing me out somehow," he said, vowing to make good on his company's considerable debts. "Some represented designers are going to understand, others are not. Some clients are going to stick with me, others won't."
However, interviews with several of the company's represented brands, 10 former employees, as well as designers and industry insiders—most of whom asked for anonymity to discuss a sensitive situation—paint a different picture of the company's shutdown.
They describe a business that was already falling behind before the pandemic. In their telling, Jean de Merry's final year was a mess of endless delays and missing money. What's more, they detail a pattern of deception from the company's leadership that led to chaos, emotional distress and financial hardship. In their version of the story, Jean de Merry took advantage of clients' and employees' goodwill until the final, bitter end.
A school of dolphins broke the surface of the Sea of Cortez. On two nearby yachts, a stylish group of designers and artisans looked on, basking in the Baja sun. Later, there was an outdoor dinner under string lights, and a party where professional dancers performed a tango under the stars.
It was the summer of 2022, and Maroselli had invited a group of 30 to Mexico for a trip branded "Días de Verano"—"Days of Summer"—to promote a company he had launched the prior year, Studio Fenice. Maroselli had told colleagues that the startup, an e-commerce platform that represented buzzy furniture designers, would be his second act after his partner (in both senses of the word), Jean de Merry, retired.
The videos and images that emerged from "Días de Verano," some published in the journal Openhouse, depict a vibe somewhere between White Lotus–style luxury retreat and academic symposium. Creatives in white linen lounge by a pool, while captions describe the event as a journey "from the geographical to the mind" and reference "the notionalist Frantz Fanon." The overall impression is of a serene gathering of creatives with impeccable taste.
But back in the States, Maroselli's core business—Jean de Merry, or "JDM" as it was sometimes called—was in serious peril. The company had been struggling to pay its vendors on time, but that was nothing new. More seriously, it was locked in two separate legal battles with Cohen Brothers Realty, its landlord at New York's Decoration & Design Building and the PDC in Los Angeles. Together, the lawsuits claimed that Jean de Merry owed nearly $2 million in unpaid rent. Eviction—an outcome that, according to a former employee, would have "killed the company overnight"—was a real possibility. That summer was a particularly dangerous moment for Jean de Merry, but the brand's troubles had begun a few years before.
Jean de Merry was started by Maroselli and de Merry in 2001. Both French expats living in Los Angeles, the couple imported antiques at first, but soon started making their own deco-inspired line. It proved to be a hit with designers, and the pair moved the company's operations out of their garage and into a furniture workshop they purchased in order to ramp up production.
The success of the Jean de Merry collection led to a showroom business, and the pair began representing other artisans as they opened additional outposts in New York, Chicago and finally Dallas in 2015. Like all multilines, the roster of brands shifted over time, but JDM was a hub for elite up-and-comers, representing brands and designers like Natasha Baradaran, Jean-Louis Deniot, Alexander Lamont, Philip Nimmo, Christopher Boots and Kimberly Denman. For years, it was the kind of showroom that makers and artisans aspired to get into.
Maroselli and de Merry were an intriguing couple. Roughly 25 years apart in age—Maroselli is now in his 50s, de Merry in his 70s—they were known as a social and sophisticated pair, always out and about in the Los Angeles design scene discussing art, music and film with anyone who could keep up. The two were also known for their love of rescue animals—a 2019 Los Angeles Times profile clocked three dogs and 10 cats.
Former employees say Maroselli and de Merry had a complicated working relationship. Though they were deeply committed to each other, they argued passionately and publicly. Both would make sweeping decisions separately without informing the other, leading to confusion. Though both had artistic leanings, de Merry had initially overseen the workshop and collection, pushing Maroselli to focus more on operations, finances and the multiline business—a task many say he did not enjoy, but never seemed to be able to hand off to a subordinate. "It became his prison," says one former employee.
The company's problems began in the late 2010s. At the time, de Merry and Maroselli had been quietly shopping the furniture line around, looking for either a buyer or silent partner to inject money into the business. There were no takers. According to a source who saw a deck, the financials were not enticing: "There was kind of no 'there there.' … They clearly had a good brand, but they were just using the company to fund their lives."
According to two former employees, sales of Jean de Merry's house line began to dip by the end of the decade. Maroselli and de Merry continued to pour money into their workshop, and without an investor, the company began to grapple with day-to-day cash flow. Four former employees tell BOH that Jean de Merry was struggling to pay some of its represented brands on time in the months before the onset of the pandemic.
Maroselli disputed many of the claims made in this article. In an email to BOH, he wrote that he was disheartened to witness "half-truths and distorted information, painting a negative picture of Jean de Merry." He wrote that "the revenue generated from our in-house collections has consistently been strong," and that "the claim that Jean de Merry was significantly behind in paying purchase orders" during this period is "simply not true."
In the multiline business, sales, in theory, are simple. When a designer purchases a custom piece, showrooms collect a deposit and pass it along to the vendor. When the piece is finished, the designer submits final payment, the showroom passes that along to the vendor, and the vendor releases the product. In exchange, multilines take a cut—often 30 percent—of the transaction. Easy.
Built into that simple business model is a wrinkle. Though multilines only pocket a percentage of a sale, they have custody over the full payment. For struggling businesses, that creates a dangerous temptation. If the multiline can't pay its bills on a 30 percent cut, it can dip into cash meant for vendors. According to a former employee, that's precisely what Jean de Merry was doing as the decade drew to a close.
"We were not using our own money to function," says the employee. "We were using repped designers' money that we were supposed to be passing along."
Dipping into vendor deposits gums up the works of an otherwise smooth business and creates awkward situations. According to the former employee, Jean de Merry's vendors would sometimes receive a deposit, finish a piece, then be forced to hold it, awaiting a final payment that was suspiciously delayed. Designers who had given JDM a final check had no idea their piece was sitting in a workshop somewhere, waiting for the showroom to cobble the cash together to release it.
In other cases, Jean de Merry took initial payment for an order but delayed creating an official purchase order. This created an even riskier situation: The designer carried on with their project, thinking their piece was being built, while the vendor had no idea the order existed at all.
One of the byproducts of a cash flow problem is that it forces sales reps—the front line of the brand—to either lie to keep clients placated, or tell the truth and risk losing business. Long lead times are customary in the industry, and designers are used to delays and setbacks. That provided some cover for Jean de Merry, and the showroom seemed to usually come through in the end. But the former employee says it was not unheard of for an enraged designer to chew out a salesperson over a missing piece, or for a vendor to vent their frustration and threaten to go elsewhere. (Maroselli wrote that "If there were occasional delays in payment at the end of [2019], they were due to human error.")
According to an industry insider familiar with the Los Angeles design scene, Jean de Merry's reputation had begun to suffer as rumors spread: "When their name came up, people would get a funny look on their face and change the subject."
Then came Covid, and the entire landscape of the industry shifted almost overnight.
According to Maroselli, the pandemic was the beginning of Jean de Merry's downfall. According to several former employees, the brand was already struggling, and the Covid "home boom" gave the company a lifeline. What's not up for dispute: Rent very quickly became one of Jean de Merry's central concerns.
As the global pandemic led to lockdowns and an almost complete shutdown of foot traffic in design centers, Maroselli met with the company's law firm, Cozen O'Connor, to formulate a plan. Their advice, he said, was to stop paying rent. (Cozen O'Connor did not respond to a request for comment.)
Jean de Merry was not the only company to enter into tough negotiations with its landlords in 2020. The problem was that some of JDM's landlords were not playing ball. Maroselli said that design centers in Dallas and Chicago were amenable to a discussion, but that Cohen Brothers Realty, which owns both the Decoration & Design Building in New York and the PDC, continued to demand payment. In October 2020, the D&D Building sued JDM in an attempt to recover $197,404 in unpaid rent. Four months later, the PDC followed suit, asking for $370,998. Both figures would stack up quickly in the months ahead as the rent continued to go unpaid. Citing ongoing litigation, a representative for Cohen Brothers Realty declined to comment.
Maroselli described Covid as a roller-coaster period for the brand, and alleged that it did not consistently reap the same high sales that other companies did during the pandemic home boom. It was also a time of personal struggle—Maroselli's mother died of Covid, and de Merry became seriously ill with Lyme disease and ceased to be an active partner in the business.
Still, 2021 and 2022 were busy years for Maroselli. For one, there was the move to Mexico. During this period, Maroselli and de Merry sold their house in Los Angeles (Redfin clocks the sale at $1.9 million) and moved full-time to a property they were building in Todos Santos, an idyllic coastal town on the Baja peninsula. The modernist home, executed in white concrete, comprised multiple buildings and a pool—visitors referred to it as a "compound." According to many former JDM employees, the finishing of the property and the move began to occupy more and more of Maroselli and de Merry's time.
Then there was Studio Fenice, the high-end e-commerce platform. The site was, in many ways, an online version of Jean de Merry's multiline business, presenting and selling the work of designers like Dylan Farrell, Jan Garncarek and Johannes Hemann for thousands (if not tens of thousands) of dollars. Unlike JDM, Studio Fenice did not have showroom rent to pay.
Maroselli presented a shifting narrative about his role at Studio Fenice. His name is not currently listed on the company's website, and Maroselli downplayed his position in the April interview with BOH, framing himself as a creative director who had been brought on to attract talent. When asked if he owned Studio Fenice, he replied, "No, this is what they said to bring the designers to the platform. It's run by a group of people in Switzerland." However, in a subsequent email sent this week, Maroselli referred to himself as a "co-owner" of Studio Fenice.
A snapshot of Studio Fenice's website taken in 2022 lists him as "CEO and co-founder"; the Openhouse article documenting the brand's Mexico retreat describes him as the brand's "founder"; and documents filed in Switzerland indicate that Maroselli and de Merry were both on the company's board of directors when it was legally incorporated in October 2020. (De Merry departed the board in 2021.)
Two former JDM employees with direct knowledge of the situation say that Studio Fenice's operations were funded by Maroselli in a series of "loans" taken from Jean de Merry's cash flow. "It was understood that Jean was going to retire," says another former employee. "But Christian was a younger guy and wanted to have something that was just his."
Studio Fenice was a source of confusion for many in Jean de Merry's orbit. For one, there was the fact that the company had been legally incorporated in Switzerland, not the United States or Mexico. For another, there was all the money being spent. Working out of his Todos Santos home, Maroselli had hired a team of web developers, copywriters and sales reps to launch the brand. There was an advertising budget, and the "Días de Verano" retreat cost the company tens of thousands of dollars.
Jean de Merry's stateside employees followed the spending on social media in shock. While they hustled to keep designers and vendors placated over delayed payments, Maroselli hosted dolphin-watching expeditions. There didn't seem to be enough money in the budget to buy printer ink or bottles of water for the showrooms, but somehow Maroselli could afford to start an entirely new business.
Studio Fenice struggled to gain traction. According to a former Jean de Merry employee, it did not draw in consistent sales, and though the "Días de Verano" event looked good on social media, it failed to generate lasting buzz for the brand. Even those who attended the event expressed some confusion about what exactly was going on.
Meanwhile, Jean de Merry's rent problems were coming to a head. By the summer of 2022, the Pacific Design Center, home to JDM's most lucrative showroom, was claiming $1,106,852 in unpaid rent, with the D&D Building asking for another $649,137. Maroselli brokered an agreement with the PDC: He would pay back $500,000 immediately, then make good on the remaining $606,852 with incremental payments starting in May 2023. The deal was signed on July 1, just days after Studio Fenice's extravagant retreat had wrapped.
Maroselli had bought the brand some breathing room. It would be short-lived.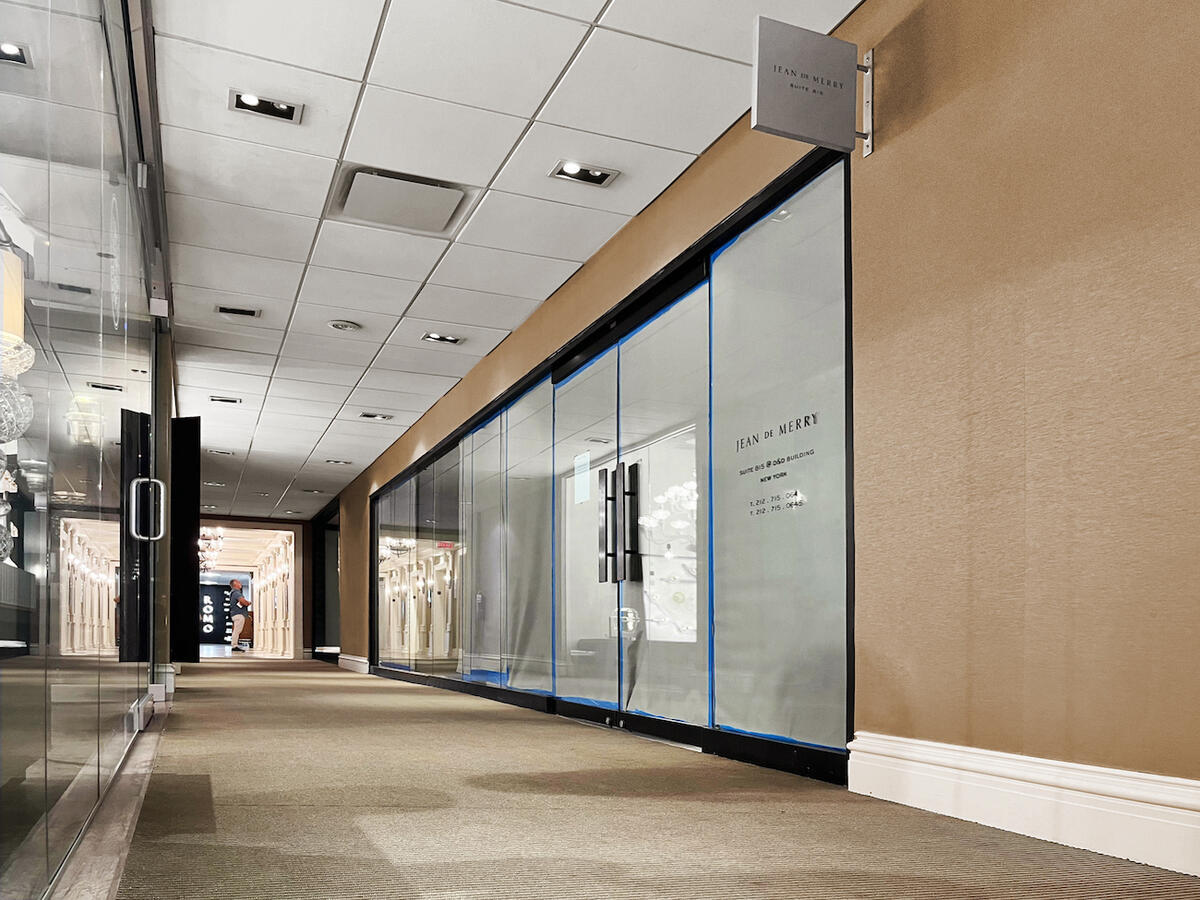 In March, a Jean de Merry showroom employee checked into an emergency room to be treated for some worrying symptoms. After being cleared by doctors to leave the hospital, the employee was shocked to discover that her health insurance was inactive. The bill, just over $3,000, would have to be paid in full by the patient.
After digging into the issue further, the employee learned that her insurance had in fact never been active. The employee received a document from her provider, reviewed by BOH, indicating that her insurance had been terminated on January 1 after "zero" months of coverage. The employee says a call to her provider yielded the reason for the cancellation: "Failure of employer to pay."
Maroselli denied this, saying that the employee had logged on to an online dashboard on January 1 and canceled her own insurance, either intentionally or unintentionally.
At least two other former Jean de Merry employees had similar experiences of discovering a lapse in their insurance coverage only after visiting a health care provider. Maroselli acknowledged that the company had been late to pay its insurance bill, saying that unpaid premiums were "a result of human error in our administrative processes." In both cases, the bills were paid and the employees' health care was reinstated. (A separate but related incident: A wrongful termination lawsuit filed by former employee Marvin Vasquez in 2021 claimed that Jean de Merry's leadership had repeatedly denied him health care before abruptly firing him.)
Insurance lapses were not the only challenges Jean de Merry employees faced. There was regular confusion about the company's financial state and a chaotic approach to recordkeeping. Covid created a unique new layer of stresses.
In the April interview, Maroselli told BOH that "During Covid, I paid my team their full salaries [and] commissions while other showrooms were cutting everyone." However, several former employees dispute that assertion, saying that Jean de Merry in fact furloughed many employees at the onset of the pandemic. (Maroselli later acknowledged that the company had furloughed some employees in an email exchange.)
Several former employees allege that JDM went on to make a complicated offer to its staff: They could remain furloughed—or voluntarily go on furlough—while continuing to work for the company and earn commission on the side. In essence, the idea was to keep clocking in but get the government to pay their salary. This was all despite the fact that Jean de Merry was ultimately approved for two Paycheck Protection Program loans—one in late April of 2020, another in February of 2021—for a total of $577,616.
Maroselli denies this characterization of events. "It was the employees' own choice to want to stay in contact with clients," he wrote via email. "I never asked them to work during their furlough." He also argues that commissions paid during employee furloughs were for past sales. However, five former employees say that the offer made by JDM leadership was clear: If employees worked while furloughed, they could earn a commission. The arrangement was not altogether unwelcome—some employees took the company up on it—but it added to the sense of unease among the staff.
In the April interview, Maroselli said that only at the very end of the multiline business did the company fail to pay its staff. However, of the 10 former employees who spoke with BOH—some of whom had departed the company months before the end—more than half say that Jean de Merry still owes them commission checks, often for thousands of dollars.
The money part was bad. But for many former employees, the stress was worse. As Jean de Merry struggled to stay on top of cash flow, vendors were paid later and later. As a result, designers' order fulfillments got later and later too, and many began angrily demanding explanations from the staff. Often, employees didn't know exactly what was going on. If they did, telling their client the truth would mean losing the business—and exacerbating the company's cash crunch. "It was horrible," says one former employee. "We had to lie every day."
Though the Baja event had been designed to help launch a new venture, it marked the beginning of the end for an old one. Maroselli had been able to broker a deal with Cohen Brothers Realty to stay in its New York and Los Angeles showrooms, but it wasn't a good one. After fighting it out in court for two years, JDM would still have to pay the entirety of its nearly $2 million in back rent, first in two lump sums (the PDC got $500,000, and a former employee says the D&D was paid in the realm of $300,000), then in a series of incremental payments.
Those initial transfers, made in the summer of 2022, immediately put JDM in a difficult cash position. To cover costs, Maroselli began taking out a series of risky loans known as "merchant cash advances," or MCAs. In an MCA, the lender fronts cash for a business at a high interest rate and immediately begins recouping the principal directly from the borrower's bank account. In this type of loan, the lender doesn't have to ask permission to get paid back—it just takes the money.
Businesses tend to take out one MCA loan to get through an unexpected emergency, or to take advantage of a timely opportunity. According to public records, Jean de Merry took out at least three in rapid succession between August 2022 and March 2023, totaling more than $800,000. Documents obtained by BOH indicate the existence of at least two other loans. In early April, Maroselli said that Jean de Merry owed MCA lenders roughly $1.2 million, though the number is difficult to independently verify.
(Borrowing to fund operations was not new to Jean de Merry. California state records indicate that 20 parties—from obscure lenders like "Cucumber Capital" to Bank of America—have filed a UCC claim against JDM collateral. Some date back to 2015.)
Almost immediately, the MCA loans created a pressing challenge—they were draining Jean de Merry's bank account of tens of thousands of dollars every week (a former employee says the number got as high as $50,000). Making matters worse, though the company had enjoyed a pandemic-inspired revenue boom for much of 2021, by late 2022, the influx of sales had died down. Vendors continued to leave the showroom as the year drew to a close, further hampering JDM's cash flow.
Headed into 2023, Jean de Merry's showroom business was entering a death spiral. Before, the brand had struggled to compensate its vendors quickly and deliver pieces in a timely manner. Now, the situation was far more chaotic. Staff were told to ask designers to pay the full price for a piece upfront—a move to bring cash in more quickly—then forced to come up with outlandish excuses for the ensuing delays. Checks bounced. Deliveries went "missing" at the last minute.
Fed up with late payments, more vendors left the showroom. Designers began connecting with vendors directly to make payments (in some cases, sales reps who had gotten sick of lying simply told designers the truth). Both situations further cut back on Jean de Merry's cash flow. But even as the walls closed in, the showroom continued to collect payment on new orders.
According to a former employee with direct knowledge of the situation, de Merry himself flew to Los Angeles in February to try and right a sinking ship. Judging that the most pressing problem was MCA lenders withdrawing cash from the company's bank account, he simply withdrew the money and moved it to a new bank. (In an email, Maroselli wrote at first that this claim was "incorrect." When asked to explain why the company had changed bank accounts, Maroselli later wrote that "Our intention was never to evade the lenders. We sought the assistance of a legal firm to negotiate longer terms with the lenders, and they provided us with guidance and advice on the necessary steps to take—what happened in Los Angeles was based on their advice.")
Switching bank accounts threw Jean de Merry's operations into confusion. All of its showroom check readers were connected with its original bank, meaning the company could no longer process payments directly in person—instead, employees were asked to run them to a local branch of the new bank. Outgoing checks bounced. Switching banks also threw a wrench into payroll, delaying paychecks and causing further concern among employees. Some left in February, weary of the turmoil.
While switching banks temporarily paused lender withdrawals, it did not erase the loans themselves. Three of the lenders quickly sued Jean de Merry for breach of contract, with one, Swift Funding California, alleging that JDM had defaulted on the loan only 11 days after taking it out. Another, Itria Ventures, sent out a lien notice to Jean de Merry's vendors and clients, saying it had a legal right to the company's revenue.
Maroselli instructed remaining staff to say the lien notice was invalid (in the April interview with BOH, he maintained that Itria Ventures does not have a legal right to Jean de Merry's receipts), but the note only served to exacerbate the anxiety among vendors and designers. Meanwhile, showrooms were inundated with calls from angry lenders. By the spring, "90 percent of the time the phone rang, it was someone asking for money," says one former employee. "It was out of control."
Making matters even more convoluted, the company once again switched bank accounts in March. Now, employees were asked to collect checks from clients and FedEx them directly to the brand's workshop in Los Angeles. The payroll process was once again thrown for a loop, and at least one employee received their final paycheck as an international wire transfer from a foreign bank.
Meanwhile, Jean de Merry had once again missed rent in Los Angeles, and Cohen Brothers Realty reopened their case. By this point, Maroselli and de Merry were no longer on regular speaking terms with their lawyers at Cozen O'Connor. (The firm filed a document in court detailing an exhaustive and ultimately fruitless attempt to get in touch with de Merry as part of a request to be relieved as counsel.) By the end of March, Cohen Brothers Realty was demanding immediate payment on $600,000 in back rent.
In an effort to keep up appearances, Jean de Merry hosted the spring market event in the Los Angeles showroom. Only a few days later, Jean de Merry faced the inevitable and began shuttering its PDC location. New York had already closed. Chicago and Dallas would follow shortly. The remaining employees all quit, or simply showed up to work to find the showroom papered over.
In the April interview with BOH, Maroselli suggested that the decision to close the multiline business was a thought-out process, and that he had given vendors ample notice. However, at least a few told BOH that they heard from him just days before they were asked to remove their pieces from the various showrooms. "I get this email they sent me being like, 'Hi, we've decided to go in a different direction, we're not repping you any more, remove all your pieces next week,'" says one vendor. "At that exact minute, I had gotten a text from a client with a picture of JDM in New York papered up."
The dissolution of Jean de Merry's multiline business threw its partners into chaos, as designers tried to figure out the status of their missing pieces, and brands tried to figure out who had their money. Exactly how much cash went missing isn't entirely clear. In an April interview, Maroselli told BOH that he still owes about $300,000 to the company's represented designers. A former employee with direct knowledge of the company's operations says the number is likely higher.
Mark de la Vega, the designer behind the eponymous furniture brand De La Vega, was one of many whose work was represented by Jean de Merry. He says that, in adding up all of the payments that are still outstanding, JDM owed his company alone a sum in the neighborhood of $300,000. Absent clear communication from Jean de Merry, putting all the puzzle pieces together made for "stressful, extremely time-consuming"—not to mention unpaid—work.
However, de la Vega says that the process has a significant silver lining: "We were able to connect directly with designers more than we ever have before, and people have been so understanding—some have even placed additional orders," he tells BOH, and his company has been able to make arrangements with designers to minimize the collateral damage. "This also was the push we needed to get our own showroom—we've got a location at the New York Design Center opening this summer."
Not all vendors are feeling quite as magnanimous. London- and Bangkok-based brand Alexander Lamont is suing Jean de Merry, alleging that the fallen showroom owes it $261,049 in payments on delivered goods. The case, filed in Los Angeles at the beginning of May, points to missing payments stretching as far back as June of 2021.
Though Alexander Lamont and De La Vega were among Jean de Merry's larger brands, several brands reached by BOH say that they're still owed thousands—if not tens of thousands—of dollars, and that the final months were a mess of broken promises and bounced checks.
Designers, too, have been caught up in the chaos. Many who bought from the showroom in its final months were forced to desperately chase down missing payments or product. Indianapolis-based designer Lisa Crawford says that in January, she placed a $40,000 order at Jean de Merry's Chicago showroom spread out among five separate brands.
Almost immediately afterward, Crawford caught wind of the company's financial struggles and began directly contacting vendors, who had never received her deposits. When she pressed the issue with Maroselli and Jean de Merry staff, Crawford says she received a litany of excuses, ranging from the banal to the outlandish. "One excuse for a bounced check was that the company's bank account had gotten hacked," she says. "They gave me three different dates for a missing payment—it was like they couldn't even remember what lies they were telling."
Without direct access to the company's records, it's difficult to know how many designers were impacted by Jean de Merry's downfall, but many will end up absorbing at least some of the cost.
As for the company itself, though the multiline business is closed, Maroselli continues to produce the company's house line of furniture out of a downtown Los Angeles workroom and sell it through a small network of showrooms and Studio Fenice. The brand is very much alive.
Shuttering the company's showrooms did not erase its debt. The D&D Building has reopened its lawsuit against Jean de Merry. The PDC's case is still open. At least three MCA lenders have open lawsuits. Alexander Lamont's case just opened. Several employees have filed wage theft complaints, and the state of California has filed a tax lien on the company's corporate entity. However, despite a mountain of debt, Maroselli has vowed to keep going and make good on the money his company owes.
Many former employees, designers and vendors who were caught up in Jean de Merry's collapse are inclined to see it as a Netflix-worthy scandal: Two charismatic artisans who stole from their customers, then escaped to Mexico to live a lavish lifestyle under the sun. Many of the details—the Swiss-registered company, the Baja compound, the shifting bank accounts—have the flavor of high drama.
One former employee with intimate knowledge of the company's operations framed it differently. "They were not these evil geniuses with a master plan," he says. "They were always only thinking about the next day. 'How can we get to tomorrow?' It wasn't about next week, let alone next year. … When I started to really understand what was going on, it blew my mind that they had been so successful for so long."
Maroselli continues to insist that "the only story to tell is that our company was heavily impacted by Covid-19, and we've been trying to make things right ever since." De Merry himself did not respond to texts requesting comment, and emails sent to his last known address bounced back.
Whether the Jean de Merry story is one of high-flying scandal or a more pedestrian tale of a failed business—or a little bit of both—its descent made collateral damage out of employees, designers and represented brands. The company's staff, especially, describe working for JDM as a traumatic experience and say the duplicity from leadership made a bad situation worse.
One former employee who stayed with Jean de Merry until the very end says that, a few weeks after he finally left, something strange happened. He received a call from a vendor regarding an email coming from the employee himself—sent from his Jean de Merry account, after he had quit. The implication was clear: Someone was writing emails under his name.
"I reached out to [Maroselli] and asked him to stop, that this was a step too far," says the employee.
Maroselli never responded.
Homepage image: Jean de Merry's Dallas showroom | Craig Washburn