Every time Russell Greenberg drives through the countryside and sees old barns with sagging roofs, "I just think to myself: Stickbulb," the creator tells Business of Home. "I just want to jump out of the car, grab a couple of pieces of wood, and jump back in."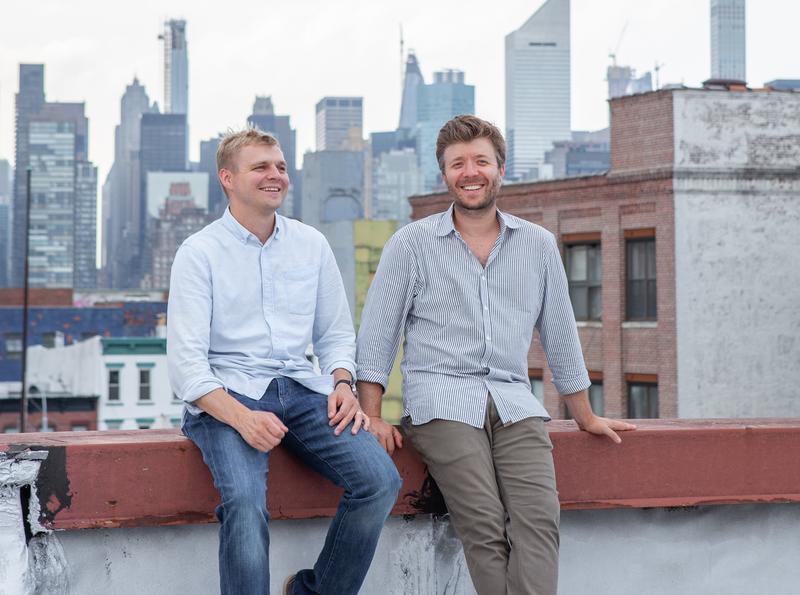 Greenberg founded the the multidisciplinary design studio RUX in 2008, and went on to partner with Samsung, Pernod Ricard and Unilever, among others. (His first client was a former classmate who wanted to reinvent the vending machine; another project included a master plan for a "Vanishing Mosque" in Abu Dhabi.) But by 2012, Greenberg's instinct to salvage scraps led to the birth of modern lighting brand Stickbulb. The brand's name is reflective of its origin story: "I saw a pile of wooden sticks that were going to be thrown out," says Greenberg. "I was like, 'Hell, we're designing this house in Miami, might as well put a fixture in it—look at all that wood. … Very quickly, what became sort of a hobby in the studio of just light fixtures started to consume all of our energy, and we went out on a limb."
RUX built Stickbulb on the premise of finding interesting materials, elevating them to the same level of importance as the geometry of the fixtures themselves, and inspiring people to care about history and provenance. Stickbulb has proven that RUX can master the art of creating boutique brands—but it has also completely changed their business.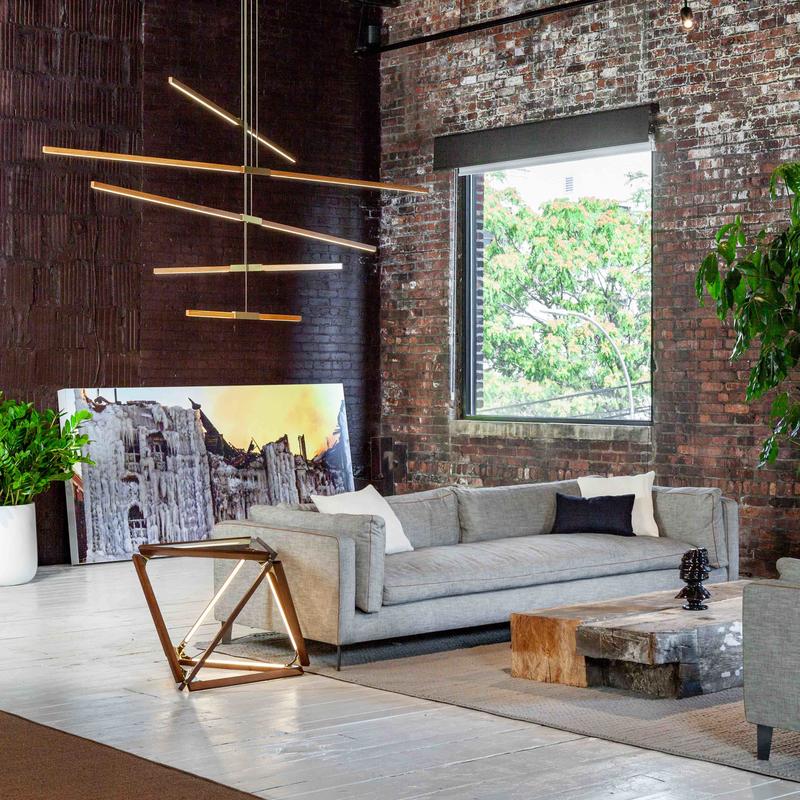 When the studio debuted its first prototype under the Stickbulb name at ICFF in 2012, it advanced further into production. Collections repurposed destroyed buildings, ancient redwood from sources like dilapidated New York water towers, and the Pullman Factory in Chicago that had caught fire in the dead of winter. Its 2017 NYCxDesign Best in Show winner, Ambassador, captured the attention of many design enthusiasts.
Today, RUX has 20 employees working in its new combined studio-showroom space in Long Island City, Queens—one of the fastest-growing neighborhoods in the country, and soon to be the home to Amazon's HQ2. ("Shoutout to LIC, this place is pretty money," says Greenberg of the now rapidly developing neighborhood, which was once largely industrial. "We wouldn't have started Stickbulb if we hadn't been here. Having awesome wood and metal and plating at almost a medieval scale right at our fingertips here was very formative for us.")
With his business partner Christopher Beardsley (a collaborator since they studied at Yale Architecture together in the mid-aughts, who joined RUX as a partner and managing director shortly after its launch), Greenberg has toned down the consultancy aspects of his business in the past five years, instead transforming the company into a platform for creating and growing in-house brands.
"Everybody here wears a lot of different hats. We punch above our weight in terms of our output and what we can achieve, and that comes from being a tight-knit group," Beardsley tells BOH. And the company says no to many more projects than it accepts: "When you have a shitload of ideas that tempt you, it's hard to say no because they're fun to play with, but those can be very disruptive," adds Greenberg.
The 10,000-square-foot LIC space, which RUX moved into last December and opened to the public in July, allows the team to operate entirely in-house, taking ideas through design, prototype, production and marketing. Its open-space concept gives them the ability to expand and shrink production as needed. ("Flexibility is king," they affirm.) They built a new kitchen, new bathrooms, and new windows, allowing them to host events concurrently as they hone in on manufacturing.
"It's a great point of pride that the people who are working here are going to stay working here for a long time," says Greenberg. "A big part of us moving into the space and making it the way we did—there are no walls, there are no doors, everything's open ... The premise here is that of openness and transparency. We're really trying to figure out who we are as designers and having that manifest itself in the kind of spaces we make and products we make and people we work with."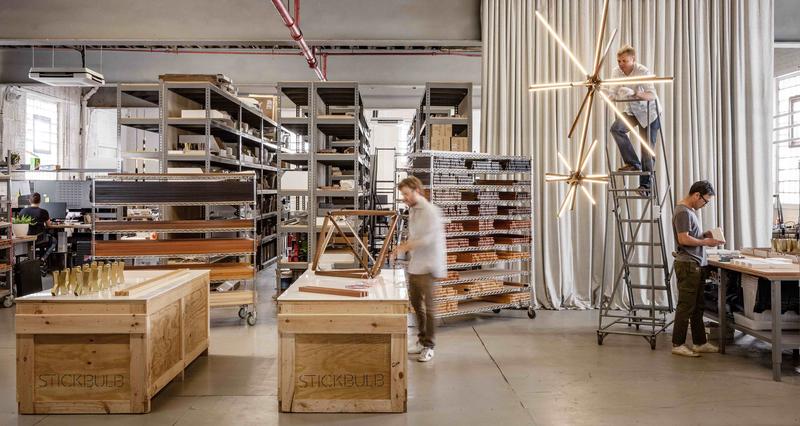 Given the brand's success, the workshop has eschewed taking on client projects in favor of developing its own. "The only thing that we have in production right now is our Stickbulb collection," says Greenberg. "We have tons of things we'd like to do that we haven't yet done. … I do think that the positive feedback we've gotten—and the fact that the people who like Stickbulb really love Stickbulb—has definitely encouraged us and given us the confidence that the business model of building these super-focused stories is where it's at."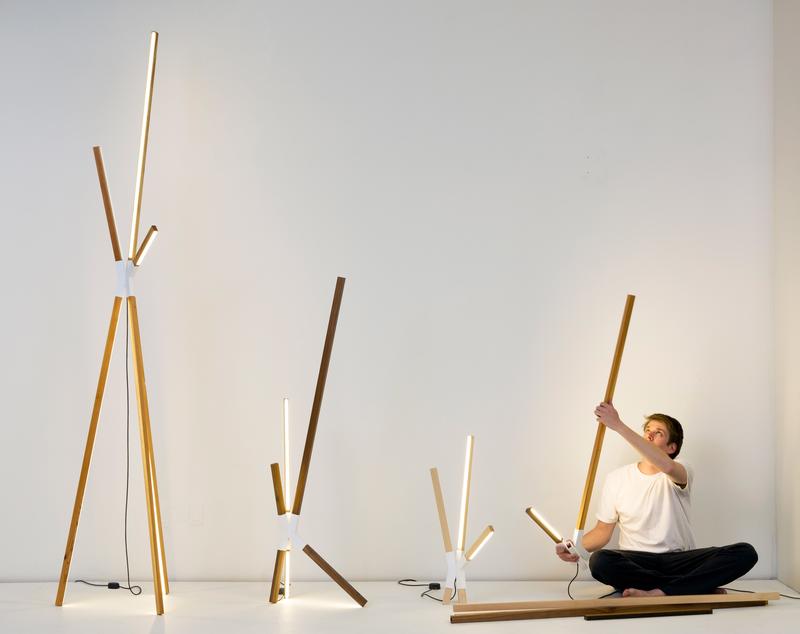 RUX's latest project is about time—literally. Gradual, conceptualized by Greenberg, Beardsley, and product design director Minchul Hong, will launch next year and "retell time in a way that lengthens people's attention spans and promotes long-term decision making." They view the collection as "a way to instantiate the macro vision of RUX Studios as a creative entity, broadcasting important themes through focused brands."
"When we started, we didn't have a lot of space and we didn't have a lot of money," says Greenberg. "We were like, 'How can we organically build this thing that's beautiful, that's responsible, that we can make locally? And we really have stuck with that."